Importance of Warehousing and Fulfillment for SMEs in India
The COVID-19 crisis in India has fuelled the growth of eCommerce by many folds. The need for a flexible and resilient supply chain that enables timely delivery and access to the customer has led to colossal warehousing and fulfillment demand that is only bound to grow in the coming years.
With the lockdown in place in several states and cities across India, eCommerce has gained new popularity even in tier-2 and tier-3 cities that were once only dependent on local markets.
This has pushed eCommerce sellers that sell on their websites or social media marketplaces to invest in their warehouse infrastructure to stay in proximity to their target audience.
With the SME pool growing in India, the demand for warehousing and fulfillment operations is also increasing proportionately. Let's see the importance of warehousing and fulfillment for SMEs in India today and the role of these operations in eCommerce.
Scope of eCommerce in India
Before we talk about the role of warehousing and fulfillment, it is essential to discuss the scope of eCommerce in India and how much it is bound to grow in the coming years.
Availability of the internet in the country is the primary source of driving eCommerce in India. With easily accessible 3G and 4G plans, the internet penetration in India has increased to 34.8% of the population. This has enabled people to gain access to the websites, and many are also hopping onto the D2C eCommerce bandwagon and selling products online.
According to a report by IBEF, India's eCommerce order volume has increased by 36% in the last quarter of 2020. This indicates a massive increase in demand which the lockdown and COVID crisis could also fuel.
With such lucrative opportunities in the sector, it is safe to say that the role of eCommerce in the entire retail market is only going to increase in the coming years, with more and more sellers joining the online platforms for sales. Without warehousing and fulfillment, the eCommerce cycle is incomplete. Let's look at what warehousing in fulfillment is and why it is essential for eCommerce SMEs in India.

What are Warehousing and Fulfillment?
Fulfillment refers to the process of storing inventory, picking and packaging incoming orders, and shipping them. It includes a streamlined process of these components, and all eCommerce operations are carried out under this central dogma.
Though warehousing generally includes only storage, it is often used synchronously with fulfillment, which is a compilation of all processes post receiving an order until it gets delivered.
Fulfillment is an integral part of the eCommerce process and hence, inevitable. The question is – how important do you consider it for your business? Ideally, it must be the foremost of your concerns as the customer's final and everlasting experience of your brand depends on it.
Your customer might remember the witty ad they saw on your Instagram page, but this ad won't be good if the product is not delivered to them on time. So you must focus well on the fulfillment of your products, so your customer's shopping experience is delightful from start to end.
Let's delve further into why D2C fulfillment is essential for Indian SMEs in today's time.
Why is Warehousing & Fulfillment Important for SMEs in India?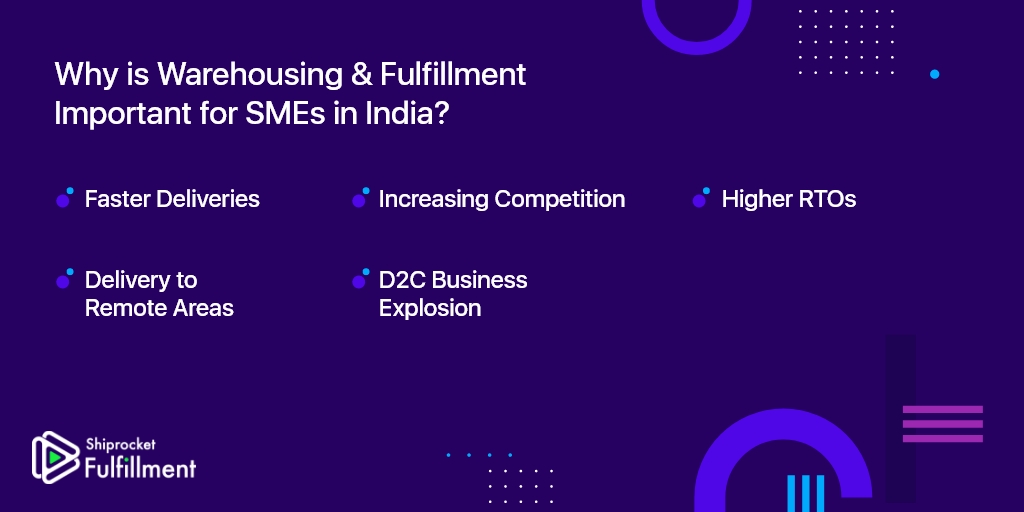 Faster Deliveries
With seamless warehousing and fulfillment in place, you can stock your inventory in equipped warehouses close to your customer's location. This enables faster delivery, and you can also reduce your shipping costs by a considerable margin. The sooner your customer receives the product, the happier their experience is going to be. In 2021, this is the ongoing mantra. To provide faster and error-free deliveries, warehousing and fulfillment are of utmost importance as they streamline the process and organizes the operations to help you deliver quicker.
eCommerce fulfillment solutions like Shiprocket Fulfillment Testimonial you with this requirement as we have fulfillment centers across the country. With its active fulfillment centers in cities like Delhi, Mumbai, Bengaluru, Jaipur, Gurugram, and Kolkata, you can easily store products in almost every zone and deliver to every doorstep period of 2 to 4 days without errors.
For example, in a lockdown period when deliveries were affected due to the restrictions imposed, having the product stored in a location closer to the customer would have been helpful. This would have helped to reduce interstate shipping, and you could have delivered the product even though the lockdown was there.
Increasing Competition
Next, with the increasing competition in the DTC space, you need to be one step ahead. With warehousing and fulfillment sorted for your business, you can look after other aspects and be innovative on fronts like marketing, branding, and sales. This will help you grow your business quickly as you will not have to focus on the nitty-gritty that can be taken care of by 3PL fulfillment providers like Shiprocket five payment. In today's era, time is money, and you have to strategize to optimize time to make more money. With 3PL fulfillment providers and streamline fulfillment, you can do just that.
Higher RTOs
With a higher number of incoming orders from remote areas, there is also a chance of higher RTOs. It is intelligent to invest in technology that helps you deliver orders faster so that the cases of non-delivery and return orders can be reduced. The leading cause of return orders is the unavailability of the customer and the rejection of orders because they are late or incorrect. Streamline fulfillment can help you work on these and give you a platform to reduce returns.
Delivery to Remote Areas
With the increasing demand to deliver quickly to remote areas in tier 2 and tier 3 cities, you must store products in proximity to your customer's location. It enables you to act on orders faster, process them efficiently, and deliver them quickly. As delivery to the remote area usually takes about 5 to 7 days, storing them within the same zone as the small area can help you reduce this time to 2 to 3 days. As there is enough scope for growth in these areas, you can act fast to get results in the long run.
D2C Business Explosion
With the D2C business space evolving each day, the growth is unprecedented. Soon, there will be smaller warehouses that will be shipping to almost every household in India. You must understand the trajectory of your business so that you can stay ahead of the competition and be ahead of the race that comes with growth in any sector.
Conclusion
Warehousing and fulfillment are essential components of any eCommerce business strategy. You must focus on them thoroughly to make informed decisions for your business and be innovative in the way you tackle them. With the space evolving each day, look out for changes and evolve with the trends to not have to catch up later.