What is 3PL? (Third Party Logistics) Definition and Process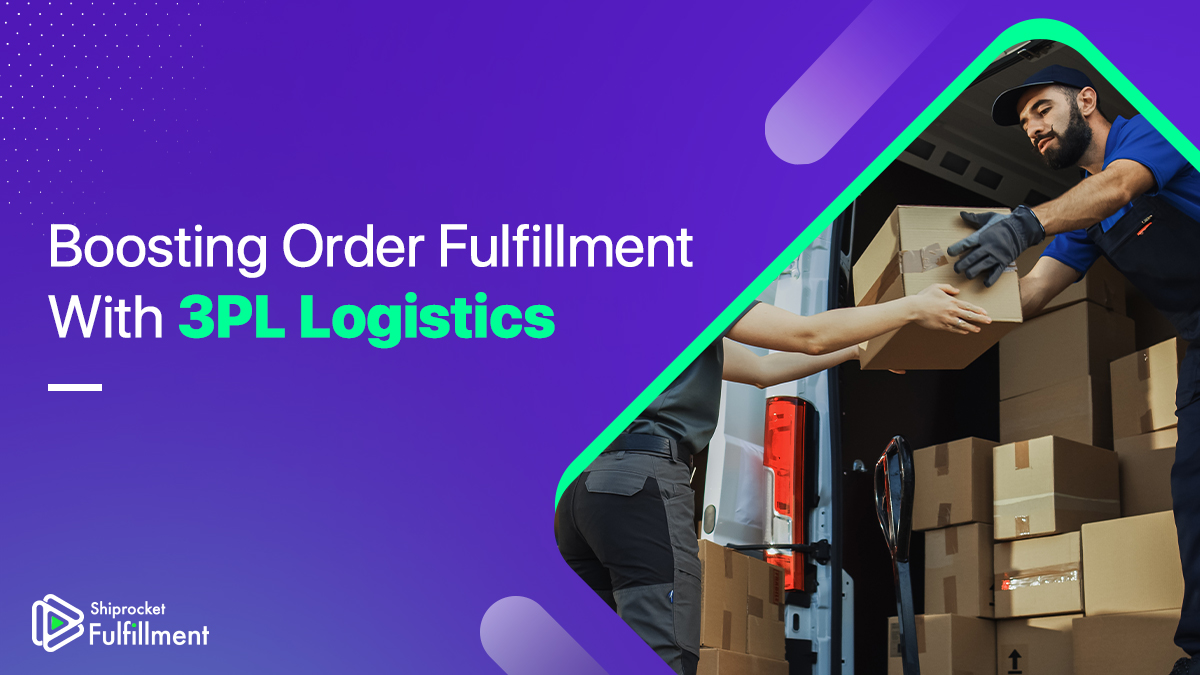 3PL or third-party logistics companies focus on supply chain operations to help businesses grow. This includes everything from order management to inventory solutions and order fulfillment. With the right 3PL solution provider, brands can convert more sales and deliver their products faster, better, and more efficiently to customers, all while saving costs.
However, unlike B2C, B2B order fulfillment needs more robust 3PL services to provide comprehensive order fulfillment.
What is Third Party Logistics(3PLs)?
Third-party logistics, or 3PL, is a term that's used interchangeably with fulfillment warehouse or fulfillment center. Companies providing 3PL services offer many of the same services as order fulfillment companies. These services include:
Warehousing
Inventory Management
Order Picking & Packing
Kitting & Customisation
Order Shipping
Reverse Logistics (Returns Management)
A third-party logistics company acts as an eCommerce fulfillment company. It provides all the services businesses need to outsource their logistics operations.

3rd Party Logistics Services
Apart from warehousing, there are multiple services offered by third party logistics. These include:
Kitting & Customisation Services
Many 3PLs hold expertise in providing kitting solutions that can help your company save time and money while creating unforgettable customer packaging experiences. 3PLs enable customisation in various ways, such as providing customers with custom gift notes, packaging, and custom sender labels.
Choosing a reliable 3PL provider who can go on with both B2B and B2C fullfillment is no less than a challenge. Working with 3PLs will help you cater to your order processing and fulfilment needs. They can be used to centralise multichannel inventory management and fulfilment. Thus, utilising a multichannel strategy.
Most 3PLs charge for packing materials as separate items, while other 3PLs consider it part of their fulfillment management services. Choosing the experienced 3PLs will use the best packing material to ensure complete product protection and optimise them in the best possible manner.
Dedicated Customer Support
By offering dedicated customer service and support, 3PLs can streamline the supply chain management process, ensuring customer satisfaction.
Third-Party Logistics Process
When businesses outsource their fulfillment, their products ship directly from the manufacturer to the 3rd-party logistics warehouse. Once their inventory arrives, the third-party logistics company can provide a range of services. Here are just a few of the elements of the third-party logistics process for boosting order fulfillment.
Seamless Integration
Not all businesses manufacture their own products. The goods are ordered from a different business and assembled somewhere else. The finished products are then packed and moved to the warehouse. There needs to be proper sync among all these parties to streamline all processes. The 3PL logistics company of your choice should offer seamless integration with sales channels, suppliers, and order & warehouse management systems for seamless order fulfillment.
End-To-End Order Visibility
3PL companies also provide businesses with end-to-end order visibility. The business and its suppliers should be able to access the same inventory and product catalogues and see the order fulfillment process. With real-time linking, there remains clear visibility of your order management system. With end-to-end order visibility, customers can check if a product is in stock or get notified when it is not. It ensures customer satisfaction and proper order fulfillment.
Array Of Shipping Partners
Finding a 3PL service provider to manage your order fulfillment should not be a recurring thought. Hence, choosing a third-party logistics company with multiple carrier options is desirable. Usually, a 3rd party logistics provider relies on its own logistics arm, which has limited network reach. But some providers have multiple carrier partners that businesses can choose from. Choosing the right courier partner can save shipping costs, and the wrong one can affect your business reputation.
Warehousing Network
A 3PL provider can have an extensive network of warehouses nationwide to ensure better serviceability. This mean businesses offer same/next-day delivery services to their customers, deploy fast but low-cost ground shipping, and find optimal delivery routes that boost the order fulfillment speed. If your business needs warehousing services, choosing the correct network under the geographical locations is imperative.
Customer Communication
Throughout the entire order fulfillment process, a 3PL logistics provider keeps the customer in the loop with order updates and notifications. They do it on demand, in real-time. Through real-time order updates, the customers are informed about their product journey, increasing the delivery success of the order. Efficient customer communication informs the entire order journey, reducing the chance of RTO orders. Buyer communication also ensures a smoother NDR redressal in case of non-delivery.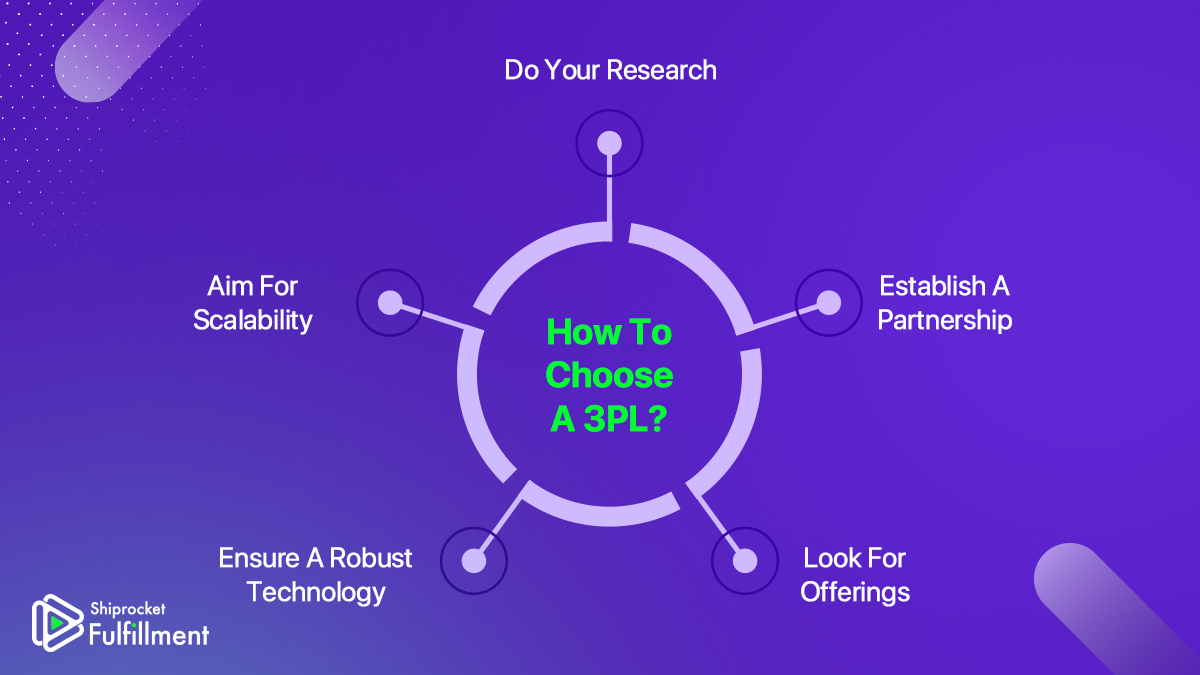 The Difference Between B2B & B2C Order Fulfillment
Treating B2B and B2C order fulfillment differently is crucial for the success of a business. Ignoring the differences puts businesses at risk of losing profits. In hindsight, understanding the differences isn't enough to ensure effective business scalability and management. Companies may need to realise that they could do better.
The ability to fulfill orders quickly remains a crucial factor in determining success or failure. While selling to businesses, one must understand that B2B order fulfillment has different expectations than B2C. Here are some aspects that differentiate the two.
Purchase price
Revenue per customer
Buying decision & process
Order & ticket size
Payment type & method
Shipping methods
Customer relationship
Returns handling
Pre & post-sales support
Shiprocket Fulfillment – Scale Your Business The Smart Way
Shiprocket Fulfillment is the perfect partner if you want to boost your B2B order fulfillment and reduce RTO orders by a considerable margin. Outsourcing eCommerce order fulfillment to a 3PL fulfillment provider can help you improve other aspects of your business. It enables you to save costs, giving you the best product price. These combined can help you edge over your competitors and give your buyers the ultimate shopping experience they desire.