Best Fulfillment Services in India for Ecommerce Sellers
Fulfillment services have revolutionized the way businesses operate. They provide a one-stop solution for all order fulfillment needs, allowing companies to focus on core operations while leaving the logistics to the experts. In this article, we'll look closer at the top fulfillment service providers in the country and the key factors you should consider to choose the right fulfillment service provider for your business.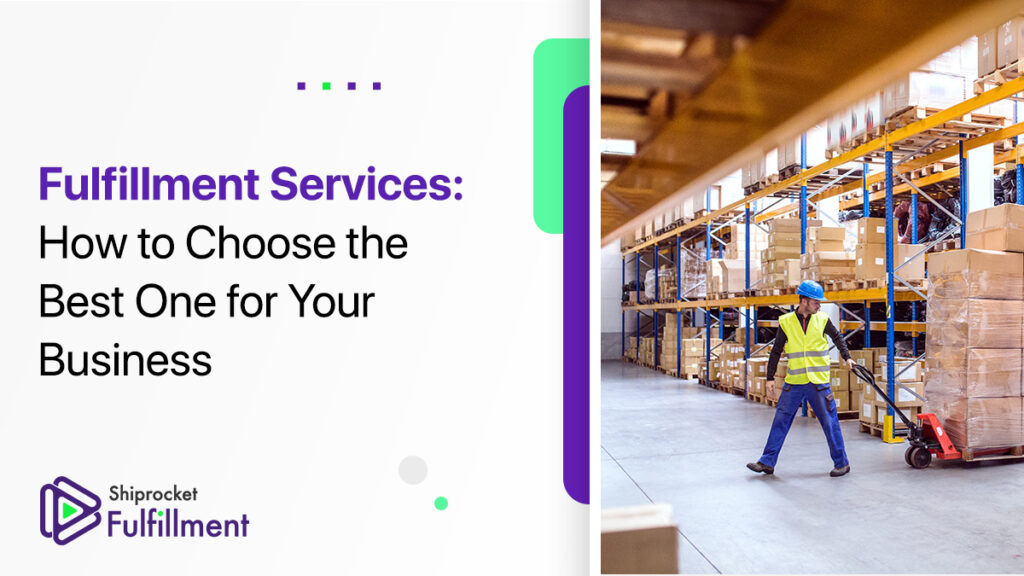 What Is a Fulfillment Service?
A fulfillment service is a facility or a warehouse that handles the storage, packaging, and shipping of products on behalf of businesses. These facilities use advanced technology, sophisticated tools and software to accurately fulfil orders, ensuring prompt and error-free deliveries, making customers happy and giving businesses the much-needed competitive advantage. Most businesses use any of the following three types of order fulfillment –
When the eCommerce business fulfills its orders
A dropshipper fulfills orders
Third-party logistics companies are used for warehousing and fulfillment
Of these three types of fulfillment services, third-party logistics companies are the most preferred service. Let us look at the top fulfillment service providers for your eCommerce business.
Top Fulfillment Service Providers in India
1. Shiprocket Fulfillment
One of the biggest fulfillment service providers in India, Shiprocket Fulfillment enables super-fast delivery for your business. With over 45+ warehouses across India and state-of-the-art technology integrations, order fulfillment is a seamless process for eCommerce sellers using Shiprocket's fulfillment service.
Features:
Same/Next-day Delivery: With Shiprocket Fulfillment, you can store inventory closer to your customers and offer same-day or next-day delivery.
Smart Tech Integrations: From channel integrations to logistics tech, get access to incredible tech integrations that ensure you have a seamless warehousing and order fulfillment experience.
Inventory Management: Shiprocket fulfillment offers a remarkable warehousing solution for eCommerce businesses, perfectly fit for products in various industries.
2. Amazon Fulfillment Services
Amazon is one of the world's largest and most well-known fulfillment service providers. The services offered are storage, packing, and shipping.
Features:
Multi-Channel Fulfillment: Amazon allows businesses to fulfill orders from multiple channels, including Amazon and other online marketplaces.
Global Reach: With an extensive network of fulfillment centers worldwide, Amazon offers fast and reliable delivery to customers in various regions.
Prime Eligibility: Amazon's fulfillment services cater to Prime shipping, increasing the customer base.
3. ShipBob
It is a fulfillment service provider that specialises in eCommerce fulfillment. They offer various services, including order fulfillment, inventory management, and shipping.
Features:
Two-Day Shipping: ShipBob offers two-day shipping to customers in various regions, which can improve customer satisfaction and loyalty.
Inventory Management: ShipBob's inventory management tools allow businesses to monitor and manage their inventory levels in real-time.
Multiple Warehouses: ShipBob has a network of warehouses located throughout the US, enabling them to offer fast and reliable delivery to customers.
4. FedEx Fulfillment
A well-known shipping and logistics company offering fulfillment services. They provide warehousing, order fulfillment, and shipping services to businesses of all sizes.
Features:
Global Reach: FedEx has a worldwide network of warehouses and transportation infrastructure, enabling it to offer fast and reliable delivery to customers worldwide.
Multiple Fulfillment Options: FedEx offers various fulfillment options, including pick and pack, kitting, and assembly.
Inventory Management: FedEx's inventory management tools allow businesses to monitor and manage their inventory levels in real-time.
5. Rakuten Super Logistics
A fulfillment service provider specialising in eCommerce fulfillment. They offer various services, including order fulfillment, inventory management, and shipping.
Features:
Multi-Channel fulfillment: It can integrate with multiple sales channels, including eCommerce marketplaces like Amazon and eBay, shopping carts and custom-built websites. It allows businesses to centralise their fulfillment operations and manage orders from different channels in one place.
Customizable Packaging: It offers custom packaging options, such as branded boxes and inserts, to help businesses create a unique unboxing experience for their customers.
Returns Management: Rakuten offers a comprehensive returns management system, including return processing, restocking, and disposition of returned products.
6. Ship Delight
Ship Delight is known for providing reliable inventory management solutions for brands by leveraging simplified shipping solutions and cutting-edge technology.
Features:
Omni-channel Sync: Ship Delight allows you to easily integrate all your channels to one dashboard for easy allocation and tracking of inventory.
Express Shipping: With Ship Delight, you can enjoy inventory and order management in one platform. This helps in quick processing and shipping of orders.
Timely Inventory Alerts: Stocking out will not be an option with optimized and timely low-stock alerts.
7. DHL
DHL is famously known for its well-structured fulfillment services. With over 800 fulfillment centers around the world, DHL helps eCommerce businesses reach their customers quickly by stocking inventory closer to them.
Features:
Tech-drive Operations: DHL offers easy integrations for sellers to make their order fulfillment journey a smooth process.
Global Reach: With sales managers in every country, DHL ensures it is one step ahead when it comes to storing, handling, and tracking products in different parts of the world.
Multiple Warehouses: DHL has around 800 fulfillment centers around the world, making it super convenient for sellers to reach every corner of the world.
These leading service providers offer many similar services with some differences. Hence, choosing the right provider for your fulfillment services is challenging. To solve this problem, the best approach would be to look at the top features of reliable providers such as Shiprocket Fulfillment.

Top Features of Reliable Fulfillment Providers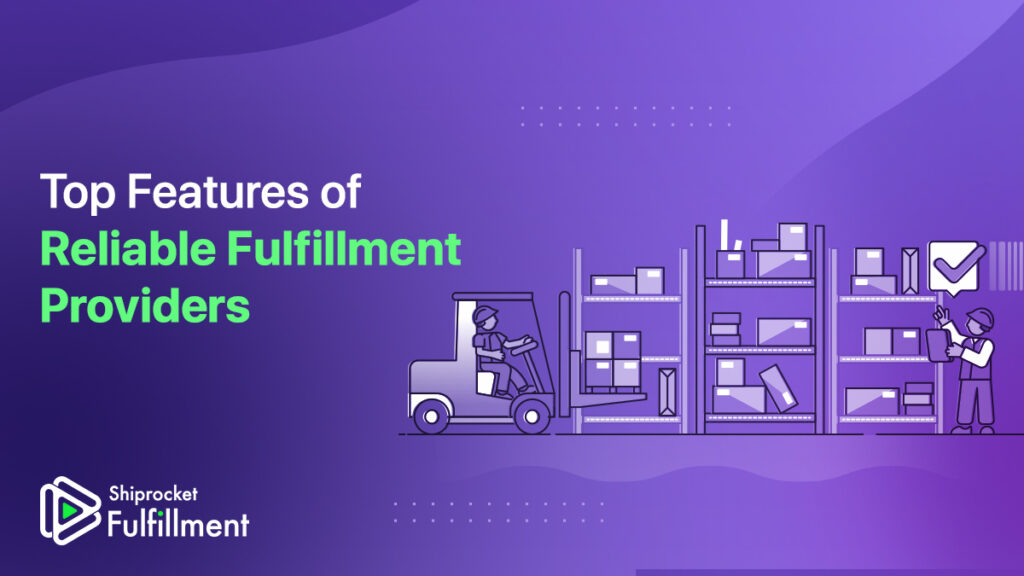 Choosing the right fulfillment service provider is challenging for any business looking for comprehensive services in this category. But the decision-making process is simplified when a provider offers an end-to-end service solution like Shiprocket Fulfillment offers.
Shiprocket Fulfillment is an Indian service provider offering various services, including order fulfillment, warehousing, and shipping. Shiprocket Fulfillment's user-friendly platform allows businesses to manage their fulfillment operations in real-time. They have a network of fulfillment centres throughout India, enabling them to offer fast and reliable delivery to customers. It also provides various value-added services, such as COD management, returns management, and API integration. The core features Shiprocket Fulfillment offers are –
Location: The location of your provider can significantly impact your shipping costs and delivery times. Hence, the provider must be near your target market to reduce shipping costs and delivery times. Check Shiprocket Fulfillment's 45+ warehouse locations and location pipeline.
Technology and Software: The technology and software used by fulfillment service providers can impact speed, accuracy, and reliability. Look for a fulfillment provider that uses advanced technology and software to streamline the entire process.
Scalability: As your business grows, you'll need fulfillment services that can scale with your operations. Look for a fulfillment company offering flexible and scalable solutions to your business needs.
Pricing: Pricing is an essential factor to consider when evaluating fulfillment service options. Look for a fulfillment company that offers competitive pricing without compromising on quality. Consider the fees for warehousing, packaging, shipping, and other services.
Customer Service: Every business depends on the quality of its customer service to build its brand and grow a loyal customer base. Look for a fulfillment provider that offers excellent customer service, including real-time support, quick response times, and personalised service.
Reputation: The reputation of the fulfillment service provider can be a good indicator of its reliability and quality of service. Look for a fulfillment company with a proven track record of delivering high-quality services.
Compliance: Depending on your industry and product, there may be specific regulations and compliance requirements that you need to use. Look for a fulfillment company that understands these requirements and has the necessary certifications and accreditations.
Customisation: Every business has unique needs and requirements. Look for a fulfillment service provider offering customised solutions tailored to your business needs. It includes branded packaging, special handling, and custom order processing options.
Analytics and reporting: The service provider should offer detailed analysis and tools to track fulfillment performance, monitor inventory levels, and identify areas for improvement.
Thus, choosing the right fulfillment service provider can be daunting, but by considering these factors, you can make an informed decision that will benefit your business in the long run.
Conclusion
Fulfillment services are a game-changer for businesses of all sizes. They offer many benefits, including cost savings, scalability, improved customer experience, access to advanced technology, and time savings. You can focus on core business activities and achieve greater operational efficiency by outsourcing logistics and supply chain management to fulfillment services.
When choosing a fulfillment service for your business, consider location, technology and software, scalability, pricing, customer service, reputation, compliance, and customization. By evaluating these factors and choosing reliable and trustworthy fulfillment services, you can take your business to the next level.
To wrap up, fulfillment services are essential to the modern business landscape. By partnering with reputable and efficient fulfillment services, businesses can achieve significant cost savings, improve customer experience and focus on efficient operations. Organisations can focus on long-term success with the right fulfillment services, such as Shiprocket Fulfillment.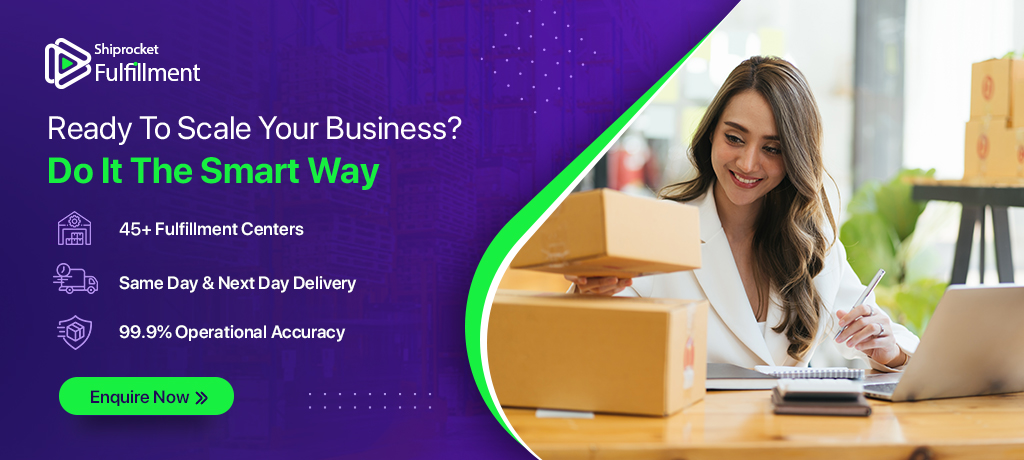 Frequently Asked Questions(FAQs)
How Do Fulfillment Service Providers Handle Returns And Exchanges?
Fulfillment providers can handle returns and exchanges on behalf of the business. They can process returns, inspect products, and manage trades, ensuring customers a hassle-free experience.
What Types Of Businesses Can Benefit From Using Fulfillment Services?
Any business that sells products online can benefit from using fulfillment services. It includes small companies, eCommerce startups, and large corporations. Fulfillment services offer scalable solutions which are easily bootstrapped for the specific needs of each business, regardless of size or industry.
How Do Fulfillment Services Ensure The Security Of Products?
Fulfillment services have security measures to protect the products stored in their warehouses. These measures may include 24/7 surveillance, access control systems, and security personnel. Many fulfillment companies also have insurance policies covering theft, damage, or loss.
Can Businesses Have Access To Real-Time Data And Analytics With Fulfillment Services?
Many fulfillment companies offer real-time data and analytics to help businesses make informed logistics and supply chain operations decisions. This data may include inventory levels, shipping times, and order fulfillment rates. Such data ensures companies refine their processes, improve areas and optimise operations for greater efficiency and profitability.