Best 3PL (Third Party Logistics) Companies in India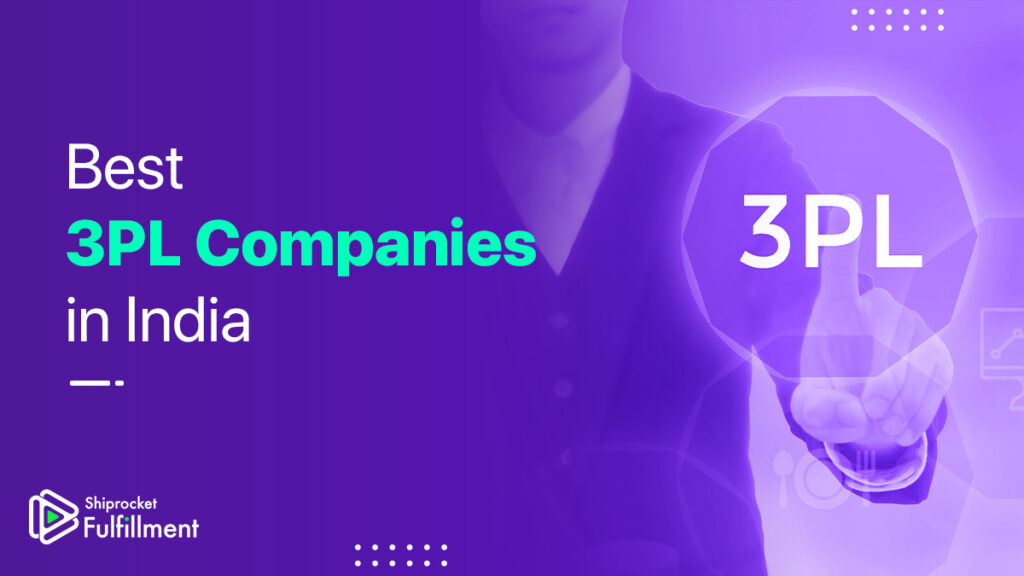 What do You Understand by Third-Party Logistics (3PL)?
Let's first understand what third-party logistics is. The terms fulfillment center and warehouse are equivalent when referring to third-party logistics or 3PL. Order fulfillment businesses also provide many of the services offered by 3PL providers. These services include warehousing, inventory management, shipping, picking and packing and reverse logistics.
Need For Third-Party Logistics Companies
Cost Saving
You will save on fulfillment costs and also get access to quicker deliveries. Thanks to the vast carrier network of a 3PL. Your shipment will always be protected because more carriers are available to bid on with a more extensive network.
Capacity
A 3PL can handle both expedited and regularly planned shipments via multiple modes and channels accessible to them. Increased load consolidation, frequent backhauls, and efficient routing and distribution benefit shippers.
Risk Management
Your company is protected from fines and penalties by outsourcing the risks associated with transportation operations to a logistics service provider. They are aware of and abide by the laws at the state and federal levels.
Technologically Advanced
A reliable 3PL uses powerful tech tools, including tracking tools, a transportation management system (TMS), and others. A 3PL gives you access to a solution that combines reporting and logistics management. To provide visibility on shipment statuses, cost summaries, and typical lead times. Thanks to centralised technology, decisions can be made using real-time and historical data analysis.
Operational Control
You will have more operational control thanks to a 3PL partner. 3PLs can give complete load and freight management visibility thanks to integrated systems and technology. To monitor your transportation management, you will receive regular reports and analyses. The client retains complete control.
Save Time
Businesses can save time and money by outsourcing transportation management. To improve the value of your supply chain processes, third-party logistics providers offer their expertise and resources, freeing up your time to concentrate on your company's products, operations, and clients.

Some of the Best 3PL Companies in India Are:
1. Shiprocket Fulfillment
Designed to store, handle, pack, and transport orders for eCommerce retailers, Shiprocket Fulfillment is a trusted third-party logistics (3PL) service provider. They have fulfillment centres in Bengaluru, Delhi, Gurugram, Kolkata, Mumbai, and multiple other locations across India. You can effortlessly deliver orders across 24000+ pin codes with Shiprocket Fulfillment, thanks to a broad distribution network supported by 25+ top courier partners. Shiprocket Fulfillment provides 3PL services to various kinds of businesses, not just based in India but from all across the globe.
2. Stockarea
Businesses can create, configure, use, and replicate inventory bases using Stockarea throughout India. Using Stockarea's cloud platform and as little as 100 square feet, businesses may set up their remote inventory base at any of their network warehouses. Including warehouse, shipping, fulfillment, and customs clearance, comprehensive 3PL services are available to businesses. Stockarea provides its clients with full-on-demand warehousing and logistics services.
3. Jayem Warehousing Pvt. Ltd.
Jayem warehousing has more than 25 years of experience in contract logistics. Additionally, they developed into a full-service 3PL supplier of end-to-end logistics services, offering warehousing, distribution, logistics, fulfillment, first mile, long haul, express, last mile, and packaging services. They provide various logistics services to clients in office automation, FMCD, FMCG, e-commerce, and retail industries out of more than 70 warehouses that run throughout 30 cities in India.
4. Allcargo Logistics
The logistics company Allcargo Logistics Ltd. offers international multimodal transport (LCL, FCL, and air), pan-Indian CFS & ICD operations, project forwarding & crane rental, e-commerce logistics, ship ownership, and contract logistics, among other services. It has a sizable worldwide network and numerous strategic international engagements. It works in 164 countries across 301 offices.
5. Access Warehousing
This company leverages its outstanding operational experience to provide best-in-class services across an integrated global network, focusing on general business and the specialised needs of the automotive, consumer & retail, oil, healthcare, industrial & aerospace, and technology sectors. Over 200 committed workers around the country operate in different geographic clusters to provide organisational excellence and feasible solutions to the most challenging supply chain issues. They develop and execute industry-leading solutions in both freight management and contract logistics as one of India's leading non-asset-based supply chain management companies.
6. FM Logistics
One of the prominent 3PL firms, FM Logistic India, oversees 90+ warehouses spread over 30+ locations, totalling more than 4.50 million square feet of warehouse space. FM Logistic India provides warehousing & distribution services for the FMCG, retail, automotive, consumer durables, E-commerce, engineering, telecom, and pharma sectors.
7. Mahindra Logistics Limited
To expand the company's focus on logistics services for internal and external customers, Mahindra Logistics was established as a strategic 3PL. They specialise in helping businesses implement supply chain solutions by bringing together the best people, technology, processes, and practices.
8. ARK Supply Chain Solutions
Their goal is to become a customer-focused logistics company, which they want to achieve through ongoing technological advancement and more than three decades of expertise. With a total premise space of 500,000 square feet, their facilities comprise a fully operational third-party logistics set-up in Hyderabad, Bangalore, Vijayawada, Bhiwandi, Mumbai, Aurangabad, Pune, Vashi, Delhi & Ambala.
9. Baxi Group
Baxi Group's unmatched 3PL services, which encompass several benefits, including inventory management, information systems, and reverse logistics, cater to clients across the nation and beyond, earning the company a reputation for excellence, confidence, and dependability. The organisation has reached out to the entire country of India thanks to a solid infrastructure that houses cutting-edge technology and is supported by a skilled and dedicated crew.
10. DTDC
DTDC is India's leading logistics and supply chain solutions provider, known for its third-party logistics services. DTDC manages over 1.2 Crore shipments monthly through its network of about 580 facilities and 14,000+ channel partners. The company offers a comprehensive range of technology-enabled logistics solutions for various industries.
11. Gati Limited
Gati Limited is India's top-tier express distribution and supply chain management company. Established in 1989, Gati brings vast experience in surface and air express services and tailor-made solutions for retail and MSME sectors. Gati covers 19,800 pin codes and services more than 700 districts across India.
12. Ecom Express
Headquartered in Gurugram and incorporated in 2012, Ecom Express focuses on 3PL services tailored to the eCommerce industry. The company offers three main service categories: Ecom Express Services (EXS), Ecom Fulfilment Services (EFS) and Ecom Digital Services (EDS). Ecom Express has its presence in all 28 states across India and serves over 2,650 towns spanning 27,000+ pin codes.
Conclusion
It takes careful consideration and significant study to select the best 3PL partner for your e-commerce business based on technological sophistication, customer service, stability, safety, customisation, omnichannel competence, etc. The rewards of choosing the best 3PL partner, however, are enormous. It will enable you to serve your consumers better and provide your company room to expand and build a good benchmark in the market.