Direct to Consumer Strategies: Which One is Right for You?
To ensure your business's success, you need to take your business everywhere. Then only you can capitalize on all opportunities and convert potential audiences to your customers from every platform. However, to ensure business success, your order fulfillment process must also be flexible so that you can offer your customers exceptional service no matter which platform you gained them from.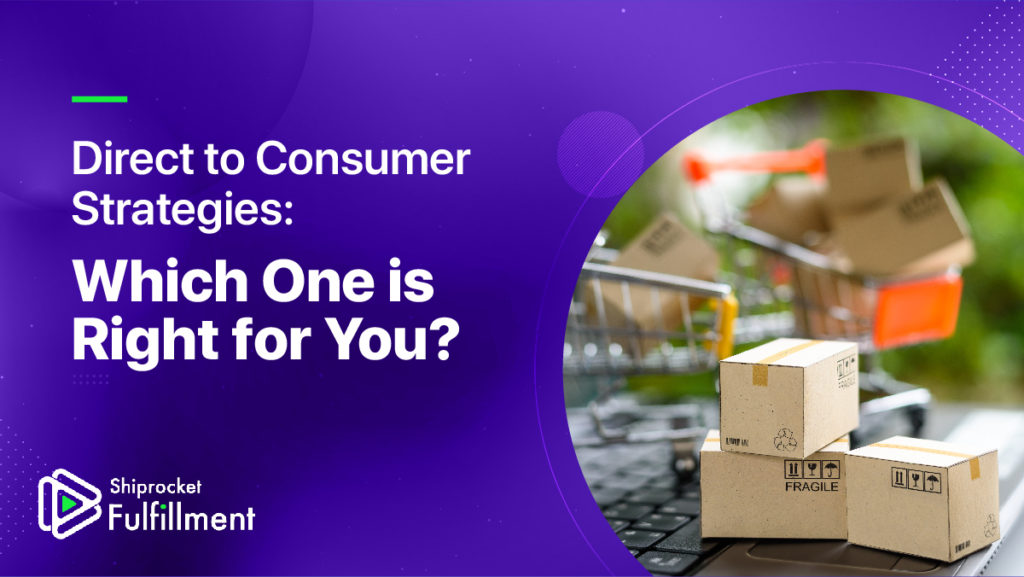 Direct to consumer fulfillment is a process that talks about how to deliver customers' orders efficiently. The latest eCommerce technology and social media benefit D2C businesses the most. With their presence, eCommerce businesses face fewer barriers than traditional retail stores. Since a physical store is not required, operational cost is lower for D2C online businesses.
The Direct to Consumer strategies is becoming important for the D2C businesses to enter the market and run successfully. There are many benefits of going directly to the customers, such as eliminating the barriers between a brand and consumers, giving the producer full control over the brand, sales, marketing, branding, reputation, etc.
Though the barriers to enter the online market are relatively fewer, the new and online brands have to compete against big eCommerce giants like Amazon, Flipkart, and Walmart who already have a big audience. This is why it is crucial to have strong a strategy in place that will help new startups gain popularity and earn a strong customer base.
What is Direct to Consumer (D2C)?
Direct to customer or consumer is a less barrier to entry online strategy. It allows manufacturers and producers to reach and sell products directly to the consumers. It bypasses the conventional method of selling products in the market. In D2C, online brands sell products directly to consumers through different online channels.
Competitive prices are the major benefit of D2C. Another advantage is having direct contact with the customers to get a better understanding of their behavior. Besides, the manufacturers can also experiment with the products and test them with their audiences. But starting a D2C brand is not easy. It is important to have a strategy in place to make sure that you are noticed in the market.
Decoding Direct to Consumer Products Growth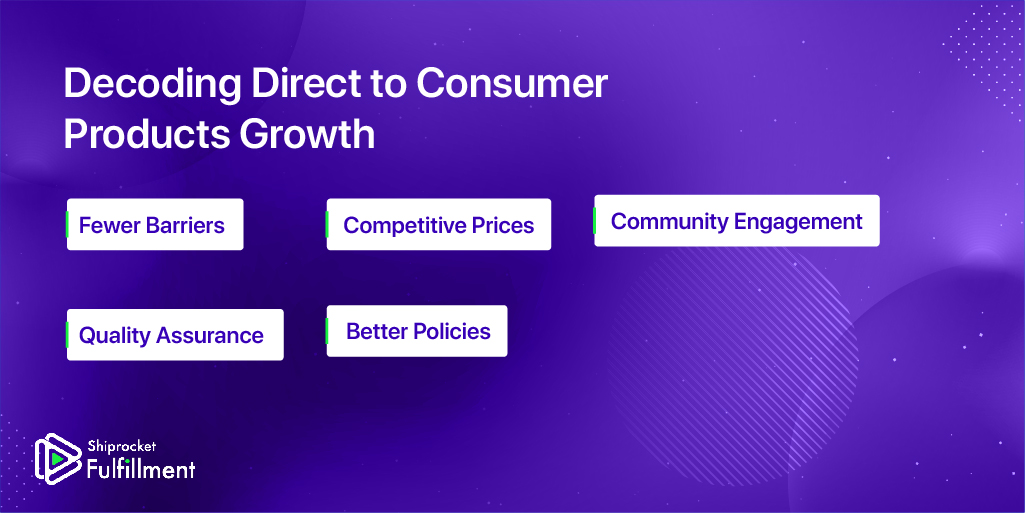 D2C brands grow for a number of reasons, ranging from product pricing, social media, referral marketing, and pleasant customer experience. All these reasons make the D2C brands have a competitive advantage over other retail brands.
Also, since these brands have smaller sizes and a comparatively streamlined supply chain process, they are in a position to offer consumer-friendly policies, lower product prices, the highest customer care services, and quality assurance. D2C brands can grow quickly if they embrace social media and build their audience on online channels.
The following are a few factors that promote the growth of a D2C brand:
Competitive Prices
In a traditional setup, the products go through a few factors – manufacturing, wholesaling, distribution, warehousing, and finally retailing. This is a costly affair since it involves several steps. However, with D2C, there is no retailing involved and the products can be directly sold from the warehouse. Thus, the cost is decreased for the customers.
Better Policies
It is easier for a manufacturing company to offer deals with exchanges, repairs, and refunds since it is directly dealing with the products. A successful D2C brand makes customer-friendly and customer-centric policies that can keep them happy. With better policies in place, it is more likely that the customers will feel you are concerned about their interest the most.
Quality Assurance
When buying directly from the brand's website, the manufacturer can provide all the details related to the product, like what exactly the product is made of, who made it, manufacturing date, etc. As opposed to this, brick-and-mortar retailers can't provide details like this. Thus, the buyers who wish to collect all product information before making a purchase can make an informed decision if they buy online.

Community Engagement
For a D2C brand to be successful, it needs to have a loyal following on social media. They need to engage with their customers directly on social media and turn them into loyal customers. Also, directly connecting with the customers online provides a personal touch and helps them know them better. Thus, the products can be altered as per the customers' needs. The communication can also be designed according to the customers.
Fewer Barriers
As discussed above, there are fewer barriers for a D2C business to enter the market. You can also take the help of eCommerce platforms like Shopify and BigCommerce to create an online platform and start a new business.
Direct to Consumer Strategies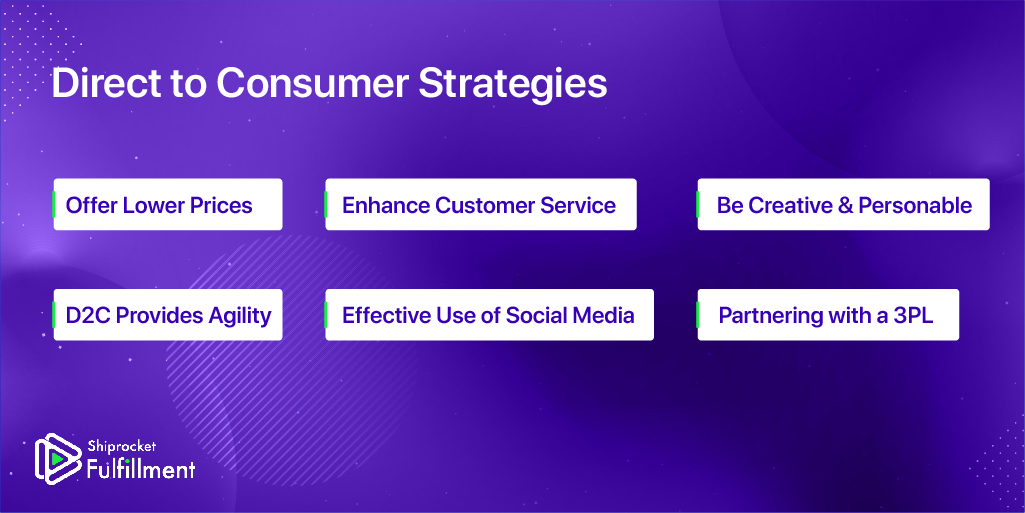 Offer Lower Prices
D2C businesses sell products at the most competitive prices which benefits the customers. Customers can get access to good and quality products at the lowest prices. The D2C brands can take advantage of this very benefit. This, coupled with excellent customer service, can make the D2C brands grow and shine exponentially.
So, offering products at competitive prices can be the best and rewarding strategy for online businesses.
Enhance Customer Service
When you have full control over your productions and sales, you can provide your customers the best customer experience at every step in the sales journey. However, to serve the customers best, it is crucial to know about the customers. Knowing what they want and need in the product is important. Not just this, but also mastering the selling of products through a beautiful website and customer caring staff is also required.
Be Creative & Personable
Once your audience lands on the website, there is a need to capture them through marketing. This gives you the chance to be creative and look for various ways to establish a relationship with the customers. You can look for different ways to attract and sustain them. Besides, you can also come up with a personalized blog for your audience with ideas, tips, etc.
Effective Use of Social Media
You can generate a loyal customer base with an in-app notification, email, and social media posts. Not just a loyal customer base, you can also capture the market quickly and generate high demand for your products with costly ad campaigns.
Partnering with a 3PL
Spending a substantial amount of time on packing and shipping orders can leave you with less time in expanding your business. You can hand over your fulfillment process to a 3PL company. They will receive your inventory, store it in their fulfillment centers, and also pick, pack, and ship your products against the orders received. With this strategy, you can focus on getting more orders and offering the best customer care services to your customers.
A 3PL company is cost-efficient, flexible, and reliable. You can use their experience to offer timely delivery to your customers. By outsourcing your order fulfillment functions, you can take the proper care of your business growth, brand strategy, and other critical aspects.
Third-party logistics providers are very famous among D2C brands with medium to high monthly order volumes. Apart from offering high-quality service, they have a few other benefits on offer as well, like reduced shipping cost, faster shipping, lower weight discrepancy, and decrease RTO by 60%.