Understanding the Pros and Cons of Fulfillment by Amazon (FBA)
One of the significant challenges any seller faces is growing inventory. After a certain point, it is evident that you will need more space to store your products, or you will have to find a location somewhere else. What can you do in such cases?
We are all aware of the FBA model offered by Amazon. The Fulfillment by Amazon model is one of the most popular eCommerce fulfillment models provided by the marketplace as it reduces the order processing time and delivery speed. Over 66% of Amazon sellers opted for the FBA-only model for their e-commerce orders.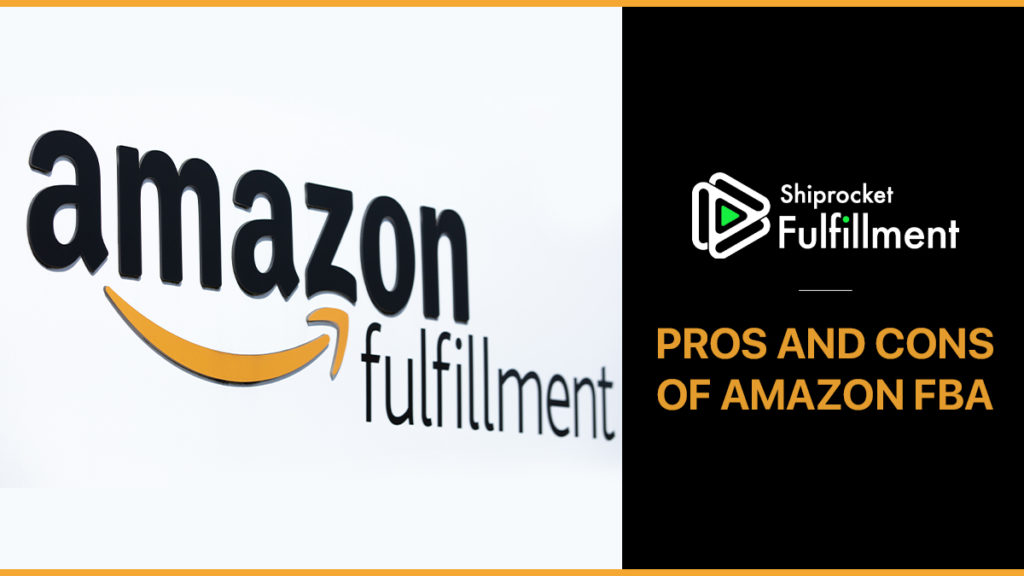 But one question remains. What about the sellers who do not use Amazon for their sales, or is it the ideal model for all sellers using Amazon?
As an order fulfillment offering, Amazon FBA provides all the requirements that any seller looks for. But, the cost is slightly higher, and there are other shortcomings in the model. Let's find out the benefits and disadvantages of this model.
What is Amazon FBA
Amazon FBA refers to fulfillment by Amazon. It is one of the most advanced fulfillment networks offered by Amazon.
With Fulfillment by Amazon (FBA), you store your inventory in Amazon's fulfillment centers, and as you get incoming orders, Amazon packs and ships your orders to your customer's delivery location.
How does Amazon FBA Work?
Once you opt for Amazon FBA, you have to send your inventory to Amazon fulfillment centers. Once you receive an incoming order, Amazon takes care of the entire eCommerce fulfillment process. This involves the storage and warehousing of the product, picking, packaging, shipping, and returns management. Amazon assumes the whole responsibility of your inventory once you send it to the fulfillment center.
For using Amazon FBA services, you need to incur an FBA fee. This phase includes a referral fee (starts from 2% and varies by category), a closing fee that goes by the product price range, a shipping fee that begins at Rs.28 per item, and an FBA specific fee for the services offered.
Let's have a look at a few of the pros and cons of Amazon FBA.
Should You Use Amazon FBA?
Amazon FBA is an incredible opportunity for sellers willing to sell on Amazon only. If you want to sell your products on multiple marketplaces, you will need to arrange your own fulfillment solution.
Competition is fierce on the platform, which is why it might not be the best option for small and new businesses. However, when sellers use Amazon FBA, they receive the prime badge. This helps the seller build credibility and expand its reach to customers that prefer prime sellers over others.
If you're on the fence about using Amazon FBA, this article covers all the necessary information you need. Using Amazon FBA has its fair share of advantages and disadvantages. Consider your pros and cons and make a decision fit for your business.
Amazon FBA Or Self Fulfillment: Which Is Better?
Amazon FBA is a fantastic opportunity for online sellers to tap into the true potential of the eCommerce industry. However, like every coin has two sides, Amazon FBA has its downside.
Which is why many sellers opt for self-fulfillment. For your online business, it is essential you choose and decide what fulfillment method works best and is the most profitable. Here are some key differences between Amazon FBA and self-fulfillment-
When you are self-fulfilling orders, you can sell and ship orders on Amazon as well as other marketplaces. However, under Amazon FBA, you can only fulfill orders from Amazon and not any other marketplaces.
Under Amazon FBA, once you receive an order, the picking, packaging, shipping, and return management is taken care of by Amazon. When you're self-fulfilling orders, you are responsible for packing and processing every order.
With Amazon FBA, the warehousing of products and inventory management is Amazon's responsibility. While, when self-fulfilling orders, the seller is responsible for organizing storage space and accounting for inventory.
Benefits of Amazon FBA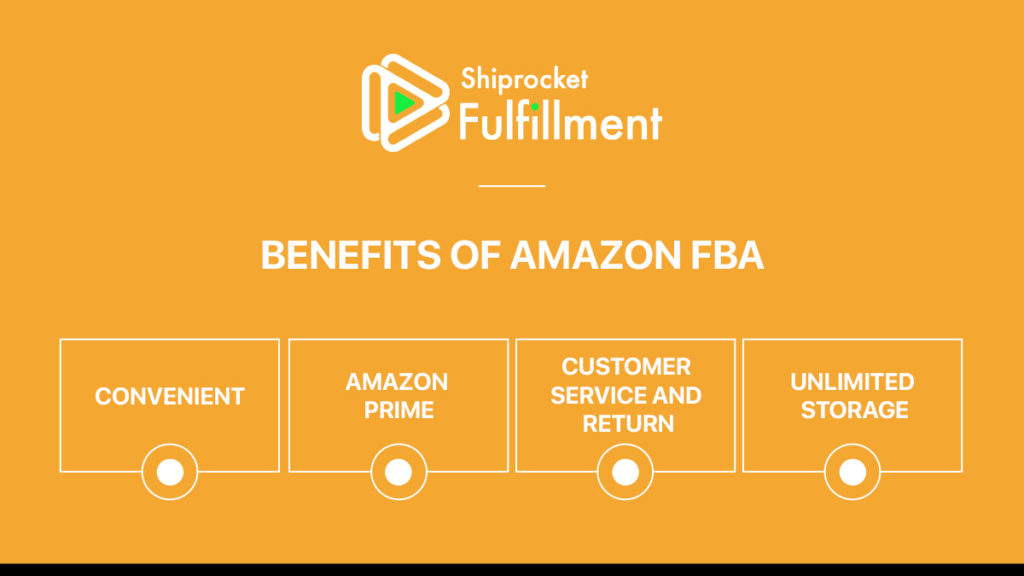 Convenient
Amazon FBA is very convenient for any Amazon seller. It makes the process super easy as you do not need to worry about the entire order fulfillment process after you get an order. Amazon fulfillment centers are equipped with the best technology to fulfill orders and higher skill resources to ensure hundred percent accuracy. Amazon FBA also helps you reduce processing and shipping time.
Amazon Prime
Sellers who opt for Amazon FBA access the Amazon prime tag that provides greater credibility to any seller. A large chunk of the Amazon user base uses Amazon prime. Therefore, this tag brings a lot of advantages to the seller's marketplace store and product listings.
Customer Service and Return
Amazon has an exemplar customer service team that can help resolve any customer query within record time. Opting for Amazon FBA gives the advantage of utilizing this customer service and return order management. Amazon handles customer queries promptly and deals with complaints while taking returns also.
Unlimited Storage
If you look at it theoretically, Amazon Fulfillment gives you a chance to store unlimited products in their fulfillment centers. As orders are processed, you can keep sending more inventory to their centers without any capital investment for warehouse and inventory management.
Disadvantages of Amazon FBA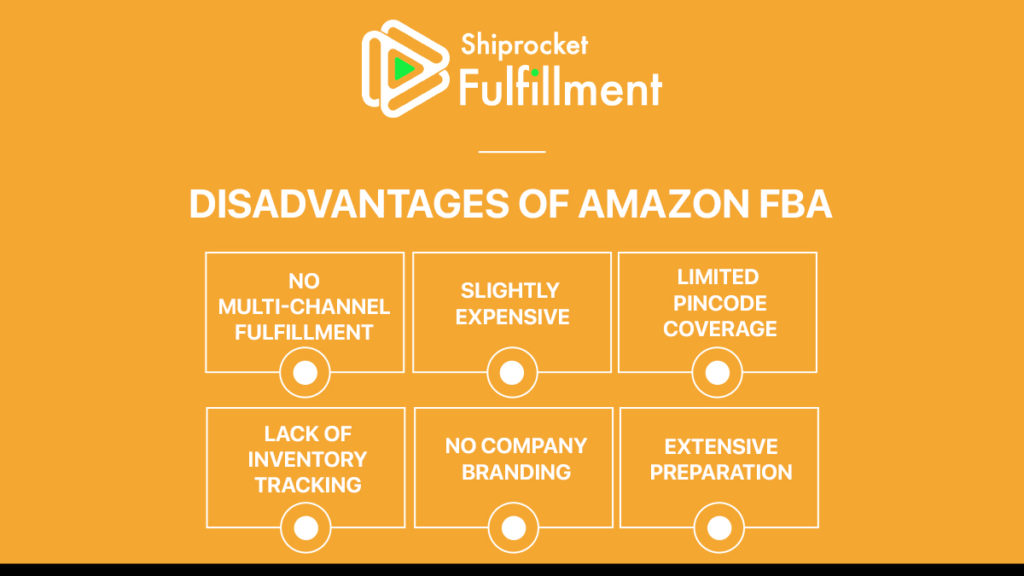 No Multi-Channel Fulfillment
Amazon FBA does not offer multichannel fulfillment in India. If you are selling on multiple channels like your own website, the marketplace, social platforms, etc., you will have to arrange for your shipping and fulfillment for other channels. This comes as a significant blow for FBA users as they will have to invest twice to fulfill incoming orders. Amazon FBA is only suitable for sellers who use Amazon as their primary platform but not for other DTC sellers who utilize several different platforms for selling their products.
Slightly Expensive
The storage and processing fee for Amazon fulfillment is slightly on the higher side as they charge you for several aspects and consider the shipping, storage, referral, and closing fee. This adds up to a considerable amount, and you need to have a particular number of orders to maintain this arrangement.
Limited Pincode Coverage
Amazon shipping network is exceptionally experienced and resourceful; however, the pin code reach is not pan-India. They provide only a limited pin code reach where the process orders with a hundred percent accuracy. If the pin code reach is not included in the FBA offerings, you have to arrange for your delivery.

Lack of Inventory Tracking
Once you send your inventory to Amazon fulfillment centers, you need to rely on them for complete support, and there could be a lack of inventory tracking that could often lead to the accumulation of dead stock. This is harmful to your business as you need to pay extra for maintaining the stock.
No Company Branding
Amazon FBA ships its orders under the Amazon packaging and branding. This can also lead to a loss of your brand name. For someone looking to grow their indigenous label and develop a brand name among your target audience, you must utilize your product packaging and shipping to impact your customer. With Amazon FBA, it can get challenging to achieve this.
Extensive Preparation
Before you ship your products to the Amazon fulfillment centers, you need to carry out a certain amount of preparation for your products. This can get time-consuming and expensive for several sellers.
Amazon FBA Alternatives – Shiprocket Fulfillment
So what can you do if you are not selling on Amazon or if you want to fulfill multi-channel orders? You always have the option of outsourcing your inventory to 3PL fulfillment providers like Shiprocket Fulfillment.
Providers like full Shiprocket fulfillment give you all the facilities that an Amazon fulfillment center provides. You can fulfill orders with our advantageous services and experience a broader reach across India.
Shiprocket fulfillment offers you fulfillment centers across different locations in India so you can store products closer to your customers and fulfill orders 3X faster.

Not just this, with state-of-the-art fulfillment capabilities, our fulfillment centers are equipped with the latest technologies to help you reduce weight discrepancies and also reduce shipping costs by a large margin.
Head to fulfillment.shiprocket.in to connect with a fulfillment expert today!
Final Thoughts
Amazon FBA is a pioneer when we talk about e-commerce fulfillment in India. However, it is not the only solution to help you achieve this goal of seamless and hassle-free fulfillment. Tie-up with 3PL fulfillment providers with Shiprocket Fulfillment so you can get Amazon FBA-like services at reasonable rates and with more features.