When Should You Switch Your 3PL Fulfillment Provider?
Running a retail eCommerce business can be a difficult task. You have to be on your toes at all times, and you cannot miss out on a single aspect of your business, right from your website to the product being delivered. Throughout this process, your 3PL fulfillment provider plays a significant role.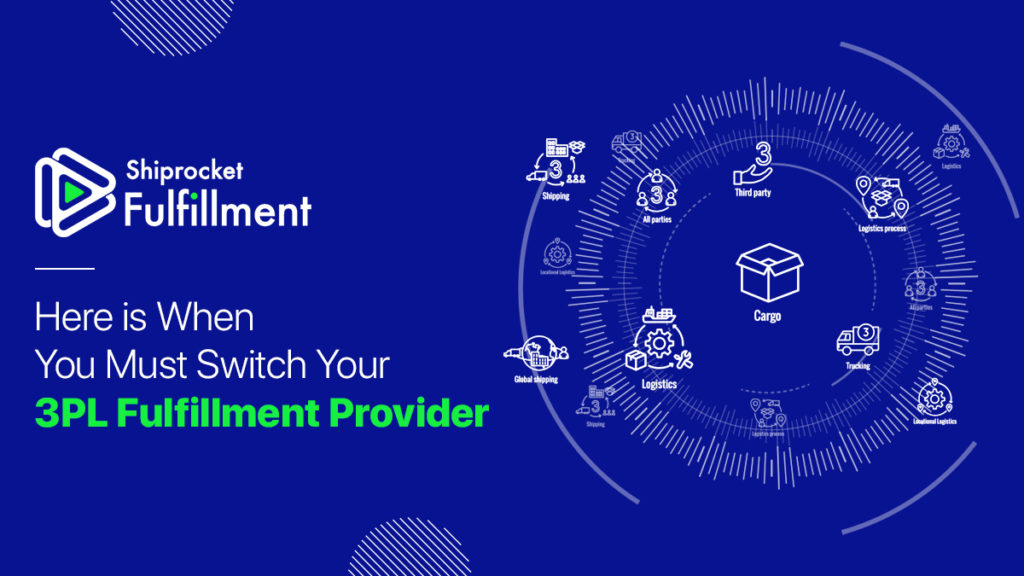 They are essentially responsible for the entire fulfillment supply chain and ensuring that your product gets delivered to the customer in the right state. However, if results are declining and you are not getting the kind of service you expected, it is time to move ahead. How do you know if it is precisely the right time to switch your fulfillment provider.
Switching your 3PL fulfillment provider can be a critical decision for your business. In a way, it will steer the future of your sales and delivery operations. But it is vital to take a look at your current 3PL providers and fulfillment strategy to ensure that your business is headed for success.
A fulfillment provider not aligned with your business could also be a significant reason for stunted growth. Therefore, it is essential to have a look time and again if your association is successful or not. With time as your business grows, requirements change, and it is not necessary that the third-party fulfillment provider you started with also grows with you. Since there are many variables like inventory, an established professional comfort, and other aspects involved, it may seem like a nightmare to switch your 3PL provider. But honestly, it is not. Let's look at the importance of a 3PL and decide when it is time to change your 3PL fulfillment provider.
Impact of 3PL Fulfillment on Your Business
Your 3PL fulfillment provider has a direct impact on your eCommerce business. They are responsible for the timely delivery of your product and the processing of each incoming order. Hence, they have a direct role to play in customer satisfaction and positive delivery experiences.
According to a report by Comscore, 73% of shoppers expect affordable and fast delivery. Therefore, if your three pair provider does not provide you with essential services like fast shipping and error-free operations, it could lead to a negative impact on your business.

Importance of 3PL Fulfillment
Error-Free Operations
Third-party fulfillment providers specialize in order fulfillment so they can provide you with tamper-proof packaging and error-free shipping. This becomes a bonus for your business as you do not have to carry out work like picking, packaging, and shipping yourself.
Trained Resources
All the staff at a fulfillment center is trained for specific operations. If you take care of these operations yourself, there is a chance that you might be multitasking. Having dedicated and skilled employees reduce the risk of errors and improve efficiency.
Automated Operations
Fulfillment centers have The latest warehouse management and inventory management systems. These usually work synchronized with each other, and you do not need to worry about your order management and fulfillment operations.
How to Decide When It's Time to Change Your 3PL Fulfillment Provider?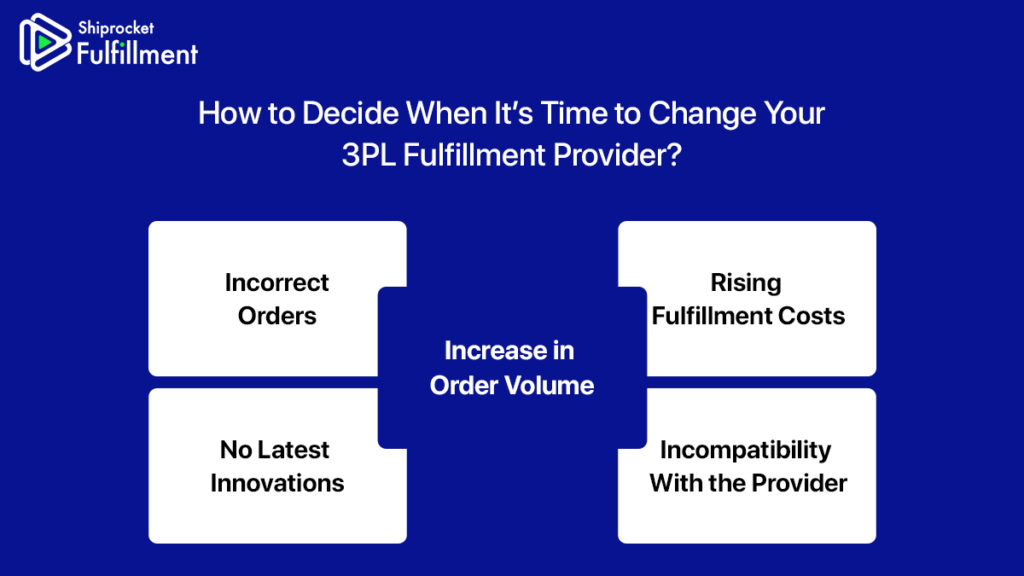 Incorrect Orders
Even one incorrect order packaging and delivery can be a red flag for your business. But even if you want to give them a second chance, several incorrect orders are the right signal. It means that your fulfillment provider is not as efficient as they claim to be, and it is time that you make a move to ensure that your business is not impacted by low customer satisfaction.
Increase in Order Volume
Most times, the fulfillment center you start with can only handle a particular order volume based on their storage and fulfillment capabilities. When you realize that you have a steady increase in order volume, it could be a sign to move your full payment provider to a different one. Lower space for functioning and limited growth might be hindering your eCommerce business by delayed delivery and unsatisfactory work.
Rising Fulfillment Costs
Which time, your business will grow, and you might need to reconsider your fulfillment costs. One of the primary reasons to outsource to a 3PL fulfillment provider is to reduce your fulfillment costs. If your fulfillment provider is continuously increasing their demand, it is time you moved ahead. Growing warehouse, labor, and freight costs can be a threat to your profits.
No Latest Innovations
If your full payment provider is not indulging in any latest innovations and is not adapting to recent technology, your business might be suffering. Since the eCommerce industry is progressing rapidly, it is necessary to adopt the latest technology and trends.
Incompatibility With the Provider
The most important reason for signing up with a 3PL fulfillment provider is the ease of business. You want to make sure your fulfillment operations are simplified and taken care of, not worry about them as much, and take care of them yourself. But, if you feel your full payment provider is not doing justice to your business or you have to put in a lot of effort for dealing with them, it is best to move on. Having many incompatibility issues will eventually lead to unsatisfactory service, and you will have to suffer.
Shiprocket Fulfillment – The Ideal 3PL Fulfillment Solution for Your Business
Shiprocket Fulfillment is a reputed 3PL fulfillment provider that provides you with an end to end solution for warehousing, inventory management, and shipping. Once you sign up with Shiprocket fulfillment, all you have to do is ship your products to a fulfillment center. Like picking, packaging, inventory management, and order fulfillment, all the other operations will be taken care of by the fulfillment center. We have fulfillment centers located in Delhi, Gurugram, Mumbai, Bengaluru, and Kolkata. Shiprocket Fulfillment provides you with several benefits like 2X faster delivery as your store products are stored closer to your customers, affordable shipping rates, error-free operations, tamper-proof packaging, and reduced weight discrepancies.
Final Thoughts
Switching a 3PL fulfillment provider might look like a difficult task, but it is not that difficult if you dwell deeper. Be cautious about the time you spend thinking about it, not regret your decision later as the migration might be difficult if not thought through.