A Deeper Look at Inbound and Outbound Logistics and Fulfillment Processes
eCommerce logistics management is a taxing task that requires you to be attentive at all times. It includes several processes that need to run in synchronization so that the results are enhanced and maximized. We have talked about several fulfillment processes and the steps involved in running the process but never discussed their segregation based on their place in the chain.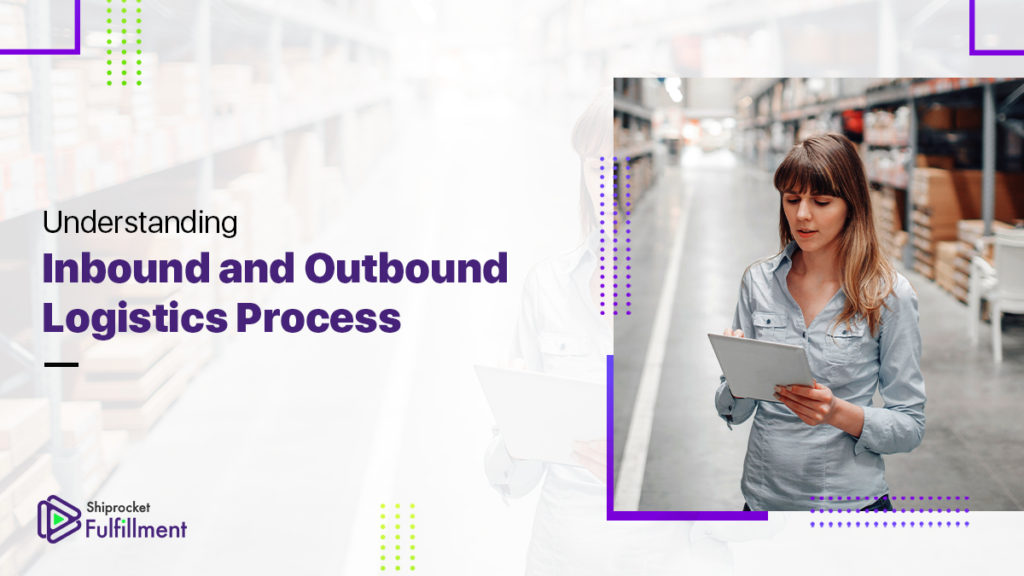 If you are an eCommerce business, it goes without saying that you manage several goods each day and push around a lot of stock to deliver products to your customers successfully. You run this stock with the help of inbound and outbound logistics processes that help you run the show in a streamlined manner and process orders systematically.
Inbound and outbound processes are two sides of a coin that help you stabilize your supply chain and optimize the process or maximized output.
According to research, the inbound and outbound logistics process can today represent approximately 60% of the total costs. Therefore, they need to be addressed appropriately and dealt with carefully to make sure the supply chain is not disrupted at any instance.
Let's have a look at what these processes are and what techniques they consist of.
What are Logistics & Fulfillment?
In one, logistics and fulfillment processes refer to the steps involved in receiving the goods and storing them in the warehousing fulfillment facility. These could include raw materials, finished goods, or supplies from a manufacturer.
There are several steps involved in receiving goods in our shop, fulfillment center, or warehouse. These include quality control, barcoding, and putting away. Let's have a look at them in detail.
What are Inbound Logistics?
Inbound Logistics refers to the moving of raw materials into the company. In simple words, the process involved in bringing the supplies and materials into the supply chain classifies as Inbound Logistics.
The steps involved in inbound logistics are purchasing and sourcing the raw materials. Conducting quality checks, recording invoices and receipts, and lastly, barcoding and stacking the supplies in the warehouse.
What are Inbound Logistics Processes and Fulfillment?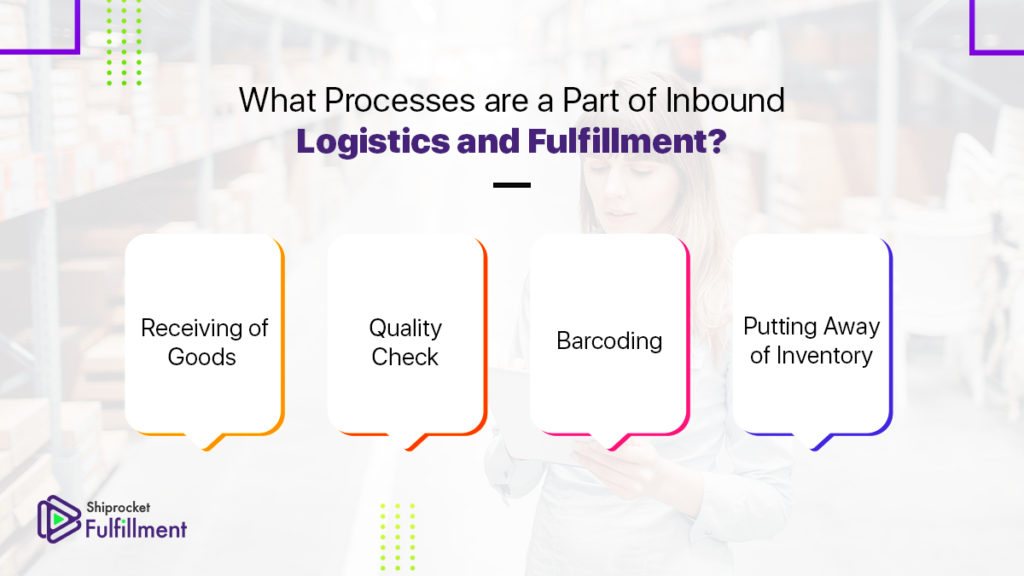 Receiving of Goods
Raw material or finished goods are brought into the facility by a truck or vehicle that is docked in a specific area, and the products are unloaded from it.
The goods are then received in the warehouse, and a gate receipt note is produced for the stock.
Quality Check
The next step in the process of inbound logistics is a quality check. Each SKU undergoes a quality check to ensure that there are no damaged goods that have been sent so that the orders can be processed seamlessly whenever there is a need.
Barcoding
After the quality check is done successfully, the products are barcoded to be easily located within the facility and quickly packed so that there are minimal delays in order processing.
Putting Away of Inventory
The last step of the inbound logistics process of putting away inventory. Usually, fulfillment centers or retail shops are divided into idols racks in which the barcoded bins are placed. The inventory is stopped in these bins so that the barcodes can be matched and can be easily located whenever required.
What are Outbound Logistics Processes and Fulfillment?
Outbound logistics and fulfillment refer to the process of sending away goods. In eCommerce and fulfillment processing, handling the goods after an order is received until they are delivered to the customer. It involves a significant part of the last-mile logistics and the order processing that takes place before that.
What Processes are a Part of Outbound Logistics and Fulfillment?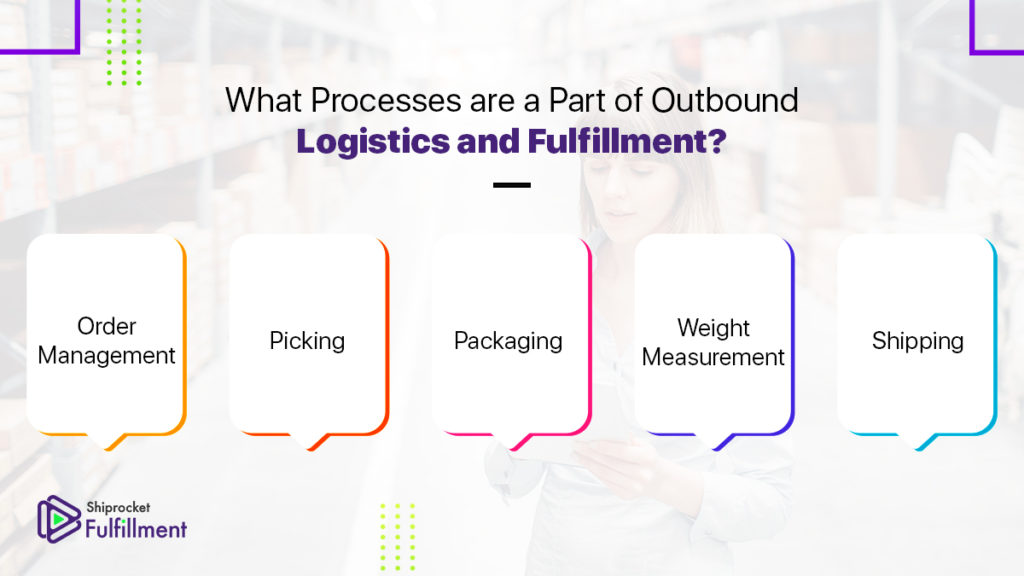 Order Management
Order management refers to handling incoming orders and syncing them with existing inventory to ensure that enough stock is available for processing the order.
Picking
After receiving an incoming order, the next step is picking the order from its designated place in the facility. Usually, a picking operator is a sign for the order, and they collect the SKU by scanning the barcode present on the product and the bin. This ensures accurate transparency and precise processing.
Packaging
After the order is picked from its spot, it is taken to a packaging station, packaged to meet the customer's requirements. It is also labeled here and moves forward for further processing.
Weight Measurement
The next step is weight measurement, where the final shipment is weighed, and the dimensions are recorded to measure the volumetric weight.
Shipping
Lastly, the product is handed over to the courier company for shipping, and it is then connected to a central courier hub which then takes it to the customer's doorstep.

What Is the Difference Between Inbound and Outbound Logistics?
While inbound logistics refers to the movement of raw materials, supplies, and inventory into a business, Outbound logistics refers to the movement of finished products from the business to the consumers. Here are a few primary differences between the two:
| | | |
| --- | --- | --- |
| Point of Differences | Inbound Logistics | Outbound Logistics |
| Direction | The flow of goods is inward | The flow of goods is outward |
| Processes | Sourcing, Material Handling, Quality Checks | Inventory management, order fulfillment, shipping |
| Key Role | Receiving | Delivering |
| Touchpoints | Suppliers, Manufacturers, Distributors, etc. | Retailers, 3PLs, Customers, etc. |
How to Improve Inbound & Outbound Logistics?
Now that you have understood what is included in the inbound and outbound logistics processes, the next concern is how you can enhance the inbound and outbound logistics processes to maintain harmony between operations and improve the final output. Here are a few suggestions for the same.
Reduce Costs
The first big step in optimizing inbound and outbound logistics processes is by reducing the inventory costs. If you invest in the infrastructure yourself, the price can increase drastically if you improve your suddenly stock count. Therefore, you need to invest in optimum inventory so that you do not overstock it. You will need a steady supply for your supply chain management so that you can make the most out of your fulfillment process without having any liabilities.
Use a Warehouse Management System
A warehouse management system can help you figure out the most optimal floor plan, synchronize orders with inventory, keep track of the inventory, forecast incoming orders, and improve the warehouse management process by a considerable margin. It can help you automate the process and save you a ton of manual work.
Outsource to a 3PL Fulfillment Provider
The best option to optimize the inbound and outbound logistics process is to outsource your eCommerce fulfillment operations to a 3PL fulfillment provider. A 3PL fulfillment provider handles everything included in eCommerce fulfillment and shipping for your business. This would mean that you would not have to individually take care of receiving orders, processing them, and shipping them.
A suitable 3PL fulfillment provider would be Shiprocket Fulfillment. With Shiprocket Fulfillment, you can stock inventory in fulfillment centers across the country, and all you have to do is just send across your stock to the warehouse. All the other operations will be taken care of by the resource present in the warehouse. You can make the most out of the spare time and money to grow your business and invest in other facets. You will get 3X faster delivery as you store products closer to your customers, reduce shipping costs, and ower weight discrepancies, which is a win-win situation for your business.
Final Thoughts
Inbound and outbound logistics are a critical part of any eCommerce business. When we talk about the fulfillment process, it is run by the inbound and outbound processes. Therefore, you must individually pay attention to each aspect of these logistics management procedures to ensure that you can draw the maximum output and yield for your eCommerce business.