A-Z of Shiprocket Fulfillment's Warehouse Management Process
eCommerce fulfillment requires the utmost precision and attention to detail. Hence, you must choose the right 3PL fulfillment partner for your business. But how will you judge the efficiency of your fulfillment partner? It is necessary to understand the entire fulfillment process in-depth and how it is carried out at the warehouse to ensure that your active orders are processed thoroughly, and maximum order accuracy is maintained.
eCommerce continues to grow at an unprecedented rate in India. This means that you are expected to see competition in the online shopping space in the future. If your fulfillment and distribution process is sorted out and outsourced with the right 3PL provider, you can easily ace eCommerce!
At Shiprocket Fulfilment; we ensure that each order is processed with a hundred percent accuracy. We promise 99% fulfillment accuracy and also help you deliver 3X faster. Here is a detailed look at the order fulfillment process in the warehouse to give you more insight into our warehouse operations.
Before we begin, let's look at what Shiprocket Fulfillment is and how you can benefit from it.
About Shiprocket Fulfillment
Shiprocket fulfillment is the eCommerce warehousing and distribution arm of Shiprocket. We provide you with an end to end fulfillment solution that takes care of operations starting from inventory management
, order management, picking, packaging, and shipping. With Shiprocket fulfillment, you get access to a pan India network of eCommerce fulfillment centers located in prime locations across the country.
What We Offer
Shiprocket Fulfillment provides you with a plethora of services. Some of the benefits include inventory management, order processing, order management, and shipping. All you have to do is send your inventory to the Shiprocket fulfillment warehouse, and we will take care of all the incoming orders in the area.
With Shiprocket Fulfilment, you can offer your customers one-day and two-day delivery options, sync your marketplace and website to maintain maximum order accuracy, and ensure a positive customer experience.
Currently, we have fulfillment centers located in Delhi, Gurugram, Bengaluru, Kolkata, and Mumbai. Many other locations are going to be added soon.

Here is the order fulfillment process for Shiprocket Fulfillment.
Order Processing at Our Fulfillment Center
Receiving of Products
The first step of order processing at the Shiprocket fulfillment warehouse is receiving products. You have to assign generated barcodes to every item, pack them in boxes, and send them to our fulfillment center.
Once the products are received at the fulfillment center, our operators make a gate entry of the merchandise you sent. This is followed by a thorough product barcode scanning and quality check to ensure your goods are hundred percent accurate receipt.
After the quality check and barcode scanning, the goods receipt note (GRN) is completed.
Storage and Inventory Management
The next step involved in the fulfillment processes is storage of inventory. All the products are stored in unique barcodes and storage bins.
Enough payments enter the inventory area is divided into zones based on categories. The zones are further divided into aisles, racks, and shelves.
After each of your products is scanned with the storage bin barcode, it is stored in the designated area, and the product goes live for sale.
Order Picking
Now when you receive an order, a picklist is generated, and picking operators get to the task of collecting items from their designated shelves.
Orders from multiple sales channels are matched and fit together to reduce time and increase efficiency. The products are picked after scanning the product and bin barcodes using handheld terminals (HHT devices).
Packaging
After all the products of an order are picked, they are taken to a packaging station. Here the product code is scanned using a scanner, and once it maps with the sales order or shipping label, an invoice is automatically generated. Finally, the product is packed and labeled.
You can either send in your packaging material or opt to pack your material with Shiprocket packaging. We use the best quality packaging material like bubble wraps, corrugated boxes, shipping bags, and tapes.
Weight Measurement
This might seem like an additional step, but it is essential to reduce your weight disputes with courier partners. We have installed an automated falcon machine in all our fulfillment centers. This machine is similar to the weight measurement machine used by courier companies. Once your product is packed and labeled, they are scanned with this device, and the dimensions, deadweight, and shipment images are automatically captured. This additional step helps you reduce weight disputes, and we can place a much stronger claim with the courier companies.
Shipping & Dispatch
Lastly, courier partners are allocated to your shipments. To make the process even faster and more efficient, the shipments are segregated based on the courier partner. For example, if there are a total of hundred shipments, and 20 of them will be shipped with Delhivery, they are batched together irrespective of the seller or brand.
This accelerates the process, and all the AWBs of one courier company are scanned. A single manifest is generated, the pick up scheduled, and the courier executive picks up the products for further delivery.
This constitutes the order fulfillment process in the Shiprocket's fulfillment center. Now, let's have a look at the benefits of choosing Shiprocket Fulfillment for your eCommerce business.
Benefits of Choosing Shiprocket Fulfillment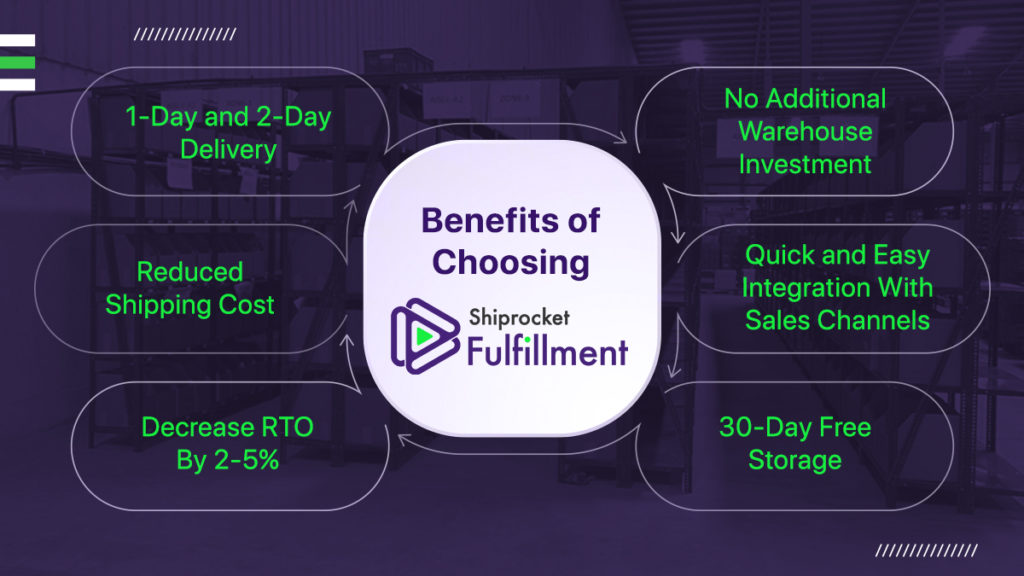 1-Day and 2-Day Delivery
With Shiprocket fulfillment, you can provide one day and two-day delivery to your customers as you store inventory closer to them.
Reduced Shipping Cost
You can reduce the shipping costs by up to 20% as the inventory is talked closer to the end customer, and you have to pay much less for intracity and intra-zone orders.
Decrease RTO By 2-5%
As you deliver faster, the chances of non-delivery reduce, and you can fulfill orders at a much faster pace. This enables you to reduce RTO by 2 to 5%.
No Additional Warehouse Investment
As you are outsourcing your entire inventory management and processing, you do not need to invest in any additional capital to maintain a warehouse.
Quick and Easy Integration With Sales Channels
You can also integrate your Shiprocket fulfillment platform with leading sales channels to ensure you do not miss out on any incoming order.
30-Day Free Storage
You get 30-day free storage for all your items. This offering is ideal for fast-moving inventory as you can save a lot on storage costs. Processing rates start from Rs.11/unit.
Conclusion
Shiprocket Fulfillment is a trusted and reliable eCommerce fulfillment solution for your business. You do not need to worry about the logistics and processing of orders once you tie-up with us. We hope the entire look into the process has helped you gain more insight into the fulfillment centers and make a much more informed decision for your business. Do reach out to us in case of any queries!