Learn to Choose Right Warehousing Solution for your Business
Warehousing is a vital part of the supply chain. Effective warehouse operations help in efficiently managing inventory and enhancing customer satisfaction by delivering orders on time. Though the warehousing principles remain the same, the solutions have changed a lot over the years.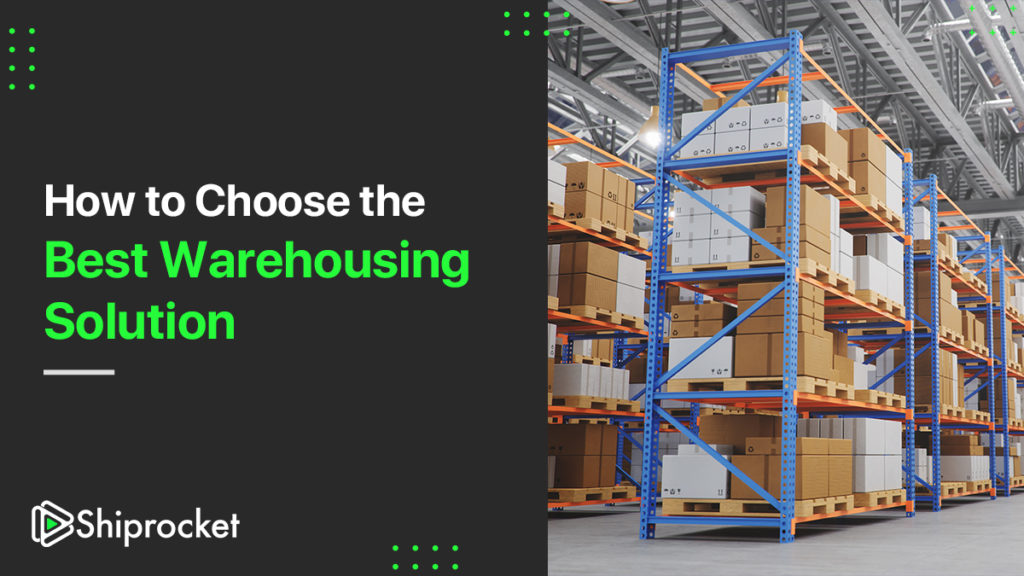 Urbanization, evolving technologies, and the growing eCommerce sector have led to an increase in warehousing and logistics solutions such as third-party logistics.
What is Warehousing?
The storing of physical goods before selling them is warehousing. You securely store the goods in an organized way in a warehouse.
In a traditional brick and mortar setup, the inventory is temporarily stored in a warehouse and then shipped to the retail store for selling. In eCommerce, the inventory is stored in a warehouse until a customer purchases a product online, and then it is directly shipped to the customer from the warehouse.
For new and small businesses, warehousing can be done at home. However, when they outgrow the space, a proper warehouse is required. At this point, you will have to rent a storage space, or you can also outsource your logistics to a 3PL solution provider.
Key Elements of Warehousing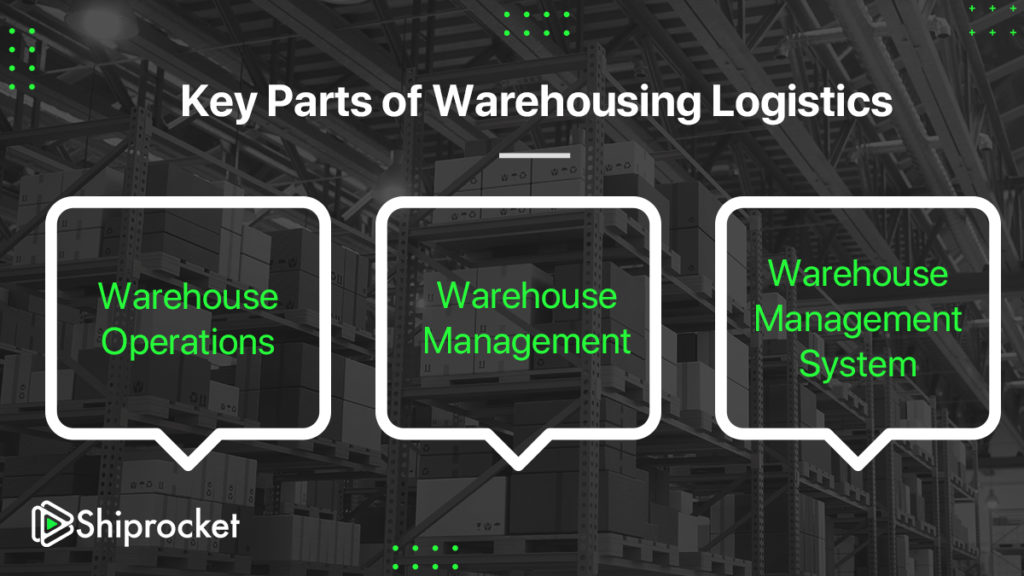 Warehousing is the core of businesses that sell physical goods. Its crucial elements include:
Warehouse Operations
Warehousing operations refer to the processes related to the movement and tracking of goods and inventory taking place within the warehouse. This includes several functions, such as receiving inventory, placing each SKU under a separate location, and sending products.
It helps in:
Keeping the costs low
Keeping the customers happy
Staff productivity
Optimizing storage
Effectively using the equipment
Incoming and outgoing of inventory on time
Warehouse Management
Warehouse management is efficiently managing the day-to-day operations of a warehouse to ensure its proper functioning. Warehouse management includes administering the staff, stock hardware, inventory security, and association with couriers.
Responsibilities
Obtaining required licenses and certifications
Ensuring the protection and security of the inventory at all times
Management of projected volume and labor
Arranging and supervising all the operations as the business expands or takes an unpredictable turn
Recording inbound and outbound shipments
Notably, inventory management software can also be used to manage incoming and outgoing inventory.
Warehouse Management System
A type of software, Warehouse Management System (WMS), provides necessary tools that help manage all warehouse operations effectively to eliminate manual processes and save time. It helps optimize inventory storage and tracking, workload distribution, and shipping of products.
With the help of software, you can get an insight into your warehouse operations in real-time.
Also Read: Learn Which is Right 3PL Logistics Solution
Considerations for Right Warehouse Solutions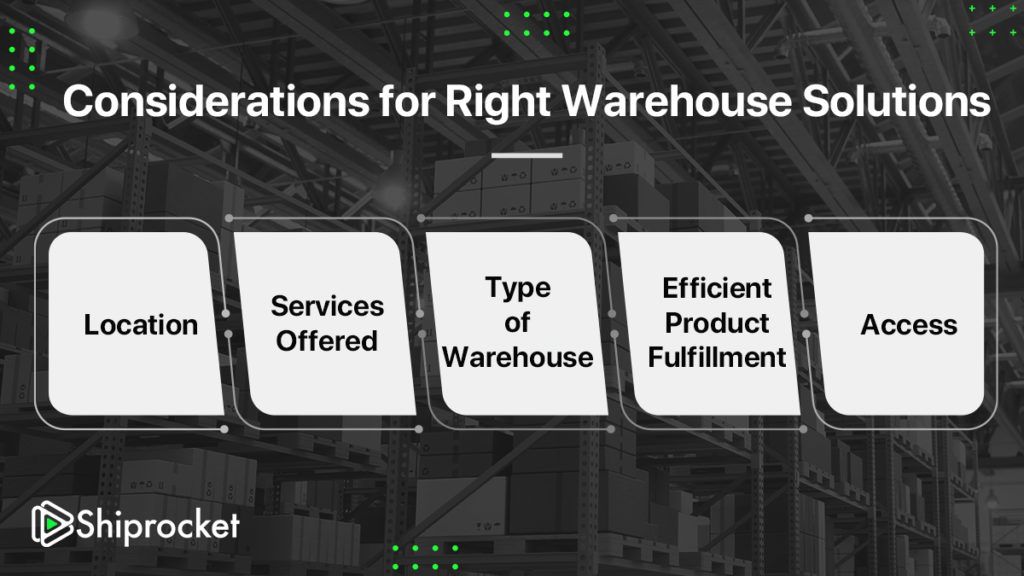 Choosing the right warehousing solutions is critical. It is a process that must be attended to with strategic considerations. Let's discuss some critical considerations to make while choosing the right warehouse solution for your eCommerce business.
Location
The location of the warehouse is indeed the most critical consideration. The location will directly affect fulfillment efficiency. Warehouse locations near convenient transport routes, such as roadways, railways, and shipping ports, will be a good option as it will assist you in shipping products conveniently. Besides, the size and scope of the warehouse will also play a critical role in the final location choice.
Notably, you can choose warehouses that are located at different locations in the country so that you can offer same-day or next-day delivery to your customers across the country.
Tips
If you own a small or mid-sized business, consider a location that is close to your company office or potential customers.
If you operate on a larger scale, storing inventory across multiple locations will help you meet regional demands easily and quickly.
The choice of location of the warehouse strongly depends on business growth. So, consider your short-term and long-term goals carefully.
Type of Warehouses
When it comes to finalizing a warehouse solution, you must consider the following two factors:
Time Frame
Public warehouses are your go-to option if your business involves seasonal inventory. They provide short-term storage. They charge monthly and sometimes include a combination of storage as well as transaction fees.
On the other hand, for long-term storage, contract warehouses are the best option. They handle the shipping and storage of products on a contractual basis. The payment is not only limited to storage space but also includes the cost of subsidizing equipment.
Cost of Warehouse Solutions
Warehouse cost is complicated and includes various cost factors than just the price of square footage. The cost of warehousing depends on your products and fulfillment needs. Interestingly, Shiprocket Fulfillment offers 30 days of free storage and then charges processing fees of just Rs. 11 per unit.
Access
The kind of access you require is another important consideration that comes into the picture when choosing the right warehousing solution for your business.

Tips
Who will access the warehouse from your company? How many people? Find answers in advance so you can avoid timing conflicts.
How many times will you require access to your products? You wish to access your products frequently or are comfortable with your products being solely handled by the outside facility.
What is your shipping and receiving schedule? Is it frequent, seasonal, or irregular?
All these factors are critical and need to be communicated with the warehousing service provider in advance.
Services Offered
The services and amenities offered by the warehousing solution also matter a lot. It varies from one warehousing service provider to another. You can consider the following factors:
Considering these characteristics will help you determine whether the warehousing solution will be able to handle your inventory volume or not. There are other specific requirements that depend on your product category—for instance, a sterile storage facility for products such as medical equipment or baby care products. Climate control for the maintenance of temperature and humidity levels is also imperative.
The other add-on services that you can look for include:
Inventory management and fulfillment
Product labeling
Product packaging
Product processing and assembling
Protection and risk-bearing for products that go in and out of the warehouse
Finally, consider how professional the warehousing solution staff is with handling your products. The staff must be knowledgeable of all your special handling, packaging and storing, and safety requirements. Ultimately, you must get the best essential services like storing, shipping, and packing in a way that you feel secure about your products.
Efficient Product Fulfillment
Lastly, do you need a warehouse provider for the fulfillment of your products? Inquire about the logistics and fulfillment services that the warehouse provides and consider how it can help your business.
A warehouse that provides fulfillment services must use an efficient warehouse management system. If you are using a long-term contract warehouse, inventory control is critical. Ask your warehouse solution provider to give you precise and frequent information related to the inventory. This will help you keep your suppliers updated about when you require more inventory.
In the end, it is imperative to consider all pointers to choose the best warehousing solution for your business. A smaller effort from your side could save you bigger costs and help you manage your inventory efficiently. Many business owners these days are outsourcing their warehousing and fulfillment needs. It helps them manage all their day-to-day requirements and goals efficiently. Besides, warehousing also plays an essential part in eCommerce fulfillment and helps keep your customer satisfied and happy.