Importance of SKU in Order Fulfillment
Running an eCommerce business is not an easy task. It requires a thorough understanding of all the terms and aspects related to inventory management. A flawless order fulfillment process very much depends on the fulfillment strategy and its execution. One of the crucial elements here is SKU – Stock Keeping Unit.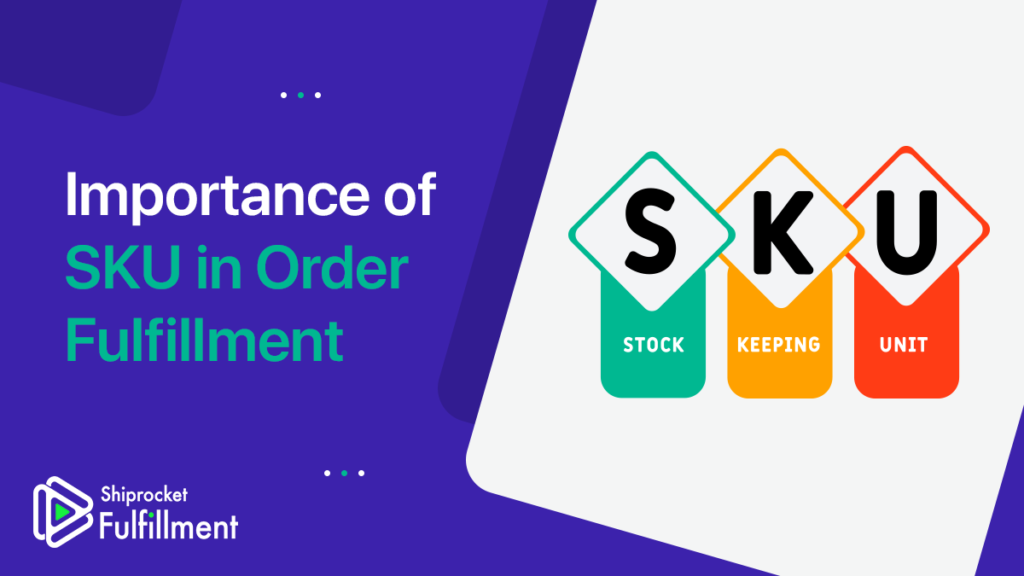 In this blog, we shall discuss SKU fulfillment in-depth and all its aspects to help you execute your order fulfillment process efficiently.
What is Stock Keeping Unit?
Stock Keeping Unit or SKU is an identifier for each item sold by a retailer. A retailer can create his codes for each item/product depending on the different characteristics of the products or merchandise. Typically, SKUs can be broken down into different categories. For example, a store with lifestyle products can have its products classified under different sections.
How does SKU Work?
SKUs help in differentiating the products from each other. It would be a daunting task to track inventory and sales without a classifying number or SKU based on the model, color, size, type, and other such traits. For example, a seller sells t-shirt in two different colors (red and blue) and three sizes (Small, Medium, and large). Thus, the seller will have 6 SKUs for each item. So, he can align the following SKUs to the products:
Red, Small: R1
Red, Medium: R2
Red, Large: R3
Blue, Small: B1
Blue, Medium: B2
Blue, Large: B3

The more products the seller will add, the more color and size indicators he can use. SKUs are entered into the inventory management system to help the seller/retailer track the inventory with convenience. With SKU numbers, the retailers can also create data related to the inventory, sales, and customers.
Uses of SKU
The SKU numbers are not just used to identify products or track inventory. With SKUs and data collected, the information can be used to measure business' efficiency and profitability. The following are the uses of SKU numbers:
Inventory Management
SKU system is primarily used for inventory management. With SKU, the retailers can track inventory level, flow, and turnover, and accordingly manage inventory. The retailers can set an inventory level for a timeframe and check again to initiate or stop inventory orders.
Data Analysis
With the help of SKUs, the retailers can collect data and use it to determine product popularity or sale during a season. They can analyze data to determine the sales trends in different customer segments. With the collected data, the retailers can accordingly stock inventory to meet seasonal demands as per consumer behavior.
Customer Assistance
The SKUs can be used by the store assistants to find out the products quickly in the system first and then storehouse. They can also quickly check out the alternative products available to assist customers. This creates the sales process efficient and brings in more customer satisfaction.
Marketing
SKUs in advertising and marketing are a modern practice. Since online businesses face an all-time increased competition, every business wants to appear unique. As a part of its marketing efforts, it advertises its SKU instead of the manufacturer's model number. This prevents the customers from looking for the same product with the same model number on another website. This decreases the chances of competition with similar pricing strategies and information.
It can help reduce the consumers' practice to visit different stores to compare prices for the product they intend to buy online.
Product Recommendation
Companies use the SKUs to enhance consumer encounters to recommend products on their platform. For example, when you check out a product on Amazon, it also displays other relevant products as suggestions. This is because the company has attached a unique SKU to each product with identifying traits. So, when you look for a V-neck t-shirt, the platform shows other similar t-shirts as well.
Importance of SKU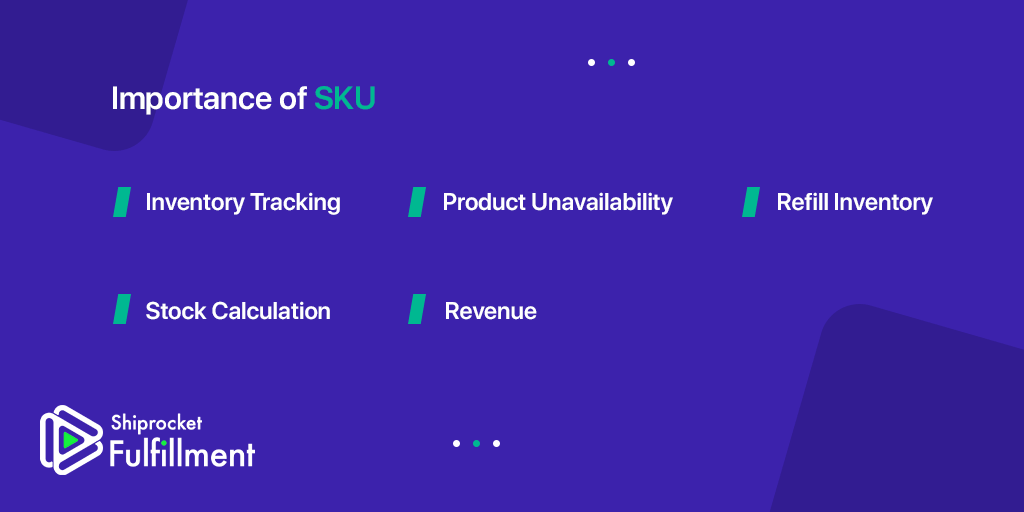 Let us now take a look at the importance of SKU for a business:
Inventory Tracking
A business needs to effectively track its products to ensure their availability throughout the time. All the product variations, like a blue t-shirt in a medium size and a red t-shirt in a small size, can be tracked easily with the help of an online inventory management system. If the system shows SKUs, then the said stock of the products is available.
Product Unavailability
One crucial aspect for a business is to track and recognize product unavailability. A business can sell a variety of products, but the customer might want a particular product. Tracking its availability/unavailability is crucial. Not just unavailability, but a product may miss out anywhere along the supply chain, and the reason behind this can be burglary as well. With the help of SKU, the inventory can be managed the right way ensuring transparency.
Refill Inventory
Managing large inventory all by himself with no technical support can be difficult for a business owner. And when we include product variation, this becomes more difficult. Adding an SKU to all the product variations helps determine the products at hand quickly. A threshold limitation indicates when the inventory refill is required. Handling inventory with SKUs makes it easy to handle inventory and ensure that inventory never gets out of hand.
Stock Calculation
Stock-takes are done to ensure that the stock levels in the storehouse match that of the inventory management system. As discussed, every product variation needs to have its own different SKU. This makes fixing up the stock level straightforward.
Revenue
By tracking product variations with SKU, not just the primary product line but the product variations as well, i.e., size, design, color, and material. The reports can be used to identify the variations that are sold up early and thus, the retailer can invest more in the variation that is bringing up more revenue.
All the points mentioned above clearly indicate the importance of SKU in the order fulfillment process. With SKU, you can track the inventory and stock it up before it well before in time. It may seem confusing, but it is pretty straightforward. It is an integral part of inventory management and the successful order fulfillment process.