Types of Inventory Management System
Maintaining a healthy supply chain is a challenging task that involves various processes for different industries. A reliable inventory management system must maintain the supply chain's health and positively affect how the business operates. Which inventory management system is the best for your business? What are the best practices? How can you choose the best fit? Knowing the answers to these questions can be beneficial for your business.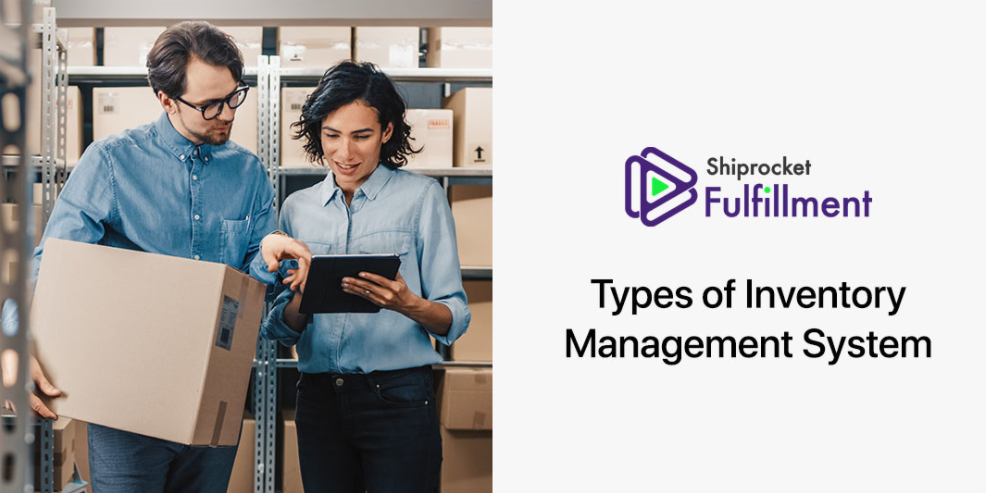 In this blog, we shall discuss the inventory management system in detail and its types to help you make an informed decision.
What is an Inventory Management System?
An inventory management system is crucial for all businesses. It gives insight into the various aspects of the products and helps understand the customers. It is a tool that allows you to track goods across the entire supply chain and optimizes the whole supply chain – from order placement to order delivery. Notably, it maps the complete product journey.
Example:
Ramesh starts an online business selling food items. He has different suppliers who sell products in bulk. Some of these products must be split up and repackaged.
Ramesh creates an excel spreadsheet on a computer, and he updates it whenever he receives products, assembles them, and makes a sale. This excel spreadsheet is his inventory management system, and he is dependent on the same to know how much stock he has in hand. It also includes the expiry date and the number of products he can sell.
Why Do You Require an Inventory Management System?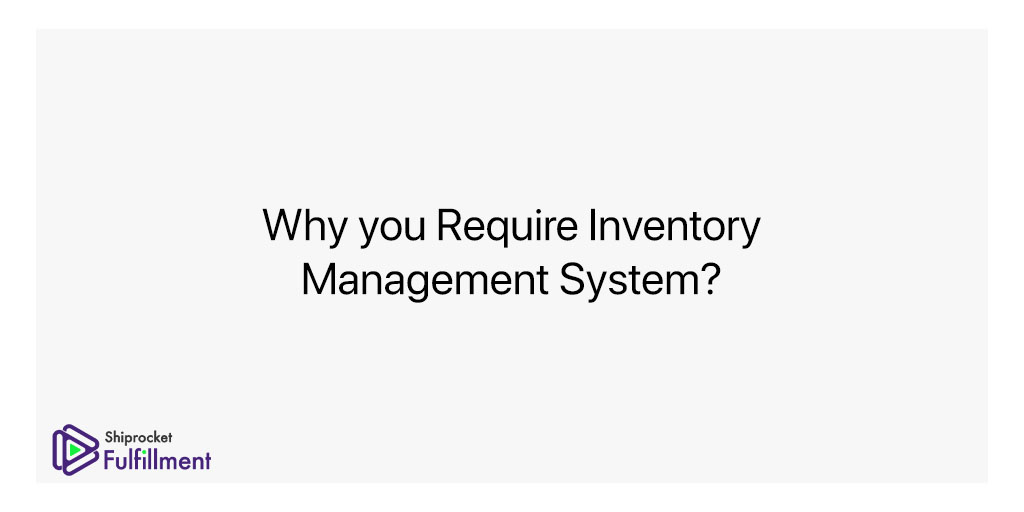 All businesses require a system to track and control inventory. Without a proper system in place, you will have to work on an ad-hoc basis. And most of the time, you will be in a situation where you will be either overstocked or understocked. Inventory systems tell the component numbers and ingredients that you require to assemble the end-product. Without any relevant information, you may have excess stock or insufficient stock to meet your customers' demands.
But when you choose an inventory management system, it is up to you which one you choose. There are different options that you can adopt, ranging from simple to comprehensive solutions.
Types of Inventory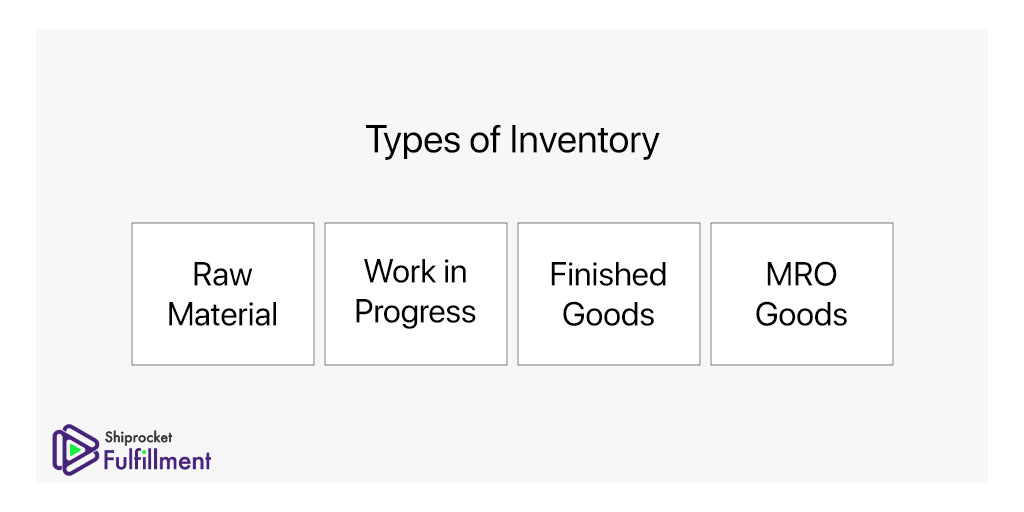 While this blog majorly talks about the inventory management system types, it will be helpful to know the types of inventory. For example, a business operating in the medical sector must comply with different rules, regulations, and compliances than a company that sells apparel or fashion accessories. The clothing company has its own set of rules but nothing too stringent than storing and shipping medical supplies.
The following are a few inventory types that companies deal with:
Raw Materials
Raw materials are used in the manufacturing process. They are used to create finished products. What the raw material is for a company may be a finished product for another company. For example, a company creates components for machinery and equipment. For the company that manufactures it, it is a finished product. However, for a company that manufactures machinery or equipment, it is a raw material. Raw material can be anything, like paper, steel, nuts, bolts, wheels, chemicals, and other such items.
Work in Progress
Work-in-progress inventory is items that are currently being processed. WIP can include raw materials and components that are still in the manufacturing phase and yet to reach the finished product stage. This stage can also have finished products that are pending for inspection or quality control. Notably, the goods whose all steps are completed are considered as finished goods.

Finished Goods
Finished goods are those which are ready for sale and to be used by the final customers.
MRO Goods
MRO is maintenance, repair, and operating supplies. MRO inventory consists of items that are necessary to operate, like machinery and equipment. Basically, MRO inventory is the inventory required for maintaining infrastructure. So, it can also include the products that are raw material, but in reality, they are spare parts.
For example, nuts and bolts. When a company has them in hand to assemble a finished product, they are classified as raw material. However, when a company keeps extra nuts and bolts in storage for possible future repair requirements, they are classified as MRO. Other such products that come under MRO include brooms, mops, packaging material, gloves, uniforms, and office supplies like pens, papers, writing pads, calculators, and printer ink.
Types of Inventory Management Systems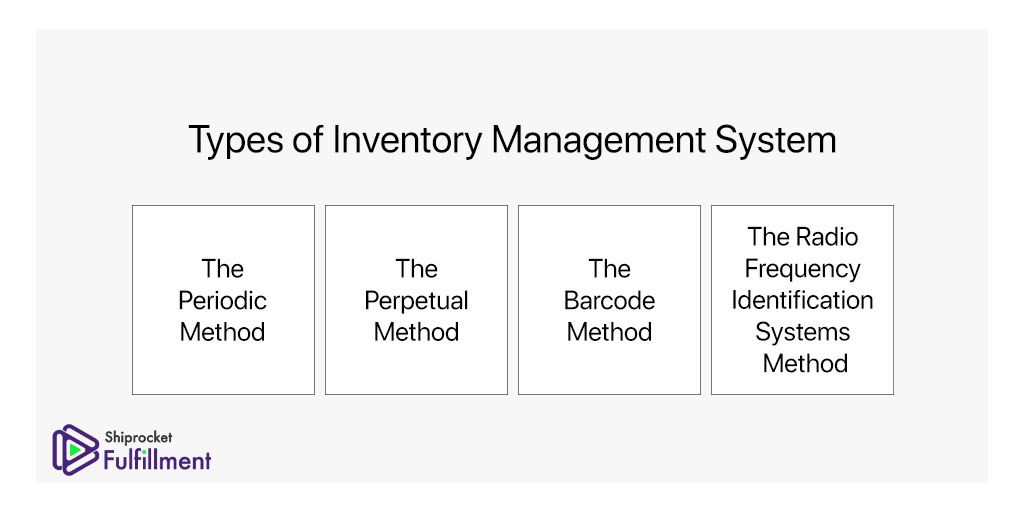 In order to remain ahead of the competition in the market, businesses need to know their inventory. Inventory management can use a variety of methods, but choosing the right method is critical for your business. Depending on the size and type of your business, you can choose between one or more of the following methods:
The Periodic Method
In the periodic method, the inventory data is uploaded after a certain point, usually after a year. Mostly smaller organizations employ this method as they can easily maintain records since they have smaller amounts of product. Physical counts are easy, and estimations tallying the cost-of-goods are not much complex. However, there are a few drawbacks of this method:
This method doesn't provide any information related to the sold goods' costs or ending inventory balance during the period where the count is not accounted for.
When a count doesn't occur, the cost of the sold goods can't be estimated. This may require adjustments when a complete count happens.
Obsolete inventory can't be accounted for during the countless period. So, this will require adjustments when the count happens.
While there are a few drawbacks to this method, it works best for small companies that maintain minimum amounts of inventory.

The Perpetual Method
There's a lot of difference between the periodic and perpetual methods. Here, the company continually updates its inventory records. The most significant advantage of this method is it keeps you up to date with the inventory's physical count information. If the inventory counts are updated continually, the employees don't continually check on stock levels. This saves time and money.
However, when considering the perpetual method, the companies must keep in mind the technology they require. Your company must have a strong inventory management system along with some sub-systems to make the method efficient. These technological inclusions have a number of benefits as well. However, there are a few drawbacks, such as:
This system relies on software and equipment. This can add a considerable sum to maintaining the business.
The systems require continuous updates, and this can be costly.
The recorded inventory does not necessarily reflect actual inventory, and this can lead to discrepancies.
The Barcode Method
Many inventory management systems have barcoding as a standard feature. This feature helps us organize and speed up all the tasks, boosting overall accuracy and efficiency. The employee has to scan the product in and out, and the inventory levels are updated automatically.
The following are some benefits of this method:
Automatic inventory updates
Optimized reporting
Speedy inventory counting
Fewer mistakes as manual entries are minimal
The Radio Frequency Identification Systems Method
RFID systems increase the accuracy from 63% to 95%. The readers scan items and the data is added to the inventory systems. The following are the drawbacks of the RFID system:
Expensive than a barcode system
This system suffers interference issues
The way a business manages its inventory makes all the difference in its business health and supply chain. Whether a business is small or big, a perfect inventory management strategy is required to keep products moving efficiently.