eCommerce Order Fulfillment Trends To Look Out for In 2022
The eCommerce sector in India is growing at an exponential rate. According to a report by IBEF, India's eCommerce sector will reach US$99 billion by 2024 from US$30 billion in 2019, expanding at a 27% CAGR, with grocery and fashion/apparel likely to be the critical drivers of incremental growth.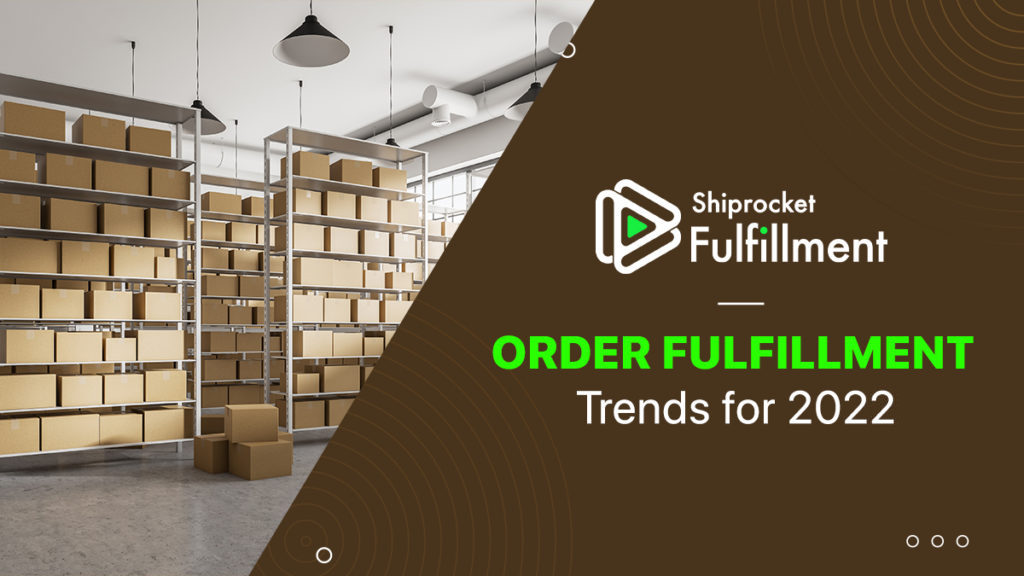 With the global pandemic and nationwide lockdown, the demand for eCommerce has grown by many folds. This has also led to the establishment of several warehouses and fulfillment centers that eCommerce companies are utilizing to fulfill eCommerce orders quicker.
With the need for fulfillment centers in warehouses increasing, several advancements are happening inside them too. Let's look at some of the trends that will shape the order fulfillment space in 2022.
eCommerce Order Fulfillment in India
According to a report, the warehousing and logistics sectors will grow by 35% in 2022. This indicates rapid growth in the industry, with various eCommerce players investing their money in elaborate infrastructure to fulfill eCommerce orders.
Along with that, sellers are also looking for storage options in large warehouses located in tier 2 and tier 3 markets to simplify the supply chain and deliver to her larger ground area.
The warehousing market in India is expected to be worth INR 2821 Billion by 2024.
eCommerce companies, fast-moving consumer durables, fast-moving consumer goods, manufacturing industries, and 3PL fulfillment providers are the primary occupants of India's warehousing spaces. This suggests that the trend for eCommerce fulfillment is only seeing upward growth in the coming years.
Let us look at some of the future eCommerce fulfillment trends that you can look out for in 2022.
Order Fulfillment Trends to Watch Out For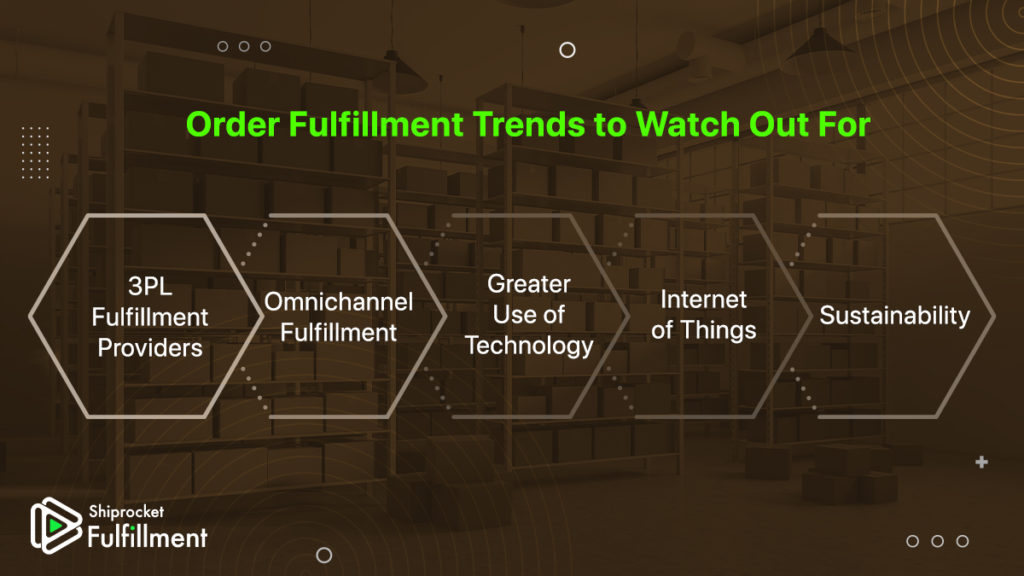 3PL Fulfillment Providers
The demand for fulfillment centers increases, and not every SMB and social seller can afford to invest in colossal capital infrastructure for warehouses. This is where 3PL fulfillment providers come into the picture. 3PL full payment providers manage all fulfillment operations starting from inventory management up to shipping and delivery. Since 3PL fulfillment providers are equipped with the latest technology required to fulfill orders quickly, eCommerce sellers reach out to them more than ever to outsource inventory and order management. 3PL fulfillment providers also have a vast distribution network across the country to ensure that orders are delivered faster.
Shiprocket Fulfillment is one such 3PL fulfillment provider that helps you deliver orders 3X faster to customers and gives you an option to offer one day and today delivery. You can reduce your shipping costs and lower rate discrepancies by leveraging the technology we provide at our fulfillment centers located at prime locations across India.

Omnichannel Fulfillment
The next big train to watch out for omnichannel fulfillment. The focus is shifting only from digital eCommerce to an all-round eCommerce offering that includes providing a consistent experience to buyers across different channels like brick and mortar stores, eCommerce websites, kiosks, etc. The concept of a centralized fulfillment channel is coming into the picture, and sellers are not opting for a centralized inventory order management system to process orders faster. This advancement enables you to process orders from all sales channels similarly, providing a consistent shopping experience to your buyer.
As the faces of a brand are increasing and buyers are reaching out from all directions, sellers are looking for options that make the work easier and simplify their business's fulfillment supply chain.
Greater Use of Technology
The inclusion of technology in fulfillment centers is an up-and-coming trend in the warehousing and logistics industry. Technologies like artificial intelligence (AI) and machine learning (ML) are being implemented to simplify the fulfillment process tasks. By 2019, 37% of organizations had already implemented AI, and the numbers are only expected to grow. AI is primarily used to reduce manual and repetitive tasks in the supply chain, which reduces errors that can lead to a setback.
Automation is the next big thing and can also lead to a more expedited process. Fulfillment centers use automation to simplify inventory management and collect data and real-time to synchronize and process incoming orders efficiently. This is an upcoming trend in the industry and is expected to catch more pace in 2022 as we see a rise in fulfillment centers across the country.

Internet of Things
Data is the goldmine of eCommerce, logistics, and order fulfillment. Rich insights and data are being used to develop and implement IoT (Internet of Things) technologies to monitor their inventory. Technology, like big data, is also being used to centralize the entire process and automate operations.
Sustainability
With many ecological changes happening daily, another notable trend that is catching up in supply chain management and fulfillment operations is sustainability. Brands are now looking to become more cost-effective and environmentally friendly to minimize the environment's effect and adopt more eco-friendly strategies to run their business. As consumer trends are also changing, and the newer generation is looking for sustainable products, brands are also changing their approach to match the demand and move to a more sustainable supply chain.
Conclusion
Order fulfillment is growing into a much bigger industry. Trends are anticipated to become more significant in the future. We hope that these trends give you an insight into what you can expect in the coming year and how you can optimize your fulfillment process to match the industry trends.