Benefits of Warehouse Management Software (WMS) for Your eCommerce Business
It is imperative to maintain efficiency in your fulfillment center if you want to scale and achieve maximum growth for your eCommerce business. To do so, you need to have efficient systems to ensure timely delivery and optimized operation. Earlier, warehouses functioned on manual labor, and operations took devastatingly long to complete.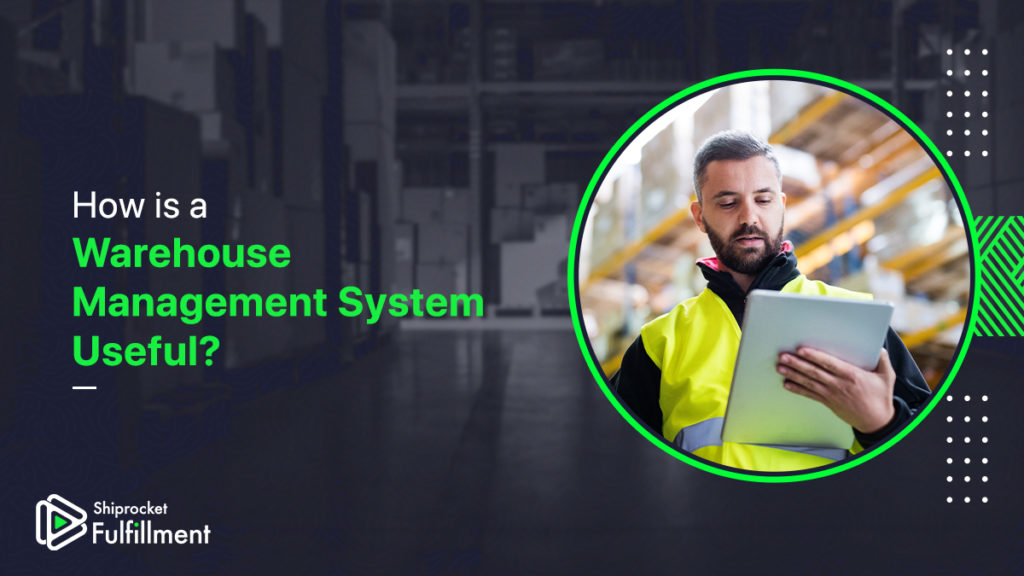 With the advent of eCommerce and online selling, you do not have the time to delay any part of your fulfillment supply chain as you need to ensure your customer receives their order as soon as possible. Therefore, you need streamlined operations within your warehouse to provide minimum fallbacks. Here is why a warehouse management software system will be helpful for your business. Let's look at what a warehouse management software system is and what role it plays in managing your warehouse.
What is a Warehouse Management Software System?
A warehouse management software system is a combination of software and processes that control the warehouse operations starting from inventory management and leading up to picking and packaging. It incorporates all procedures into a single-line supply chain and helps you track all operations seamlessly from a single-view platform.
It helps you track inventory to process incoming and outgoing orders uniformly and keep track of inventory simultaneously.
Several warehouse management software like standalone software, supply chain module, integrated with ERP, etc. All of these are designed to either enhance a single function of your entire supply chain or combine the whole supply chain for seamless functioning.

Let's try and understand this with an example. If you have a warehouse and receive an order from a client on your eCommerce website, you would first forward this to your warehouse, whether the concerned party will then start looking for the product in the inventory and then pack and ship it. In this manual process, you will need to update the inventory accordingly and manually locate the warehouse's product. This can take hours, and you might face a delay in shipping the product out. Whereas, if you have warehouse management software in place, it will automatically sync your inventory and incoming orders and tell you where the product is located so you can find the optimized route to reach and pick it. This process will considerably reduce your overall processing time.
Benefits of a Warehouse Management Software (WMS)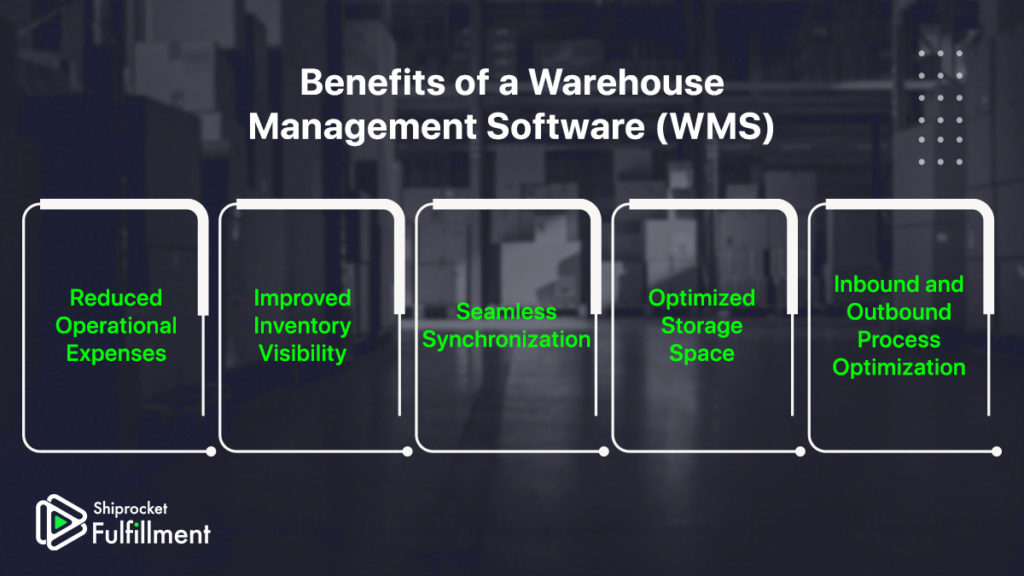 Reduced Operational Expenses
You can considerably reduce your expensive operational expenses by deploying warehouse management software. They help reduce operating expenses in a wide variety of ways. You can use both labors in space which eventually reduces any additional costs or time while processing orders. Most warehouse management software also provides you with floor plans that can help you decide where to locate particular items based on their sale so you can look at them faster whenever you receive an order. They allow you to accommodate your products better to optimize supply chain and warehouse operations by a significant margin.
Improved Inventory Visibility
Warehouse management software gives you an improved look at your inventory so you can track it at any point in time. Along with providing inventory visibility, they also update your inventory in real-time so you can ensure that your stock is always up-to-date. This will help you forecast your demand better, and you will be able to avoid stockouts and debt stock situations. Warehouse management software provides real-time data about your inventory via barcoding, serial numbers, or RFID tagging. This enables you to efficiently document every item as it enters the warehouse and keep track of where it is stored for a more accessible location.
Seamless Synchronization
A warehouse management software lets you seamlessly synchronize your order management and inventory. This means you will be able to update your inventory in real-time whenever you receive or ship an order. Wrong with that. It helps you create optimized routes for picking products not to waste time locating every SKU. Once all the processes are synchronized, your communication improves by a significant margin. You can reduce any manual errors that might come in due to improper communication between fulfillment process departments.
Optimized Storage Space
By assigning specific storage space based on the seals and trends, warehouse management software helps you optimally place items in bins, racks, and shelves. This enables you to optimize your warehouse storage space so you can accommodate maximum inventory. If you do not make use of warehouse management software, you might place products according to improper understanding and face difficulty tracking them. Eventually, you will need to invest in additional warehouse space when your inventory increases because you cannot accommodate all inventory in one warehouse. With warehouse management software, you can optimize your storage space and know which stock to get rid of in a much more streamlined fashion.
Inbound and Outbound Process Optimization
Last but not least, a warehouse management system helps you optimize your inbound and outbound process optimization. They allow you to optimize how a product moves around the warehouse and helps you plan your inbound processes such as gate receiving, barcode scanning, and putting away inventory. Along with that, warehouse management software also allows your supplier to determine the most appropriate date and time to receive a shipment based on the labor and equipment available. For the outbound processes, a WMS helps you optimize the most suitable routes for picking and packaging.
Get Efficient Fulfillment Operations Without Investment – Outsource to 3PLs.
If you are a D2C brand that has just started, it can be challenging to invest in a WMS. Therefore, it is recommended that you outsource your warehouse and fulfillment operations to a 3PL fulfillment provider like Shiprocket Fulfillment.
With Shiprocket Fulfillment, you get access to thoroughly equipped fulfillment centers located across the country. You can store your inventory in these warehouses, and we will process orders with utmost accuracy and provide lightning-fast delivery to your buyer's doorstep. Our fulfillment centers consist of advanced warehouse management systems and other automation that enhance the fulfillment process and process orders 3x faster and with 99.9% accuracy.
Final Thoughts
A warehouse management system can be a game-changer for brands who want to amp up their warehouses and deploy seamless technology for efficient functioning. However, in our opinion, outsourcing to 3PLs might be the best bet for you if you aren't looking for heavy investment.