Top Warehouse Management KPIs Every eCommerce Business Should Track
There is a high chance that your business will scale towards success if its inventory is well managed, with a set of pre-defined key performance indicators (KPIs) communicating the most important trends. Using KPIs and inventory metrics for proper warehouse management is crucial to drive business strategies for ultimate advancement. Otherwise, if not for such a pre-defined set of KPIs, how will you calculate the impact of your functions on the business?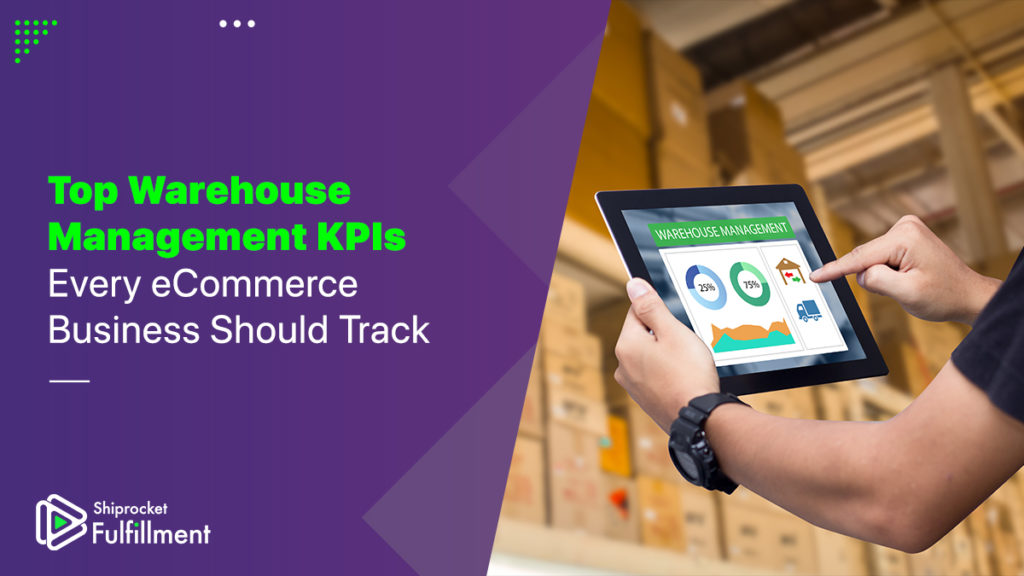 Such KPIs not only help to encourage collaboration among peers but also increase customer satisfaction and reduce operational costs. Here are the 10 most important eCommerce key performance metrics for your business!
Important eCommerce KPIs for your Business
Inventory Turnover
You must set a turnover expectation out of your stock, to know how many times it has been sold/turned over in a given period of time. For example, if you expect your stock to be sold within the next 10 days, and it still hasn't, you need to know a reason behind this. Either you have too much inventory on your hands at the moment or your business is not getting enough coverage for sales. The formula to find out your business' inventory turnover is –
Cost of Goods Sold ÷ Average Inventory or Sales ÷ Inventory
Average Days to Sell Inventory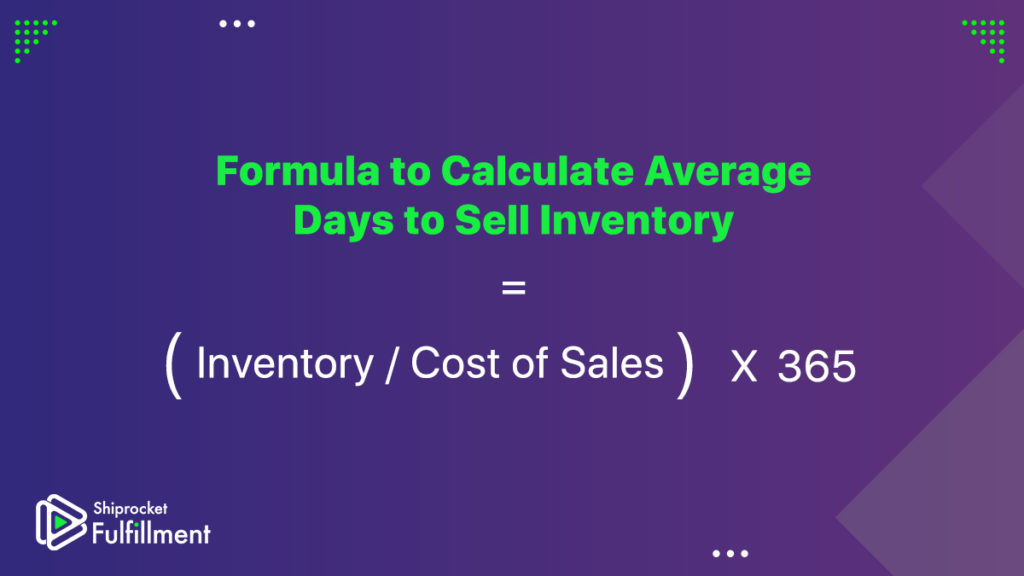 One of the most important eCommerce KPI metrics is keeping an eye on average days taken by the inventory to get sold. Every industry has different expectations in this regard. For instance, a real estate company may be selling 2 residential apartments in 30 days' time and that may be an accomplishment for them. At the same time, a fashion brand may be selling 200 blouses within 30 days' time and that may not be target accomplishment for them. Here is how you calculate this warehouse management KPI –
(Inventory/Cost of Sales) x 365
Average Inventory
You need to figure out how much inventory you have on your hands at a certain time period. Why do you need to do this? Well, what if you receive last-minute order spikes? Or what if you witness a last-minute drop in the inventory and there's no way to fulfill an order timely? You may lose out on a customer, in this case. Therefore, make sure that your business has enabled a constant flow of goods for timely, efficient order fulfillment. Mentioned below is the formula to calculate this warehousing management KPI –
(Beginning Inventory + Ending Inventory) ÷ 2
Cost of Held Inventory
Do you know what is the cost of unsold inventory in your warehouse? If you don't, then you must, even the cost of damaged goods, because that is an expense to the business. Know the cost of storage space, labour and insurance, as well. This will help you set reasonable sales expectations and work on generating demand for your products.

Out of Stock
Another best KPI for eCommerce success is to keep track of every time your product goes out of stock. This one is so instrumental to get hold of because your customers luck out on spending money on your products due to a stock-out situation. And this is exactly why it is important for you to keep your inventory updated at all times. Because you don't want your customer support and your brand image to have to go through countless stinker emails, frustrating phone calls from the customers, bad reviews on the social media etc.
Service Level
You need to know how much stock your business must need to ensure that your customers never face disappointment by facing out-of-stock situations. Therefore, this warehouse management KPI is key to calculate the amount of stock needed to avoid an out-of-stock situation.
Lead Time
This means the amount of time it takes for a business to fulfill orders. Further, this can be segregated into 4 other parts – Entry Date of the Order, Wish Date of Arrival (of the customer), Confirmed Date of the Arrival and Delivery Date. This variety of performance measurement is important to improve upon your company's services. If your order will reach your customers in a seamless, timely fashion, your business will only grow.
Rate of Return
This particular eCommerce KPI enables you to find out the number of orders that are being returned, and how much inventory needs to be restocked. Besides this, you also need to figure out the reasons for these return orders – is it because of a defective product, or delayed delivery etc. Without understanding such reasons, it may be difficult for you to extinguish the problem of RTO from your business. Remember that return orders are expenses for your business, and hence, must be tackled at the roots.

Accuracy in Warehouse Management
What is present on the shelves of your warehouse must also match what's mentioned in your books. If this doesn't happen, you may experience order inaccuracy, untimely deliveries, higher costs and customer dissatisfaction.
Perfect Order Rate
One of the other key KPIs for eCommerce success is to stay on top of your perfect order rate count. But first, let us know what exactly is the perfect order rate?
When you tick mark all the delivery boxes to the perfection, like, delivering the product on the promised date, delivering the right product, the right quantity of the product, at the right address etc. – your order rate becomes perfect in this case. This KPI is crucial to keep the customer satisfaction level high.
Conclusion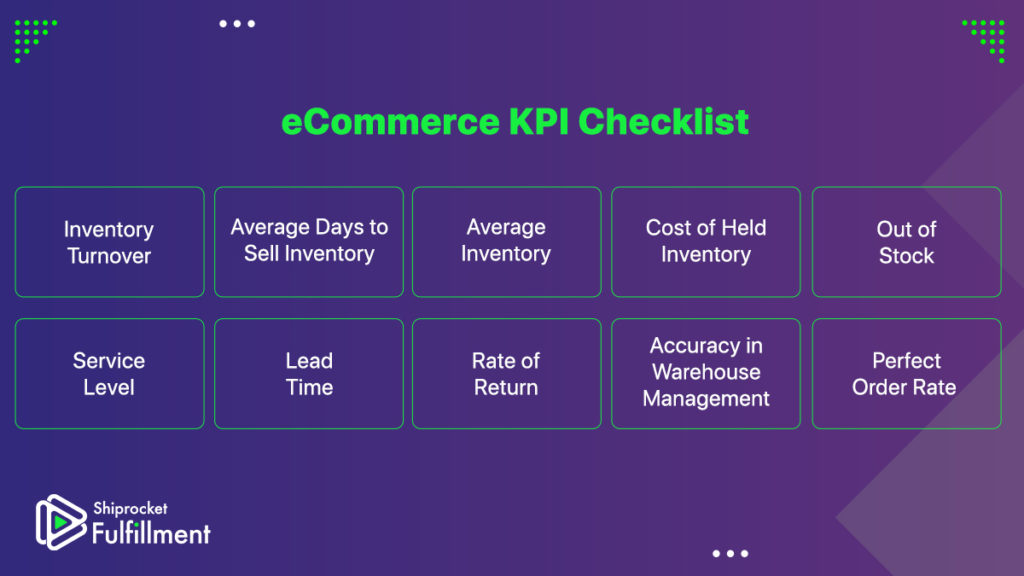 To make your business an utter success in the eCommerce industry, you must have complete knowledge of its aspects. From the moment you receive an order from a customer to the instant, it is delivered at their doorstep, all this must be recorded and studied for an optimised, scalable business. The above mentioned KPIs may be intimidating at first, but they will go a long way in ensuring that your business is on top of its eCommerce game.