5 Tips for SMEs to Enhance Warehouse and Logistics Management in India
The Indian eCommerce industry is growing at an exponential rate. Every day several D2C brands have set up their shop online with their website or social media channels. It has become super easy to start selling online but is it as easy to ship and store products?
The registers and warehouse industry in India is still picking up pace, and brands are now starting to understand the importance of the right warehouse and logistics management systems. Many businesses are taking necessary steps to ensure their orders' seamless fulfillment; many still struggle to enhance their existing supply chain systems.
Here is a brief insight into how SMEs can enhance their warehouse and logistics management in India.
Scope of Warehouse and Logistics Management in India
The warehousing and logistics industry in India is growing faster than ever. It is expected that the warehousing market will grow to $19.5 billion by 2025.
The warehousing market is currently dominated by the retail, FMCG, and logistic sectors. The government has also launched several policies like logistics parks and free trade warehousing zones that prompt India's warehouse market growth.
Also, the supply chain of many businesses has improved as the introduction of GST has reduced the inventory and turnaround time, which has further decreased the number of checkpoints.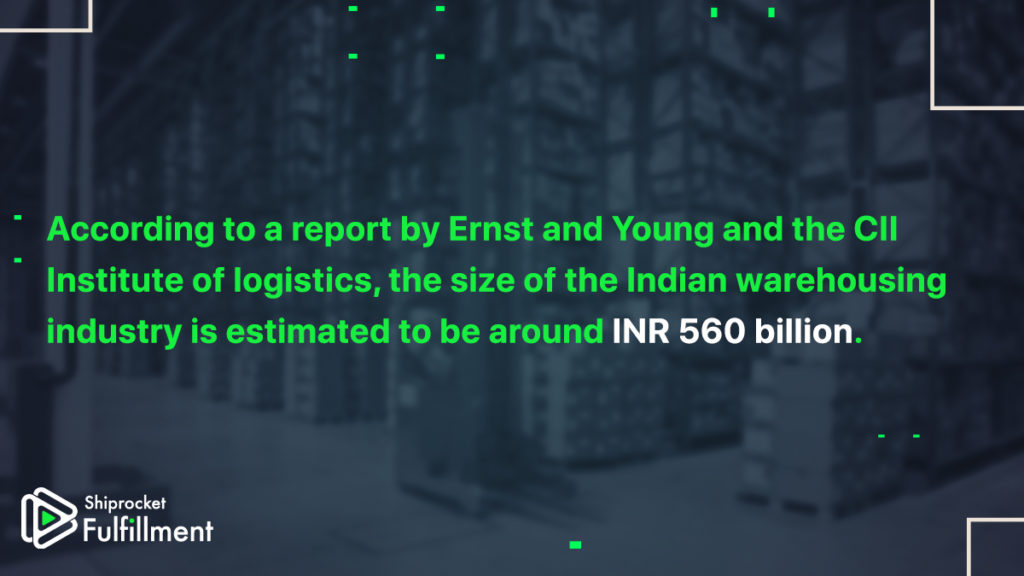 According to a report by Ernst and Young and the CII Institute of logistics, the Indian warehousing industry's size is estimated to be around INR 560 billion.
The logistics and warehousing sector has vast scope in India, and it is said that logistics can be the next goldmine of India.
If you are an eCommerce D2C brand, you must also enhance your warehouse and logistics supply chain for maximum results. Here is how you can do so.
How Can SMEs Enhance Warehousing, Logistics, and Fulfillment Operations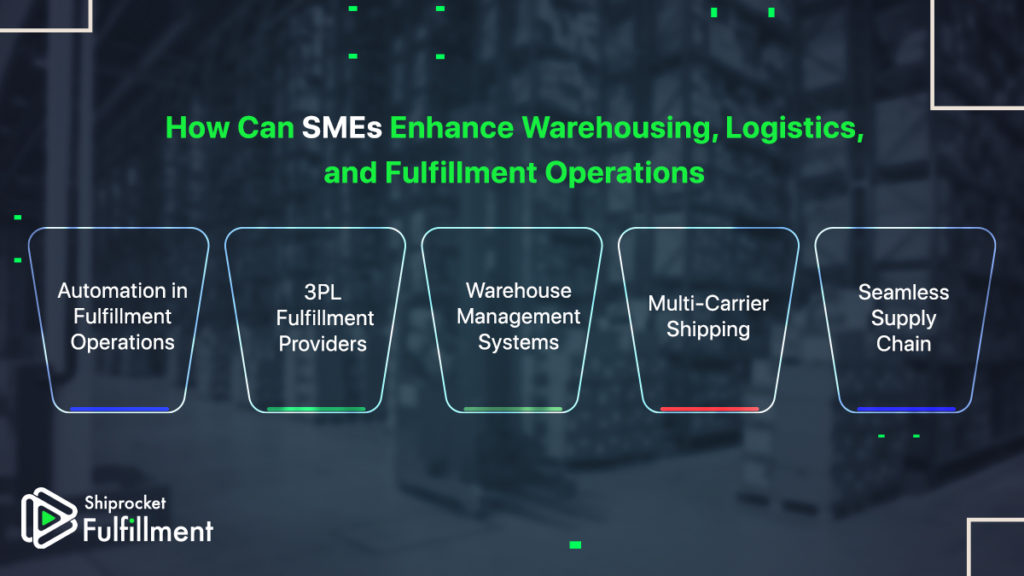 Automation in Fulfillment Operations
Automation is the future of fulfillment operations. Efficient fulfillment can result in a 4x increase in customer experience. With evolving trends like artificial intelligence, augmented reality, and the internet of things, you can optimize your warehousing and logistics operations by streamlining floor management and increasing your warehouse's productivity. Automation in inventory management areas can help you forecast your sales and inventory faster by recording data in real-time. This information can be vital for making decisions regarding your supply chain. What earlier took days or weeks can now be done in a few hours.
3PL Fulfillment Providers
3PL fulfillment providers are the next big thing for warehousing and logistics management. These providers take care of all the fulfillment operations like inventory management, order management, packaging, and distribution. All you need to do is send your inventory to their warehouses.

Shiprocket Fulfillment is one such 3PL fulfillment provider that can help you simplify and streamline your order fulfillment process. We have fulfillment centers located in key zones of India. You just need to send in your inventory, and we will take care of all the processes thereon. By storing inventory closer to your end consumers, you can reduce shipping costs, deliver 3X faster, and increase your customer satisfaction by a large margin.
Warehouse Management Systems
Warehouse management systems can help reduce the order processing time by a large margin. Since the warehouse management system keeps track of where each product is stored, the picking to shipping times gets reduced by a considerable amount. For example, if processing an order took two hours earlier because locating the products Took a substantial time in the warehouse, a warehouse management system can help you reduce this processing time by at least 50%. Along with that, a warehouse management system also keeps track of your inventory and can tell you about your requirements in advance. A warehouse management system is also an extension of the automation you must include in your warehouse and logistics management.
Multi-Carrier Shipping
Multi-Carrier shipping is also helping eCommerce brands gain more excellent serviceability in the country. Shipping with multiple courier partners can help you reach pin codes that might not be serviceable by just one courier company. Since all courier companies do not have the same efficiency in all shipping zones, shipping with multiple carriers can be a significant boon for you. Shipping aggregators and solutions like Shiprocket can be beneficial if you want to improve your logistics management with numerous courier partners at discounted rates.

3PL fulfillment providers like ship rocket fulfillment have a fleet of multiple carriers that help distribute your products in the fastest manner possible.
Seamless Supply Chain
Eventually, it is your fulfillment supply chain that binds all the processes together. Therefore crystal clear communication is essential for smoothly running the supply chain operations. India's major drawback is the lack of clear communication and synchronization between different supply chain areas, which leads to a setback in fulfillment operations. Establishing proper data channels between all segments can immensely help with the proper flow of information and exceptionally optimize supply chain operations.
Final Thoughts
Warehousing and logistics management in India still has a long way to go. With the increasing advent of technology, D2C brands can benefit and improve their fulfillment supply chain operations. As the logistics sector is also dominating India's warehouse space, outsourcing to 3PL full payment providers can be a wise option for any day to see business. There are more benefits than losses, and there is no harm in giving it a shot.