What are the Warehousing Requirements for D2C eCommerce Businesses?
In 2021, if you are still processing large eCommerce orders from a makeshift warehouse or your studio, your business is in for a challenge. With the increasing internet penetration and access to eCommerce, users from across the country are now turning towards D2C eCommerce stores for shopping, even the essential products. Since everything is available online, buyers prefer getting it delivered to their doorstep. The warehousing requirements for businesses are increasing and you need to be at par with them.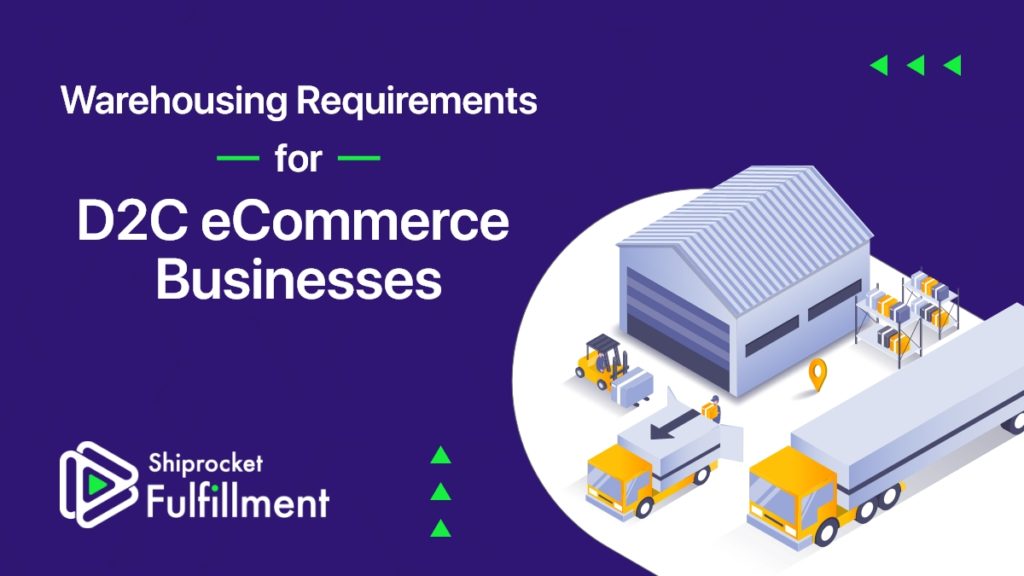 However, with increasing order volumes, you need to prepare additional space to process them accurately. Warehouses are not just a single unit of operation. They are areas where the real action happens. All eCommerce fulfillment operations like order management, inventory storage, picking, packaging, etc., are carried out in the warehouse. Therefore, you need to research all aspects properly before committing to any long-term plan or outsourcing operations.
If you are just starting, here are some of the warehousing requirements for eCommerce businesses in 2021. Let's dig deeper to understand them better.
Warehousing Requirements for Smoothly Running eCommerce Fulfillment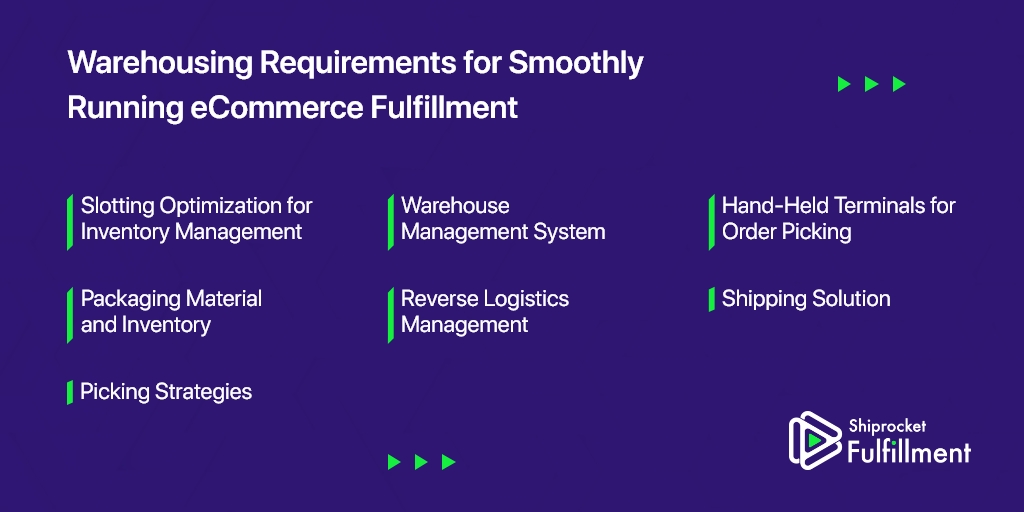 Slotting Optimization for Inventory Management
Organization in the warehouse is critical for eCommerce businesses. Since the entire process is extremely fast-paced and you need to process orders quickly, an organized warehouse will facilitate the same. That is why slotting optimization is essential for eCommerce warehouses.
Optimization refers to the warehouse loading process in which you identify the most critical storage location for each product and store it accordingly. Sorting optimization lets, you pick orders faster and further enables quick and accurate order processing.
You must analyze your existing stock and seasonal sales forecasts for inventory growth and then decide your business's best slotting optimization technique.
Warehouse Management System
The following requirement of commerce businesses is installing a warehouse management system. The warehouse management system helps you establish the best floor plans, and picking rules and also helps maintain synchronization between the incoming orders and the inventory.
If you do these functions manually, they can lead to a considerable delay in order processing, eventually causing late deliveries and a poor customer experience. A warehouse management system lets you optimize orders based on priority and does the significant heavy lifting.
Warehouse management systems also help you forecast inventory and demand to be on top of your game and not accumulate dead stock or face unfortunate situations.
Hand-Held Terminals for Order Picking
To ensure proper storage and packing, it is essential to put barcodes on every incoming product inside the warehouse. Also, while picking orders, you must use handheld terminals (HHT devices). These devices are directly synchronized with the warehouse management system and can detect the product from the inventory. This way, you can conveniently pick orders without errors and process orders with utmost accuracy. Also, automation will help you speed up the process by many folds.
Picking Strategies
Picking might seem like a tiny task in the whole fulfillment process, but it is indeed an essential one. A vital requirement for warehousing is devising picking strategies.
You must try and incorporate batch picking, zone picking, cluster picking, or wave picking strategies. For eCommerce businesses, cluster picking is the most effective speaking strategy as a group of orders are pieced together into a cluster and then picked up together. This makes the process faster and enables you to fulfill multiple orders at once.
Packaging Material and Inventory
Without packaging material, you cannot successfully fulfill any order or deliver it. Therefore, a critical warehousing requirement is to stock packaging inventory and utilize it for every order. An intelligent approach would be to map SKUs to packaging material, so you know which packaging has to be used for every order. This will enable you to correctly pack in order, reduce weight disturbances, and ship better.
Shipping Solution
Shipping solution helps you automate shipping operations along with warehousing ones. It enables you to ship with multiple courier partners, and you can deliver sooner with a wide pin code reach and express delivery. Shipping solutions give you the advantage of handling non-delivery seamlessly by automating functions and also give you a superior post order tracking experience with the help of tracking pages, SMS, and email notifications.
Reverse Logistics Management
Last but not least, an essential warehousing requirement is reverse logistics like management. Without reverse logistics, you will not be able to handle return orders and will lose out on customers because of the same. Your warehouse must be equipped to accept incoming orders and merge them with the inventory or ship or exchange as soon as possible.

3PL Fulfillment – Your Hack to Achieve These Requirements Without Capital Investment
If you are ready to see an eCommerce business that has just started, investing in warehouse capital can be a daunting task. You will need to lease or rent a warehouse space where you set up operations all by yourself. If you do not do so, you will be running your business from your house, basement, studio, etc. With self-fulfillment comes the challenge of storage, aura management, and seamless shipping. Since you require a team to handle these operations efficiently, it can get challenging to run the business smoothly.
However, you can meet all these warehousing requirements for your eCommerce business by outsourcing operations to a 3PL fulfillment center like Shiprocket Fulfillment.
Shiprocket fulfillment enables you to store products and inventory in thoroughly equipped fulfillment centers located across the country. With this, you can keep products closer to customers and deliver 3X faster. It also helps you reduce RTO orders with efficient delivery and reduce weight discrepancy with an automated falcon machine. With a skilled team at your disposal, you can achieve all warehousing requirements without actually investing in any of them. Moreover, you can save on fulfillment and shipping costs by a margin of up to 50%. If you want to work smart and not complicated, outsourcing eCommerce fulfillment operations is your best bet.
You can save on money, time, and resources and do your business much faster than your contemporaries.
Final Thoughts
It is vital to fulfilling all warehousing requirements before you set up a warehouse and start shipping. However, you cannot achieve everything if you are just beginning. It is intelligent and lets a third-party fishermen company take care of your business and help you gain profits.