Why is Shiprocket Fulfillment an Intelligent Choice for Small Business Owners
Did you know that 38% of online shoppers will abandon their order if the delivery takes longer than a week?
How does that play out for your D2C business if you need to deliver products to people living in remote locations in India?
Will you leave out that target group or work to improve your fulfillment operations to deliver faster with improved order accuracy? We are sure you will choose the latter. However, if not appropriately handled, fulfillment operations will become a daunting task where you will be spending more money than anticipated to achieve maximum efficiency.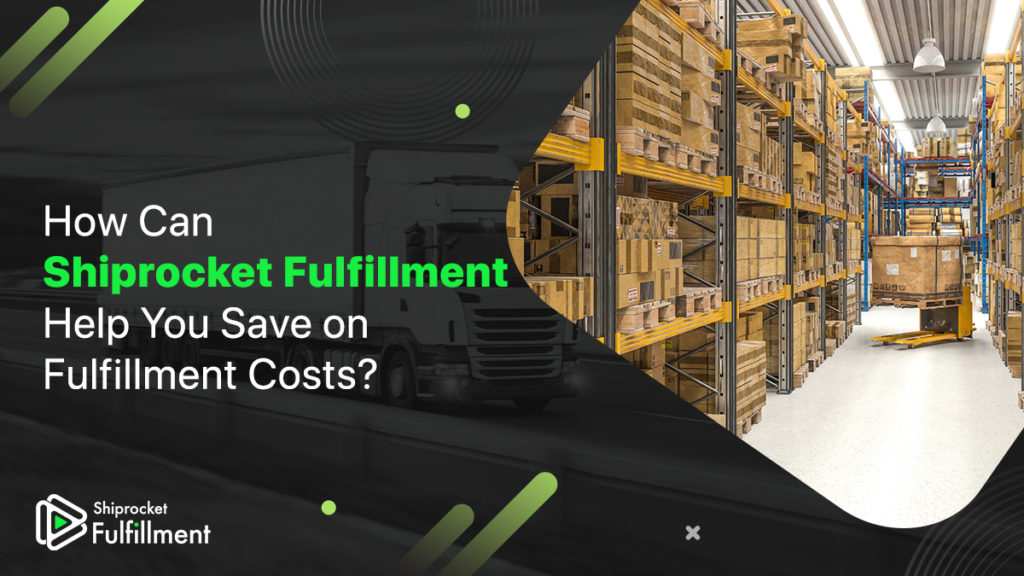 To make this task more comfortable for you, we have a solution – Outsource fulfillment operations!
You must be wondering that being a small business, you do not have the capital to spare for outsourcing anything. When you analyze the option objectively, you will find that outsourcing can help you save on expenses and provide much superior service to your customers.
Let's dwell deeper and see how Shiprocket Fulfillment can lower your fulfillment costs and provide you with better performance. But first, let's see what Shiprocket Fulfillment is and what it offers.
What is Shiprocket Fulfillment?
Shiprocket Fulfillment is an end-to-end fulfillment solution design for businesses of all sizes. It is an all one solution that gives you a chance to outsource your inventory management, warehouse management, order management, and shipping operations to a team of skilled professionals.
With Shiprocket Fulfillment, you can store your inventory in thoroughly equipped 45+ fulfillment centers located across India in Delhi, Mumbai, Gurugram, Bengaluru, Kolkata, and other locations. With this, you can deliver faster to your customers and also save on shipping costs.
Since you can do without investing in additional warehouse infrastructure, Shiprocket Fulfillment enables you to focus on other key metrics and aspects of your business.
Cost Savings With Shiprocket Fulfillment
We speak about cost savings with Shiprocket Fulfillment, but you might wonder if it is practically possible. Well, let us understand with a practical example. This will give you a better idea about how you can save on fulfillment costs with Shiprocket Fulfillment and utilize that capital on other aspects to grow your business.
Let us assume that you receive 1000 orders every month. The average weight of each order lies between 0-500g.
Now let us look at this situation in two scenarios: Without Shiprocket Fulfillment and with Shiprocket Fulfillment.
Without Shiprocket Fulfillment
If you own your warehouse and opt for self-fulfillment, your expenditures would look like this –
| | |
| --- | --- |
| Fulfillment Aspects | Monthly Expenditure |
| Workforce (2 personnel) | ₹20000 |
| Storage Area (Rent) | ₹15000 |
| Maintenance & Overheads | ₹7000 |
| Stationary Cost (Label, manifest, invoice, etc.) | ₹6000 |
| Sum Total | ₹46000 |
Note: All values mentioned are hypothetical and are only used for demonstration purpose
Now, if you process 1000 orders every month,
Hence the fulfillment and processing cost = Total Monthly Expenditure/ Inventory Stocked.
46000/1000 = ₹46
Fulfillment and processing cost without Shiprocket Fulfillment = ₹46/order
Now let's look at the same scenario but with Shiprocket Fulfillment.
With Shiprocket Fulfillment
Fulfillment Costs
The fulfillment fee per order is just ₹18*
Assuming you process 1000 orders from our fulfillment center,
Total fulfillment cost = Orders processed * fulfillment fee per order
= 1000 * 18
= ₹18,000
| | |
| --- | --- |
| Average fulfillment fee per order | ₹18 |
| Total Orders Processed | 1000 |
| Fulfillment Cost | 1000 * 18 |
| Total Fulfillment Cost | ₹18,000 |
Note: All values mentioned are hypothetical and are only used for demonstration purpose
*rates as per the gold tier (0-3000 orders/month) of Shiprocket Fulfillment
Storage is free for 30 days when you send your inventory to our fulfillment centers.
Total Monthly Costs
| | |
| --- | --- |
| Order Fulfillment Costs | ₹18,000 |
| Storage Costs | ₹0 |
| Total Monthly Cost | ₹18,000 |
Note: All values mentioned are hypothetical and are only used for demonstration purpose
Hence, the fulfillment and processing cost = Total Monthly Expenditure/ Orders Processed.
18,000/1000 = ₹18
Fulfillment and processing cost with Shiprocket Fulfillment = ₹18
| | | |
| --- | --- | --- |
| | Shiprocket Fulfillment | Seller Fulfilled |
| For 1000 orders | ₹18/order | ₹46/order |

Therefore, it can be concluded that if you outsource eCommerce fulfillment to Shiprocket Fulfillment, you can save more than 50% on your fulfillment costs.
Similarly, for shipping, you save around ₹15 – 20 for every 500g shipment.
If you want to understand how cost-saving works with Shiprocket Fulfillment, reach out to our experts today!
How Can Small Businesses Benefit from Shiprocket Fulfillment?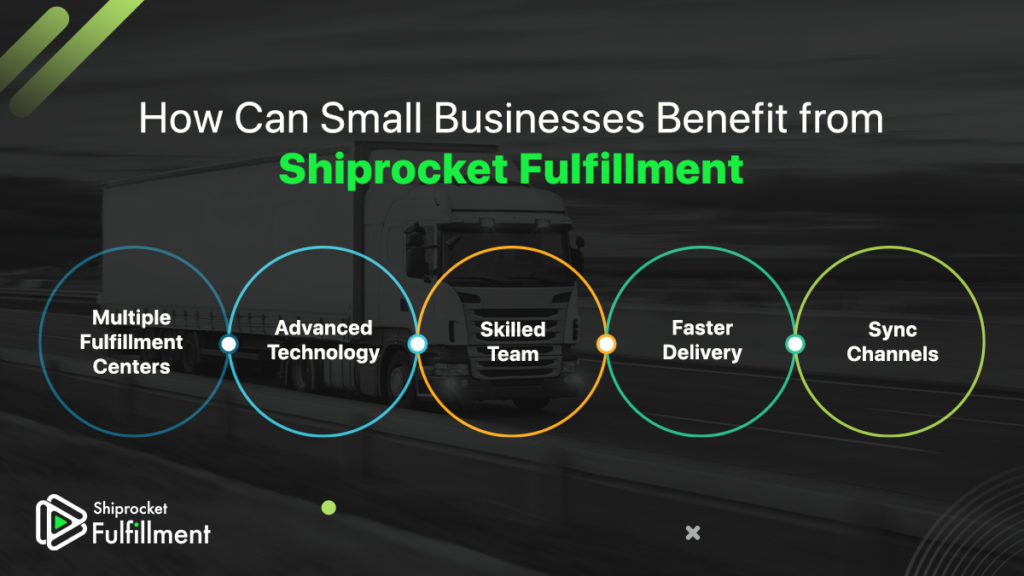 Multiple Fulfillment Centers
Shiprocket Fulfillment has multiple fulfillment centers located in several locations across India. These fulfillment centers are spread out across zones so which helps reduce delivery time by a considerable margin. For example, if you have your warehouse in Delhi and want to ship a product to Bangalore, the usual delivery time would take 3 to 5 days. However, if you stock your products with Shiprocket Fulfillment and let us fulfill your orders, the delivery time would reduce by three days as the product is stored in Bangalore. Also, the shipping cost would be lower. This will help you save up on shipping costs as well and also improve the customer experience.
Advanced Technology
Shiprocket Fulfillment deploys the best technology in its fulfillment centers. All the warehouses are equipped with the latest warehouse management software to manage your incoming orders and process them in the fastest possible manner. We also have a falcon weighing machine in all our warehouses that enables us to click pictures of the final package product and record the dimensions to help reduce the weight discrepancies by a large margin. If you try to install all the latest technologies in the warehouse, the initial capital investment can be too high for small to medium enterprises.
Skilled Team
We are tired Shiprocket Fulfillment Testimonial is trained to fulfill orders in a fast yet accurate manner. This improves the quality of fulfillment and also gives you greater control over the order accuracy. We ensure that our team follows the best standards for inventory management, order processing, and shipping.
Faster Delivery
As you store products closest to customers, you can provide 3X faster delivery and also give an option for one day and two-day shipping on your website. Arranging for one day and today deliveries can be a hassle as courier companies charge very high prices for expedited delivery or do not have the pin code network. With Shiprocket Fulfillment, you can save on these additional costs and focus on other aspects of your business.
Sync Channels
When you sell on your website and also on different marketplaces, it can be challenging to manage incoming orders on one platform. However, Shiprocket Fulfillment lets you sync all your channels with an advanced dashboard so that you can take charge of all incoming orders in one place and process them seamlessly at Shiprocket Fulfillment centers.
Conclusion
To simplify fulfillment operations, it is an intelligent choice to outsource your fulfillment operations to a 3PL fulfillment provider like Shiprocket Fulfillment as you can save on costs by a considerable margin. It may seem like a huge and continuous investment on the outside, but once you dig deeper, it is actually a cost-saving model.