List of Top Warehousing Companies in India
Since warehousing is a crucial part of the supply chain, you must choose one of the best warehousing companies in India for your business. An ideal warehousing company comes with a tailored solution for your business and knowledgeable professionals to handle your inventory and orders. Given their expertise, you need not worry about your inventory and stocking needs. It becomes easier to focus entirely on your core business.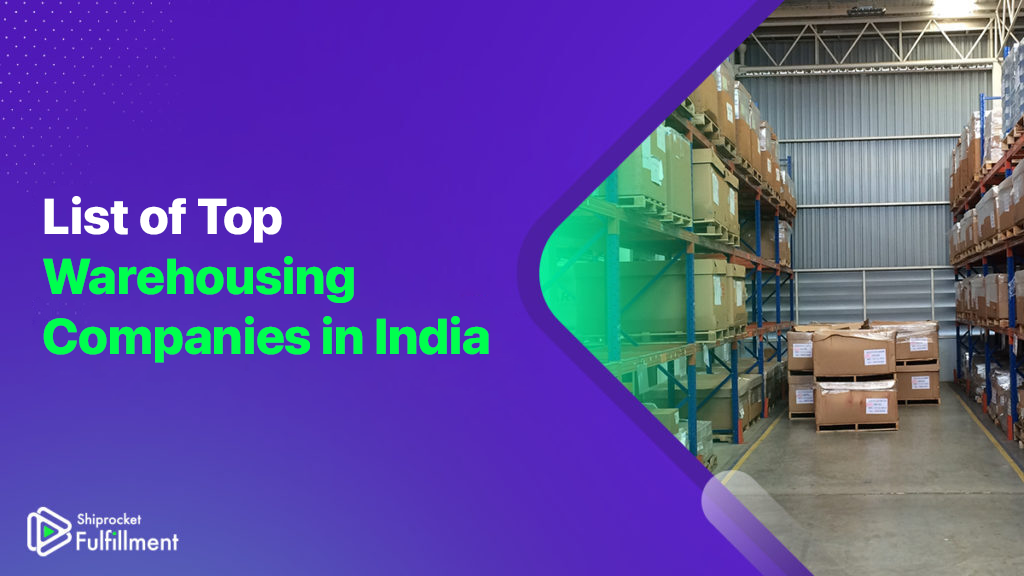 However, before storing your inventory in a warehousing unit, you must know about their services. It will help ensure that you make an informed decision and zero in on a warehousing unit that meets all your requirements. In this blog, we have listed the top warehousing companies in India. Also, have also listed the services provided by top warehousing units in India.
Top 10 Warehousing Companies in India
1. Shiprocket Fulfillment
Shiprocket Fulfillment is headquartered in Delhi and is one of the best choices for a third-party logistics company. They have expertise in fulfillment operations and have 45+ tech-enabled fulfillment centers across India. By storing your inventory in their fulfillment centers, you can offer your customers the same and next-day delivery options. You can also reduce your shipping costs by up to 20% and RTO by 60%.
2. Gati Limited
Gati was established in 1989, and since then, it has been pioneering many innovative initiatives in the logistics industry. Gati has also pioneered express distribution in India and offers end-to-end logistics and express distribution services to customers across various industry verticals. It is one of the top warehousing companies in India and offers seamless connectivity through road, air, and rail.
3. Mahindra Logistics
Mahindra Logistics offers a wide range of integrated third-party supply chain services and transportation solutions. It is one of the top third-party logistics solutions providers and has catered to 400+ renowned brands. Its wide range of solutions includes supply chain management and enterprise mobility.
4. FM Logistics
A subsidiary of a France-based logistics company, FM logistics is one of the top logistics companies in India. It has over 90 warehousing in 30+ different locations in India. It offers a wide range of services, including warehousing for eCommerce and distribution services. Its current clients are from different sectors, ranging from FMCG and automotive to telecom and engineering.
5. TVS Supply Chain Solutions
A subsidiary of TVS Group, TVS Supply Chain offers end-to-end supply chain services to businesses from different sectors. It is a multinational supplier and helps its clients transform their supply chain process with its services. They help their client increase productivity and lower operating costs.
6. Maersk
Maersk is a well-reputed and established company in the field of supply chain and logistics industry. With operations in 130+ countries, Maersk has more than 1,00,000 customers at present. The company offers a wide range of services, including transportation services – air freight, inland services, ocean transport, and intercontinental rail. Its other offerings include digital solutions, data integration, 4PL solutions, cold chain logistics, and warehousing and distribution services.
7. FarEye
Headquartered in Noida, FarEye simplifies the last mile logistics through its product and helps its clients deliver orders on time. They also help online businesses increase their profitability by increasing operational efficiency and reducing costs. FarEye has offices in Delhi, Dubai, Singapore, Chicago, and Manchester.
8. Jeena & Company
Jeena & Company was founded in 1900 in Mumbai. It is a supply chain and logistics company that offers technology-centric solutions. With their state-of-the-art solutions, the company is able to deliver the best solutions for eCommerce companies in India. Their logistics services include air freight, sea freight, door-to-door freight, and warehousing services.
9. Apollo LogiSolutions Ltd.
Founded in 2009, Apollo LogiSolutions Ltd provides 3PL and end-to-end supply chain services to businesses in diverse industries. ALS aims to provide business owners with a stress-free experience by providing them with reliable logistic solutions. Its varying range of supply chain solutions includes supply chain management, warehousing, contract logistics, liquid transportation, freight forwarding, etc.
10. Allcargo Logistics Ltd.
Based out of Maharashtra, Allcargo Logistics Ltd is a leading Indian warehousing company. Operating in 164 countries, the company is well known for its innovative and exceptional logistics solutions. Allcargo provides services like Global Multimodal Transport Operations, eCommerce logistics, contract logistics, etc.
Services Offered by Warehousing Companies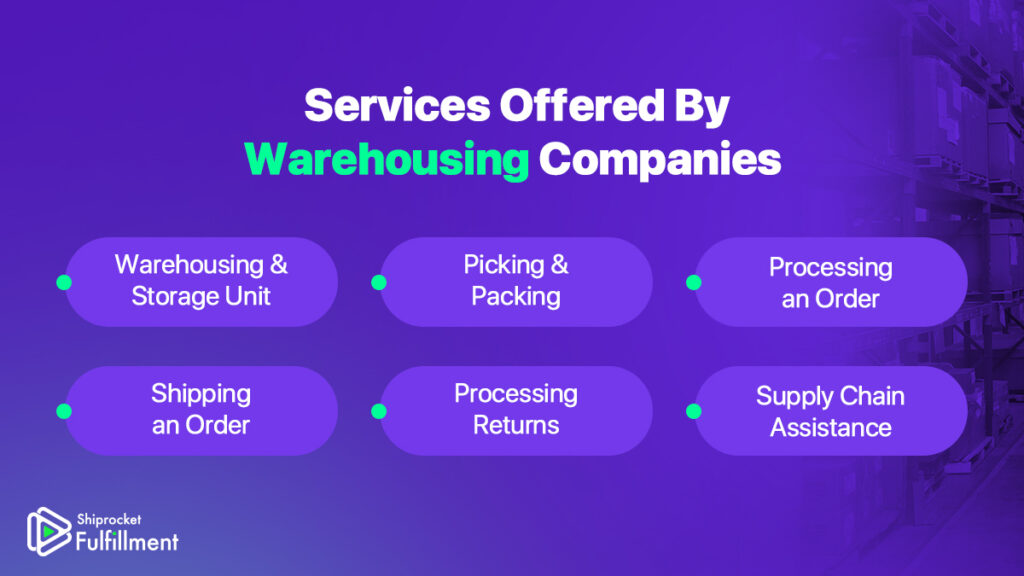 Every warehousing unit or fulfillment center is unique. While most centers offer services like storing, picking, packing, and shipping, some centers offer additional services to help sellers improve their order fulfillment process. Let us look at some of the services offered by these facilities:
Warehousing & Storage
Inventory storage is a standard service provided by a warehousing unit. Demand forecasting can help in managing optimum inventory and supply chain. Forecasting, in turn, can help save money spent on buying and storing excess inventory.
Picking & Packing
Picking and packing are two of the most critical steps in your order fulfillment process. When you receive an order, a professional will find and pick up the product from the shelf. The next step is to take it to the packing station to pack the order.
Processing an Order
The order fulfillment process includes all the steps involved in sending an order. As your sales channel is integrated with the fulfillment center's software, the fulfillment center receives notifications when a buyer purchases a product. They start picking and packing as soon as you receive an order and hand over the packed product to the courier partner for shipping it to the end consumer.

Shipping an Order
The delivery partner you choose is crucial in delivering your orders on time. Therefore, we recommend you choose a 3PL like Shiprocket Fulfillment, as it has more than 25+ top courier partners onboard. And you can choose to ship your orders with the courier partner of your choice. So, for each shipment, you can choose a carrier based on cost, delivery time, etc.
Processing Returns
Sometimes, customers return the product for some or other reasons. Thus, the warehousing unit must also process the returns or arrange reverse logistics. It is also essential to examine the returned item before restocking it. Shiprocket Fulfillment has lower rates for reverse shipments, so the reverse shipments are not a burden on you.
Supply Chain Assistance
Since the professionals at the warehousing unit have expertise in the field, they are ready to respond to all your queries efficiently. They can resolve your concerns and provide you with tailored solutions.
Benefits of 3PL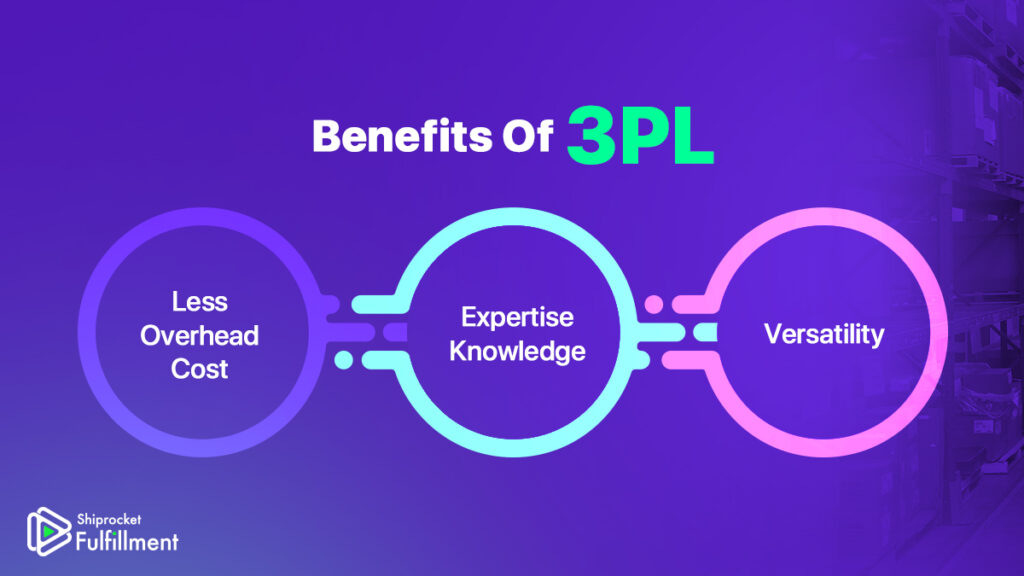 Outsourcing your order fulfillment process to a third-party logistics provider has manifold benefits for your business. You relieve yourself of an enormous burden and can dedicate time to other business activities. Read to know some benefits of 3PL for your business:
Less Overhead Cost
By outsourcing order fulfillment to a 3PL company, you reduce your overhead cost. You can leverage the 3PL fulfillment center's resources, existing courier network, and expert knowledge. By outsourcing the process, you save the time and money you would have spent managing your storage spaces.
Expertise Knowledge
Warehousing may sound like a basic notion where you store your inventory. However, there's a lot more on offer. With your online business growing, you must only choose a 3PL partner experienced in storing inventory, managing inventory, shipping orders, managing return orders, and other such processes. With your order fulfillment process outsourced to a 3PL, you can use their expertise in all these fields to scale your business.
Versatility
Working with a 3PL provider allows you the flexibility to give your business more options. If you have your own space, your warehouse will go unfulfilled during the off-season or when your business witnesses a halt in sales (like during the COVID-19 outbreak). However, this won't happen with a 3PL, as you only have to pay for the space you use. Similarly, whenever you require additional space to expand your business, your 3PL partner can be beneficial in doing so.
Storing your inventory in a warehousing unit plays a crucial role in the overall success of your business. However, as discussed above, warehousing is much more than just storing your inventory. It facilitates efficiency in the order fulfillment process.