What is Warehousing? Key Elements & Complete Guide
A critical part of the supply chain, warehousing, is regulating and controlling different inventory elements. Warehousing ensures everything runs optimally – from managing inventory, maintaining equipment, tracking in and out of products, packing products, shipping orders, and implementing an apt warehousing management solution. You must have an idea of the elements of warehousing to understand more.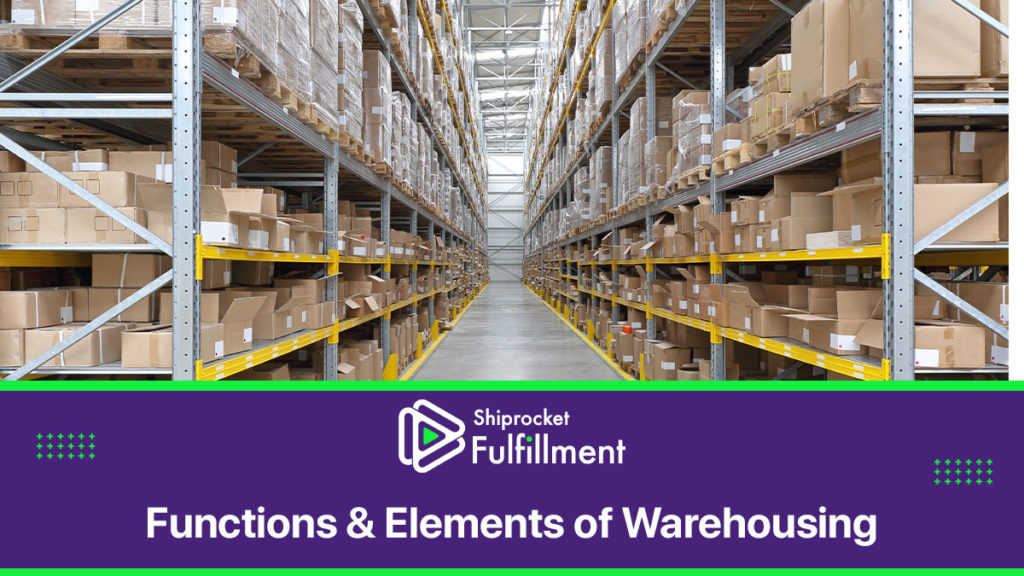 Although warehousing may seem complicated, we will try to make it easier for your understanding in this article.
Warehousing: An Overview
The process of storing products until they are sold is called warehousing. In a warehouse, products are stored securely and safely in an organised way. They can be easily located or tracked. All the essential information related to them is stored – for how long they will be stored and how much quantity is in hand.
A startup or small business can easily store its products at home. A retail setup can store its products in a warehouse until they are moved to the retail store. However, the products are stored in an eCommerce setup until an order is placed. Once the warehouse keeper receives an order, he packs and directly ships the product to the buyer.
Functions of Warehousing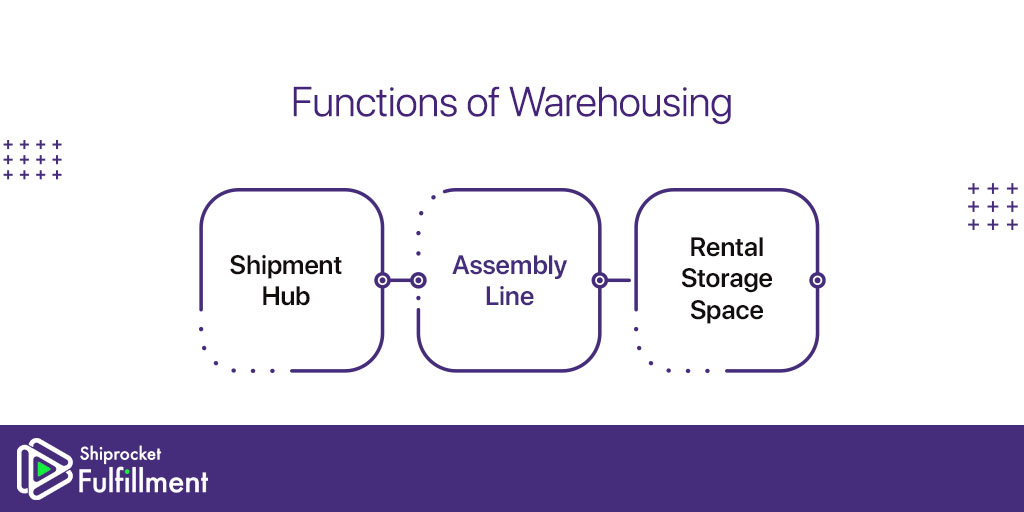 It goes without saying that warehousing is the process of storing products before packing and shipping them or moving them to another location. The following are the functions of warehousing:
Shipment Hub
The warehouse becomes a shipping hub when the products are placed in it. When you receive an order, the products are shipped directly from the storage facility to the customers.
Assembly Line
If the manufacturer delivers the products in an unassembled form, the company allows areas in the warehouse to assemble products for the end consumer.
Rental Storage Space
If owning and maintaining a private warehouse is costly and too big for your business, consider renting some space in your warehouse to other businesses.
Elements of Warehousing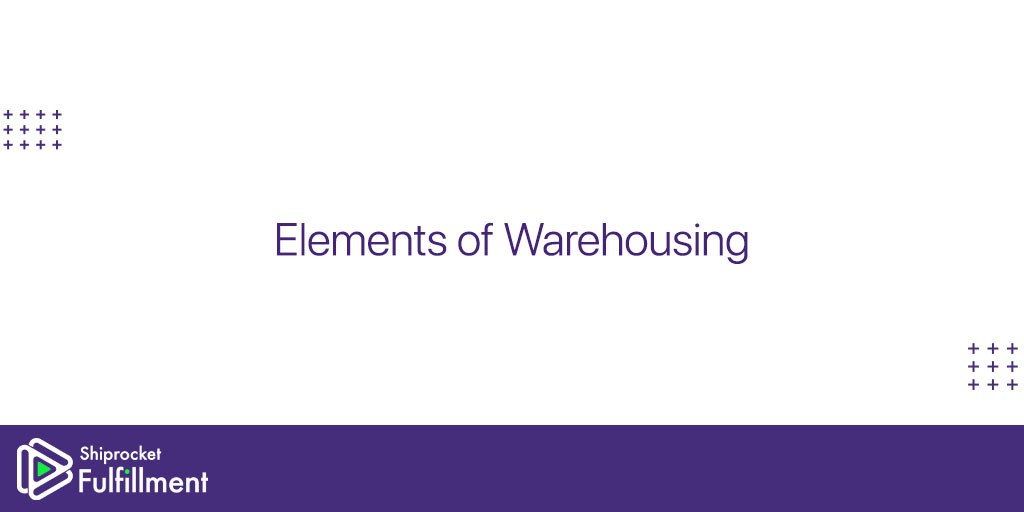 Warehousing is not just a place to store goods. It is an assembly line, fulfillment center, and much more. Various elements of warehousing can help you with the protection, storage, and transportation of products:
It acts as a storage system that offers storage space for goods and easy access.
Offers climate control to the goods that require a warmer or cooler environment.
Warehousing comes with inventory management software/solution that helps keep track of inventory in and out of the warehouse.
Sufficient and experienced staff to process orders in and out.
Warehousing solutions also offer transportation and moving equipment to transport and deliver goods to and from the warehouse.
It has ample security to keep the products safe and secure at all times.
How to Choose the Best Warehousing Solution?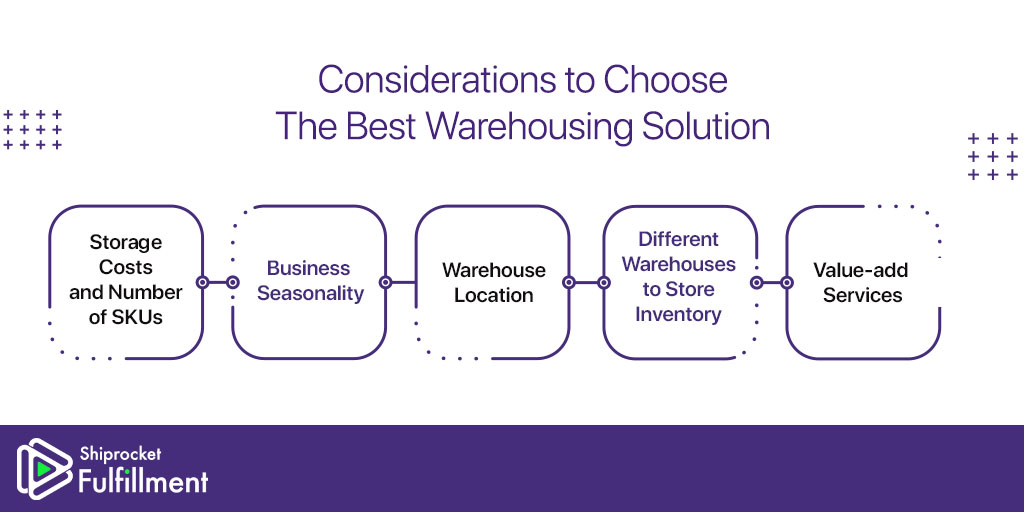 Several considerations can help you choose the best warehousing solution. Be sure to think them through to find the best solution.
Storage Costs and Number of SKUs
Stock Keeping Units or SKUs help track the inventory you have in hand to sell. But you must calculate the storage fees and the space you will require in the warehouse to store your inventory. For example, you will require a place to store different sizes, colors, and styles for every item you sell. So, you must pay for additional storage space for each variation. If you have a few SKUs, storage will be less expensive for you. However, if you have 1000 products, it will be costlier.
Most fulfillment companies don't work as standalone warehousing solutions. They wish to turn inventory by fulfilling orders quickly as and when they are placed. This means you must restock the inventory quickly to keep up with the demand and not get stuck paying high warehousing costs.

Business Seasonality
Seasonal variations in demand and supply can make storing and tracking inventory in a warehouse complicated. If you also have seasonal sales fluctuation, leasing out a dedicated space in the warehouse may be costly for you during the off-season or lead to space shortage during peak season. This is why a 3PL logistics supplier can be beneficial for your business.
Warehouse Location
The location of the warehouse depends on your needs. Suppose you wish to store products in bulk for a more extended period of time. In that case, you can consider warehousing at a facility located at a rural location near a transportation hub. On the other hand, if you wish to deliver products faster to your customers, you can store your products in a warehouse near your customer's destination.
Warehouses located in urban areas deliver products to larger populations quickly and conveniently. This reduces RTO and helps meet customer expectations, as well. Besides, it also reduces shipping expenses and promotes repeat sales.
Different Warehouses to Store Inventory
As the business increases and grows, logistics and order fulfillment become more complex. To reduce shipping costs and optimise fulfillment operations, you can store your products in different warehouses situated at favorable conditions in terms of geography and size.
That said, you must have enough space to meet all your current and future requirements. This will help prevent you from outgrowing the current warehouse.
To recognise your warehousing needs, you can pay attention to the sales trends to monitor when most of your orders are shipped and when you need more space. If you ship to different zones away from the warehouse, you will have to pay higher shipping costs. Besides, the products will take a longer time in transit. Having warehouses in different regions or areas near your customers can help you offer same-day or next-day delivery to your customers and reduce abandoned carts situations.

For example, Shiprocket has fulfillment centers in Delhi, Gurugram, Bengaluru, Kolkata, and Mumbai. This lets eCommerce retailers take advantage of different locations by distributing their inventory over an extensive geographic footprint.
Using different warehouses will require real-time visibility into your stock levels across different locations to make informed decisions. Also, ensure you have enough products at all locations to meet all orders promptly.
Value-Added Services
In case you require additional services apart from traditional warehousing services like picking, packing, and shipping. It would help if you found a company that can handle all your requirements, like kitting, assembly, B2B orders, cross-docking, etc.
Conclusion
Warehousing is a complex task. It can be simplified by combining different strategies and implementing them aptly. Choosing the right solution can benefit your business, help you save money, and meet customer demands and expectations. You can also outsource to a third-party logistics company, like Shiprocket Fulfillment, to store your products and pack and ship them when you receive an order.
As said above, order fulfillment is a complicated task, and it plays a critical role in online business. If you wish to know more about the order fulfillment chain and know expert tips, download our eBook – A Complete Guide to Order Fulfillment.