Role of Logistics Operations In Better Supply Chain Management
To successfully deliver products to your customers and drive a high revenue for your business, you need steady logistics operations to ensure that all incoming orders are correctly processed and shipped on time.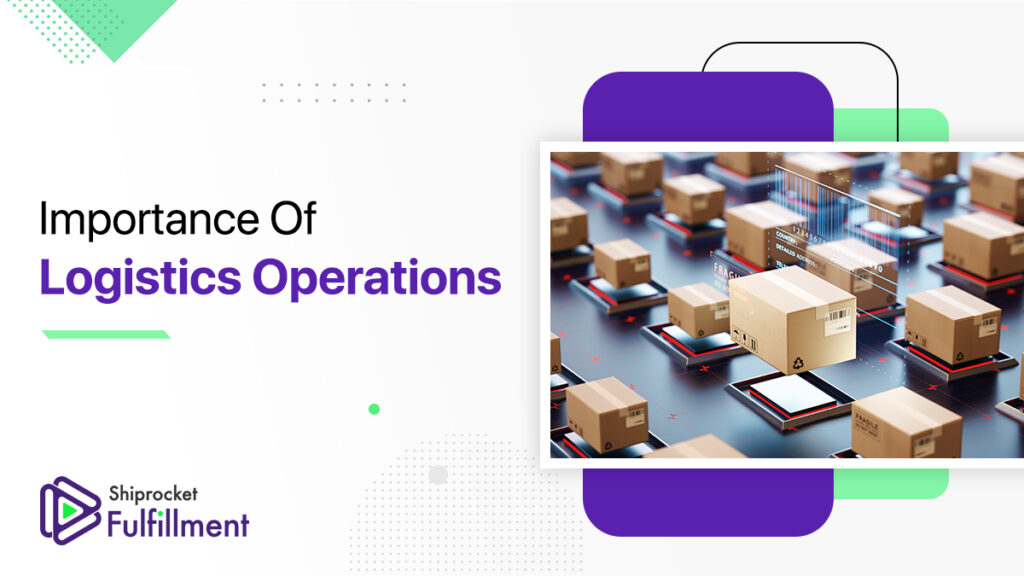 Therefore, you must develop a robust logistics operation strategy with the correct processes, technology stack, and infrastructure to ensure that you can deliver quality and accuracy to customers.
The logistics operations you bring into place play a huge role in optimizing your supply chain. This article will look at the meaning of logistics operations, their importance, the major processes involved, and how they can help optimize the fulfillment supply chain.
What is Meant by Logistics Operations?
Logistics operations refer to moving completed goods from the manufacturer to the end customer.
This consists of inbound and outbound processes wherein you receive products from a supplier or manufacture them in-house, take them to a distribution center, store them systematically, process incoming orders, and ship them to customers.
All the operations like warehousing, inventory management, order processing, shipping, and order fulfillment, play a crucial role in optimizing the entire supply chain with the help of logistics operations.
Importance of Logistics Operations
The eCommerce supply chain needs a thorough flow of information and products. Without either, it can destroy the entire order processing and shipping operations either.
The logistics operations form the backbone of the entire order fulfillment supply chain and, eventually, the eCommerce supply chain. Logistics operations have a dynamic structure. Each component, like inventory management, warehousing, packaging, etc., has a function and impacts the supply chain individually and collectively.
For example, if you do not have enough inventory, you can face situations like stockouts where you do not have enough stock to ship to the customer. Similarly, if you have improper warehousing, it can take you longer to process orders and also incorrect processing.
Therefore, you cannot build a strength and supply chain for your business without synchronizing and streamlining logistics operations.

Major Processes of Logistics Operations
Procurement
The first significant process of logistics operations is – procurement. These suppliers could be the suppliers for your manufacturing unit, and you need an efficient supply chain that takes care of it. Proper communication between suppliers and retailers is necessary to ensure that the raw material and the initial products are ready and on time.
Fulfillment
The fulfillment of incoming orders. Involves inventory management, proper storage, order management, picking operations, and packaging. This is necessary to hold inventory close to the end customer so that you can ship it faster. It also involves processing the orders more quickly so that the order to shift time is reduced and the customer can receive the products on time.
Warehousing
Warehousing is a critical process as it involves the storage of goods in a dedicated space. It organizes the entire process and makes it convenient for logistics operations. With a dedicated warehouse and warehousing technology, you can process orders much faster and maintain a quick supply chain turnover.
Shipping
The following process of logistics operations is shipping. This is the main leg of delivering the product from the warehousing or distribution center to the customer. It involves tying up with the courier company to carry these goods from one location to another. It includes several operations like first-mile, middle-mile, and last-mile delivery. You need to tie up with an efficient courier partner in all three so that the process is smooth and the supply chain is maintained throughout.
How Can Logistics Operations Help Optimize Supply Chain?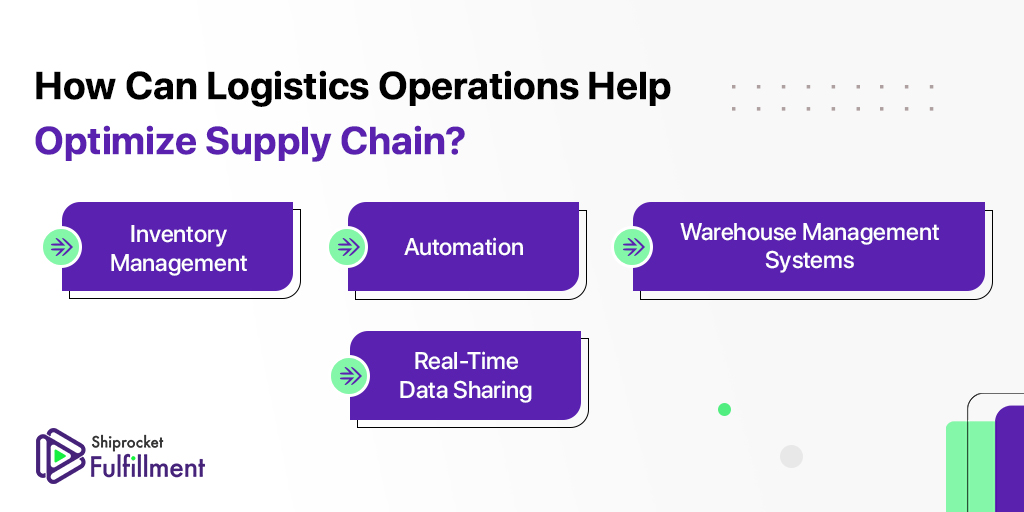 Inventory Management
Several ways to enhance the supply chain are by optimizing your logistics operations. The first way to do this is by improving your inventory management operations. You need to have in place a technology stack wherein there is a dedicated inventory management system. This will help you synchronize inventory across different warehouses and help you keep a tab on the reorder levels. It will also help you with demand forecasting to know the stock levels you need to replenish.
Automation
The next technique of optimizing a supply chain with the help of operations is automation. Automating fulfillment operations will help you reduce the processing time in picking, packaging, and shipping operations. This means the order will go out of the warehouse faster. There are seven several ways of digitizing and optimizing the fulfillment process. You can tie up with 3PL fulfillment providers like Shiprocket Fulfillment, who have dedicated technology stacks like warehouse management systems, order management systems, logistics solutions, etc.
Warehouse Management Systems
Next, you can use a warehouse management system that will help you track your inventory levels, storage, etc. A warehouse management system can help you decide the inventory position based on your warehouse design, and you can optimize the best routes for picking, packaging, etc.
Real-Time Data Sharing
Next is real-time data sharing. Traditional supply chains lack this feature which causes a delay in processing orders, dealing with setbacks, etc. Real-time data sharing can make the supply chain much more transparent and improve synchronization between the different logistics operations.
Role of 3PL Fulfillment Providers
3PL fulfillment providers have efficient and effective logistic operations in place. Shiprocket Fulfillment is one such 3PL fulfillment provider.
Shiprocket Fulfillment has multiple fulfillment centers across India. You can decentralize your inventory and store it closer to customers. It has the latest technology stack in each fulfillment center to help with faster order fulfillment. This can help you strengthen the logistics operations, further optimizing your supply chain.
You can reduce shipping costs, improve delivery speed, offer same-day and next-day delivery to customers, decrease weight disputes with courier companies and simplify your operations by outsourcing order fulfillment to Shiprocket Fulfillment.
Conclusion
Logistics operations are crucial for the supply chain. You need to be mindful of the functioning to improve the yield and deliver more orders successfully. It is essential to go over the logistics operations regularly to see where you can improve the processes. Tying up with 3PL fulfillment providers like Shiprocket Fulfillment can give you an edge over the competition, and you can deliver faster.