What Is Distribution Logistics In eCommerce Fulfillment?
Setting up a defined physical distribution process can be difficult if you don't consider the extensive operations of supply chain management and align them for smooth functioning. It is vital to have seamless distribution logistics throughout your fulfillment supply chain to ensure that your products reach from the manufacturer to the fulfillment center and the customer's delivery address. One mistake and the delivery could be delayed by hours or even days! This can eventually lead to a negative experience, and you might have to let go of your precious clients with whom you spent a great deal of time signing up.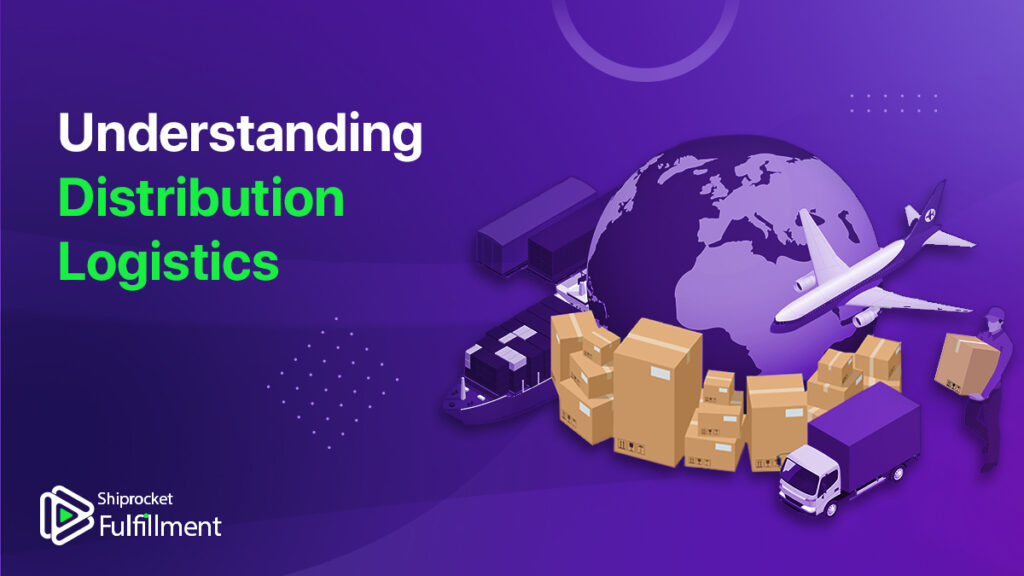 So how can you ensure seamless operations and delivery for your business?
With a streamlined distribution logistics plan that can help you deliver on time with a flawless record and help you optimize operations with changing trends and technologies.
But first, you need to understand what distribution logistics is and how you can improve it for your business.
What is Distribution Logistics?
Distribution logistics refers to procuring goods from the manufacturer and delivering them to the retailer. It could also refer to getting finished goods delivered from the retailer to the fulfillment center. The orders were prepared and shipped to the final customer from the fulfillment center.
Distribution logistics helps you work with suitable carrier partners to deliver on time and at affordable rates.
Distribution logistics can be of various kinds, like direct and indirect distribution.
Direct Distribution
Direct distribution means that you provide directly to the customer without intermediaries like retailers, marketplaces, etc.
You carry out all inventory management, warehousing, fulfillment, processing, and shipping operations in-house.
Under direct distribution logistics, you take care of the shipping strategy, select the courier partners that best suit your needs, and devise a strategy based on your profit margins, shipping costs, etc.
Indirect Distribution
Indirect distribution logistics outsourcing fulfillment operations to a third-party logistics provider.
It also means placing your products in a retailer's showroom or a marketplace for customers to identify them.
When you send your inventory to 3PL fulfillment providers, they take care of operations like warehousing, picking, and packing, shipping, returns management, etc., for your business.
You can sell on multiple sales channels in this indirect fulfillment model and outsource fulfillment partially or entirely for your business.
Difference Between Direct and Indirect Distribution
The critical difference between direct and indirect distribution logistics is the ownership of operations. When you opt for direct logistics, you need to ensure that all the products are appropriately stopped, maintained, processed, and shipped independently. Whereas, under indirect distribution logistics, you have the flexibility to outsource a part of your inventory so that a third party can take care of your operations.
| | |
| --- | --- |
| Direct Distribution | Indirect Distribution |
| In-house fulfillment | Outsourced fulfillment |
| Greater fulfillment costs. | Standardized fulfillment costs |
Advantages of Direct Distribution
No intermediary costs
Greater control over business
Direct consumer contact
Advantages of Indirect Distribution
Shared storage and shipping costs
More resources for promoting products
Faster order processing and shipping
Third-party technology stack
Expertise and skilled labor
How to Improve Distribution Logistics for Your Business?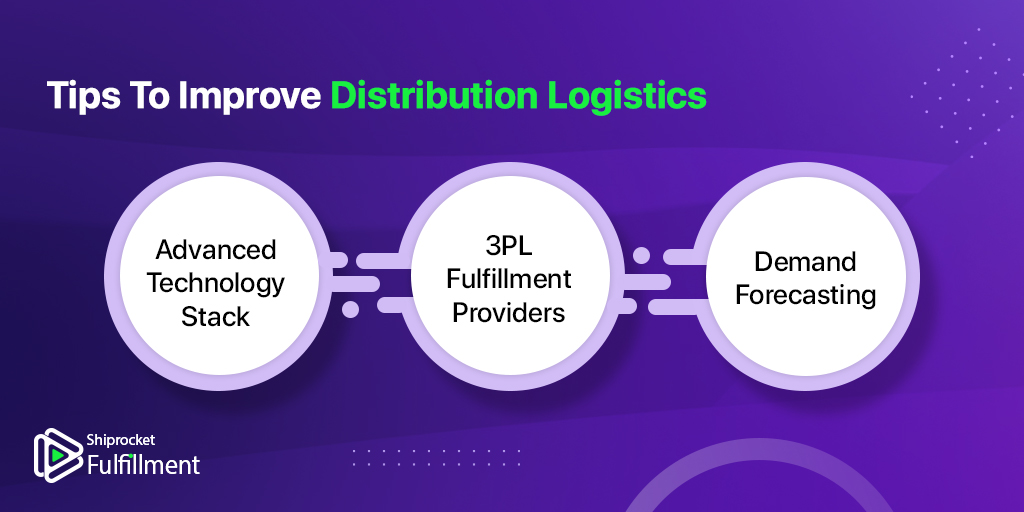 Advanced Technology Stack
If you want to improve the distribution logistics for your business, you must leverage technology. An automated warehouse management and inventory management software can help you reduce the time and errors by a considerable margin and save your money. With the right technology stack, you can ensure a reduced order to ship time and ensure the product reaches the customer much faster. The right supply chain technology can improve how you run and manage different parts of the distribution logistics chain like the 1st-mile delivery, inventory tracking, shipping, etc.
3PL Fulfillment Providers
can help you delegate distribution and improve operations. A tech-enabled 3PL fulfillment provider will help you manage inventory efficiently, store it properly, and process it much faster when you receive an order. Usually, 3PL fulfillment providers work with more than one eCommerce company and bring considerable expertise and skilled resources. They have streamlined operations and standardized operating procedures to make sure that every order is packed and shipped accurately and meets the requirements of your business, marketplace, etc.
Demand Forecasting
With proper inventory tracking, you can also forecast demand in advance to ensure that you don't run out of inventory and don't face unfortunate situations like stockouts. Also, demand forecasting can help you optimize your list, minimize shrinkage, lower cost, and ensure successful delivery, which will eventually keep your customers happy.

How Can Shiprocket Fulfillment Improve Distribution?
Shiprocket Fulfillment is a 3PL fulfillment provider that helps you outsource your order fulfillment operations right from inventory management to returns management.
You can send your inventory to our fulfillment centers located across seven locations in India, and we will optimize operations for your business. With this type of indirect distribution logistics, you can deliver 3X faster to your customers and offer same-day and next-day delivery. You can also reduce fulfillment costs by up to 40% and decline RTO orders for your business.
With Shiprocket Fulfillment, you can reduce the resource and time wasted with in-house fulfillment and focus on more critical aspects of your business. With this strategy, you can improve your eCommerce business and multiply profits.
Final Thoughts
Distribution logistics is an essential aspect of your eCommerce supply chain. You need to align it with every operation so that there are no delays and you can deliver to your customer as soon as possible. Look for the best alternatives for your business and derive a strategy that efficiently helps you optimize your business.