Things to Keep in Mind When Outsourcing Order Fulfillment Operations
According to a report by IBEF, India's e-commerce orders volume increased by 36% in the last quarter of 2020. This means that more and more people are moving to e-commerce for their daily shopping needs. Earlier, e-commerce was an option, but now it has become a necessity. In such scenarios, the competition for online selling has also increased. Now the number of online sellers is more significant than ever, and they're sitting on platforms like websites, marketplaces, and social media. How can you stand out from the competition?
With exceptional fulfillment.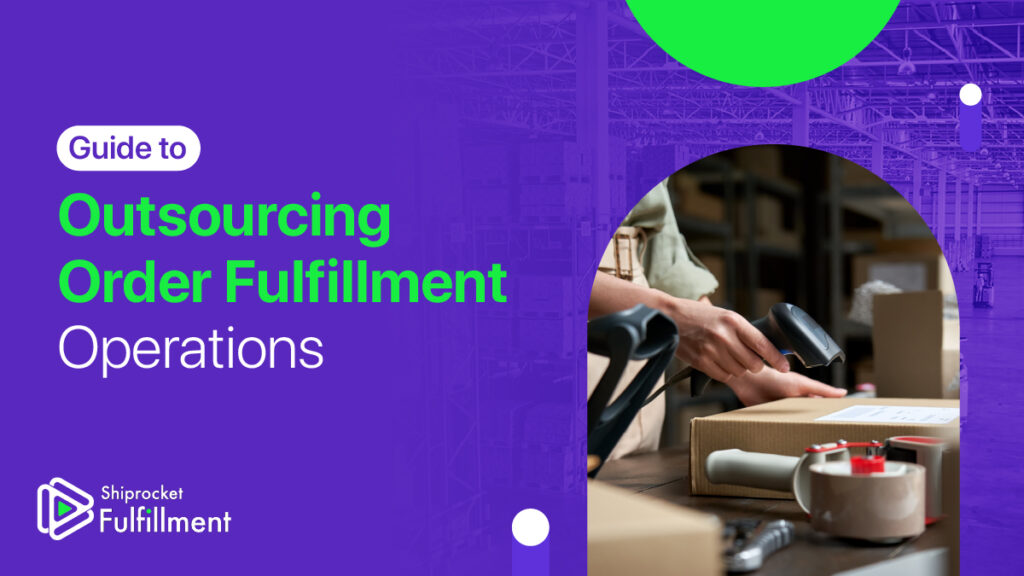 Everybody can present a beautiful front on the website with great images, descriptions, excellent prices, etc. But, most e-commerce companies fail when it comes to delivering orders on time with high percentage accuracy. Fulfilling a large number of incoming orders yourself can be a difficult task. Sometimes, it is wise to outsource operations and focus on the core aspects of your business so that you can let go of the monotonous and time-consuming tasks.
This is where 3PL fulfillment providers come into the picture. Let's look at what 3PL fulfillment providers are and what you should keep in mind when partnering with them.
What Does Outsourcing Order Fulfillment Mean?
Outsourcing order fulfillment operations means that you give the task of fulfilling each order to a third-party organization. They take care of all operations for your business and ship the charges to your customer too.
What Services Do 3PL Fulfillment Providers Provide?
3PL fulfillment providers take care of the following functions for your business –
Warehousing – 3L fulfillment providers store your inventory in their warehouses and fulfillment centers
Inventory management – When you outsource fulfillment operations, 3PL providers also manage inventory by stocking it, predicting demand, etc.
Picking – when you receive an e-commerce order, 3PL fulfillment providers pick orders from the relevant location and process them.
Packing – packaging operations are also carried out by 3PL fulfillment providers, and they provide you with their packaging material, or you can ship your packaging material to them.
Shipping – fulfillment providers also ship your orders to your customers with their shipping network.
Returns processing – Last but not least, customer returns are also processed by the 3PL fulfillment provider.
Things to Keep in Mind When Outsourcing Fulfillment Operations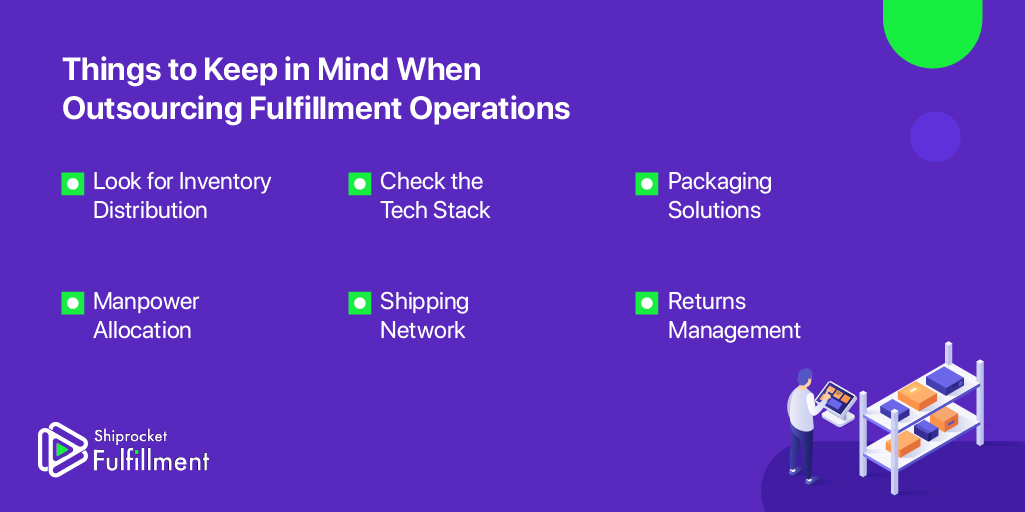 Even though outsourcing fulfillment operations is a lucrative option for your business, it can be challenging to choose a fulfillment provider that gives you all the benefits. Ensure you keep these things in mind so that you do not partner with an inefficient 3PL fulfillment provider
Look for Inventory Distribution
The first thing to keep in mind when outsourcing fulfillment operations is to look if they provide inventory distribution. This means that they should have fulfillment centers or warehouses located in different locations so that you can stock products separately and distribute your inventory evenly.
Inventory distribution will help you ship faster as you can stock products closer to your customers. Also, you can avoid unfortunate situations of stock out as you will have a minimum store present in every warehouse.
Check the Tech Stack
The second thing to keep in mind is always to check the technology stack your fulfillment center offers. If they do not have a robust warehouse and inventory management system, their operations will be slow, and the data they provide you will not be accurate or updated in real-time. Checking the tech stack will enable you to stay on track with a coin trend, and you will be able to process orders like your contemporaries.
Packaging Solutions
The 3PL fulfillment provider to whom you outsource fulfillment operations should also provide you with packaging solutions. If you have any personalized packaging that you send to your buyers, you should make sure that they have facilities to accommodate that. The product must be adequately packaged so that the overall package weight is not high.
Manpower Allocation
The workforce is the primary driver of the entire fulfillment center. Therefore, you must check the workforce allocation and ensure that they have cross-trained staffing staff who can carry out your business on a daily basis. Even in the case of a shortage of workforce, across trained crew can help run the business and fulfill incoming orders.

Shipping Network
The company's shipping network or outsourced or should be strong enough not to fulfill orders of all the pin codes. If the shipping network is not vast, the fulfillment operations will not be as helpful as you will have nobody to deliver to.
Returns Management
Returns management processes should be in order so that all the incoming return orders are collected and processed back into the inventory as soon as possible. All the data is recorded in real-time.
Shiprocket Fulfillment – One Solution for End-to-End Fulfillment
Shiprocket Fulfillment is one such end-to-end 3PL fulfillment provider that can help you outsource your fulfillment operations easily. We have fulfillment centers located in eight primary locations in India, and we are expanding gradually. You can store your inventory in our fulfillment centers, and our skilled team will process them for you. Along with this, you can also synchronize your website and market places, so we can directly process all incoming orders from the warehouse and improve the order-to-ship time and order accuracy for your business.
Along with that, Shiprocket five payment also manages the returns for your business. It ensures that your RTO orders are decreased by 60% with 3x faster delivery, 99.9% order accuracy, and reduced shipping costs.
Final Thoughts
Outsourcing order fulfillment operations can be a boon for your business if you do it with thorough research and planning. If it is not done correctly, it can cause a lot of damage to your business as you will be managing two agencies at once. Therefore, keep these in mind when looking for a 3PL fulfillment provider and outsourcing your fulfillment operations.