Fulfillment Operations 6 min read
June 30, 2021 by Srishti Arora - 6 min read
Did you know, at least 30% of all products are ordered online or returned? Moreover, 92% of consumers believe that they will buy from the store again if the return process is easy, and over 79% of consumers want free return shipping.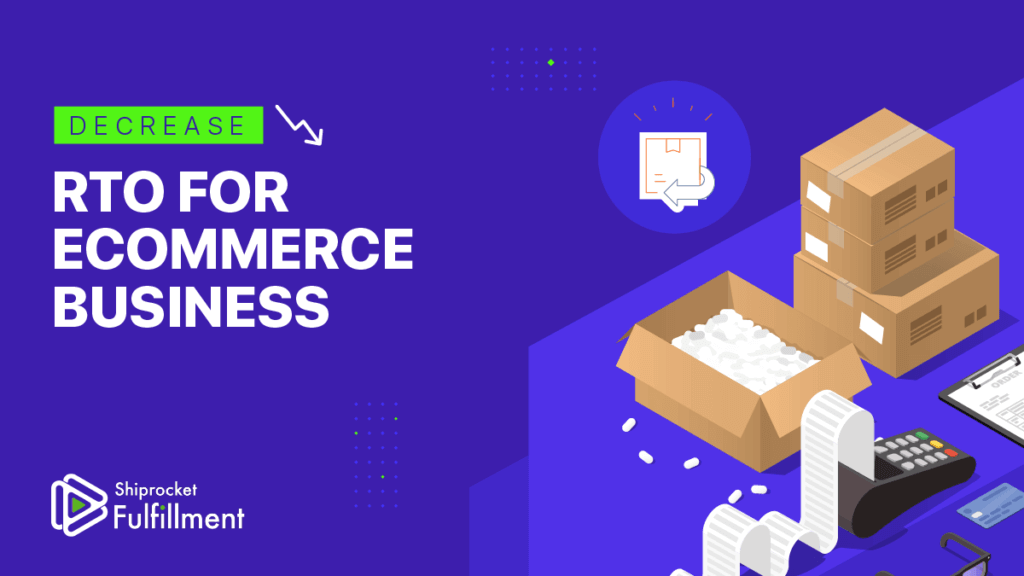 This implies that returns play a massive role in the decision-making process of purchasing a product. However, returns are not such a good story for eCommerce sellers. They involve huge commitments, shipping amounts, and resources that can drain out almost all funds out of the business. Most courier companies offer higher return charges as compared to forwarding charges.
Most times, the reasons for these return orders are the product not delivered on time, receiving the wrong item, COD amount not available, a fake attempt to provide the product, etc.
In most cases, these situations can be avoided, and the product can be successfully delivered. You just need to be careful about a few things, and you will reduce your RTO. Let's look at what RTO is and how you can reduce it for your eCommerce business.
What is an RTO Order?
RTO in eCommerce stands for return to origin. It means that whenever an order is returned or undelivered, it will be returned to where it was picked up from. In most cases, courier companies ask the sellers if they want to return the order, and the sellers have to pay for the return charges.
Why are RTO Orders Difficult to Handle?
RTO in eCommerce is challenging to handle because you have to incur separate charges for them. In most cases, the shipped product also becomes unusable because of the constant to and fro. If the product was the last of the lot, there are huge chances that it might not be used. Also, if the product was sold in the sale and you had to incur forward shipment charges for it, there is a big chance that you might go into loss if you pay for the return charges. For cash on delivery orders, the situation is even worse as customers refuse to pay for the order, and you also have to bear the return delivery charges.
Most times, consumers just miss the order or are dissatisfied with the delivery because it is delivered late. In such cases, RTO can be avoided.

Why Should You Aim to Reduce RTO in eCommerce?
You should aim to reduce audio as it directly impacts the delivery performance. If you are constantly getting an RTO from an area, it is indicative that either fraud is being committed or the pin code is acceptable to many RTOs. Also, higher RTO tells you about the customer's delivery experience. If the RTO is happening because the product is being delivered late, is faulty, or inaccurate, it means that the overall delivery experience is also being impacted. You must reduce RTO if you want to say that on your logistics costs and provide a superior delivery experience to your customers.
Let's look at how you can reduce at you with 3PL fulfilment providers like Shiprocket Fulfillment.
How Can You Reduce RTO with Shiprocket Fulfillment?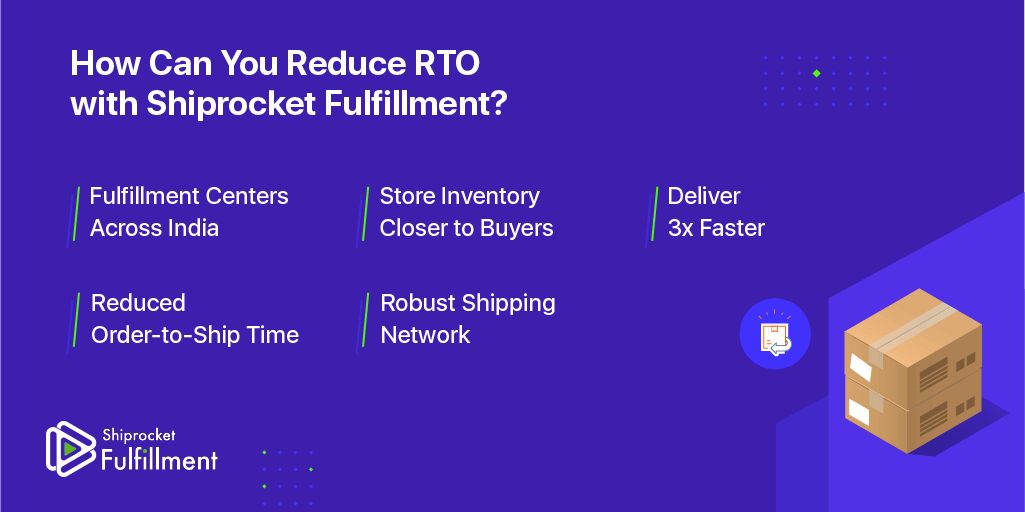 Fulfillment Centers Across India
Shiprocket Fulfillment's centers are located across several zones in India. This means that with fulfillment centres located in places like Delhi, Bengaluru, Gurugram, Kolkata, Mumbai, Surat, Jaipur, and Guwahati, you can quickly deliver products at a much faster rate. Also, you can practically have warehouses across the country and ensure that your products get delivered in the best shape possible.
Store Inventory Closer to Buyers
The next advantage of Shiprocket Fulfillment is storing inventory closer to buyers. With fulfillment centres in the various cities listed above, you can stock your products closer to the buyer's delivery location. You can also conduct demand forecasting with the help of predictive analytics and assess which Pin code or zone has the maximum demand for a particular product. This will help you evaluate your business better, and you can logically decide in which fulfillment center you want to store the inventory. With this, you can deliver your products faster and ensure that the right product is delivered to the customer. This ensures that you reduce audio by 60% by eliminating minor causes like skipped delivery or authentic products.
Deliver 3x Faster
A vital benefit of utilizing Shiprocket Fulfillment is that you can deliver orders 3X faster. Since your products are stored closer to the customer and shipped with 99.9% accuracy with a skilled team, the shipping time can also be reduced with a lower first-mile and last-mile completion time. Courier companies can also pick up the products in bulk and ensure that they successfully deliver them faster within a specific zone or region. This ensures that the products are delivered within time, and RTO, because of late delivery, faulty products, or orders being missed, can be avoided.
Reduced Order-to-Ship Time
Marketplaces usually have stringent fulfillment requirements for businesses. Also, customers expect receiving products within 1 to 2 days of ordering from significant marketplaces. To fulfill these requirements and ensure that the orders are not returned, you need to be on your toes to deliver them ASAP. With Shiprocket fulfillment, the skilled team works on each order meticulously and ensures that ship time is reduced. This enables faster first-mile and last-mile fulfillment of the order. Hence, RTOs are avoided.
Robust Shipping Network
When you opt for Shiprocket Fulfillment, you ship with a robust network of couriers by Shiprocket. Shiprocket is one of the best shipping solutions in India, with a comprehensive shipping network across the country. In this way, you can deliver orders faster, more accurately and also reduce audio by 60%.
Final Thoughts
Shiprocket Fulfillment is a facilitator if you want to reduce RTO bike by a considerable margin. Outsourcing e-commerce fulfillment two and 3PL fulfilment provider can help you improve other aspects of your business and help you save costs which can further enable you to give the best price to your products. These combined can help you get an edge over your competitors and give your buyers the ultimate shopping experience they desire.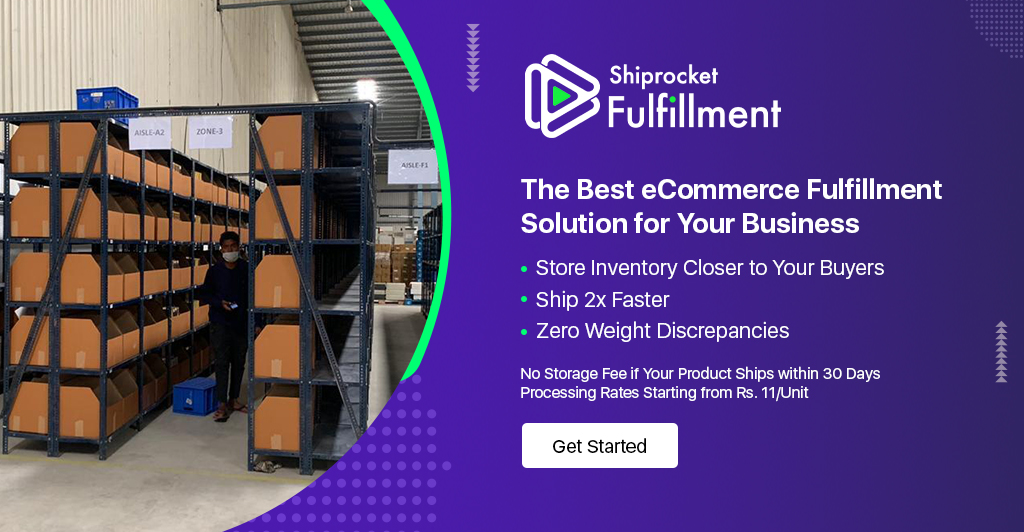 Jun 30, 2021
by
Srishti Arora