3PL Fulfillment Process Explained: How Does 3PL Work?
Do you want to know the secret to eCommerce success? It's the fulfillment process. As an online seller, you must focus on your order fulfillment process. A good fulfillment process always produces good results.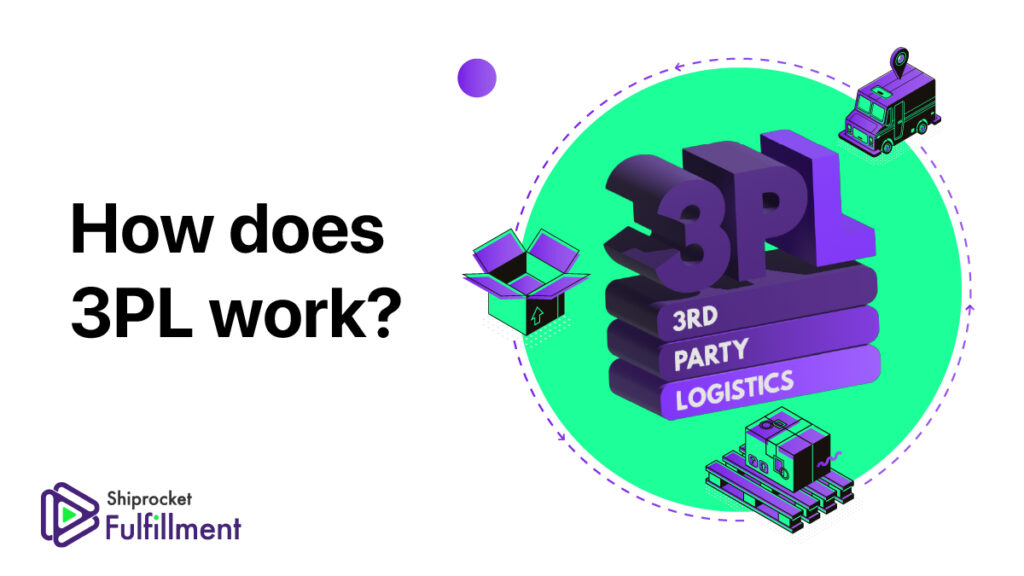 Third-party logistics services make order fulfillment easier, especially for small eCommerce businesses. They also help you focus on the other critical aspects of your business, like marketing, growth, and customer experience.
Before we talk about the 3PL fulfillment process, you must understand what 3PL fulfillment is.
What is 3PL Fulfillment?
3PL fulfillment refers to the process of outsourcing your orders to a third-party warehousing and logistics company that handles the end-to-end fulfillment of your eCommerce, wholesale or retail orders. All you need to do is send your orders to the fulfillment centers, and 3PL fulfillment providers will handle all the logistics and fulfillment operations for you.
When you outsource your logistics to a 3PL fulfillment company, you get everything you need to run your operations smoothly. Such vital services are warehousing, inventory management, picking & packing, shipping, and reverse logistics.
Did you know? The global third-party logistics market was valued at $889.01 billion in 2020 and is projected to grow at a compound annual growth rate of 8.5% from 2021 to 2028.
A smooth 3PL fulfillment process is vital to keep your customers happy and grow your business. Let's understand this step by step:
3PL Fulfillment Process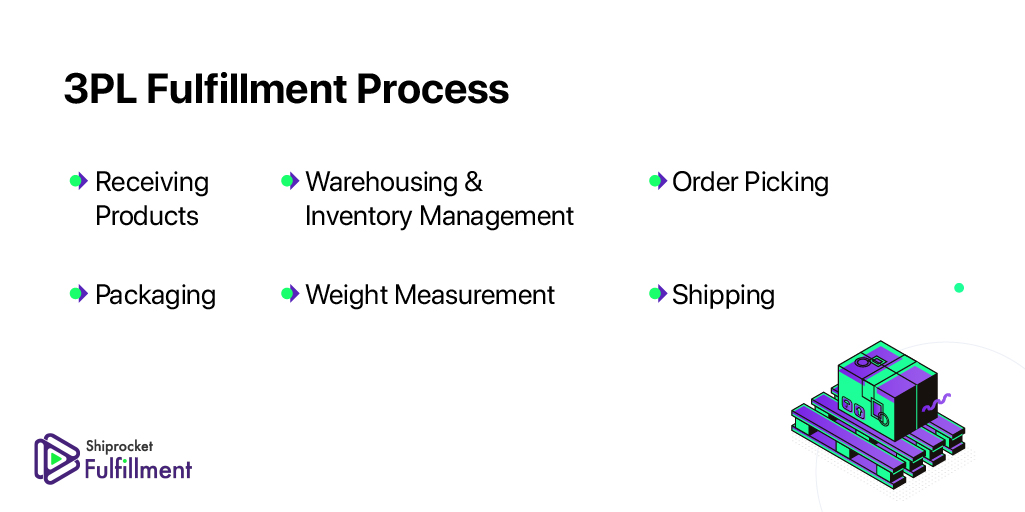 Receiving Products
The first step of a 3PL fulfillment process is receiving the products. Once barcodes are assigned to all the products, they're packed in boxes and sent to a warehouse.
Next, your products are received at the warehouse, and a gate entry is made. To ensure the accuracy of receipt, proper barcode scanning and quality check is performed. Finally, the goods receipt note (GRN) is completed.
Warehousing & Inventory Management
The next important step involved in a 3PL fulfillment process is warehousing and inventory management. Here's how it's done.
Your products are stored in storage bins, and the inventory area is divided into zones based on various categories. The zones are further divided into aisles, racks, and shelves.
Once each of your products is scanned with the storage bin barcode, it is stored in the designated area and goes live for sale.
Order Picking
Whenever you receive an order, a picklist is generated, and picking operators start collecting items from their designated shelves.
If you sell on multiple sales channels, your orders from each channel are matched and clubbed together to reduce time and save costs. Next, your products are scanned & picked using handheld terminals (HHT devices).

Packaging
After all the products of an order are picked, the next step in the 3PL fulfillment process is to take them to a packaging station. Here, the product code is scanned and mapped with the sales order or shipping label to generate an invoice. Finally, the product is packed and labeled.
Weight Measurement
In an ideal 3PL fulfillment process, it is also essential to ensure there are no weight discrepancies. Once your products are packed and labeled, they are scanned again to verify their weight and dimensions. This also helps you to reduce weight disputes with your courier partner.
Shipping
The last and final step in a 3PL fulfillment process is carrier allocation and shipping. To make this process even faster and cheaper, your shipments are divided based on the courier partner.
For instance, if there are a total of 50 shipments, and 10 of them will be shipped with Bluedart, they are batched together.
Next, all the AWBs of one courier company are scanned. A single manifest is generated, the pick-up is scheduled, and the courier executive picks up the products for delivery.
Once the products are delivered successfully, the 3PL fulfillment process comes to an end.
Experience An Efficient 3PL Fulfillment Process
Now that you understand how an efficient 3PL fulfillment process works, you must start working towards implementing one in your eCommerce business. Don't worry, we've got you covered.
By outsourcing your warehousing and fulfillment operations to Shiprocket fulfillment, you can easily enable 1-Day and 2-Day delivery and save upto 20% of your shipping costs.
This is made possible by storing your inventory closest to your customers in a PAN India network of tech-enabled fulfillment centers. You get all of this without having to spend a single rupee on warehouse infrastructure.
What are you waiting for? Opt for Shiprocket Fulfillment today.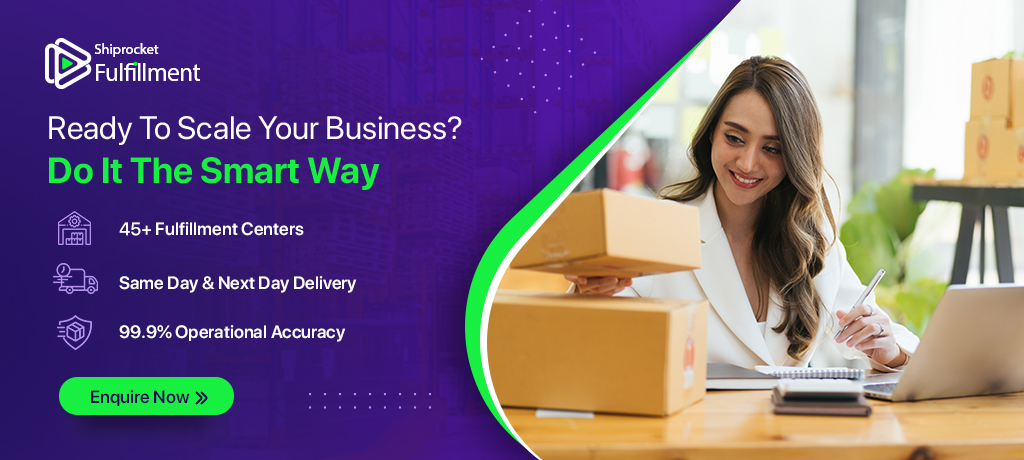 FAQs (Frequently Asked Questions)
What is 3PL fulfillment?
3PL fulfillment, also referred to as third-party logistics, is the process of outsourcing the order fulfillment of your eCommerce business to a third-party service provider.
When you partner with a 3PL company, they take care of warehousing, inventory management, order management, packaging, and order fulfillment.
3PL fulfillment centers also facilitate faster shipping at lower costs. Using these services is of great benefit to you as a seller because it helps you in saving time, money and helps you make more profits.
What does a 3PL provide?
3PL provides warehousing and inventory management facilities for eCommerce sellers. They also take care of order packaging, shipment, and fulfillment.
Other benefits of partnering with a 3PL are weight management, faster shipping, and low shipping rates. You also get access to same-day or next-day delivery with a 3PL service provider.
What is a 3PL VS a 4PL?
A 3PL oversees and manages the operational aspects of logistics but outsources transportation operations to a sub-contractor. A 4PL, however, oversees and manages the entire supply chain.
What benefits does 3PL fulfillment give to your business?
3PL fulfillment helps simplify the logistics and order fulfillment process for an eCommerce business. You can store inventory in their warehouses without having to worry about capital investments for storage.
A third-party service provider also looks after your inventory and gives you easy access to an inventory management system. Since products are stored and dispatched under their supervision, there is a lower weight discrepancy.