Unraveling the Benefits of a Custom Order Management System for eCommerce
To run your eCommerce business successfully, you need to be equipped with the best technology so that your supply chain operations function in synchronization. Suppose there is a delay in even one process. In that case, there can be a delay in your order-to-ship time which can eventually lead to a delay in delivery and an overall poor customer experience.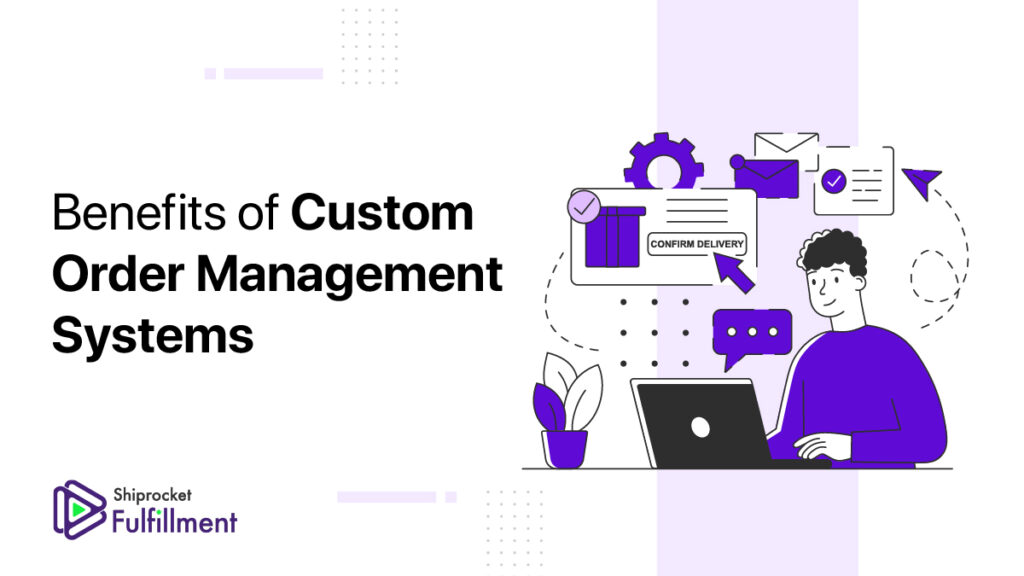 When you begin your business, the scale is small to carry out most tasks like order management manually or with the help of a small team. Using excel sheets seems like the best option then. As and when your business grows, your requirements change. You now need to create a database of the orders coming in, sync it with the inventory to check for stock, and then process them. Doing this manually can take a long, long time when you begin doing this manually. Hence, you shift to technology, and custom order management systems come into the picture. Let's look at what these systems are and how they can be a boon for your business, and if there are better options.
What is a Custom Order Management System?
A custom order management system is a solution that helps you manage your orders and inventory in one place. It is usually a custom build solution keeping your store and business in mind. It enables you to collate inventory data with your sales channels, track precise details and obtain high-level insights for your business. It is integrated with specific tools to run your operations smoothly.
A customer order management system is slightly different from regular order management systems as it's designed to keep your business and requirements in mind. It is usually flexible and caters to your specific needs. Let's have a look at the benefits that are offered in a custom order management system.
Benefits of a Custom Order Management System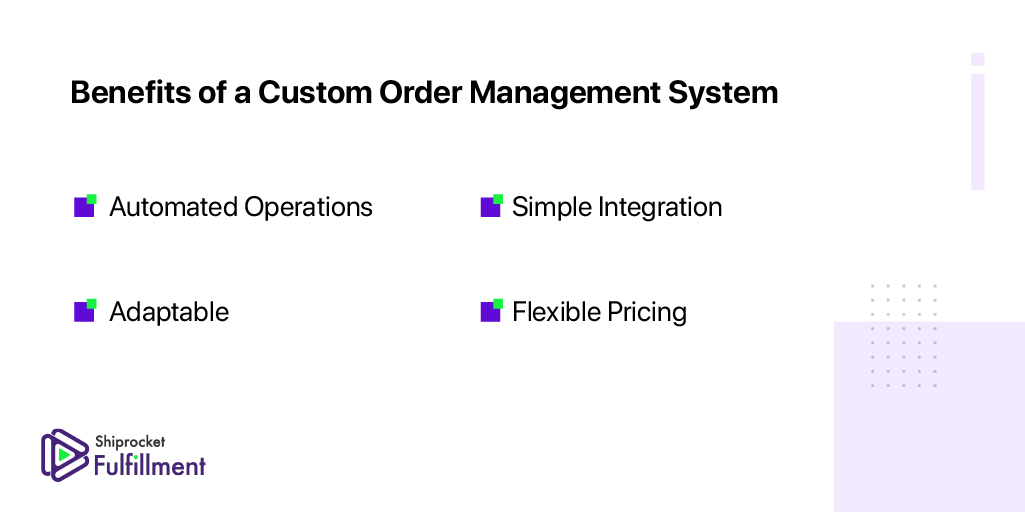 Automated Operations
The first advantage of a custom order management system is automated operations. With automated operations, you can reduce errors reduce the manual processing of invoices, payments, billing, etc. You can make your order processing organized and include all the features of use. So even if you are a large enterprise but need only a few features to order management efficiently, you can do so with a customer management system.
Simple Integration
The next advantage of custom order management systems is integrating essential tools. If you need specific tools to expedite and make order management more efficient, you can incorporate them into a customer management system. Regular order management software might not offer this flexibility.
Adaptable
As your business expands, your order management system and fulfillment operations requirements also change. With the regular order management system, you might have to spend more to purchase tools and integration. Whereas in a customer management system, you can make changes per your requirements. A customized design is always more adaptable than a standardized one.
Flexible Pricing
A custom order management system is usually a pay-as-you-go model. You only pay for the services you need in the software, and you can get more added eventually. With a flexible pricing system, you don't need to worry about expensive monthly fees and subscription charges like a standard system.
When Must You Think of Adapting a Custom Order Management System?
Eventhough a custom order management system may be a lucrative option, it might not be the best choice for every business. You must assess your requirements before you sign up for it. Here are some things to consider before taking the plunge into custom order management systems –
You have multiple SKUs and custom variants
You source products from various vendors
Your order volume is increasing, and it gets challenging to manage the pricing and price list configurations on excel.
Your inventory and order data are stored in different places, and you need to correlate the two manually.
Your invoicing, payments, billing, etc., is done on different platforms or manually and takes up considerable time.
Order surges are seasonal, and you need a few tools only at particular times of the year.

Focus on the Entire Supply Chain With Shiprocket Fulfillment
Custom order management solutions can help you reduce your processing time considerably, but they do not give you complete control over the supply chain. They only make the process easier for a single operation. In an uber-competitive eCommerce environment, you need to have an edge in your processing operations to ensure the best delivery experience for your customers.
By utilizing the services of 3PL fulfillment providers like Shiprocket Fulfillment, you can gain complete control over the supply chain and outsource operations to increase productivity. Shiprocket Fulfillment will help you reduce order-to-ship time and also help deliver goods with 1-day and 2-day delivery.
As Shiprocket Fulfillment has fulfillment centers across the country, you can store inventory closer to your customers and reduce shipping time and costs. You can utilize days of growing your business and focusing on more critical aspects.
With a skilled team, Shiprocket Fulfillment is also equipped with the latest warehouse, inventory, and order management systems to ensure that your orders are processed quickly.
Conclusion
Custom order management systems can be a valuable investment for your business if you gradually expand and your order volume increases. They are great for automating processes and improving efficiency. However, even with a dynamic medium order volume, you can utilize 3PL fulfillment providers for comprehensive supply chain management and reach customers faster.