How A Better Logistics System Can Help Improve Supply Chain
Many business owners approach logistics management as – if it's not broken, it must not be fixed! They think if they complete their orders on time, making changes and improvements in their logistics system is not required. However, the importance of effectively organized logistics can't be denied. Implementing efficient and seamless logistics plays a crucial role in keeping up with customer demands. It helps in scaling the business.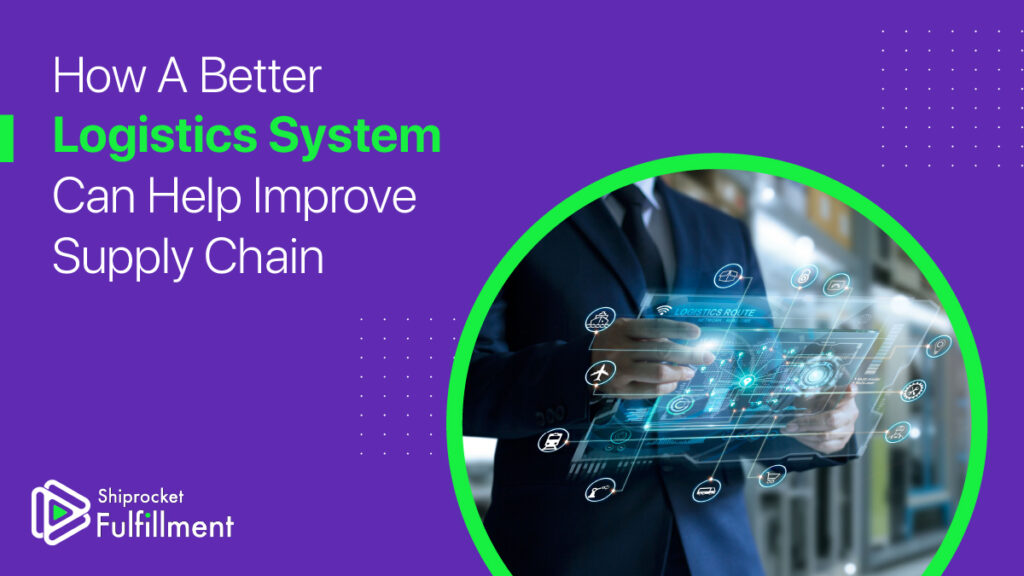 Whatever the size of the business, every business owner wants to grow and expand it. That may mean expanding it to regional, national, and international levels. Here, the logistics system can plan a crucial role.
The business supply chain is complex, and even if you are fulfilling all your orders on time, it needs to be managed efficiently. Efficient transportation is crucial for the supply chain, and thus, business owners need to optimize their logistics system to expand their business.
For transportation to be done efficiently, knowledge, skills, and professionalism are must-to-have. Efficient and effective transportation improves supply chain quality by decreasing waste of efforts, time, and materials. With the help of supply chain professionals, transportations can be done at the right location and on time. With the right logistics system in place, you can:
Improve the speed and efficiency of order fulfillment.
Increase customer satisfaction, and customer retain value.
Transform operation expenses into a revenue driver.
This article will discuss what a logistics system is and strategies to improve it to take your business to the next level.
What is Logistics System?
Logistics system includes the networks of processes and functions that help move the products physically throughout the supply chain. This ultimately leads to the successful delivery of orders to the customers. In a nutshell, any activity that helps fulfill the order – from the time an order is placed to its delivery to the customer's doorstep, is a part of the logistics system.
Several activities, like inventory management, order management, warehouse management, and product picking, packing, and shipping, are integral to the logistics system.
How to Improve Efficiency of Logistics System?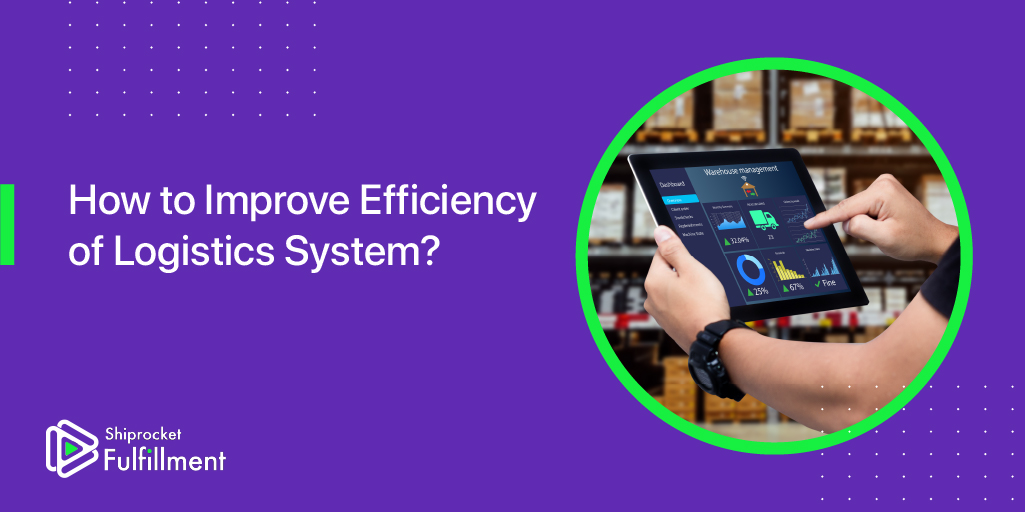 Sometimes it becomes hard for merchants to understand when and how to start optimizing their logistics system. They can outsource their operations to a third-party logistics solution that is equipped with experience and best practices. The following are the best strategies that you can adopt to improve your logistics system:
Order Management System
Order management systems provide you with instant visibility into all the orders. Thus, you can manage the orders in real-time without any delay. The order management system will integrate into your eCommerce platform directly and automatically fetch all the orders. You can quickly process and track them from the system. With this system, you have all the required information at your fingertips and in one place, and you can easily take all the necessary steps.
Inventory Management Software
Managing inventory takes most of your time, and a lot of hard work is required to stock levels and replenish it. An inventory management system helps in locating inventory at the moment. Many companies are now using inventory management software to reduce costs and streamline their process.
With this information in hand, you get insights into data that helps avoid out-of-stock situations. Thus, you can always maintain the inventory turnover ratio.
Supply Chain Management
Data is the foundation for eCommerce strategy optimization, especially if it is real-time. Without new data in hand, you risk wasting time and resources. However, with this data in hand, you can track where the inventory is, its shipping time, inventory turnover rates, and order accuracy. Thus, you can optimize the supply chain process. You can make not only informed decisions regarding the supply chain process but also quantify the progress.
Inventory Distribution
Distributing inventory across different logistics centers can help speed up the logistics system depending on the order volume. Rather than storing all your inventory in a single warehousing unit and fulfilling orders from there, you can distribute your inventory in different warehouses and ship orders from the closest fulfillment center. This will not only save shipping costs but also help deliver orders faster.
However, this can be expensive if you plan to do this in-house and store inventory in your own warehousing units. Thus, it is better to outsource the operations to a 3PL service provider and let them store your inventory in their multiple warehouses. This is a cost-effective measure.
Faster Shipping Methods
In today's time, faster and efficient shipping is not a bonus; it is a necessity that every eCommerce seller needs to provide. Customers expect to get their orders within a day or two, and that too at affordable rates. So, you must find ways to streamline your shipping logistics and look for faster and cheaper options like Shiprocket.

Shipping costs depend on the service provider you choose. You can partner with a logistics provider like Shiprocket that has more than 17 courier partners onboard. You can choose a different courier partner for every shipment based on delivery time, shipping rates, etc. Not just this, but 3PL service providers also offer additional services, like insurance, live order tracking, courier recommendation, etc.
Optimize Warehouse Management Systems
You can implement a warehouse management system to increase the efficiency of your operations. With its help, you can automate your warehousing processes like order picking and tracking inventory. Simultaneously, you can also cut down on mistakes due to manual work and labor costs. Ultimately, by investing in a warehousing management system, you can improve your infrastructure to ramp up your growth and scale your business without sacrificing your services' quality.
Automated Picking Systems
Repetitive tasks like picking similar orders across the warehouse can take a lot of time. Thus, you can automate repetitive tasks like this to speed up your fulfillment process and reduce the number of mistakes. This, in turn, can increase your order accuracy and help meet overall customer expectations.
Shiprocket Fulfillment: All-In-One Platform To Meet Your Order Fulfillment Needs
A 3PL eCommerce fulfillment solution, Shiprocket Fulfillment is an all-in-one warehousing and order fulfillment platform designed to help online sellers store, manage, and ship their orders. We have 8 order fulfillment centers across the country where you can store your inventory closest to your buyers. Also, you can ship orders to 27,000+ pin codes with the help of 17+ courier partners.