Types of Supply Chain Forecasting Methods
When you run a business as dynamic as eCommerce, you are always keen to know what will happen next. Will there be a surge in order, or will there be a drop? Nobody knows. We hope there was some sort of ability to predict future outcomes of our decisions, but that is highly unlikely.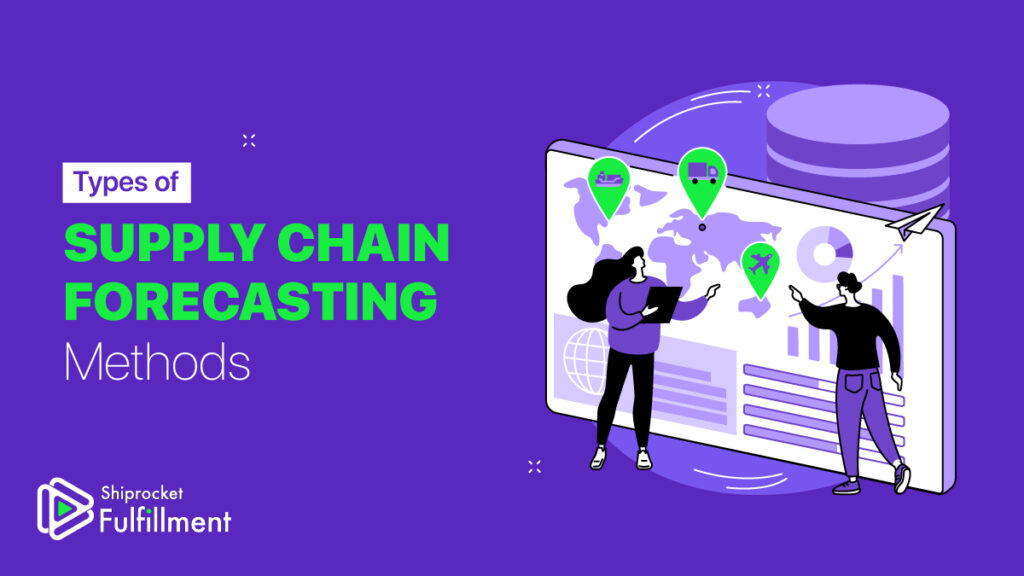 However, a supply chain cannot work without any analysis of possible future events. You need to predict something as there are so many moving parts, and if you don't, there can be a breakdown somewhere, leading to losses.
Let's look at how you can forecast demand appropriately to understand which method works best for you. Depending on the size of your business, type of products, and customer demand, you can forecast the market and plan your business accordingly to be prepared for any faulty situation.
Let's look at what supply chain forecasting is and how you can do it effectively for your business with the different forecasting methods.
What is Supply Chain Forecasting?
Supply chain forecasting refers to the process of predicting the outcomes on all aspects of the supply chain based on data and research so that the entire supply chain functions smoothly.
In standard terms, supply chain forecasting is often used interchangeably with demand forecasting and sales projections. But, it can also be used to talk about the production lead time, pricing, labor needs, etc.
Significance of Supply Chain Forecasting
Supply chain forecasting becomes an integral part of your business because it is challenging to run a smooth eCommerce supply chain without predicting the demand, trends, and product availability.
It is essential to make insightful decisions about your business to have room for innovation, growth, and sustainable choices.
Let's have a look at the different quantitative and qualitative forecasting methods for e-commerce supply chain forecasting.
Quantitative Forecasting Methods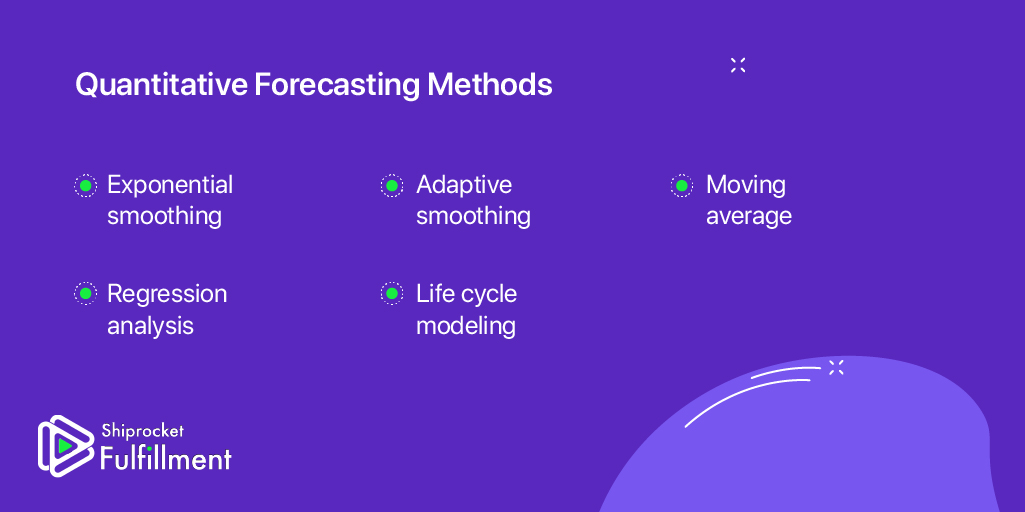 Quantitative forecasting methods make use of historical data, series, and correlation information to withdraw data-driven insights.
Here are a few quantitative forecasting methods –
Exponential Smoothing
exponential smoothing uses weighted averages to assume that the past data like sales trends and other events will be the same in the future.
Exponential smoothing makes it easier to derive data-driven predictions without analyzing multiple data sets.
Adaptive Smoothing
Adaptive smoothing uses different variables to drive a prediction. It takes into account more significant changes from period to period and identifies specific patterns.
But after smoothing requires automation tools that can record, collect, and collate data in real-time. It is helpful for businesses that have an extensive product catalog and need more accurate predictions.

Moving Average
The moving average is one of the easiest methods for supply chain forecasting. It takes into account data points by creating an average series of subjects of complete data.
This average is used to predict the upcoming period, which is then re-calculated every month, quarter, or year.
Regression Analysis
Regression analysis takes into account a relationship between two or more specific variables. When there are variations in the conduction of regression analysis, the influence of one or more independent variables is examined on a dependent variable.
Regression analysis is used to meet determination for seasonality, etc. It is a fast and easy way to get predictions.
Life Cycle Modeling
Play sexy modeling analyses the growth and development of a new product. It utilizes data from market groups such as creators, adopters, and the majority to determine a specific product's future performance and demand.
This is used by brands to determine how to distribute and market products in the long run.
Qualitative Forecasting Methods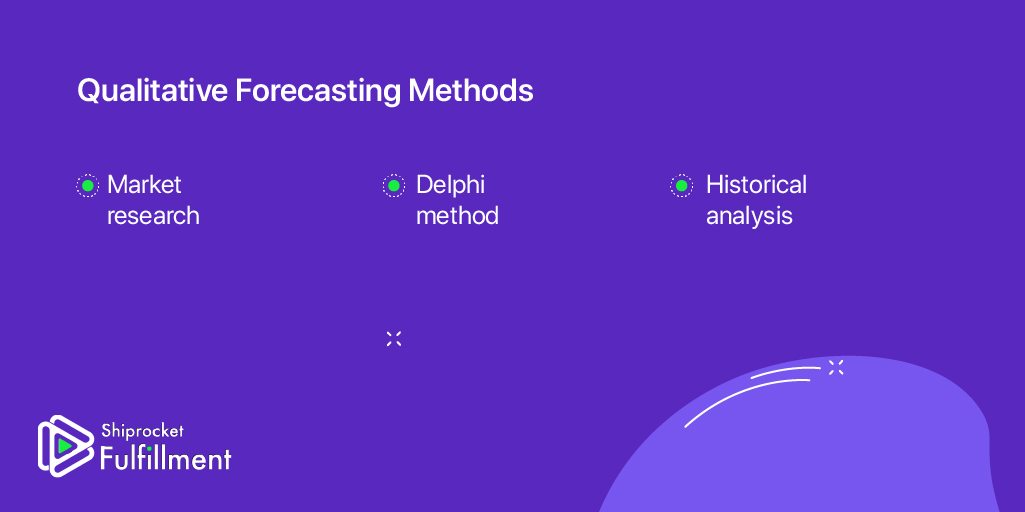 Qualitative forecasting refers to forecasting demand, etc. When there is a lack of data. Businesses use a combination of qualitative and quantitative forecasting to derive more accurate predictions for their companies. Let's have a look at a few qualitative forecasting methods for your business –
Market Research
For e-commerce, market research is used to predict supply and demand. It is also helpful for determining if there is a strong demand for a product and if that will support profit goals.
The market research can be done internally by marketing or sales experts or by a third-party company specializing in market research.
Delphi Method
The Delphi method takes into account the market orientation and judgments of a small group of experts. This information is then grouped and analyzed by third-party experts.
The opinion of each expert is gathered individually so that there is no influence.
Historical analysis
Historical analysis refers to the sales history of any product directly related to the current product and is used to predict sales.
Historical data can also be used by looking at your competition's high-selling products and looking at similarities to determine demand.
Final Thoughts
Both quantitative and qualitative forms of supply chain forecasting are essential for your business. Make sure you take into account both these methods when making a business decision. A thorough supply chain forecasting will help you make more insightful decisions about your business so you can grow without any frequent roadblocks.