Vendor Managed Inventory: Advantages & Disadvantages
Running a business successfully is a challenging task. To derive growth and success, you need to streamline your day-to-day business operations and reduce costs. Managing inventory is one of the most difficult tasks that most business owners fail at. There are several inventory management models that you can employ to achieve efficiency and reduce cost. One such model is Vendor Managed Inventory.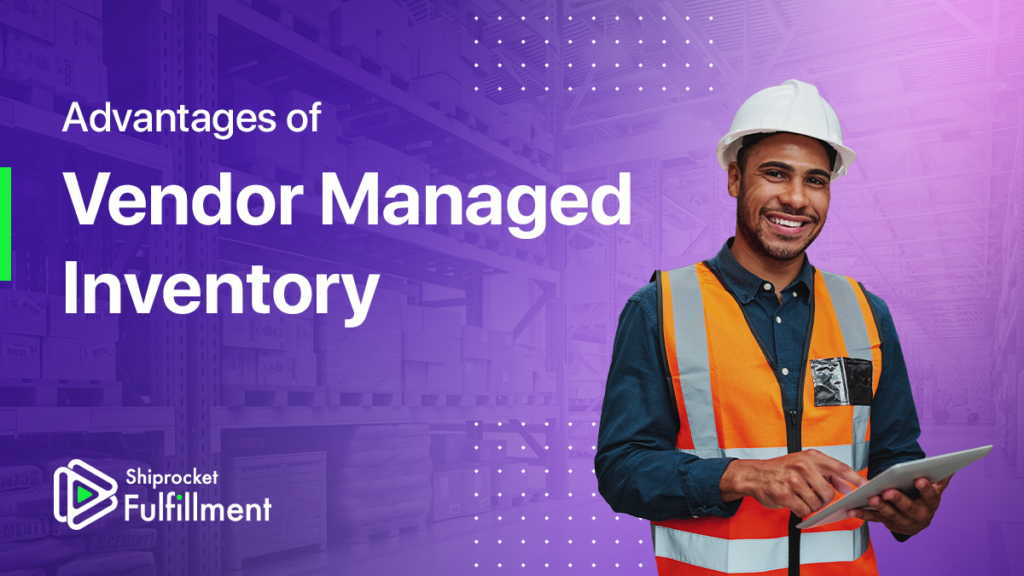 VMI or vendor-managed inventory is a B2B strategy between a business and its vendor where the vendor manages the inventory. This helps the business save up on working capital and reduce its time and money.
This blog will provide you with an insight into vendor-managed inventory and its advantages and disadvantages.
Vendor Managed Inventory: An Overview
Vendor-managed inventory is when the vendor or supplier manages the inventory level. Most businesses choose this strategy as it helps them manage stock levels better and efficiently. Outsourcing the supply chain task helps the business owner stay focused on other business operations without worrying about managing the right inventory levels.
Who Uses Vendor Managed Inventory?
Vendor-managed inventory is primarily utilized by consumer-packaged goods industries and electrical industries. It is used by marketplaces like Amazon, Walmart, Flipkart, etc., to deal with 1 million SKUs and works with several third-party sellers. It works best for the retailers with a lot of space to store the inventory but who do not have the resources to manage multiple different SKUs.
Benefits of Vendor Managed Inventory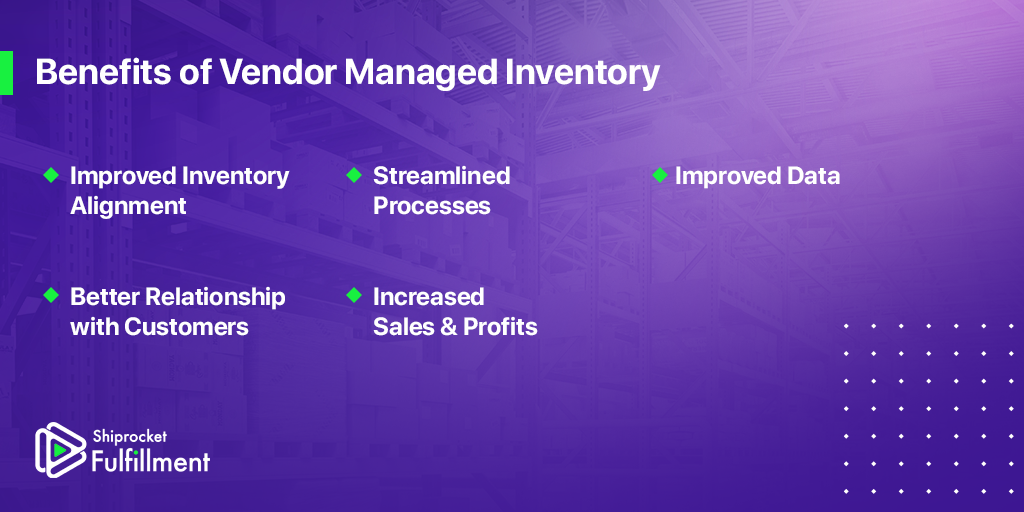 In addition to eliminating roadblocks and helping in managing inventory requirements, vendor managed inventory has several benefits on offer:
Improved Inventory Alignment
In a vendor managed inventory setup, the supplier takes charge of replenishing inventory, allowing you to adjust inventory as per the customer demand automatically. It helps improve supply chain management, even during seasonal changes. Also, you can meet the demand variabilities quickly as the suppliers themselves coordinate with the manufacturers. Overall, you can reduce stock-out situations and other inventory-related efficiencies.
Streamlined Processes
Since you don't control and manage inventory, you can achieve operational efficiencies. The ordering process is based on accurate data, which can help you save costs. You can also reduce the frequencies of last-minute orders. In fact, you can reduce the overall number of inventory orders and returns.

Improved Data
With your vendor managing inventory, you can get improved insight into operational data. For instance, you get an insight into the products that are selling well and the ones which are not. With this data in hand, the salesmen can improve their performance by developing a better customer relationship. as you get access to more meaningful and insightful data, you can expand your business in more valuable ways.
Better Relationship with Customers
With the help of VMI, you can enhance your relationships with customers and gain a competitive edge – thanks to insightful data, no out-of-stock situations, and on-time delivery. Also, you can quickly recognize the loopholes in your supply chain process and improve them for better efficiency.
Increased Sales & Profits
With a better understanding of what your customers are demanding, you can increase their experience with you, and thus sales and profits. With greater transparency and better communication, you can better meet your customers' needs.
Disadvantages of Vendor Managed Inventory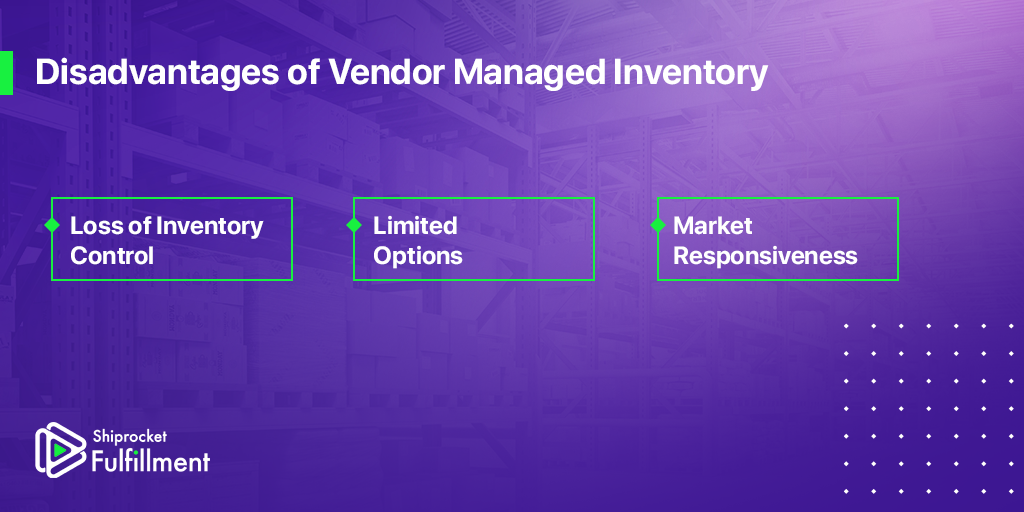 Before you jump to any conclusion, have a look at some challenges that you might face with vendor managed inventory:
Loss of Inventory Control
This model is not beneficial for you if you want complete control over inventory. Also, if you are unwilling to share internal data with a third-party vendor, this model is not for you. You might also be unaware or not sure of the inventory handling capabilities of your supplier.
Limited Options
Once you partner with a supplier for managing your inventory, it may cause supply chain disruption if you become unsatisfied with their services. You might come across suppliers that offer better products at cost-effective rates. But being in VMI relation with the supplier, you might not be able to change your supplier until the partnership ends.
Market Responsiveness
If you feel you are an expert at the demand fluctuations in the market, the VMI route is not for you. With your supplier going through the data insights and supplying inventory accordingly, he might not be providing accurate data. Thus, you might not get access to the correct sales forecast leading you to plan your business operations on unreliable data.
How Can 3PL Fulfillment Providers Help?
Vendor managed inventory is outsourcing your inventory management operations to your supplier. Another robust option is outsourcing their entire fulfillment operation to 3PL fulfillment providers like Shiprocket Fulfillment.
Shiprocket Fulfillment has more than 35 WMS-enabled fulfillment centers located across the country. In these fulfillment centers, skilled executives take care of all operations like inventory management, order fulfillment, picking, packaging, shipping, and returns. So instead of just outsourcing one aspect of your supply chain, you get to outsource the entire process and have complete control over the inventory, data, and decision-making.
With more than 35 fulfillment centers, you can decentralize your inventory and store it closer to your buyers. This way, you can save on merchandise, and fulfillment costs, deliver 3X faster and offer same-day and next-day delivery, and improve the delivery rate for your orders.