Reasons Why Customers Return Products & How To Prevent It?
Customers returning products is an inevitable part of the business. However, it can be a costly affair for an eCommerce business due to the return shipping charges. There are steps that can be taken to reduce or prevent returns. But, at the same time, you must also know how to manage the returns to offer a pleasant experience to the customers.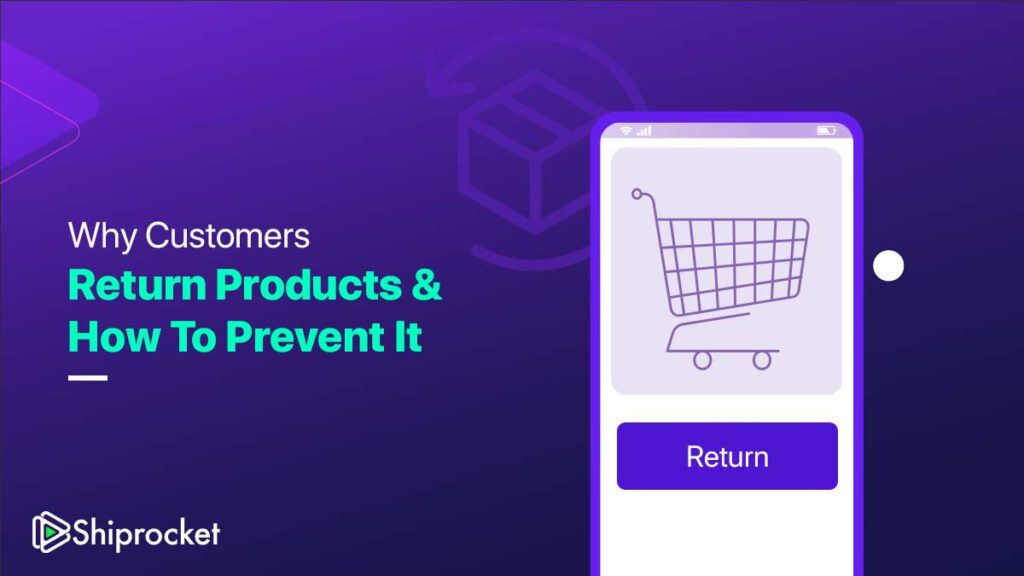 Processing returns efficiently not just makes the customers happy but also encourages repeat orders. It also keeps the costs down.
Let's take a look at the reasons why customers return products.
Why do Customers Return Products?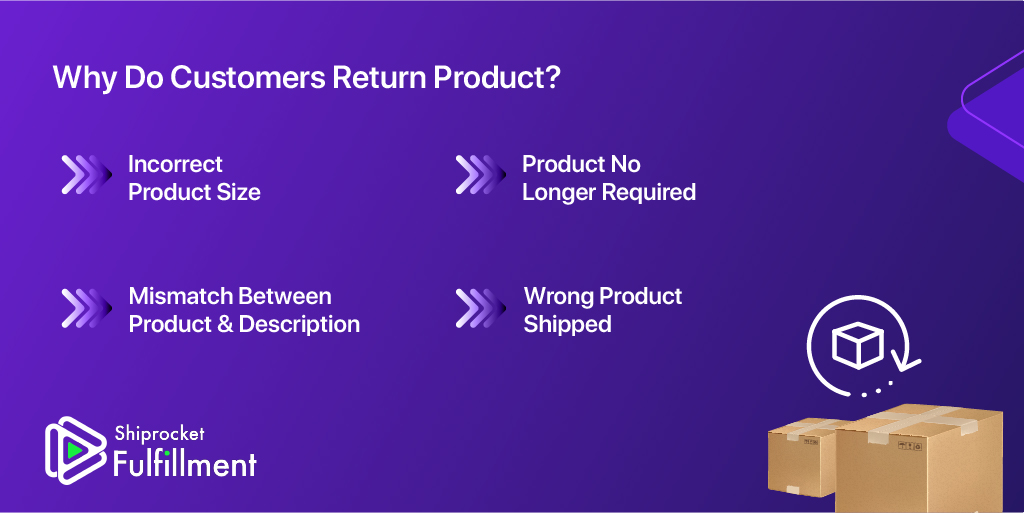 A product return is not a bad thing. It does not always mean that the buyer didn't like the product he received. The following are the reasons why customers return the product:
Incorrect Product Size
Incorrect product size is the most common reason why customers return products. While it may seem uncontrollable for an online store, you can very much have control over it.
In a brick-and-mortar store, people actually have a look at the product. They get an idea of the size of the products. For clothes, the customers can even try its size and fittings. For shoes as well customers can try the size and even walk a few steps to check comfort.
For an online store, the size of the product is mentioned. However, the size can vary from product to product and brand to brand. So, you can offer excellent product descriptions that include all the product details in brief. Include everything in the product description that the customer might want to know about the product. You can also include how-to-use descriptions if the product is a bit technical. This will lead to the customers buying the right products as per their needs.
Product No Longer Required
Many customers order the product online. But when it is shipped or delivered, they no longer require it for various reasons. For example, a customer might order artificial flowers. But when they are delivered, he might have got his vase broken, thus not requiring the flowers anymore.
Or sometimes an upgraded product is available. The common products that fall in this category are electronics, like chargers, mobile phones, tablets, laptops, etc.
Though this product return is beyond your control, you can convince them to keep the current product as it is in their favor. You can do it by showcasing the benefits of the products that other products don't possess. So, the product description must be elaborated and include everything about the product.

Mismatch Between Product & Description
Many times the products appear different in reality than what they are described as in the description. The customers might also file a dispute for a misleading description. This represents bad business practices. The product description must be detailed and accurate.
Put some effort into crafting complete, clear, and accurate descriptions that answer customers' all questions. Also, proofread the descriptions and images before you publish them – the first impression matters the most. So, write, read, edit, re-edit, and proof the descriptions before publishing them.
Wrong Product Shipped
Product picking is an essential task in the fulfillment process. And you can get a lot of returns if this process is not carried out diligently. Ensure that you sort and select the correct products. If you don't perform these tasks properly, you will lose a lot of money on labor and shipping costs. You can also partner with a 3PL fulfillment provider where experts handle the products and pack and ship them. They also store the products and sort them, and when you receive an order, they process it on your behalf.
How to Reduce Product Returns?
High-Quality Product Images
When you list your product online, don't just add a single product image. Capture product images from different angles and display them on your listing. Ideally, you should add a minimum of four product images – images from the front, back, and both sides. Also, ensure that you only add high-quality images. It helps the customers in decision-making as they can judge the quality from the product image. If required, you can also add videos.
Also, highlight the weight, size, and material of the product in the product descriptions. Keep the product descriptions up to date as well to avoid any possible confusion. All the information helps the buyer make a decision. And if a well-thought decision is made, the likeliness of product return is reduced.
Size Guides & Fitting Tools
You can audit the size guides and fittings tools from time to time to ensure that they are up to date. Besides, they must also be easy to read on desktop and mobile. This step ensures that the customers don't order the products in any wrong size and return them later.
Introducing this will help remove most size-related returns and prevent customers from ordering the same product in multiple sizes and then returning the wrong fitted ones.
Outstanding Customer Service
Provide easy and convenient ways for customers to reach out to your customer service executives. Or allow them to write product questions or issues on the listing. If you give ways to clear their doubts, you prevent them from getting frustrated or returning the product because they may think the product isn't working while in reality, they might not know how to use it.
Also, use the conventional methods of emails and phone calls or instant messaging. Connect with the customers in real-time, solve their queries, and prevent all possible unnecessary returns.
Appropriate Packaging
Consider different types of packaging for the products as per their requirements. The rule of thumb is to buy packaging as per the product's journey from in transit to delivery. The majority of products are broken or damaged during transit because of insufficient or inappropriate packaging. And it is also one of the primary reasons why most customers return products.
Add cushioning to the packaging like bubble wraps, foam sheets, and packing peanuts for fragile products. You can also pack them in double or triple layer packaging. Besides, you can also mark 'handle with care' on fragile items like glass products.
The Final Words
A business can never escape returns; it is a part of the business. However, you can work towards reducing them by following the steps we have outlined above. Take time to analyze why most of your customers return the products and work on those points. The bottom line is always to ensure that your customers are satisfied with their purchases.