What is Third Party Fulfillment and Who Uses 3PL Fulfillment?
According to a report by IBEF, India's eCommerce sector is expected to reach US$ 111.40 billion by 2025 from US$ 46.20 billion in 2020, growing at a 19.24% CAGR. This means that the eCommerce industry is witnessing exponential growth. Not just this, the eCommerce industry is also serving 10x more customers than it was previously, and the demand has only risen dramatically during the pandemic. Not just this, customer expectations have also changed and become much more dynamic. The market for 1-day and 2-day delivery has become a household favorite. To meet these demands, you need to have a robust system to deliver fast and accurately.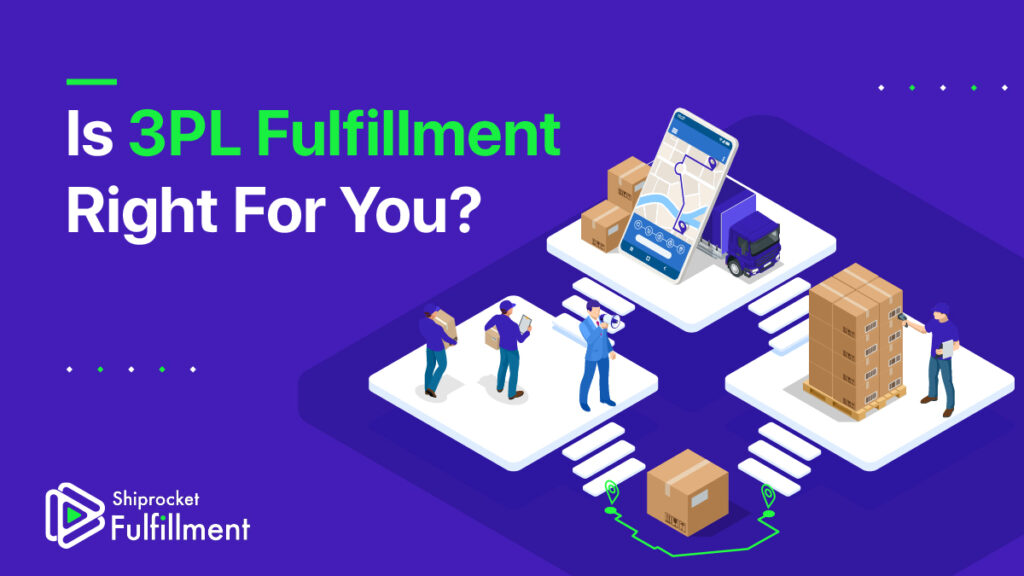 3PL fulfillment providers can be beneficial for fulfilling your orders promptly along with utmost accuracy. The 3PL fulfillment concept gives your business an extension without investing in the physical infrastructure. Let's learn more about 3PL fulfillment and who must use these services.
Understanding the 3PL Fulfillment Concept
A 3PL fulfillment provider is a bridge between your manufacturing operations and your customers. They not only store your inventory but also pick, pack, and ship your products.
3PL fulfillment providers usually have multiple fulfillment centers in different geographical locations. Having multiple fulfillment centers at your disposal helps you decentralize your inventory and store it closer to customers. This enables you to reduce shipping time and costs by keeping inventory closer to your target audience.
Along with this, 3PL fulfillment providers also help you with packaging, shipping, and return management. If you take care of these operations yourself, there is a good chance that the overall costs will be higher, and you will have to shell out a lot more extra to maintain the operations and infrastructure.
Let's look at what operation 3PL company is ideal for you and how it is beneficial for your ecommerce business.
What Do 3PL Companies Handle for You?
Inventory Management
The first operation that 3PL company is handy for you is inventory management. 3PL fulfillment companies stock your inventory in a systematic manner so that you do not have to. They have centralized inventory management systems that take the inventory stored in different fulfillment centers in other locations. This enables you to view the stock and plan your orders accordingly. Also, decentralized inventory management helps you process orders faster, and you do not have to manage inventory in different places yourself.
Order Management
Order management is the next order fulfillment operation taken care of by 3PL fulfillment companies. 3PL fulfillment providers sync your inventory with the incoming orders to ensure that no order goes and is processed. A robust field process and immaculate warehouse operations design help reduce the order-to-ship time.

Picking and Packing
3PL fulfillment providers also take picking in packaging operations for every incoming order. Systematic inventory management and a skilled team help reduce the selection and packaging time so that your orders are processed and shipped faster.
Shipping
Most 3PL fulfillment providers have a network of shipping that helps deliver orders faster. If not a vast shipping network, they have tie-ups with courier companies to ensure that your orders reach your customers soon.
Returns Management
Along with shipping and delivery of your orders, 3PL cement companies also take care of the returns that might come in. They have a returns management process to ensure that the inventory is maintained at all times and updated without any lag.
Who Must Use 3PL Fulfillment?
3PL fulfillment is a very modern concept that helps reduce time, cost, and energy. It is an excellent way for eCommerce entrepreneurs to reduce the load of order fulfillment. By outsourcing eCommerce fulfillment operations, sellers can increase their profits drastically. There is no set category for Home 3PL fulfillment providers. Here is how 3PL fulfillment can be a boon for various sellers.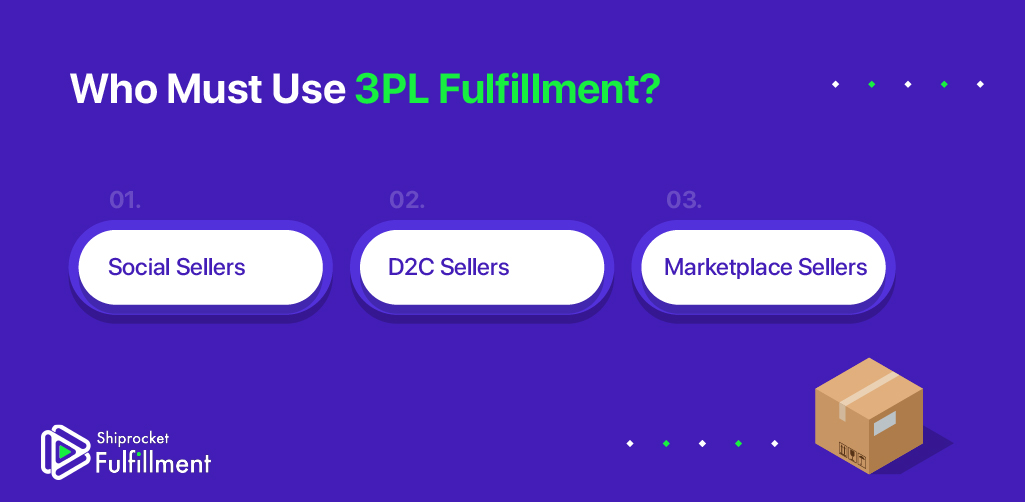 Social Sellers
Suppose you are a social seller who sells on channels like WhatsApp, Facebook marketplace, Instagram, etc. Then you can opt for 3PL fulfillment of your products. This will help you free up space in your small warehouse and find top-notch operations matching a D2C business.
D2C Sellers
If you want your website and sell directly to customers, it can be challenging to compete with marketplaces like Amazon, Flipkart, etc. To establish operations as efficiently as them, you need to set up a massive infrastructure with dedicated fulfillment centers. However, if you outsource your functions to 3PL fulfillment providers, you can benefit from large-scale order processing while paying only a fraction of the amount. Not just that, you can deliver as good as marketplaces do.
Marketplace Sellers
Marketplaces have stringent fulfillment requirements. With thoroughly equipped fulfillment centers, You can meet his pick-up and delivery requirements and reduce the order-to-ship time.
Shiprocket Fulfillment – A Trusted 3PL Fulfillment Provider for Your Business
Shiprocket Fulfillment is a trusted 3PL fulfillment provider for your business. It is the perfect choice to deliver your eCommerce orders across India. We have more than eight fulfillment centers across India in Mumbai, Delhi, Gurugram, Bengaluru, Jaipur, Guwahati, etc. Along with this, each fulfillment center is equipped with the latest warehouse management systems, a skilled team, and a thorough operations process. By storing your inventory in these fulfillment centers, you can reduce your shipping time and decrease overall fulfillment costs by almost 50%. The latest warehouse Tech can also help you reduce your RTO by 60%, as you will be able to provide 3X fast shipping for your orders.
Final Thoughts
3PL fulfillment can be a significant boon for your business as it helps you outsource operations that are redundant and time-consuming. If you are an eCommerce business currently looking to expand operations, 3PL fulfillment is the right track for you to reduce costs, ship faster, and improve customer satisfaction.