Store Fulfillment Model: How It is Useful?
After the Covid-19 pandemic and multiple lockdowns, many businesses came to a standstill because of a lack of supply chain continuity. Since the production was halted for several months, most products went into a backorder or were discontinued completely. Even retail stores opened after a while; products could not be sold to the total capacity because the supply chain was not functional. As a result, most businesses faced the rate of dead stock or situations of stockouts.
If online brands had utilized the store as a distribution center to sell their products, the store fulfillment model comes into the picture. Using your retail store as a micro fulfillment center can help you reach your customers faster and deal with increased shipping costs and slower delivery speeds. Let's look at what store fulfillment means, the advantages of utilizing this model, and the requirements.
What Is Meant By Store Fulfillment?
Store fulfillment refers to utilizing your retail store as a micro fulfillment or distribution center. This means you can fulfill your eCommerce orders right from the retail store. This model is s utilized as an omnichannel retail strategy to ensure customers get a consistent experience.
Advantages Of Using Your Store As a Micro Fulfillment Center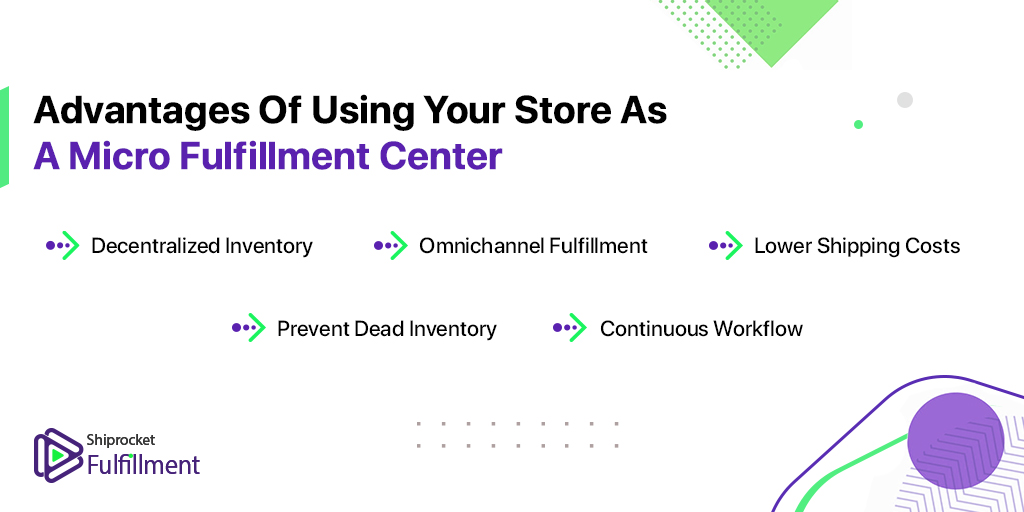 Decentralized Inventory
The first advantage of utilizing the store fulfillment model is the centralized inventory. If you have a primary fulfillment center where you ship all your goods, you can decentralize your inventory by storing it in these micro fulfillment centers or retail stores. This will help you keep inventory closer to customers, and you can ship faster. By decentralizing inventory, you will also be able to reduce shipping costs and provide a much better shopping experience to the customer. Also, you can give them the option to collect the product from the store itself.
Omnichannel Fulfillment
By making your store a microfilament center, you can store inventory right in your store and give your customers an omnichannel fulfillment experience. This means that they do not need to be waiting for their product as you can give them the options of buy-online-pick-up-in-store, ship-from-store, etc.
Lower Shipping Costs
By storing products closer to your customers, you can lower the shipping costs and increase the delivery speed. It is better than shipping from the primary fulfillment center located farther away.
Prevent Dead Inventory
Suppose you store inventory in micro fulfillment like in the store fulfillment model. In that case, you can optimize operations, keep the inventory moving faster, and prevent dead stock accumulation in your warehouse.
Continuous Workflow
Lastly, you will not have to face any setbacks if there is any halt in the supply chain because of the primary fulfillment center. The store fulfillment model will facilitate you to store a part of your inventory in the micro fulfillment centers, i.e., your retail stores.

Requirements For Starting The Store Fulfillment Model
Inventory Visibility
All retail stores must be equipped with advanced inventory management systems and synchronized with the primary fulfillment center. If there is a need to re-stock items, it must be done from one common center. Inventory Visibility will reduce the chances of duplication and overstocking.
Capital Investment in Stores
Next, you will need to invest a little more in your existing retail stores to help them accommodate more inventory than usual. This will mean extending the space, creating a small warehouse at the bank, and hiring more staff to manage this.
Maintain Store Inventory
The next aspect of starting the store fulfillment model is maintaining store inventory. You will need to label and preserve records of the store inventory properly. This means RFID and barcode tagging for all the incoming items.
Stock Accuracy
Last but not least, you will need to accurately maintain all stock levels and keep them updated in the inventory management system. This means that you will need to consider an order management system that will help you update the inventory levels in real-time.
How Can Shiprocket Fulfillment Help?
Shiprocket Fulfillment can help you decentralize your inventory without the capital investment in your retail store. Shiprocket Fulfillment has more than 35 fulfillment centers located across the country. This means that you can store your inventory in our fulfillment centers and we will pick, pack, and ship it for you as and when an order comes to your online store. This way, you can provide your customers with the same-day and next-day delivery without expanding your retail stores and creating micro fulfillment centers. You can reduce your shipping costs by 20%, increase your shipping speed by 3X and give your customers the best delivery experience.
Final Thoughts
The store for payment model can be a game-changer for your business if you have retail stores in your supply chain. If not, you can always outsource fulfillment operations to a 3PL fulfillment provider and leverage the advantage of a store fulfillment model. In both ways, decentralizing your inventory and storing it closer to your customers can be advantageous and profitable.