Key Supply Chain KPIs That You Must Track For Seamless Fulfillment
Maintaining a seamless supply chain is a huge task. Many sellers worry about doing it successfully and spend most of their time on this task. However, they seldom leave out a critical aspect or don't know about it – measuring its performance.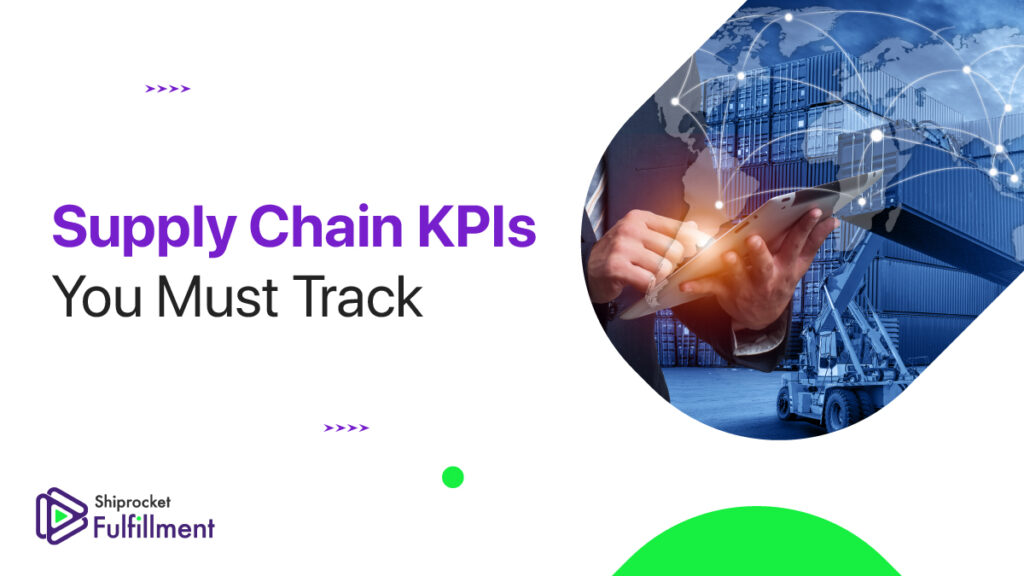 Yes! Measuring the performance of your supply chain is as important as running it because it helps you improve your business and imbibe growth with evolving trends.
Many sellers struggle with knowing the correct key performance indicators(KPIs) for supply chain management and do not track them. There are several supply chain metrics that you can follow to see the performance of your supply chain. If you jump directly into the deep end, it can be challenging to decide which ones are important and which ones can be less insightful.
We have compiled a list of the supply chain KPIs that you must track for your eCommerce business to make this task easier for you. Let's dive in to get started.
What are Supply Chain Management KPIs?
Supply chain management KPIs are performance indicators that businesses use to track performance goals. These are usually quantitative metrics used for evaluation.
KPIs can be helpful to analyze if you are meeting your set targets and where there is scope for improvement.
A few supply chain KPIs include –
Perfect order rate
Order fill rate
Freight bill accuracy
Inventory turnover
Supply chain costs
Average delivery time
Let's have a look at them in detail.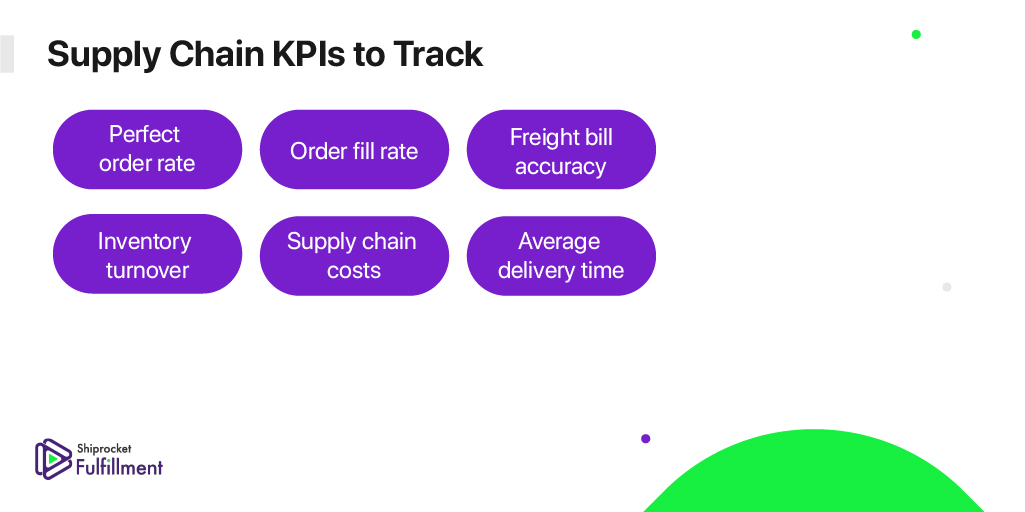 Top Supply Chain KPIs to Track
Perfect Order Rate
Perfect order rate measures the number of orders delivered to the right customer at the right time without any errors.
The errors can include shipping delays, damaged goods, fulfillment mistakes, or lack of documentation.
Perfect order rate is measured by calculating two different KPIs or sub-metrics, which are as follows –
Damage-Free Delivery
Damage-free delivery is the percentage of orders which are delivered without any damages. A low damage-free delivery is indicative of the performance of your packaging process and shipping partner. Consistently low performance can mean that the packaging operations need an overhaul.
Damage-free delivery = [(Total number of orders – Number of orders that arrive damaged) / Total number of orders] x 100
On-Time Delivery Rate
The on-time delivery rate is the number of orders delivered on or before the estimated delivery date. This KPI helps you understand how well you are meeting customer expectations regarding shipping and delivery.
To understand and improve your on-time delivery rate, it is essential to track India and auto closely and understand the reasons for late delivery. You must evaluate your last-mile delivery and partner with a fulfillment and logistics provider like Shiprocket Fulfillment to guarantee you one day and today's shipping.
On-time delivery = (Number of on-time orders / Total number of orders) x 100

Order Fill rate
Order filled rate refers to the number of orders completed in one shipment without the need for split shipments.
This metric is essential to measure the efficiency of the supply chain, and it resonates strongly with customer satisfaction.
Optimizing your inventory management, decentralizing inventory, and maintaining an automated order fulfillment and management process can help you improve this metric.
Fill Rate = (1 – [(Total items ordered – Total items shipped) / Total items ordered]) x 100
Freight Bill Accuracy
Even though invoicing and billing may not seem like a considerable aspect of your supply chain, the correctness of the data can help you maintain a thorough cash flow and improve the customer experience.
The freight will accuracy is a metric that measures if your shipping bills have the correct information like the price, number of items, amount, weight, etc.
The best method for keeping this metric in check is automating the invoicing and billing process and outsourcing fulfillment and freight management operations.
Freight bill accuracy = (Number of correct freight bills / Total freight bills) x 100
Inventory Turnover
Inventory turnover rate refers to the total number of times you sold your entire inventory and replenished it in a specific period.
A high inventory turnover rate suggests that you are selling goods quickly and your business is doing well. However, a low inventory turnover rate can mean that you have a lot of debt stock accumulated.
To maintain a high inventory turnover rate, it is essential to thoroughly do a demand forecasting exercise every cycle. Also, keeping a quick order management and fulfillment process can help you make the process more efficient.
Inventory turnover rate = Cost of goods sold / Average inventory value
Supply Chain Costs
This KPI measures the cost that goes into maintaining your supply chain operation. It is a combination of two KPIs that include –
Supply Chain Cost as a Percentage of Sales
This metric considers the overall cost of managing supply chain operations to the total earnings from sales.
Supply chain cost as a percentage of sales = (Total supply chain cost / Total monetary amount gained from sales) x 100
Supply Chain Cost Per Unit Sold
This metric considers the cost of running supply chain operations concerning the average cost of procuring and selling one unit of a product in a specific period.
Supply chain cost per unit sold = (Supply chain cost for a product / Number of units sold of the same product)
Average Delivery Time
Average delivery time refers to the delivery time to be delivered to your customer's doorstep. This means the time taken to provide a shipment after you hand it over to your courier partner. This KPI is important for tracking the shipping speed.
Average delivery time = Total days to deliver all orders / Total number delivered.
A 3PL fulfillment provider like Shiprocket Fulfillment can help you lower your shipping speed by offering 1-day and 2-day delivery services for your orders and reducing the processing time for incoming orders.
Final Thoughts
Regularly tracking these key performance indicators can be your key to a solid supply chain performance for your business. At any point, if you think your business is falling back because of your supply chain, analyze the needs and look out for outsourcing options to 3PL fulfillment providers.