Why Should You Invest in Informative Shipping Labels?
Managing a business involves a lot of bigger and significant tasks and aspects where a business owner often overlooks the smaller ones. However, these smaller tasks or aspects are equally crucial to drive a business towards success. One such aspect that is often overlooked is shipping labels.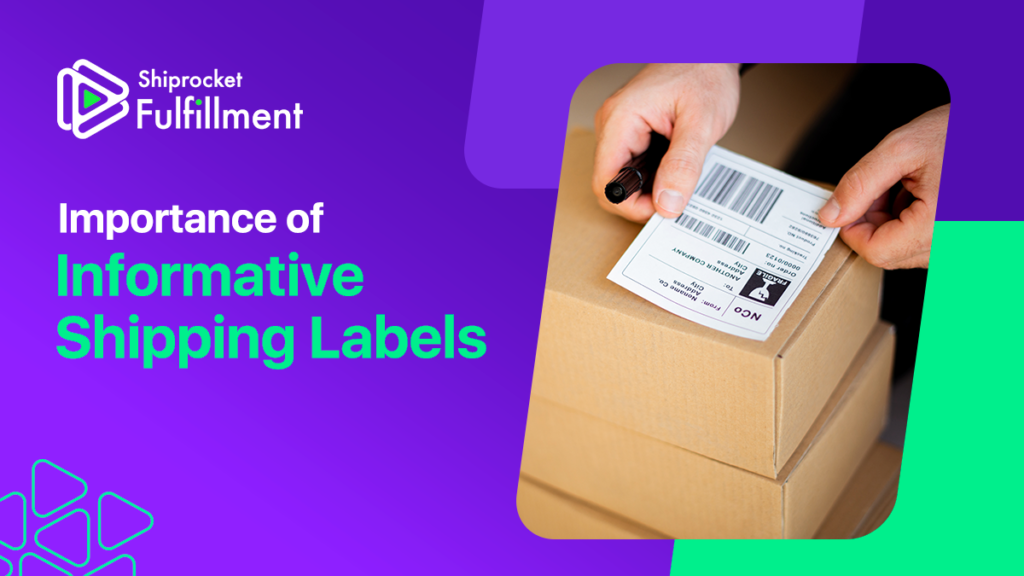 A shipping label is a crucial component in an eCommerce business. It plays a significant role in shipping the product and delivering it to the customer's doorstep. For every product packed and shipped, a shipping label is essentially attached to it. It contains information related to transfer.
If you are still confused about it, worry not! This blog will help you understand what a shipping label is and its prominence for an eCommerce business.
What is a Shipping Label?
Shipping labels hold information that helps identify the parcel contents and shipping details. Essentially, it describes what is inside the package, though most sellers don't write the product name but the product SKU. The key display information involves the seller's details and the address where the package is destined to be delivered. It also includes the contact numbers of the seller and buyer.
A shipping label is a piece of paper attached to the parcel for the delivery process. It is vital to attach the shipping labels to ensure a seamless delivery process. A label has important information related to the supply chain. It helps the delivery agent to have a proper idea about the package's origin and destination. Given the importance of shipping labels, all eCommerce sellers must invest time and efforts in them.
How Does a Shipping Label Work?
A shipping label must have the following information:
Shipping origin and destination address
Package weight
Shipping information (internal)
Tracking barcode
Order priority
All the information mentioned above is critical for delivering orders conveniently and timely. There can be some additional information as well in the shipping label to make the shipping and delivering process even more convenient:
Name, address, and phone number of the buyers
Shipping carrier details like name, AWB number, and routing code.
Product details like dimensions, weight, payment method (prepaid or COD), and item details.
Seller information like seller's name, address, phone number, and order ID.
All these details must be added to a shipping label. Without these details, it can be difficult for a courier agent to deliver the package to the right customer within the set time. In an order fulfillment process, shipping labels serve as guidance for the carrier to ensure proper and timely order delivery.
Why Informative Shipping Label is Beneficial for eCommerce Brands?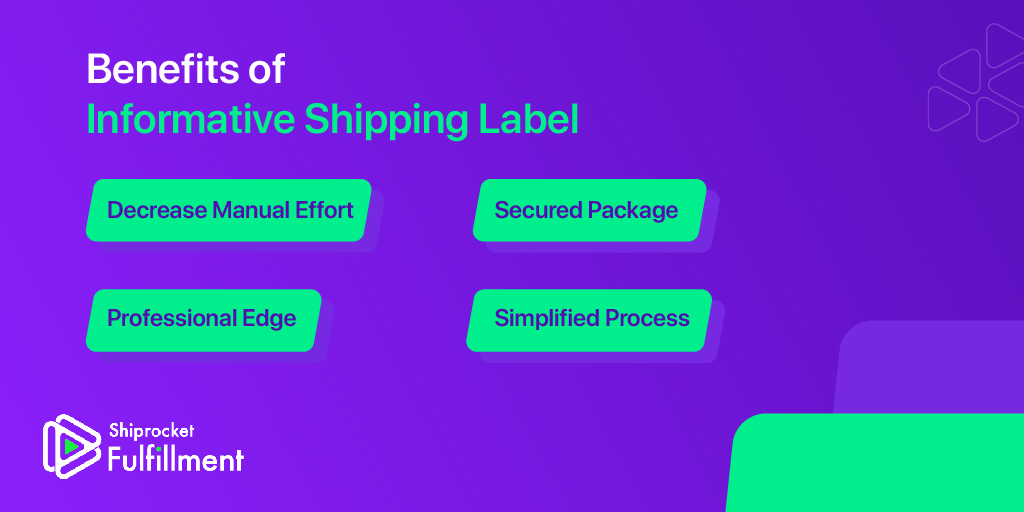 Informative shipping labels are one of the critical aspects of shipping. The following are the benefits of informative shipping labels:
Decrease Manual Effort
Printing out the delivery address, cutting it, and then sticking it to the parcel is quite a task. Instead, you can create a template for a shipping label and print it on sticky paper for every order. This method saves manual effort as well as is an efficient and time-saving option.
Secured Package
Sticky tapes can get messy and make your parcel sticky as well. Shipping labels are a great alternative to this, they are hassle-free as well. There are chances that a label might be torn or ripped off during the shipment process. Shipping labels minimize this opportunity and ensure that the parcel reaches the buyer without any issues.
Professional Edge
A shipping label is not just a small piece of paper with a barcode and some words written on it. It plays a critical role and increases the professionalism involved in product packaging. A packaged product with shipping labels looks more professional. Besides, it saves time and effort required to hand-writing the address and information of each parcel.
Printing a shipping label becomes even more crucial when you ship out 20+ parcels every day. It saves manual effort and time.
Simplified Process
Using printed shipping labels means that your packaging process is streamlined. You can print a large amount of neat and professional shipping labels within a few minutes or hours. You can stick them to your parcel conveniently and save your hours. Not to forget you save yourself from unnecessary stress a well. So, setting up a process for shipping labels is an ideal way to save time.
Do's and Don'ts of Shipping Labels
When it comes to printing and using shipping labels, there are a number of factors that you must consider.
Do's
Be Creative: product packaging and shipping labels are an opportunity to stand out from others. The best way is to include something unique and compelling in the shipping labels that helps you stand apart from the others.
Meet Regulations & Policies: failing to comply with government regulations and policies can have consequences. Just because you are custom designing your label yourself, doesn't mean you don't follow the safety standards and policies.
Right Label Material: in addition to information, colors, and graphics, the material on which you print your label must also be appealing. The adhesive used to stick it on the parcel must be strong. The shipping label must not prematurely deteriorate.

Don'ts
Don't Copy: don't assume what worked for others will work for you as well. Just because a certain thing worked for your competitor doesn't mean it will work for you as well. When it comes to creating shipping labels, ensure that you target your audiences' tastes and preferences. For instance, if you are targeting a younger group, using barcodes will be a good option.
Don't Overdo: when you work on designing your label, don't overdo it. Make the most of the space but effectively. Focus on what's important and don't add anything that is unnecessary.
Look for Options for Printing Labels: once you have finalized what you want in your labels, don't go excited about it and get them printed with the first option you come across. Look for different options and ensure that you only choose the best one.
There are many shipping software that you can use to create and print your shipping labels for your eCommerce store. The software also allows printing pre-prepared shipping labels that can be used directly. Or you can partner with 3PL shipping solutions that offer auto-generated shipping labels with all necessary details pre-filled.