How Can You Provide Free Shipping With 3PL Fulfillment Providers?
The eCommerce dynamics have changed drastically in the past two years. Customers have started expecting much more from the eCommerce industry than they did before. As the competition in the eCommerce market is growing, many players are ready to bleed out the money in their initial years. Therefore, incentives like free shipping, faster delivery, etc. have become a common phenomenon.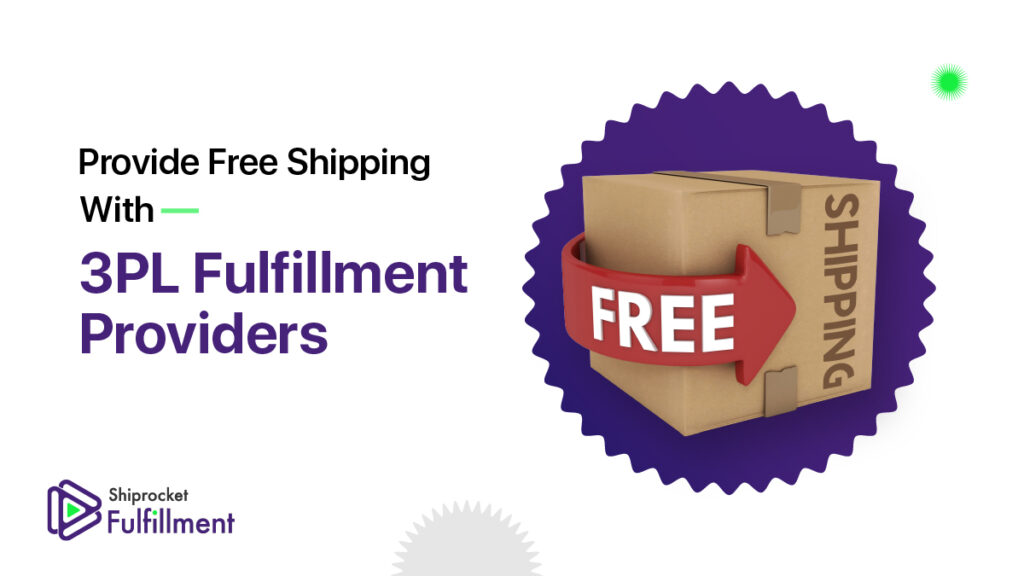 If you are a new eCommerce seller and want to understand how to provide free shipping without bearing many losses, you've landed at the right place. 3PL fulfillment providers are one such solution providers that can help you provide free shipping without burning a hole in your budget. Even though there are different ways of giving free shipping, 3PL fulfillment providers often become the most useful. Let's see how.
Why is Free Shipping Important Today?
With the eCommerce landscape increasing in the country, free shipping is a significant incentive that people look at for shopping online. Especially with the advent of marketplaces where shipping is mostly free or subscription-based, users tend to let go of the fact that shipping costs a lot to the seller. Also, to build a solid customer base in the initial years of their inception, many brands are willing to bear the extra brunt of free shipping and want to give their customers a delightful experience. Therefore, to maintain a mark in the industry and become a favorite among your customers, it is essential to provide free shipping so that customers don't feel cheated when they checkout.
The Various Techniques to Provide Free Shipping
Include it in the Product Price
The first technique to provide free shipping is to include the shipping cost in the product price. However, the shipping cost needs to be constant. Since the shipping cost is majorly dynamic depending upon the pin codes and weight of the product, you cannot have a specific price. Therefore, this might not always be profitable for you. Also, a significant drawback is that it spikes the product price rapidly.
Offer Bundles
The following technique is to offer bundles. When you offer bundles, you are shipping 2 to 3 products at the price of one. So you save on shipping costs drastically. However, you cannot always send in bundles as that is not always profitable for your business as you have to show some sort of savings on bundles.
Minimum Spend Threshold
The minimum spend threshold is decided by taking an average of the cost of all the SKUs. Some products may see a loss while others may profit, so it balances the shipping costs.
Now let's see how 3PL fulfillment providers can help provide free shipping without losing a lot of money
Role of 3PL Fulfillment Providers in Providing Free Shipping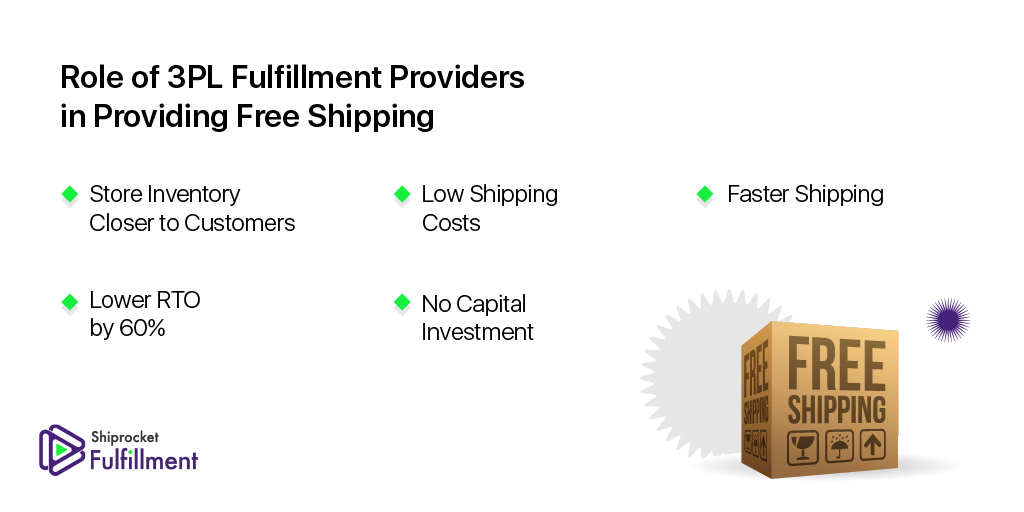 3PL fulfillment providers can help provide free shipping by storing products closer to customers and shipping at lower shipping costs with a strong shipping network. Shiprocket Fulfillment is one such fulfillment provider that can help you. We have 45 fulfillment centers located across the country at prime locations. Let's how these can be useful in providing free shipping.
Store Inventory Closer to Customers
With Shiprocket Fulfillment, You can store inventory closer to customers. This enables you to ship for shorter distances, and you can deliver much faster while save on shipping costs. For example, if you receive a significant number of orders from Bengaluru, and you store products in our Bengaluru five payment center, you can deliver orders 3X faster.
Low Shipping Costs
But storing inventory closer to customers, you can also reduce shipping costs drastically. Intercity shipping will cost more as compared to intracity shipping. Therefore, it is a good idea to store your inventory much closer to your customers. Since the shipping costs are low and distance less, free shipping would not be as harmful to your business if you shift from a different state or city.
Faster Shipping
You can also ship fast to your customers and provide a greater incentive, not just low shipping costs. As a shipping network is strong and experienced, you do not have to pay a large sum for faster shipping, and providing free shipping will not be as costly for your business.

Lower RTO
Also, when you deliver faster, you can reduce RTO for your business as customers will receive the order on time, and you will be able to provide more orders in less time.
No Capital Investment
And lastly, you will not have to invest anything extra in maintaining your warehouse or stocking inventory, etc. Therefore, you can also save additional expenditure here and make your business profitable by providing free shipping.
Final Thoughts
eCommerce shipping is as integral for your business as any other aspect. Providing free shipping today is a major center for people as they do not want to pay anything additional other than the product they purchase. Therefore, partner with a 3PL fulfillment provider to provide incentives like free shipping and 1-day & 2-day delivery to your customers.