Decoding Micro Fulfillment And Its Need In Today's Era
As the demand for eCommerce increases rapidly in India, the fulfillment supply chain has also evolved. The fulfillment capacities of brands are changing, and they are now looking out for alternatives to the traditional selling methods. There are more D2C brands than ever & they are delivering orders faster than ever before. Even marketplaces like Amazon India have been transformed, and customer expectations have also changed drastically. How are brands fulfilling orders so quickly?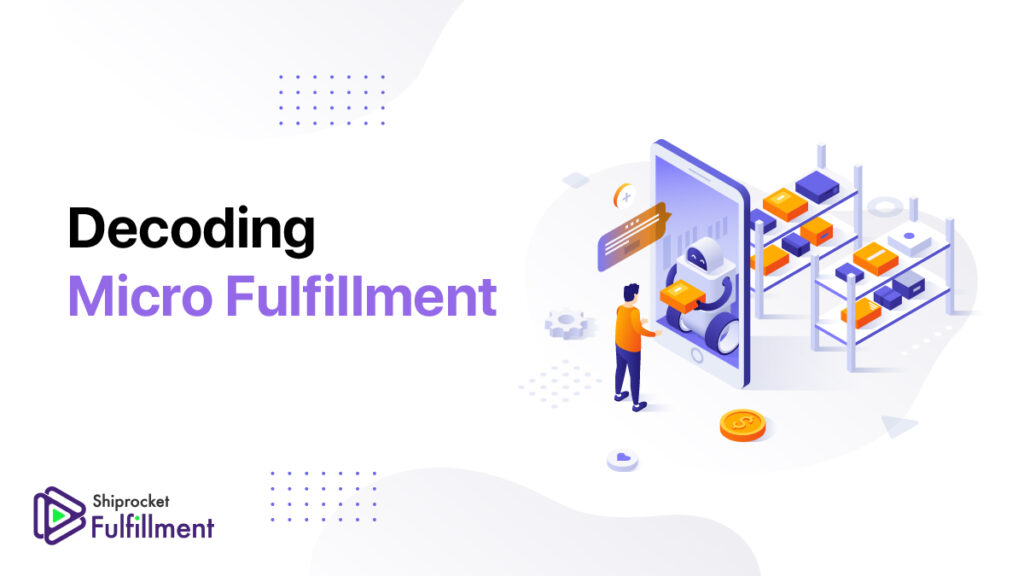 One of the reasons could be micro fulfillment. With evolving trends, micro fulfillment is also becoming an integral part of the fulfillment supply chain for several brands. They are working towards setting up smaller fulfillment centers to deliver orders as soon as one day after the customer places the order.
With the next-gen of eCommerce fulfillment picking up, let's understand what micro fulfillment is and the benefits of micro fulfillment centers.
What is Micro Fulfillment?
Micro fulfillment refers to placing small warehouse-like facilities in populated urban areas to process orders closer to the consumer. This helps improve delivery times by accelerating last-mile delivery. Since the last mile costs are exceptionally high in the entire delivery supply chain, micro fulfillment can help tackle this issue by reducing the last-mile distance for the business.
What is a Micro Fulfillment Center?
A micro fulfillment center is a small fulfillment center that can help process incoming eCommerce orders and act as a local store for pick-ups. Micro fulfillment centers are usually 10,000 ft.² or less and are highly automated. They can be built in an existing distribution or warehouse space or even a retail store that provides a front for the micro fulfillment center.
Difference Between Micro Fulfillment Centers and Traditional Fulfillment Centers
Traditional fulfillment centers are usually massive, with their area falling in the 300,000 ft.² range. Micro fulfillment centers are comparatively small and are situated in our 10,000 ft.² space or less.
Micro fulfillment centers usually house inventory for 24 to 48 hours worth of operations and need to be re-stocked regularly, whereas additional fulfillment centers have inventory for a more extended period.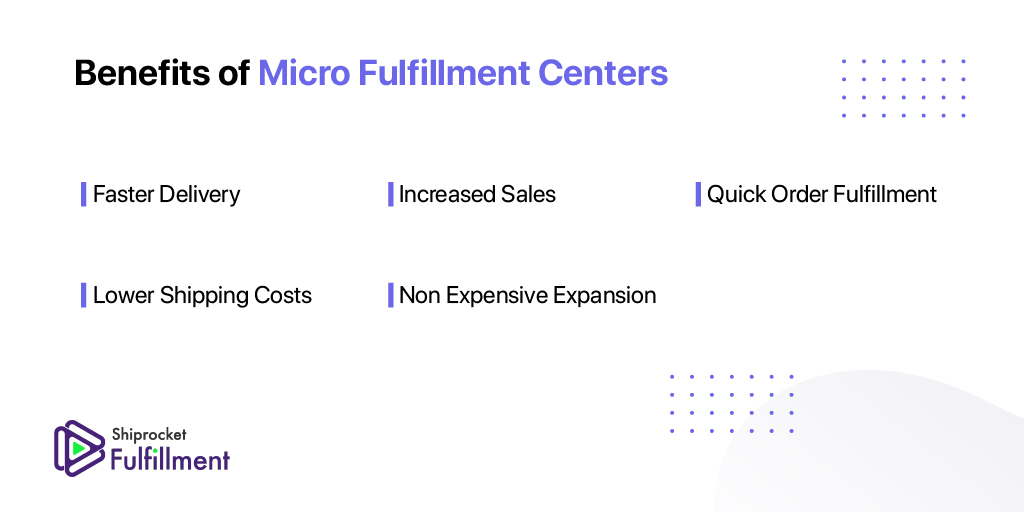 Benefits of Micro Fulfillment Centers
Faster Delivery
Micro fulfillment centers can benefit small to medium business enterprises as they can help deliver faster. As they are situated in densely populated areas where the order volume is generally high, micro fulfillment centers can help reduce the last mile distance and help you reach the customer faster.
Increased Sales
With faster delivery, you can help establish long-lasting relationships with the customer and increase repeat purchases for your business. The promise of more immediate delivery is a significant incentive for the people of India. Therefore quick delivery can help you increase sales. As the delivery times are less, chances for RTO orders also reduce drastically.
Quick Order Fulfillment
Reducing order-to-ship time is a significant concern for most eCommerce businesses. Since an order comes in, it takes a long time to complete the entire fulfillment process and ship it out to the customer. With micro fulfillment centers, you can reduce the order of assignment time as the operations are majorly automated.
Lower Shipping Costs
Since the last mile distance reduces with micro fulfillment centers, shipping costs are significantly lower. This helps you save on shipping costs, and you can invest this capital in other aspects of your business.
Non Expensive Expansion
Even the micro fulfillment centers do cost money. The capital investment is not as high as a traditional fulfillment center. So setting up a micro fulfillment center means a cheaper expansion for your business.

3PL Fulfillment Centers – Efficient Alternatives for Micro Fulfillment
Even though micro fulfillment centers seem like a helpful solution for tackling the problem of extended delivery times and delayed order processing, it can be a pain to run them if you have to do it yourself. A micro fulfillment center in one city would not solve your problems. You will need to set up multiple micro fulfillment centers to tackle the need of different geographical areas. This could mean considerable investment and additional costs to run these micro fulfillment centers.
But, if you tie up with 3PL fulfillment providers, you can leverage the benefits of micro fulfillment and traditional fulfillment at the same time.
3PL fulfillment providers like Shiprocket Fulfillment have multiple fulfillment centers located in different parts of the country. You can store your inventory in these fulfillment centers and Shiprocket Fulfillment all the order management, processing, packaging & shipping operations for your business.
You can leverage the benefits of micro fulfillment centers while keeping your products in a traditional fulfillment center. This way, you store your inventory closer to your customer and process orders with one-day and two-day delivery. The order to ship time for the incoming orders is relatively minor as the team is skilled and most automated operations. With all these advantages, you can deliver 3X faster, reduce RTO by 60%, and increase repeat purchases for your business.
Final Thoughts
Micro fulfillment centers are the next step for many businesses regarding eCommerce fulfillment. They can be a game-changer if you want to reach customers as soon as one day after they place the order. It is essential to analyze the investment behind micro fulfillment centers and then decide.