How Can 3PL Fulfillment Providers Improve Last-Mile Delivery?
The last-mile delivery is the final leg of your entire fulfillment supply chain. It is just before the order is delivered to your customer. Since you do not control who provides the order, you can only ensure that the courier company you choose is trustworthy and provides the product correctly to your customer.
However, when you tie up with a single courier company, it can get challenging to deliver across several pin codes as the reach is limited. If the network is weak and there is a workforce shortage, you can also delay your order delivery. It will not feel great if you follow all steps to ensure that your order is delivered on time and only the last mile is not intact.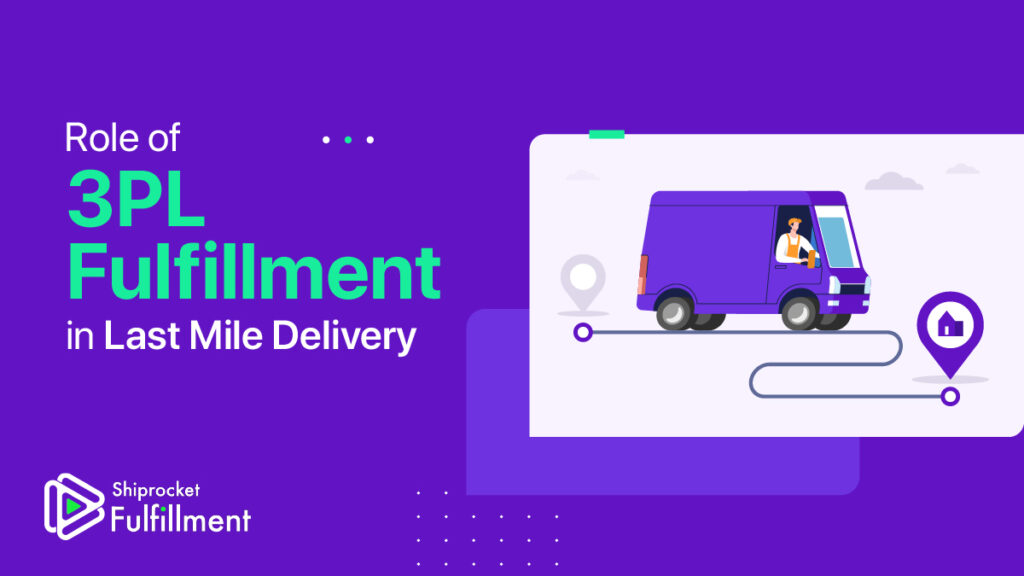 Several sellers in India face the issue of a poor last-mile delivery experience. Since the Indian ecosystem is a little distorted and not very automated, the information available is not insightful. Also, making real-time decisions for last-mile orders can become a difficult task. However, if you outsource these operations to 3PL fulfillment providers, you can considerably reduce these challenges and focus on other aspects of your business while ensuring smooth delivery.
Let's look at how 3PL fulfillment providers can help you tackle the last-mile delivery challenge in India.
But before that, let's have a look at the basics.
What is Last-Mile Delivery?
Last-mile delivery refers to the process of delivering a package from the shipping hub to the customer's delivery location. The last-mile carriers are the executives who genuinely provide the box to the customer. In India, it is carried out end-to-end by courier companies like Delhivery, FedEx, Gati, DHL, DTDC, etc.
Importance of Last-Mile Delivery
Last-mile delivery is crucial for any business because it is the final leg of its supply chain. It directly corresponds to customer loyalty and satisfaction. With Amazon coming into the picture, the demand for two-day and one-day delivery has increased, and expectations are also rising due to the impending lockdowns imposed due to COVID.
Challenges in Last-Mile Delivery
A significant challenge of last-mile delivery is the lack of infrastructure. There are limited tools available for previous mile tracking, and the final mile delivery costs are incredibly high. These impacted overall shipping charges, and you have to bear the brunt of losses if you cannot overcome these. Along with that, most businesses lack the infrastructure to process their orders faster to give ample time for last-mile deliveries. This creates pressure, and there is a decrease in the overall experience.

Top Carriers for Last-Mile Delivery
In India, the firsthand last-mile processes usually end and are carried out by dedicated courier companies like delivery, Gati, DTDC, FedEx, DHL, blue dart, etc. It is also carried out by local carrier partners that might be available in your area.
Role of Last-Mile in Express Delivery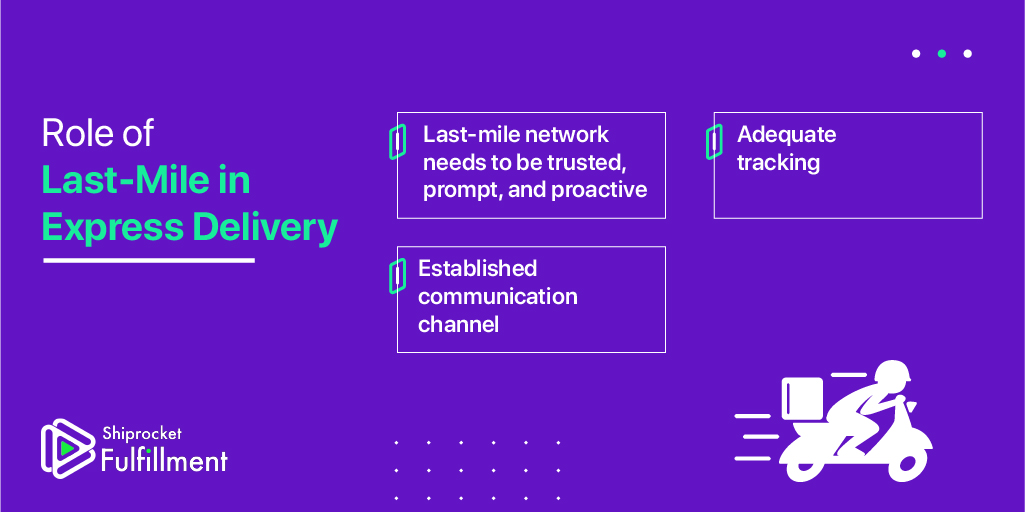 Last-mile delivery plays a critical role in express delivery formats like one-day and same-day delivery. If the last-mile network is not strong, there will be challenges in providing express delivery to customers.
The last-mile network needs to be trusted, prompt, and proactive. It needs to have an adequate tracking mechanism so that the executive carrying the product has accountability and visibility. Also, there needs to be an established communication channel between the end customer, seller, and the delivery executive to ensure the timely and effective delivery of all orders.
When you do this with a single courier company, it can get challenging to coordinate and track the last-mile orders. However, with 3PL fulfillment providers, the story is slightly different.
Let's have a look at how 3PL providers like Shiprocket Fulfillment can help you reduce the stress and challenges associated with last-mile delivery.
How Can Shiprocket Fulfillment Help?
A significant challenge in providing express delivery to customers is timely shipping. Shipping can be impacted by several factors like weather, traffic, customs, etc. However, when you store your inventory closer to customers, you let go of at least half of these challenges. Shiprocket fulfillment revives you with several fulfillment centers located across the country at prime locations. If you want to deliver in a particular zone, you can store your inventory in the fulfillment center soon and let the Shiprocket Fulfillment Testimonial order be for you. This will enable you to automatically reduce shipping costs and decrease the shipping time, ultimately resulting in a positive customer experience.
Next, the challenge of last-mile delivery is a weak shipping network. Shiprocket fulfillment utilizes the robust shipping network of Shiprocket to deliver all orders. Shiprocket offers a pin code reach of 24,000+ pin codes and shipping with 14+ courier partners. This strengthens the last-mile delivery network and gives you clear visibility about the deliveries. Along with that, you also have a robust push ship tracking system in place that provides the customer with complete visibility about the order tracking.
Lastly, Shiprocket fulfillment offers you a robust technology stack along with a skilled team that helps you reduce the order-to-ship time and streamlines the overall order fulfillment operations. If the initial processes are fast, the last-mile delivery operations can also be covered in ample time.
Final Thoughts
3PL fulfillment providers are the next big thing for e-commerce fulfillment in India. It is time you outsource your operations to these providers to focus on building your brand and making a mark with customers. Last-mile delivery plays a crucial role in your entire fulfillment chain. Make sure you optimize this with the help of a 3PL fulfillment provider and deliver all orders on time