How to Increase Average Order Value With Improved Delivery Performance?
Average order value is a crucial metric to track for the success of your business. If you want to track growth and plan for the increase in your incoming orders, you need to keep track of your average order value. Many eCommerce entrepreneurs do not understand the relationship between a positive delivery rate and average order value. You can put in all efforts to make your store stand out from the competition online, but if your customer's delivery experience lacks, there is a meager chance that they will shop from your store again.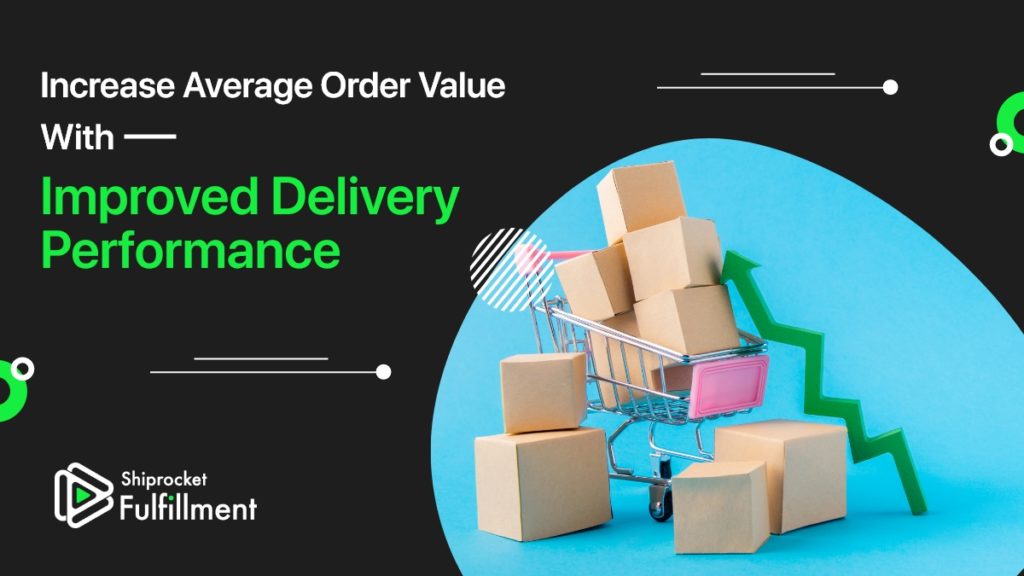 Therefore, it is essential to enhance your buyer's delivery experience and keep them happy to ensure that your impression is long-lasting. To understand how delivery performance helps in improving your average order value, you need to understand what average order value is. Let's get started.
What is Average Order Value (AOV)?
Average order value refers to the average amount of money a buyer spends on one order. It is calculated by dividing the revenue by the total number of orders. Average order value gives you an insight into the shop and runs of your buyers and which products are doing well in your store. If the average order value is high, you can infer that customers are shopping for multiple items or shopping for more items from a single category.
If you know the average order value, you can assess your product pricing, store layout, shipping strategies, etc.
Role of Delivery Performance in Improving AOV
Your delivery performance plays a significant role in improving the average order value.
For example, your customer orders from your store on 15 April 2021. It is expected that we receive the product from you on 17 April 2021. However, due to technical difficulties, the product delivery gets delayed, and the customer received the product on 20 April 2021. This directly impacts the customer experience, and they cannot trust your brand with fast deliveries. The buyers' expectations are hurt, and there is very little chance that they shop from you again. Hence, this impacts your average order volume as the delivery performance is not adequate.
A seamless delivery experience can help you establish a positive relationship with the buyer and positively influence their future shopping decisions. The delivery of an order completes the chain and is the final litmus test of whether the customer will like your brand or not.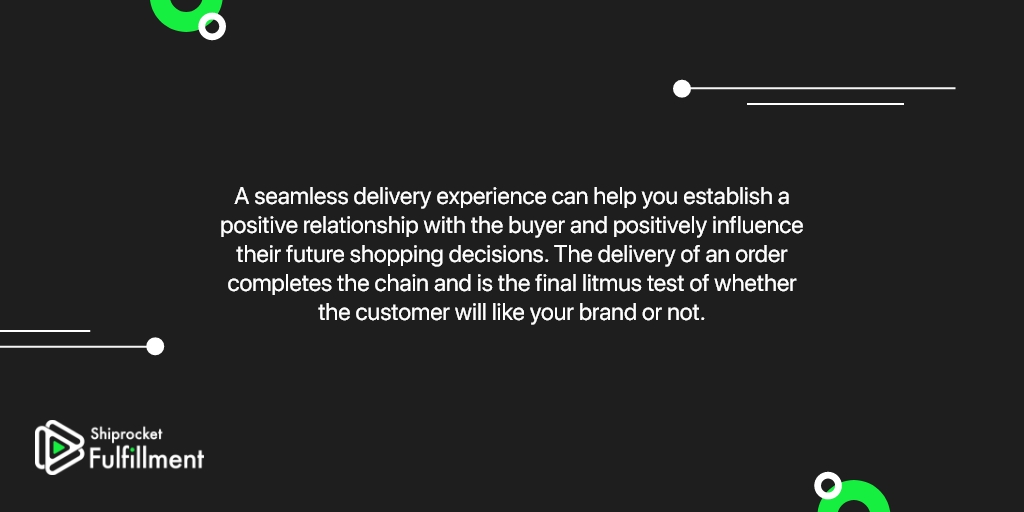 Not just this, with an upbeat delivery performance you automatically enable your brand to be promoted by word of mouth of happy customers. Getting a good quality product is just one end of the bargain. Getting a seamless delivery is equally important for customers today, and they do also mention it in whatever reviews they write.
Therefore, improving your delivery performance must be a primary goal of your business. You can only improve your delivery performance by opting for a streamlined and simplified fulfillment process. Many sellers choose to self-fulfill orders. This causes some discrepancies as customers do not always receive the products on time or most pin codes are not serviceable because they only ship with one courier partner.
Let's look at the most brilliant way to simplify our fulfillment operations and improve delivery performance to ensure a high average order volume.
Best Way to Improve Delivery Performance – Outsource Fulfillment With SRF
Shiprocket Fulfillment is an eCommerce fulfillment company that helps you simplify your fulfillment operations by managing incoming orders, inventory, and the processing of shipments. All you have to do is send across your eCommerce inventory to our fulfillment centers located across the country. Our team will look after everything else, including picking, packaging, shipping, returns, etc. you can sync your marketplaces and websites to ensure that no incoming order is missed. We will process them with 99.9% accuracy.
By storing your products in a PAN-India network of fulfillment centers, you can deliver 3X faster, reduced shipping costs by 20%, decrease fulfillment costs by up to 50%, declined RTO orders, and lower way discrepancies as the product stored are closer to the buyers delivery location.

All these measures will help you improve your delivery performance by a large margin, and you can reach much more customers in a shorter period. This will help you enhance your average order value as you can fulfill the needs of more customers situated in different locations across India. Not just average order value, you can also increase your brand connect by establishing yourself as a D2C brand providing services like Amazon or Flipkart.
Final Thoughts
Increasing your average order value (AOV) depends on several factors. Enhancing your delivery performance is a major one. Hence, you must focus on this and try to improve it by implementing measures to strengthen your eCommerce fulfillment process.