How Can You Provide Flat Rate Shipping With 3PL Fulfillment Providers?
Shipping margins are an essential component of your eCommerce business. If you want to run your eCommerce business successfully, you need to calculate these margins and spend on each element accordingly. If you are not shipping affordably, you are paying more than you should and bleeding losses.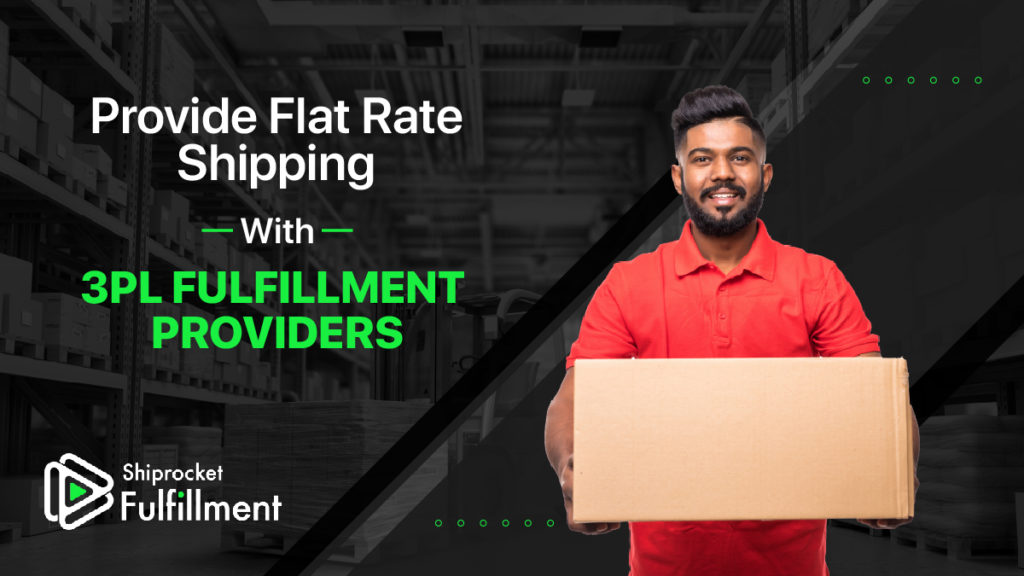 As an eCommerce entrepreneur, you must always be on the lookout for ways to reduce shipping costs. Flat rate shipping is one such method of reducing your overall shipping costs. Sometimes, it can get challenging to provide free trade shipping entirely on your own. Here is where 3PL fulfillment providers come into the picture. 3PL fulfillment providers can help you provide flat rate shipping and give you other means to save on fulfillment and shipping costs. Let's have a look at how that is possible.
What is Flat Rate Shipping?
Before understanding the importance of lateral shipping and how 3PL fulfillment providers can help you, we need to understand what flat rate shipping is and how it works.
Flat rate shipping is a form of shipping the product in which the weight of a package does not affect the cost of shipping.
In ideal cases, you pay for the shipping depending upon the – volumetric weight of the package that includes the length, breadth, and height divided by 5000.
However, in flat rate shipping for packages lying in a specific weight range, you pay a fixed cost. For example, FedEx has several flat rate slabs between 0 to 5 kg or 5 to 10 kg. If you opt for these, your shipment weight maybe 1 kg or 3 kg, but you will pay the exact shipping cost.
Importance of Flat Rate Shipping
Flat rate shipping plays a significant role in your eCommerce fulfillment process if you ship products of nearly the same weight range. It helps you eliminate the need to constantly way your products and calculate shipping costs accordingly.
For example, if you ship cosmetic products that lie in the range of 100-500 g, it is redundant to be the shipment every time. Instead, you can opt for flat rate shipping and ship products at the same shipping rate every time.

How Can 3PL Fulfillment Providers Help With Flat Rate Shipping?
Shipping costs are also affected by other zones to which you ship. If you have the pin code you ship to locations far off; the shipping charges will only increase. Courier companies provide flat rate shipping only for a particular weight slab in a specific zone.
3PL fulfillment providers help you provide flat rate shipping as they store inventory in a network of fulfillment centers located across a critical region. This way, you can save the cost of inter-zone shipping and provide a flat rate shipping for your orders.
You can get exceptional order processing, reduced shipping costs with flat rate shipping, and accurate delivery. 3PL fulfillment centers can help you ship better at the most considerable prices.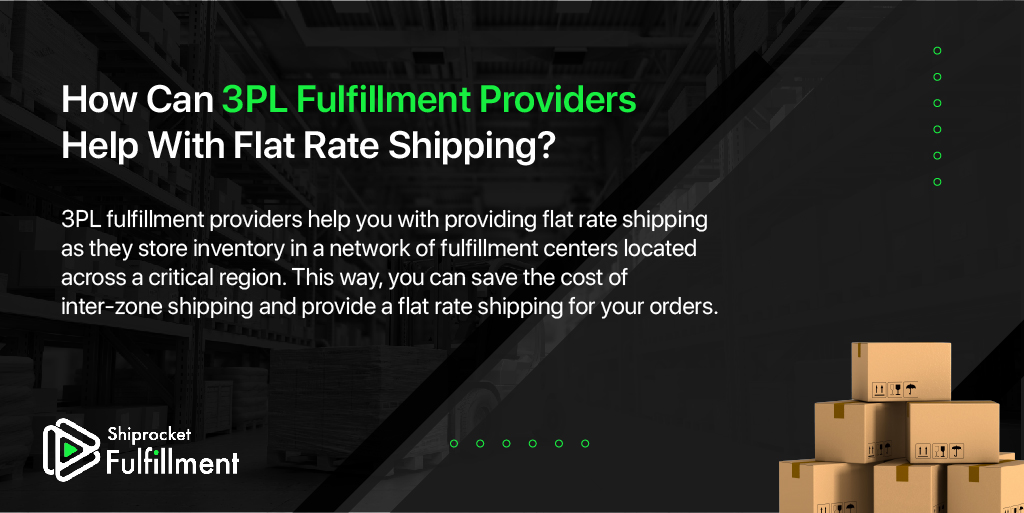 Save on Shipping Costs With Shiprocket Fulfillment
Shiprocket Fulfillment is one such fulfillment provider in India that can help you provide flat rate shipping to your customers and considerably save on shipping costs.
We have a network of fulfillment centers located across India in cities like Delhi, Gurugram, Bengaluru, Mumbai, and Kolkata. If you store your inventory in every fulfillment center of Shiprocket Fulfillment, you can process orders efficiently in every zone in the country and deliver 3X faster. This way, you can provide flat rate shipping on every order across your website.
Not just this, with Shiprocket Fulfillment, you can reduce weight discrepancies as every fulfillment center has an automated falcon machine that records the weight of shipment as it would be recorded in a courier hub. With such sophisticated infrastructure, you can efficiently deliver orders with utmost accuracy and streamline your shipping and fulfillment process.
At Shiprocket Fulfillment centers, we also take care of the order picking, processing, and inventory management operations that give you complete relief from the entire fulfillment process. If you self-fulfill orders and are looking to take off the load from your shoulders to expand your business, outsourcing to eCommerce fulfillment centers like Shiprocket Fulfillment is a great option.
Conclusion
eCommerce fulfillment can be a tough nut to crack if you do not plan your shipments and deliveries properly. However, if you outsourced or eCommerce fulfillment operations, you can manage all of this without doing the hard work. As far as flattery tripping is concerned, it can be a boon for your business if you plan and progress accordingly. 3PL fulfillment providers can help you reduce shipping costs and give you a great chance to provide flat rate shipping across your website orders.