The Ultimate D2C eCommerce Fulfillment Guide
According to a report by the Competition Commission of India (CCI), India's ecommerce is growing at the fastest pace in the world at an annual rate of 51%. This means that eCommerce is spreading to every corner of India, and to survive this exponential growth, almost every brand today has an online presence. This surge has also given rise to a new type of eCommerce – Direct-to-consumer eCommerce.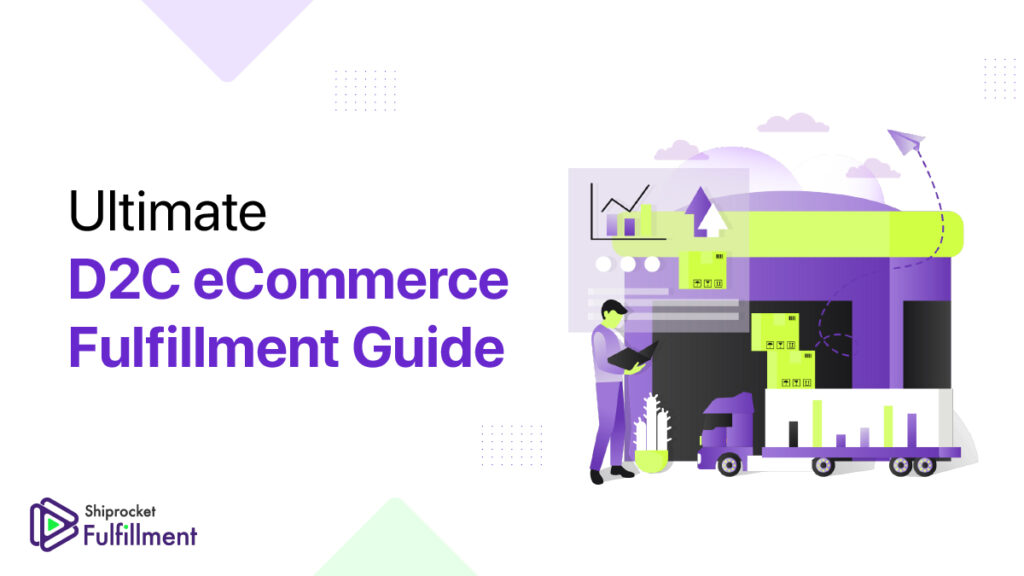 According to a report by INC42 and Shiprocket, currently, there are 800+ D2C brands in India. Also, $200 Bn+ is the estimated Value Of The Indian eCommerce Market By 2026.
Direct-to-consumer eCommerce is different from traditional retail eCommerce, where sellers sell via marketplaces or third parties. Therefore, the fulfillment requirements of this business model are also slightly different. Let's look at what D2C eCommerce is and how to fulfill D2C eCommerce orders effectively.
What is Direct-to-Consumer eCommerce?
Direct-to-consumer eCommerce refers to eCommerce where the manufacturing company or brand directly sells their products to the customers without any middleman, retail, or distribution channel. They could be selling directly through their website, social media, or any similar channel.
In the direct-to-consumer ecommerce format, the seller is responsible for their order management, processing, and shipping operations. When companies sell their products to the marketplace or a third-party vendor, this onus becomes theirs. Hence, eCommerce fulfillment becomes a significant aspect of the seller's process.
Now let's look at the aspects of D2C eCommerce fulfillment and how you can ensure seamless fulfillment for your customers.
Aspects of D2C eCommerce Fulfillment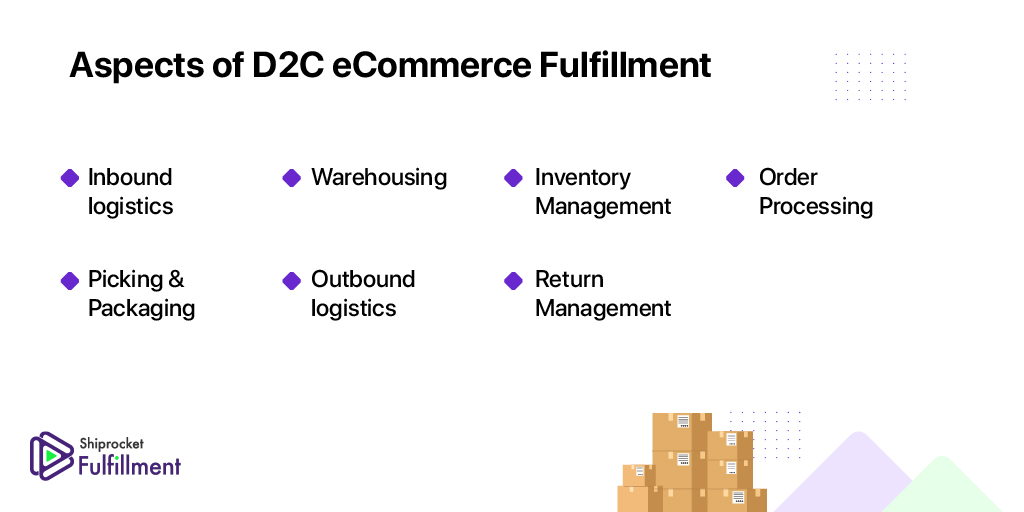 Inbound logistics
The first aspect of D2C eCommerce fulfillment is inbound logistics. Inbound logistics refers to procuring goods or manufacturing, logging inventory, and receiving.
Warehousing
The next aspect of D2C eCommerce fulfillment is warehousing. This involves storing goods in a designated space from where they are processed and shipped.
Inventory Management
Once the goods are received in the warehouse, the next aspect is inventory management. This involves racking the products according to their categories and placing them in a tactical position to be picked for order processing whenever required.
Order Processing
After inventory management comes the part of order processing where an incoming order is recorded and processed for delivery to the customer.
Picking & Packaging
The orders are picked from their location and then packed for delivery. The warehouse must also contain the packaging material in bulk to ensure that all incoming orders are packed thoroughly.
Outbound logistics
The next step is outbound logistics or shipping. This includes picking up packages from the warehouse, which are then delivered to the customer.
Return Management
This process is also called reverse logistics, and it forms a vital aspect of the D2C fulfillment supply chain. Your fulfillment strategy must include returns to provide your customers with a seamless shopping experience.
Different Ways To Carry Out D2C Fulfillment
Self-Fulfillment
Self-fulfillment refers to the process of running your warehouse where you carry out these operations and delivers your orders to customers. Under self-fulfillment, you need to bear the cost of setting up a warehouse, paying the employees, procuring the packaging material, handling returns, dealing with carrier partners, etc.
3PL Fulfillment
Another option for D2C fulfilment is outsourcing to a 3PL fulfillment provider. A 3PL fulfillment provider will help you store inventory in their warehouses, where their skilled team will pick, pack, and ship all incoming orders for you. Usually, 3PL fulfillment providers have warehouses located in several locations as they take care of fulfillment for multiple companies. This saves you on capital investment and helps you fulfill orders without manually carrying out the process.

How to Ensure Seamless Fulfillment for D2C eCommerce
Streamline Fulfillment Operations
The first and foremost step you must take is to streamline fulfillment operations. This means that you must organize and synchronize operations wherever possible. If you see loopholes in your process, it is time you fix them. The more organized the process is, the faster your orders will be delivered. Most sellers have higher shipping times. This not only involves delivery performance but also order accuracy. By streamlining fulfillment operations and setting up standard operating procedures for each process, you will optimize each function properly!
Opt for 3PL Fulfillment by Shiprocket Fulfillment
A simple hack for making D2C fulfillment seamless is opting for 3PL fulfillment solutions like Shiprocket Fulfillment.
Shiprocket Fulfillment has a robust network of fulfillment centers in Delhi, Mumbai, Bengaluru, Surat, Jaipur, Kolkata, Gurugram, etc. You just need to send your inventory to our warehouses, and Shiprocket Fulfillment will process all incoming orders post that.
It is a fulfillment solution for your business that you can utilize for only order processing and fulfillment. You can sell on whichever platform you want, and we will take care of processing and shipping the orders.
Store Inventory Closer to Buyers
To deliver faster to customers, you need to store inventory closer to them. This will enable you to deliver within two days. If you keep inventory in the same zone, you can save on shipping costs. Stocking inventory closer to buyers will help you reduce processing time, increase profitability, and improve customer experience. These will return to your website for a repeat purchase.
Reduce Order-to-Ship Time
It is critical to reduce the order-to-ship time to process more orders in a stipulated period. Suppose you outsource operations to 3PL fulfillment providers like Shiprocket Fulfillment. In that case, you can reduce your order-to-ship time by almost 50%, as we have the required technological infrastructure to ensure faster picking, packaging, and shipping with multiple carriers.
Ensure Proper Packaging & Order Accuracy
You must ensure proper packaging and order accuracy when you fulfill orders. You can accomplish seamless D2C eCommerce fulfillment where there are no complaints about the packaging of orders. Even though many people prefer fancy packaging, shipping the correct orders is more important than sending fancy ones.
Conclusion
eCommerce fulfillment forms an integral part of your overall e-commerce strategy. This is even more essential for D2C commerce businesses as everything is your responsibility for D2C commerce businesses. Tying up with a 3PL fulfillment provider can help you reduce the stress of seamless fulfillment and helps you reach more customers faster.