Beginner's Guide to Wholesale Shipping Cost in eCommerce
eCommerce shipping does not only consist of parcel shipping, where you receive an order from a customer and deliver it to them with the help of a courier company. Securing SKUs from different manufacturers is essential to the entire eCommerce logistics supply chain. Wholesale shipping is the key facilitator of the logistics supply chain for B2B eCommerce orders. Even though the requirements are different, the expectations remain the same. Businesses placing wholesale orders still require affordable and on-time shipping for their orders. To provide such services, you must wholly understand wholesale shipping, how to begin doing it, etc.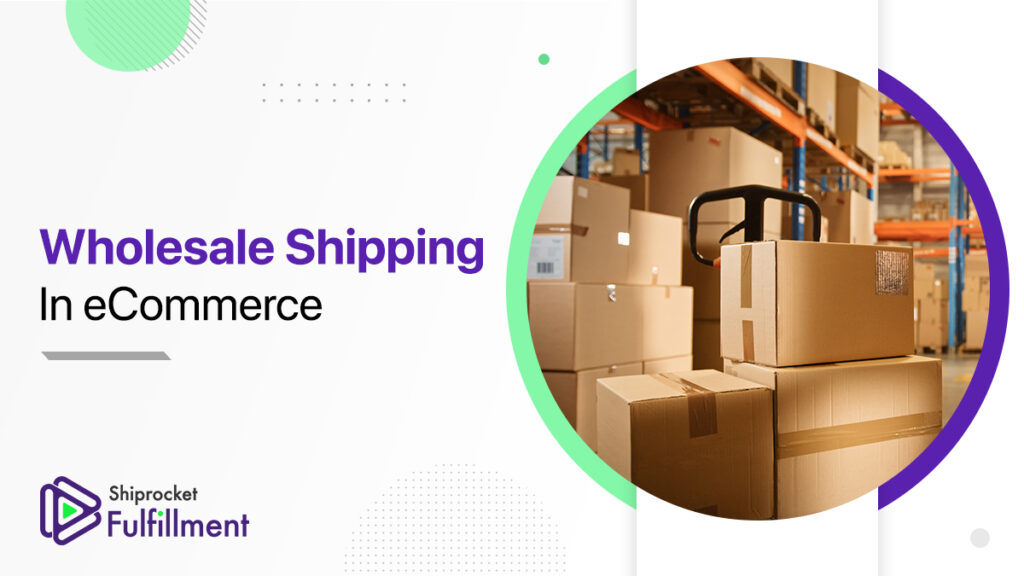 Let's look at wholesale shipping, how you can begin, the difference between standard shipping and wholesale shipping, and a few tips for looking for wholesale suppliers.
What is Meant by Wholesale Shipping?
Wholesale shipping refers to the shipping and delivery of bulk wholesale orders.
These orders are also B2B orders placed by retailers or D2C business owners rather than one customer. They usually include a large quantity for one product. Even the manufacturers who take these orders do not expect to ship below a certain pre-defined quantity.
How to Start Wholesale Shipping?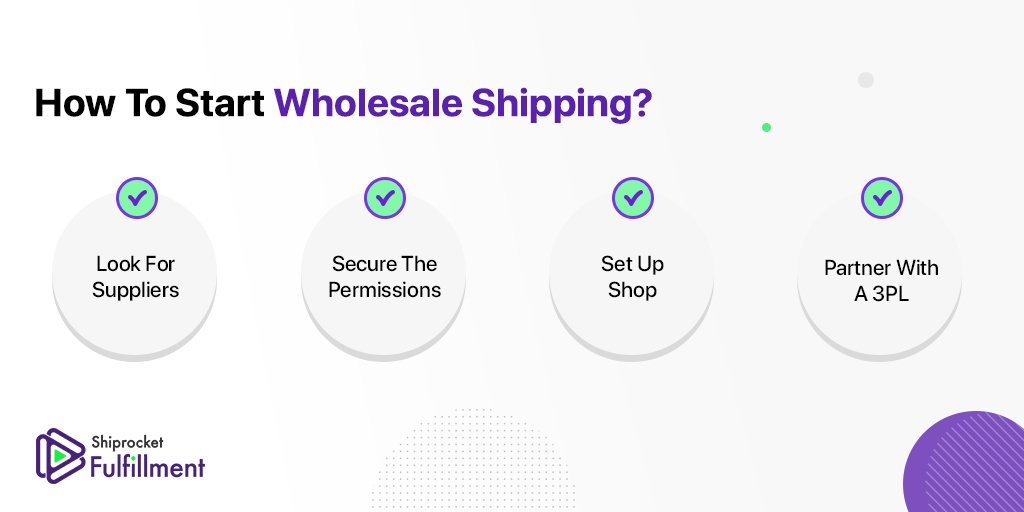 Look for Supplies
The first step in beginning your wholesale shipping journey is to find the correct wholesale shipping supplies. This will help ensure that The products you want to ship are delivered safely, and undamaged, and the shipping costs are also low.
These supplies will include shipping boxes and pallets rather than pouches, small boxes, etc. To ship fragile items, you must ensure they have proper dunnage and are handled carefully.
Secure the Permissions
The next step is to secure the necessary permissions. Do thorough research about who you are shipping your products to, the courier company you are shipping with, the licenses required to ship the products, etc.
Since the shipment is of a large quantity, thorough checks and balances need to be placed, so you do not face any confusion with the authorities later.
Set Up Shop
Once you have all the necessary permits, supplies, etc., you need to have a window from where you can take orders and carry out shipping. This can be done by creating a website online on eCommerce platforms like Shopify, Woocommerce, Bigcommerce, etc.
You can add plug-ins for your B2B orders directly to your current eCommerce website.
Partner With a 3PL
After setting up your eCommerce website where you can carry out transactions, you must partner with a 3PL fulfillment provider like Shiprocket Fulfillment or with any courier company that can help deliver your wholesale orders seamlessly. Look out for partners that offer you the lowest rates, have comprehensive pin code coverage, and an on-time delivery service record.

Difference Between Wholesale and Standard Shipping
A common question that might arise in many eCommerce retailers' minds is the difference between wholesale and traditional shipping. Let's have a look.
Wholesale Shipping
Wholesale shipping is shipping bulk orders from a manufacturer, wholesaler, etc., to a retailer. It is a business-to-business transaction, and the order quantity is substantial. The shipping is usually done in huge boxes or pallets, and the order frequency is not very high. However, the need for on-time delivery is strict as the buyer carries out their business with the help of these products. Usually, wholesale shipping is recurring and is done on a contractual basis where shipments are pre-decided for regular intervals. The shipping costs are generally higher as the shipment size is more significant.
Standard Shipping
Standard shipping refers to shipping orders from a business to an end customer. The transaction is from the company to the customer, and the order quantity is minimal compared to wholesale shipping. The shipping is done in small boxes, flyers, pouches, etc. speed, order accuracy, and low-cost shipping are primary. The shipments are not recurring.
Tips For Finding Wholesale Suppliers
If you are a retailer who is looking for wholesale suppliers, here are a few tips for you-
Attend trade shows, eCommerce expose, etc., to come in contact with wholesalers who might be shipping orders for your desired products.
Join forums online and connect with like-minded wholesalers.
Facebook groups are an excellent way to connect with wholesalers in your region. Several Facebook groups online share recent updates, new inclusions, and other products they might be selling.
Explore the local wholesale shops in your region to find the sellers shipping the products of your choice.
How to Conduct Wholesale Shipping Successfully With 3PL Fulfillment?
3PL fulfillment providers can be a savior in wholesale shipping. Taking care of wholesale shipping alone can be a hassle since you must conduct huge shipments and tie up with carrier partners who might be overcharging you. You must guarantee on-time shipping to get into a tiff with your retailer. In such scenarios, wholesale shipping can be carried out seamlessly with 3PL fulfillment providers like Shiprocket Fulfillment.
Shiprocket Fulfillment has more than 35 fulfillment centers located across the country. This means you can store your inventory wherever your retailers are based and ensure that all your shipments are delivered on time with lower shipping rates. This will help you save on shipping costs, guarantee on-time shipments and the hassle of processing a B2B order which can be tedious. Not just this, you can also eliminate the problems associated with discrepancies as all our fulfillment centers are equipped with the latest weighing machines to ensure the correct way it is recorded.
A skilled force and an automated warehouse can help you process your B2B shipments and deliver your wholesale orders on time.
Final Thoughts
Wholesale shipping is an integral aspect of any eCommerce supply chain. If you are a buyer, you need to ensure that the manufacturer or wholesaler is the right fit for you. If you are a wholesaler, you need to ensure that you ship your product seamlessly to your retailer and deliver on time to ensure that your business is carried out smoothly. Tying up with 3PL fulfillment providers like Shiprocket Fulfillment can ensure that the supply chain remains intact.