B2B Fulfillment & Shipping: Things to Look In A Service Provider
When it comes to eCommerce, businesses can be business to customer(B2C) or business to business (B2B). You need to be aware of the order fulfillment process and requirements to ensure that products reach their destination on time and accurately. Both B2B and B2C orders have a set of inbound and outbound logistics operations, but the demands are slightly different. When you think of wholesalers or manufacturers, they require shipping and receiving a higher order quantity than B2C businesses. This article will talk about B2B order fulfillment, the difference between B2B and B2C order fulfillment, and what to look for in your B2B fulfillment provider.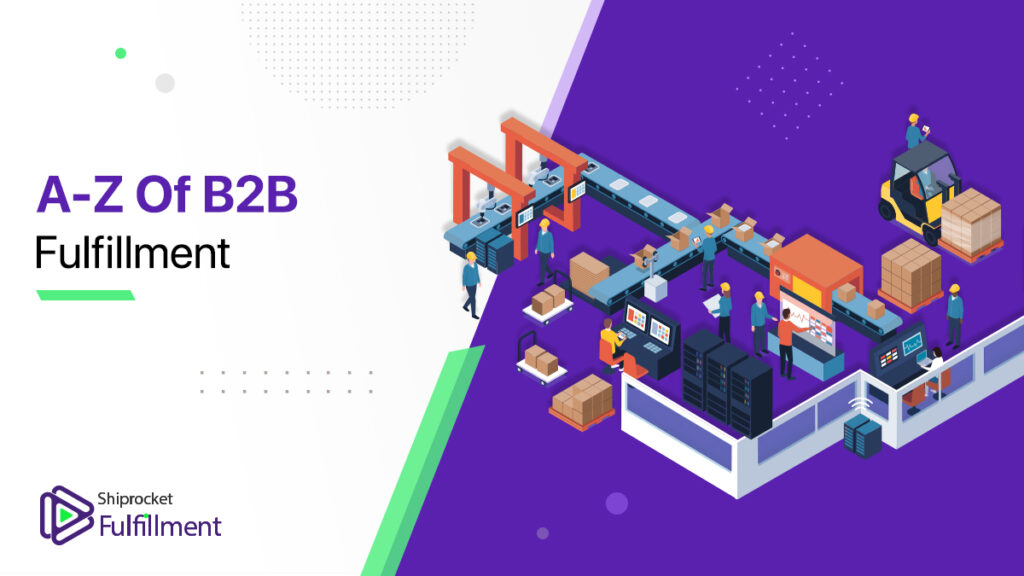 What is B2B Order Fulfillment?
B2B order fulfillment refers to fulfilling orders between businesses and not the company to the end consumer. It means delivering orders to retailers in the supply chain to sell them to customers further.
For example, a business X produces dresses for girls. They send their products to retailers Y and Z, further selling them to customers. In this case, B2B fulfillment would refer to the order fulfillment between X and Y and X and Z.
Difference Between B2B and B2C Order Fulfillment
The steps involved in fulfilling B2B and B2C orders are the same. However, B2B and B2C order fulfillment have a few differences in quantity, price, shipping, and delivery time.
The first significant difference is the order quantity. B2B order volumes are higher than B2C order volumes. When customers order stuff from a seller, they order 2-3 pieces of one SKU. Amounts can go up to hundreds for one SKU.
The next significant difference between B2C and B2B order fulfillment is the price. B2B orders are much more expensive as the order quantity is much higher than B2C orders.
Furthermore, the shipping for B2B orders is usually done via ground or sea transportation as the quantities are higher, and they can't be accommodated in air transportation. Also, air transportation for B2B orders will be costly.
B2C orders usually don't have a definitive time limit for delivery. Customers are shared with a tentative EDD and provided a window for delivery. B2B shipments must be delivered at the decided time.
B2B order fulfillment frequency is less than B2C orders, but the quantity and volume are higher.
Things To Look For In a B2B Fulfillment Service Provider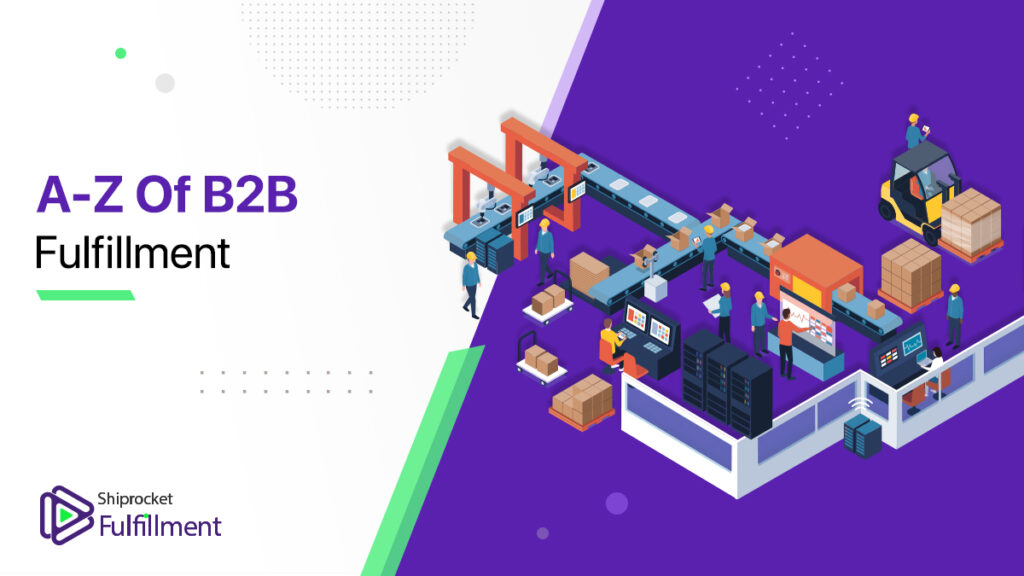 Inventory and Warehouse Management Systems
Your B2B fulfillment provider must have advanced warehouse and inventory management systems. Inventory management systems help with demand forecasting, real-time inventory sync, and maintaining reorder levels. If your B2B fulfillment service provider does not have an inventory management system, it would mean a lof manual correlation of inventory and higher chances of errors. A warehouse management system helps decide the most efficient route for operations like picking and packaging along with synchronization of data about inventory and order management. Your B2B fulfillment must have an efficient warehouse management system to ensure that operations are carried out smoothly and derive maximum results and on-time service.
Multiple Shipping Partners
The most crucial aspect of B2B fulfillment is on-time delivery. This means that logistics have to be sorted to the last second. A slight delay can lead to a considerable loss. So, your service provider must have backup plans ready if one shipping partner fails to deliver the products. The supply chain must be functioning at all times.
One-on-One Customer Support
Personalized account management is the key to success in B2B fulfillment. Your service provider must be available to sort out your grievances and concerns because the order volume is large, and a lot is at stake with every shipment. Also, sending updates and keeping you informed about the progress is a must.
All-in-One Dashboard
Having an advanced technology stack is a must to compete with the leading players in today's eCommerce market. An all-in-one dashboard where you can track your inventory, update operations, and follow shipping is a must to deliver the best results for your business.
Skilled Staff
There is tiny room for error in B2B fulfillment. Hence, your service provider must have a skilled staff trained in standard operating procedures to ensure minimal downtime and errors during order processing.

How Can Shiprocket Fulfillment Help?
Shiprocket Fulfillment is a 3PL fulfillment provider with multiple fulfillment centers located across the country. You can store your inventory with us, and we will process and ship the incoming orders for you. The best part is that you can decentralize your inventory and store it closer to your clients. So, when you have to ship your orders, you can reduce shipping costs, improve delivery speed, and reduce the risk of delayed delivery. Furthermore, Shiprocket Fulfillment service centers are equipped with the latest warehouse and inventory management systems to ensure your products are stored and processed correctly.
Final Thoughts
B2B Fulfillment can be difficult if you try to manage it independently. You need to have a considerable capital investment to store the inventory and manage it. Outsourcing to a 3PL fulfillment provider like Shiprocket Fulfillment can help you lessen the load. Follow the tips mentioned above to ensure you partner with the right one.