How Can You Reduce Logistics Costs With 3PL Fulfillment?
eCommerce logistics can be a tough nut to crack if you don't work on every aspect of the process thoroughly. Your business will take a massive hit if you only focus on marketing budgets but keep shipping costs out of the picture. Even though shipping costs seem like a static figure that doesn't change frequently, they are pretty dynamic. They vary with the shipping mode, the weight of the package, pickup, delivery pin codes, etc. Hence, you must be on top of your fulfillment operations to ensure that you can save on shipping costs wherever possible, or eCommerce will become an expensive affair for your business.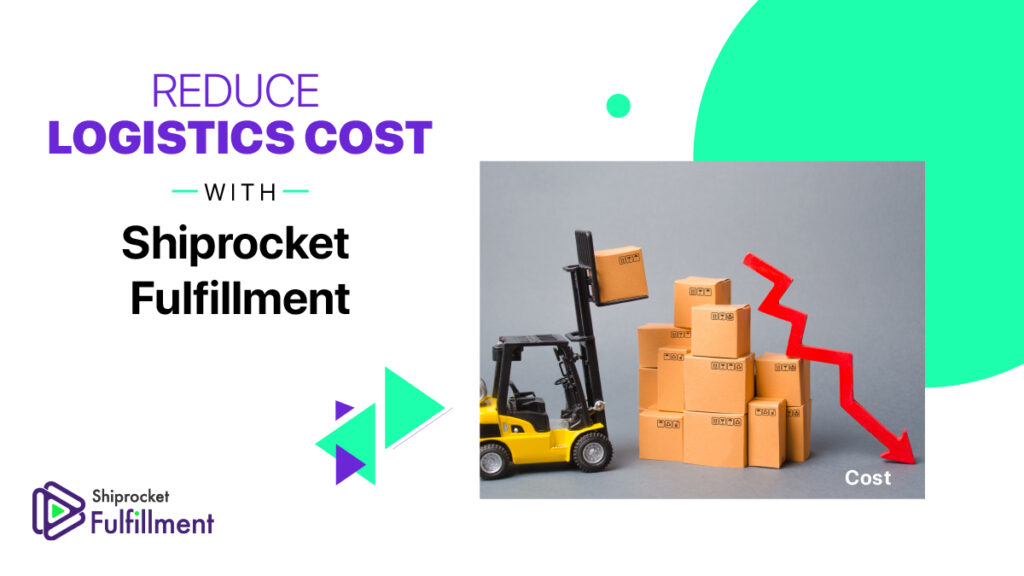 Let's look at logistics costs and how you can reduce them for your business with 3PL fulfillment.
What is Logistics Cost?
Logistics cost refers to the amount of money it takes to move a product end-to-end from the seller's location to the customer's doorstep.
Shipping expenses offered by the courier companies are usually inclusive of the storage and movement charges as they utilize hubs and similar facilities for storing and processing shipments.
Impact of Logistics Cost in your eCommerce Budget
Logistics cost plays a significant role in your overall eCommerce budget. Since shipping costs are dynamic, you must take an average of the shipping cost based on the different shipping zones. For example, the rates will differ if you ship within a city, and if you ship to metro cities, the rates will vary. Therefore, every shipment will give you a different cost. Moreover, if you pack your product incorrectly, you can incur a greater charge due to the increased volumetric weight.
Since the costs are so volatile, they have a massive chance of increasing your overall budget. Along with inventory management, storage, and order processing that have stationary costs that you can forecast, shipping costs need to be calculated cautiously. Even though it may seem impossible, there are several ways to reduce logistics costs. You just need to be smart about it and plan your shipments.
How Can You Reduce Logistics Cost?
You can reduce logistics costs by optimally packaging the product, choosing the correct shipping partner basis on their performance and rates, you can ship with a shipping aggregator that lets you ship at discounted rates, or you could directly tie-up with a 3PL fulfillment provider like Shiprocket Fulfillment that takes care of all fulfillment operations end-to-end.
Shipping with a 3PL fulfillment provider not only helps you optimize and streamline your fulfillment operations it also gives you a chance to reduce your fulfillment and logistics costs cautiously by a considerable margin.
Let's look at what Shiprocket Fulfillment is and how you can reduce logistics costs with us.

What is Shiprocket Fulfillment?
Shiprocket Fulfillment is an end-to-end 3PL fulfillment service provider that takes care of Storage, order processing, and shipping for your eCommerce business. We offer you a pan India network of eCommerce fulfillment centers equipped with the latest technology and infrastructure to enable 3X faster deliveries and 99% accurate order processing. Shiprocket Fulfillment is designed to help you reduce costs and increase efficiency with a flexible fulfillment model and advanced tech stack.
Let's look at how you can reduce shipping and logistics costs with Shiprocket Fulfillment with the help of an elaborate example.
Reduce Logistics Cost With Shiprocket Fulfillment
Many times claims need to be explained and proved with examples. We claim to help you reduce shipping costs by 20%; let's see how that is possible with a basic example.
This will give you an insight into how the process works and how your business can benefit from the cost savings.
Suppose you are Seller A, who has their shop in Jaipur. You get plenty of orders from North India like Delhi-NCR, Punjab, Uttarakhand, etc., and you want to ensure you deliver to everyone.
Your order split looks something like this –
| | | | |
| --- | --- | --- | --- |
| | Within City | Within State | Rest of North India |
| Orders | 5% | 5% | 90% |
Note: All values mentioned are hypothetical and are only used for demonstration purpose
Now let us look at this situation in two scenarios: Without Shiprocket Fulfillment and with Shiprocket Fulfillment if you ship 0.5 kg shipments with the following preferred mode of delivery –
| | |
| --- | --- |
| Preferred Mode | Rate |
| Air | 60% |
| Surface | 40% |
Note: All values mentioned are hypothetical and are only used for demonstration purpose
Without Shiprocket Fulfillment
Without Shiprocket Fulfillment, this is how your logistics costs will look –
| | |
| --- | --- |
| Avg. Shipping Fee (Air) | ₹54.10 |
| Avg. Shipping Fee (Surface) | ₹40.75 |
Note: All values mentioned are hypothetical and are only used for demonstration purpose
With Shiprocket Fulfillment
If you send your inventory to our fulfillment center in Delhi, you will access North India much more efficiently and store inventory in a centralized location. Let's see what the order split would look like once products are stocked in Delhi.
| | | |
| --- | --- | --- |
| | NCR Orders | Rest of North India |
| From Delhi | 15% | 85% |
Note: All values mentioned are hypothetical and are only used for demonstration purpose
And the average shipping costs for the products would be –
| | |
| --- | --- |
| Avg. Shipping Fee (Air) | ₹39.80 |
| Avg. Shipping Fee (Surface) | ₹30.55 |
Note: All values mentioned are hypothetical and are only used for demonstration purpose
Note – From Shiprocket Fulfillment facilities, all courier rates are charged as per zonal pricing
Now, if 30% of your orders are in the 0.5 kg slab, the final amount would look something like this for every shipment –
| | |
| --- | --- |
| Avg. Shipping Fee (Own Location) | ₹48.76 |
| Avg. Shipping Fee (SRF Location) | ₹36.10 |
| Difference | ₹12.66 |
Note: All values mentioned are hypothetical and are only used for demonstration purpose
This amounts to an over 26% overall reduction in shipping costs.
Therefore, it can be concluded that if you outsource eCommerce fulfillment to Shiprocket Fulfillment, you can save more than 20% on your fulfillment costs.
If you want to understand how cost-saving works with Shiprocket Fulfillment, reach out to our experts today!
Why is Shiprocket Fulfillment Ideal for Your Business?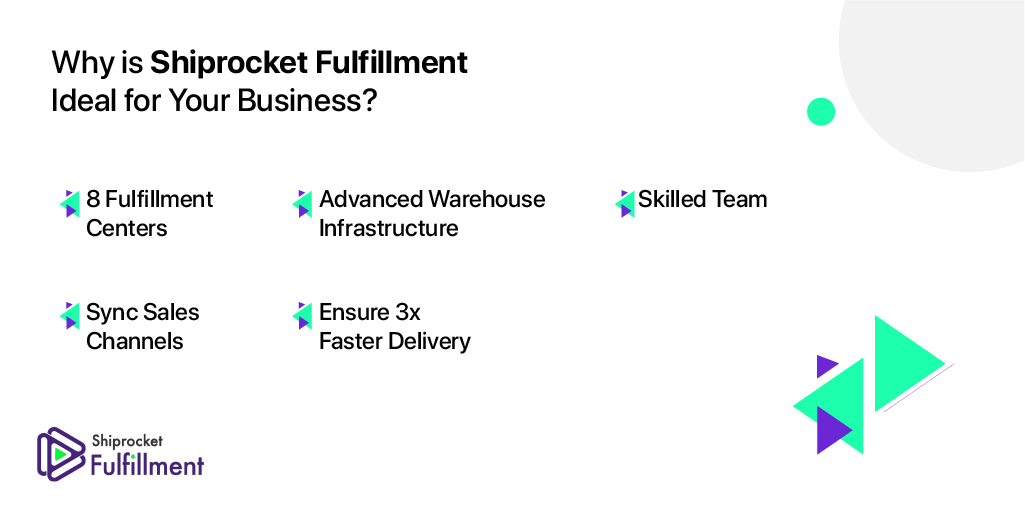 45 Fulfillment Centers
Currently, Shiprocket Fulfillment has 45 fulfillment centers situated in strategic locations across the country. Suppose you store your inventory in these fulfillment centers. In that case, you can stock inventory closer to your customer, which will help you deliver faster, reduce shipping costs as the distance decreases, and reduce the RTO of your eCommerce business.
Advanced Warehouse Infrastructure
All the fulfillment centers are kept with the latest warehouse management systems and the technology required for seamless logistics management. This can help you with forecasting demand, managing floors, and organizing inventory systematically.
Skilled Team
Shiprocket Fulfillment has a skilled team that is trained in all aspects of eCommerce fulfillment. The team takes care of all operations and ensures that all orders are processed correctly from start to end. Not just in the warehouse, when you sign up with Shiprocket Fulfillment, you get dedicated key account managers that take care of all your queries and provide personalized assistance as per your business requirements.
Sync Sales Channels
You can sync your sales channels like Amazon, Flipkart, Myntra, Vinculum, EasyEcom, etc. Import all incoming orders and process them directly from Shiprocket Fulfillment's centers. This helps you reduce the order-to-ship time, process orders faster, and meet the stringent requirements laid out by marketplaces.
Ensure 3X Faster Delivery
If you store inventory closer to customers and have a skilled team to take care of all incoming orders, you can deliver 3x faster and offer 1-day and 2-day delivery to your customers. This gives your business an extra edge, and you can add another feather to your cap of offerings!
Final Thoughts
Shiprocket Fulfillment can help reduce logistics costs by a considerable margin. 3PL fulfillment providers can be instrumental in successfully managing inventory, processing orders, and shipping them. Since you need to pay extra attention to logistics costs, it is advisable to outsource your operations and make the best out of the available resources.