A Closer Look At Warehouse Racking Systems And How To Include Them
For every small business, there comes a time when your incoming orders are growing, and you need to move to a larger space to store your inventory. That's when you decide to transfer stock to a full-fledged warehouse!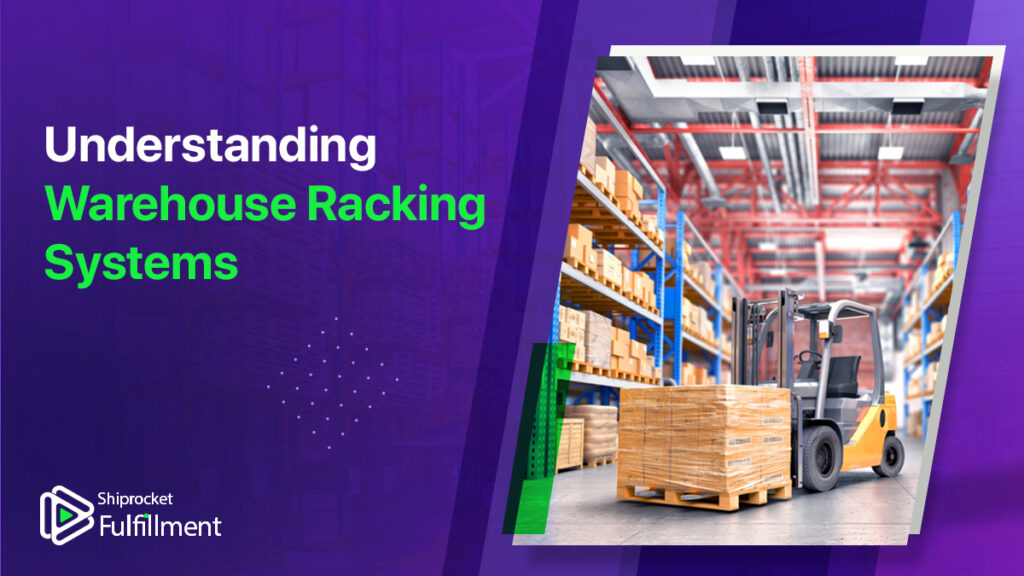 But before you do so, you need to analyze how you will store inventory in one place. Randomly placing inventory in a warehouse will only lead to more complications like delay in order processing, accumulation of deadstock, and instances of stockouts. To organize inventory properly in your warehouse, you need to have the correct equipment. This is where warehouse racking systems come into play. They are specialized equipment designed to store inventory in your warehouse or storage space efficiently.
But, they aren't straightforward to decipher. You need to have a hang of the correct type to determine how they will benefit your eCommerce business. Let's look at what warehouse racking systems are and how you can set up a warehouse racking system for your business.
What is a Warehouse Racking System?
Warehouse racking systems are storage systems used in warehouses to store inventory.
They consist of warehouse racks and shelving units made of metal and designed specifically to contain boxes or pallets in multiple rows and columns horizontally and vertically.
Uses of Racking Systems
E-commerce businesses mainly use warehouse racking systems to improve their warehouse storage.
Suppose you have a warehouse with considerably lower floor space. You can utilize racking systems to develop storage by adding shelves and pallets to make a cost-effective solution without paying for the square footage.
Racking systems can also help you optimize inventory and make it more organized as it has dedicated storage space for each SKU.
Suppose you are just transitioning from a garage or home storage to a warehouse with limited capacity. In that case, you can utilize shelving racks and storage bins to improve your inventory management and optimize picking operations.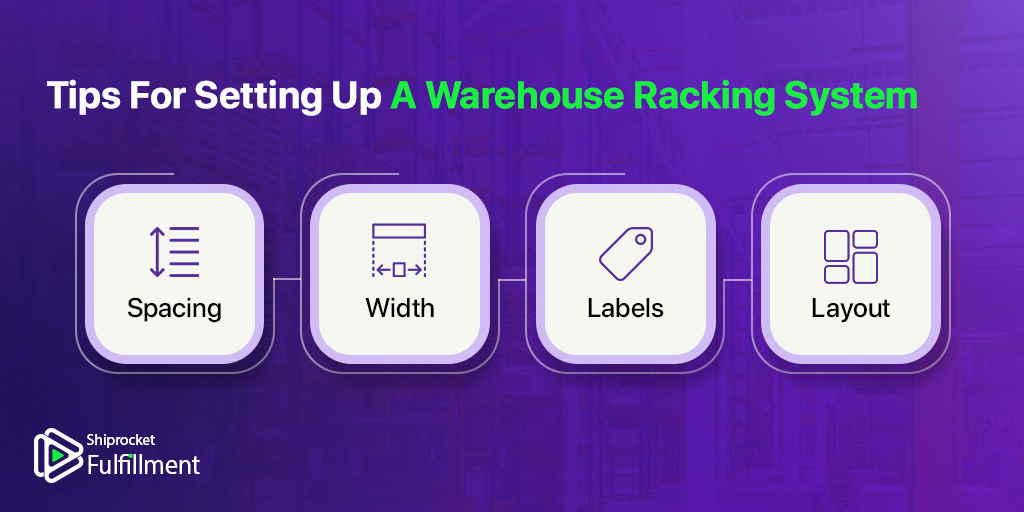 Tips for Setting Up a Warehouse Racking System
Spacing
When setting up a warehouse racking system, the first thing to keep in mind is spacing. You need to ensure ample space between the racks to make all the products accessible. To improve picking efficiency, you must not start racks close to each other to improve picking efficiency.
Width
The next important thing is the aisle width. Usually, in warehouses where you have stacked products on top of each other, the aisle width must be such that forklifts or jacks can quickly move around safely and efficiently.
Labels
To improve the efficiency of the warehouse racking system, it is essential to follow a consistent labeling system to organize your inventory. You can label the products as you deem fit, but usually, it is advisable to do it based on the picking practicality. You can store items commonly purchased in the beginning and closer to each other, and the seasonal products can be stored farther.
Layout
Finally, it is essential to plan the warehouse layout to ensure that you maximize it on the space provided. Create a design for the warehouse racking system so that you can go through it over again to accommodate for the obstructions, etc.
What is a Shelving Load?
The shelving load is defined as the maximum weight on an individual shelf. The total sum of the shelf load must not exceed the bay load.
How to Calculate Shelving Load?
To calculate the shelving load, you need to factor in different parameters. They are as follows –
Upright capacity
Upright capacity refers to the upright racking system's height, weight, and spacing.
Beam capacity
Beam capacity is the rack's depth-to-length ratio and the thickness and length of each beam.
Height of each pallet position
It is from the top of one beam level to the top of the next.
Number of storage levels
These are the number of storage levels in a racking system.
Material
Material refers to the quality, thickness, and strength.

Carry Out Warehousing With the Experts
Most small businesses suffer because they have difficulty transitioning from a small space to a large warehouse. Even though an efficient tracking system can help you reduce the workload and improve efficiency by a considerable margin, it is still a significant investment and maintenance for your business. A common misconception in e-commerce SMEs is that outsourcing fulfillment operations will cost you a lot.
Think about it –
If you install elaborate racking systems, work with inventory and warehouse management software, and hire labor to carry out these day-to-day operations, would it not be more expensive than outsourcing it to a 3PL fulfillment provider?
You can save on fulfillment costs by outsourcing your fulfillment operations to 3PL fulfillment providers like Shiprocket Fulfillment.
Shiprocket Fulfillment has fulfillment centers located in different cities across India. This means that you can decentralize your inventory, store it closer to buyers, and save on shipping costs while providing one-day and two-day delivery options.
Not just this, Shiprocket Fulfillment offer you the right technology stack like the warehouse management systems, order management systems, and logistics operations to enable your business for expedited deliveries. We are also equipped to reduce your order to ship time and meet the stringent requirements of marketplaces.
Final Thoughts
With the right warehouse racking system for your business, you can save on costs and improve the efficiency of operations. However, you can forego this process if you outsource 3PL fulfillment providers. Understand your business requirements and decide accordingly.