Understanding The Concept Of Inventory Position
For successful warehouse management and order processing, it is essential to know where every SKU is kept and how soon it can be picked from its respective spot.
Inventory management does not only include tracking and processing inventory. Positioning it in the right spot to be accessed quickly is also a considerable aspect of inventory management.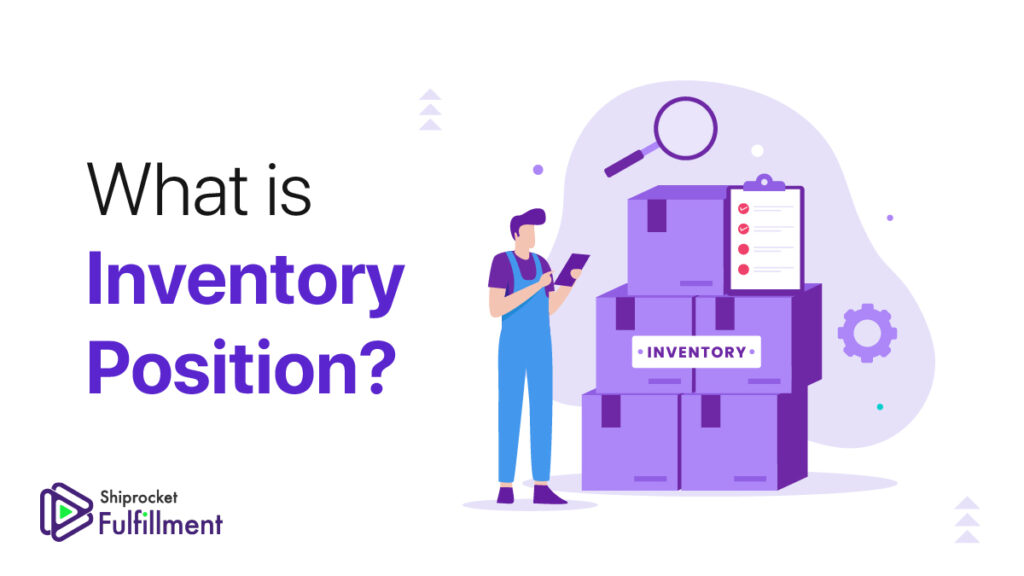 Inventory positioning needs to be strategized thoroughly to process orders on time and arrows free and maximize your warehouse efficiency and fulfillment speed.
Even though it is an important concept, it is often ignored when preparing your order fulfillment strategy.
Let's look at inventory positioning and its importance for your order fulfillment strategy.
What is Inventory Position?
Inventory position refers to the place at which the inventory is held. This means its physical position in the warehouse and its position in the supply chain.
It describes where and how your stock is stored in the warehouse racks and bins. It needs to be optimized to ensure that order fulfillment SLAs are met, and the inventory costs are kept low.
Why is Inventory Position Important?
Inventory position can usually impact our supply chain and order processing time. Here are a few reasons why knowing your inventory position in the warehouse and the overall supply chain is essential.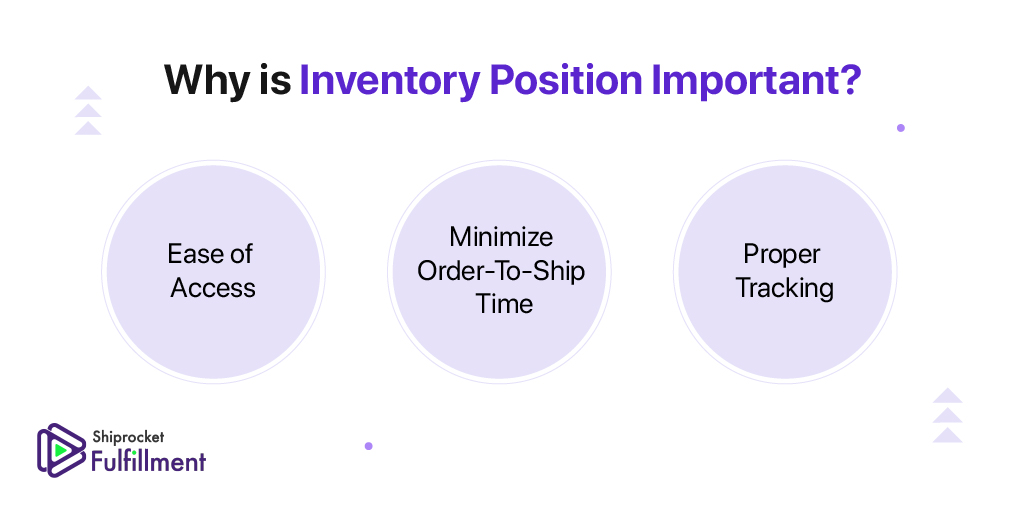 Ease of Access
The first benefit of inventory positioning is the ease of access. If you know where your products are kept, you can efficiently process them well in time. Also, awareness about the position of your inventory in the supply chain can help you process orders in specific locations accordingly.
Minimize Order-To-Ship Time
Knowing the position of your inventory can help you speed up your order fulfillment process by reducing the picking and packaging time, and you can ship them out faster. Also, knowing where the inventory is stored in the supply chain can help you target customers accordingly and deliver to them sooner.
Proper Tracking
Knowing the inventory position can help you track your inventory effectively, and you can avoid stock-out situations that can drive customers away. Also, it can help you get rid of dead stock sooner so you can save on your inventory handling costs.

Tips for Optimizing Inventory Positioning
High-Value Items Must Be Accessible
The first step for optimizing your inventory positioning in the warehouse is that the high-value items that bring you maximum orders should be kept in easy-to-reach locations. This will help save time for pickers and increase the speed of the order fulfillment process.
You must assess which area is getting the maximum demand in the overall supply chain. The products must be stored in these warehouses strategically to ensure the minimum shipping time.
Heavy Items Must Be Placed Low
Another important consideration is that all bulky SKUs must be stored at a lower location in the warehouse racks. This will ensure faster picking for bulky goods because pickers will not have to spend time bringing the products down at the rack. Also, you must store them at the popular locations from where they are ordered to reduce processing time.
Forecast Demand
Always make it a practice to forecast demand in advance to develop strategies for your inventory positioning in advance. Analyze the most popular products and order them well in time so that your situation is like stockouts and place them in easily accessible positions. With dedicated slots allocated to these products, you can quickly analyze which products need replenishment.
Have Designated Aisles For SKUs
Once your SKUs are decided, have designated aisles for specific SKUs. This will help your speakers reduce time in the warehouse, and your order to ship time will be minimized.
Have a Real-Time Inventory View
Having real-time visibility on the inventory levels can help you position your goods strategically and process them much faster. It will reduce the risk of missed orders and maximize order fulfillment efficiency.
Outsource to 3PL Fulfillment Providers
It is advised to tie up with 3PL fulfillment providers who have experience managing the fulfillment supply chain. Shiprocket Fulfillment is one such 3 PL fulfillment provider that can help simplify the fulfillment operations of your business.
All you have to do is send your inventory to multiple warehouses located in India. Our team will handle all the incoming inventory, store and position it strategically, and process all incoming orders in minimum lead time to ensure that they are shipped and delivered as soon as possible. If you store your inventory closest to the customer, you can even offer one-day and two-day delivery to your buyers.
Final Thoughts
Inventory positioning is an essential aspect of your eCommerce fulfillment supply chain. Make sure you consider it into your strategy so that you do not have to deal with losses later.