Understanding Order Consolidation And Its Advantages
With the changing eCommerce dynamic in India, customers today not only expect orders to be delivered sooner, they expect them to be provided with utmost accuracy. Earlier, the split shipment was an excellent way for sellers to get the shipments to the customers faster or at least a part of it. However, the customer is not satisfied with just a part of the order now. They want the whole order to be delivered as quickly as possible.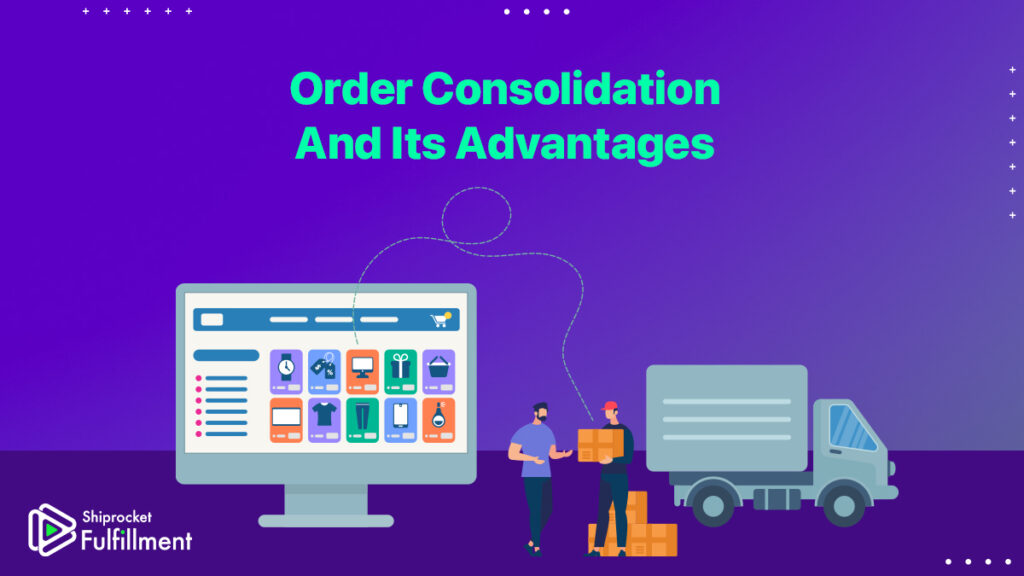 Split shipments also tend to increase the shipping cost for your business and pile up packaging waste, which can harm the environment. Therefore, the following solution to this problem is order consolidation.
Let's look at what order consolidation is and how you can utilize it to increase your customer satisfaction.
What is Order Consolidation?
Auto consolidation refers to clubbing several items from a single order into one shipment. If your customer has ordered multiple items from your store and created various orders, they will be clubbed into one shipment and delivered at one go to the customer.
This helps you reduce shipping costs, improve the delivery experience, and helps reduce packaging waste.
How Does Order Consolidation Work?
Collaboration
Order consolidation does not work correctly if you do not collaborate entirely with all the involved parties. This means that each stakeholder should be on board, such as the business partners, the fulfillment center, the distribution company, and the shipping partner.
Your shipping partner ensures that the order is complete and accurate. They must package the different orders into a single package and deliver them to the end customer.
This is where experienced end-to-end fulfillment providers like Shiprocket Fulfilment come into the picture. They help you with warehousing, picking, and packing services that reduce the stress of consolidating orders.

Agreements
Next, if you plan on consolidating orders for your business, the consolidation process must be clear from the start. It must be sure who is in charge of what and how the partnership between different parties works. It must be clear who will care for the packaging, reviewing, consolidating, etc. Like your fulfillment supply chain, each process must be integrated into the system thoroughly so that you do not send faulty products to the customer.
Implementation
Lastly, order consolidation does not work without thorough implementation. If you plan on consolidating orders, after you have collaborated with parties and agreed with them to follow the process, it is time to implement it. Everybody involved in the supply chain must know about this process to implement it right from the start, where you are picking, packing, and shipping orders.
Advantages of Order Consolidation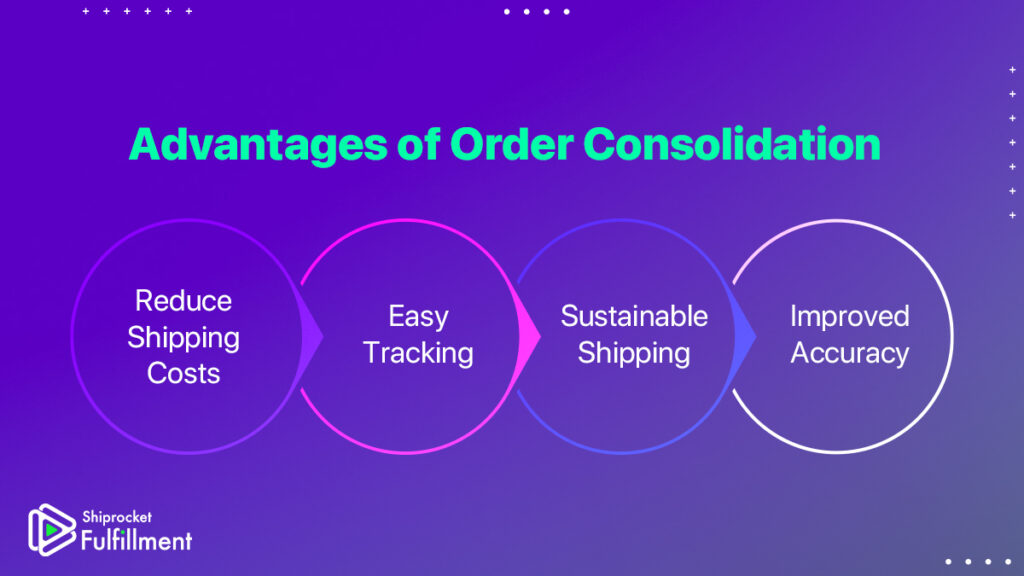 Reduce Shipping Costs
Order consolidation can help reduce shipping costs as you club multiple orders into one shipment. You do not need to pay separately for numerous orders. It enables you to optimize shipping costs by choosing the most suitable carrier for lesser shipments.
Easy Tracking
Tracking consolidated orders can be simpler for customers as they will not need to reload multiple tracking pages, receive multiple tracking notifications, etc. Moreover, if customers are busy and cannot be available to receive the products, they will only need to be available once as compared to several times. This will also help you reduce the RTO orders as most shipments will be delivered on time and in the right place.
Sustainable Shipping
As we have spoken about it earlier, you can reduce packaging waste by consolidating orders. The waste because of eCommerce packaging is exceptionally high, and you need to include several dunnages to protect the shipment from damage. By consolidating orders, you can reduce this wastage.
Improved Accuracy
Another advantage of order consolidation is improved order accuracy. If your order consolidation process works successfully, you can ensure that each shipment contains the correct order and double-check it before shipping out. By improving accuracy, you can ensure that the customer is satisfied and happy with the products they order.
How Can 3PL Fulfillment Providers Help?
3PL fulfillment providers can help your business as they carry out the complete task of picking, packaging, inventory management, and shipping for your business. This means that you will not need to collaborate and mutually agree with different partners to make sure your orders are consolidated. You can send your inventory to 3PL fulfillment providers like (Shiprocket Fulfillment and ask them to consolidate orders when they come to your business.
Also, if you decentralize inventory, you can reduce the shipping distance, consolidate orders, and improve order accuracy for your business. With 3 PL fulfillment providers, you can reap multiple benefits like reducing shipping costs, offering one-day and two-day delivery, reducing RTO orders, and increasing repeat purchases.
Final Thoughts
Order consolidation can be a great trick to save shipping costs, contribute toward a sustainable shipping approach, and improve customer satisfaction. It is targeting several issues at once. Moreover, if you ship with 3PL fulfillment providers, you can ensure a more seamless experience for your customers.