Optimizing Your Inventory With Warehouse Putaway
It's become increasingly crucial for brands to provide consumers with a seamless, personalized shipping experience. Warehousing and logistics are essential because they provide the foundation for any successful ecommerce business; it's where inbound and outbound materials need to be stored until processed by your store. This means that warehousing and inventory management is key to any online business because it impacts shipping times, inventory accuracy, shipping costs, and more. Warehouse putaway strategies are one of the first ways that you can maximize and optimize your warehouse inventory. The best part about these putaway strategies is their flexibility, as each can be used together for more significant results. Optimizing your warehouse inventory with putaway software helps drive efficiency and accuracy in your inbound and outbound logistics. Warehouse putaway is a manual task that could be streamlined to remove errors, increase speed and optimize the picking process. To ensure a more accurate workflow and more efficient distribution, warehouse putaway will significantly impact the efficiency of your operation.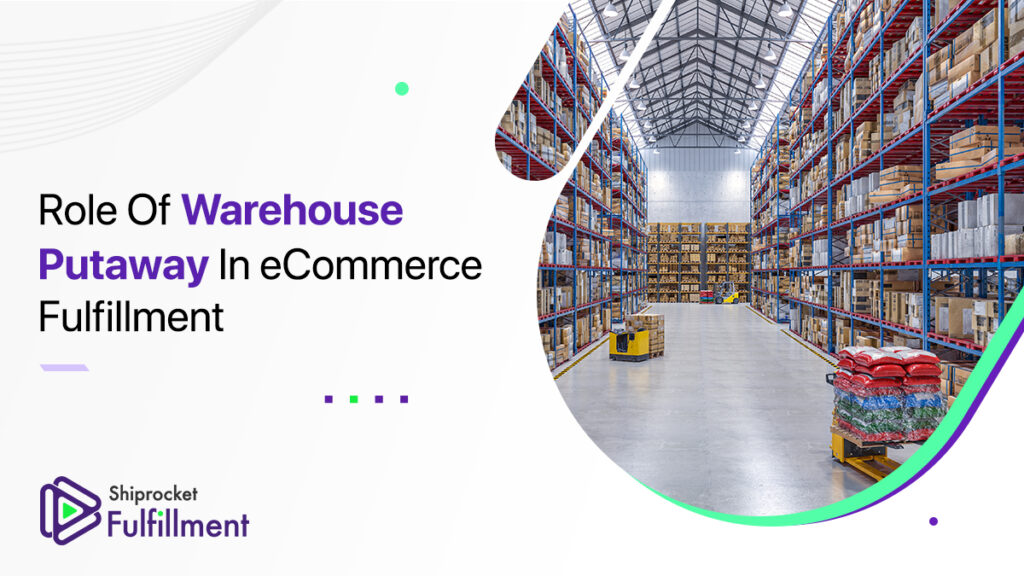 In this article, let's look at warehouse putaway, its types, advantages, and best practices for success.
What is Warehouse Putaway?
When running a warehouse, putaway is one of the most crucial aspects of warehouse management. Putaway involves several processes, from receiving inventory to ensuring that inventory is stored in the correct warehouse locations.
Instituting a strategic warehouse putaway system can lead to a more efficient, tidy, and well-organized place for your inventory. This leads to better customer service as it becomes easier to locate the proper SKU.
Types of Warehouse Putaway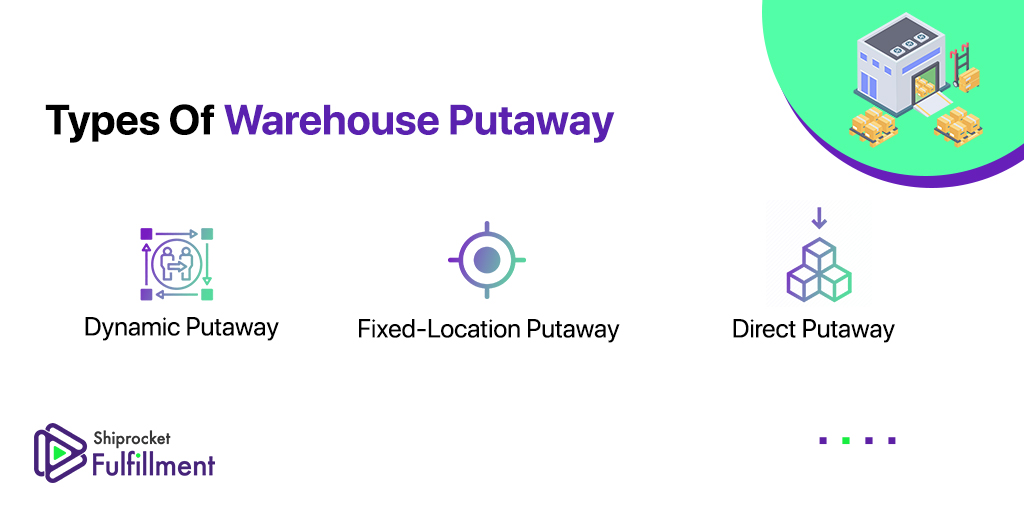 Warehouse putaway is an integral process of warehousing, especially considering the many factors that must be regarded to run successfully. There are three types of warehouse putaway, based on what you need.
Dynamic Putaway
If your products are similar in size, weight, and other characteristics, then you should use dynamic putaway to make retrieval and storage easier. This involves real-time decisions about where to store the inventory and prioritize demand management.
Incoming inventory is placed in the most convenient location for fast pickup, increasing demand management. In contrast, goods are stored in different areas each time, making it more challenging to manage without robust ERP software.
Fixed-Location Putaway
This storage process is ideal for retailers with many goods that must be stocked in their warehouses. Each h category is assigned a specific warehouse space for storing goods. When stocking the warehouse, depending on the size or content. For example, frozen food is always held in temperature-controlled areas, and heavier goods are stored on the lower shelves.
​​Direct putaway
The moment goods reach the warehouse, items are put away and sent off to their final destination. With direct putaway, goods should be ready and not need transitory storage. This improves efficiency by reducing unnecessary delivery handling and movement.
Advantages of Warehouse Putaway
Proper Use of Storage Space
With a warehouse putaway and slotting strategy, you can save space and stock by ensuring they are stored safely in the appropriate location. You can reduce the stress of keeping material by using your design to save space. It also enables improved productivity as well as efficiency within the warehouse. Knowing where each good goes, the warehouse employees can store them safely. In addition, this dramatically reduces the chances of any goods being stolen or misplaced.
Reduce Lost or Misplaced Items
A stringent process for restoring restocked inventory can improve your ability to know where each SKU is. By being able to see the position of your inventory, you are also able to better track and avoid instances of misplaced or pilferage SKUs. Warehouse workers who use the putaway process can quickly account for what is there, making it easier to identify if an item has gone missing.
Efficient Picking
To improve productivity and delivery, stock your best products in easy-to-access locations. It will also help to know where each item is located. This speeds up the process and ensures faster deliveries, guaranteeing customer delight.

Best Practices For Warehouse Putaway
Reduce Traveling Time
Accuracy and convenience is the key to a successful picking system. To make the picking process fast, place popular items near pickers and know where they are. This guarantees a shorter order cycle time.
Create End-to-End Timeline
Warehouses are buzzing with activity. Once goods are replenished, they must be put away as soon as possible. The faster customer orders can be fulfilled, the better chance to get what they want. Clear directions and timelines for the warehouse putaway process must be communicated to employees to distribute their workload across the floor evenly.
Track Items Efficiently
Warehouses need to use the best-practice technologies to keep track of each product. This is so that the workers can be focused on other tasks and know where everything is at all times. When products are received, barcode scanned, and put away, you will get real-time updates of the SKU count, condition, and location. This makes it easy to find and dispatch the right items whenever customers place an order.
How Can Shiprocket Fulfillment Help?
3PL providers can help to delegate operations and reduce costs with a significant degree of efficiency. It's easy to find fulfillment services. Shiprocket Fulfillment gives you the best rates and the closest service to your buyers. You can ship your inventory for quick pick and pack, saving time and money. This technique will reduce your costs and efficiency, increase shipping speeds by 3X, decrease shipping weight discrepancy issues, and reduce Return To Origin (RTO) time. With less time spent on shipping, you can complete more orders in a shorter period. This improves your business and allows you to expand.
Final Thoughts
There are, of course, a few other things to improve your warehouse putaway and increase inventory organization. However, the steps outlined above are probably the most important ones to keep in mind as you look to optimize your inventory storage. The more organized a warehouse can be, and the quicker a picker can find what they're looking for, the better your overall fulfillment process will run.