Understanding The Concept of Inventory Discrepancies in Warehouse Management
Inventory management forms an integral part of your eCommerce supply chain. It seems like a simple process; however, it has a lot of aspects to it that need to be taken care of. Since inventory is constantly moving, it can get lost, misplaced, or stolen.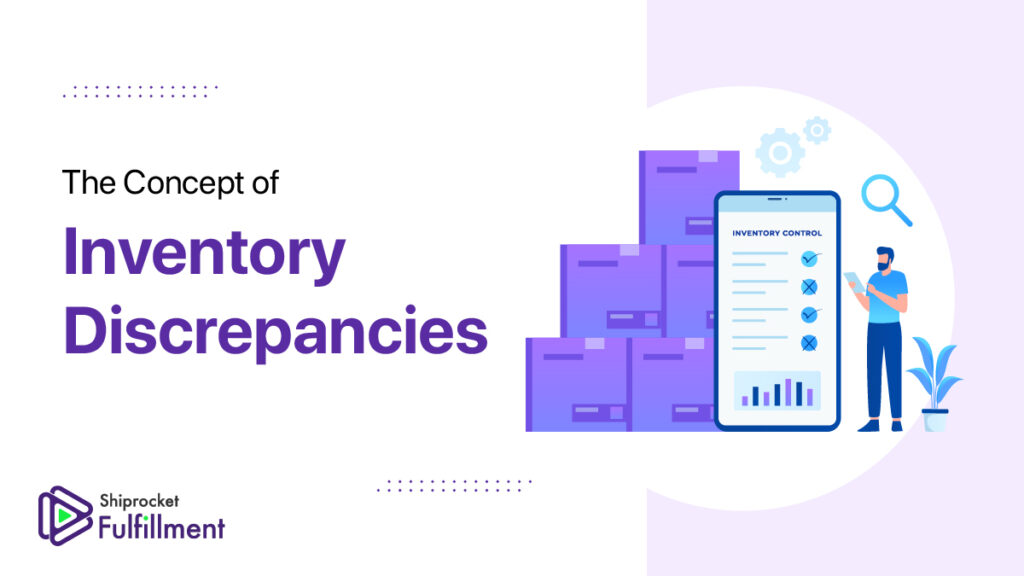 Tracking your inventory is essential and keeping accurate records is even more critical. In case of any problems, you will need to get to the root cause of why a discrepancy in the inventory exists.
Let's look at inventory discrepancies and how to avoid these discrepancies to save yourself from losses.
What is Inventory Discrepancy?
Inventory discrepancy refers to a situation in which the inventory amount differs from the inventory records.
With automated inventory management software, inventory discrepancies are usually uncommon, but they can lead to a loss of profits if present. Therefore it is crucial to keep track of the record and maintain a thorough inventory reconciliation process.
Causes of Inventory Discrepancies
Lost Inventory
The first and foremost cause of inventory discrepancies is lost inventory. Sometimes inventory can get lost or misplaced due to human error, which usually happens during receiving or stocking. This can also include the inventory that might be wrongly labeled, stored in an incorrect location, or the quantity of product invoiced incorrectly. A thorough receiving process is essential to avoid such instances where a gatekeeping record is maintained.
Inventory Shrinkage
The next course for inventory discrepancies could be inventory shrinkage. Inventory shrinkage can be caused by accounting error, theft, or fraud. Implementing processes like employee training and warehouse security can help reduce inventory shrinkage.
Outdated Technology
If you do not constantly update your inventory management software and use outdated technology, you can see a surge in inventory discrepancies as the tracking systems will not be updated. If you still employ manual processes for inventory tracking, you are more prone to error and high inventory discrepancies. Therefore, it is essential to deploy automated inventory management software to ensure that the inventory is tracked in real-time.

Inaccurate Returns Management
Inaccurate returns management is also a reason for inventory discrepancies as returned products, if not stored correctly, can lead to mismanagement of records. Return items can get damaged in transit, donated, or disposed of, and therefore keeping up-to-date records can help reduce instances of inventory discrepancies.
Untrained Employees
Human error is prone to happen if the employees are not trained correctly in inventory management. Most inventory discrepancies occur when there is a loss of knowledge while storing goods. Maintaining standard operating procedures and training employees regularly with updated technology can help reduce this.
Tips to Avoid Inventory Discrepancies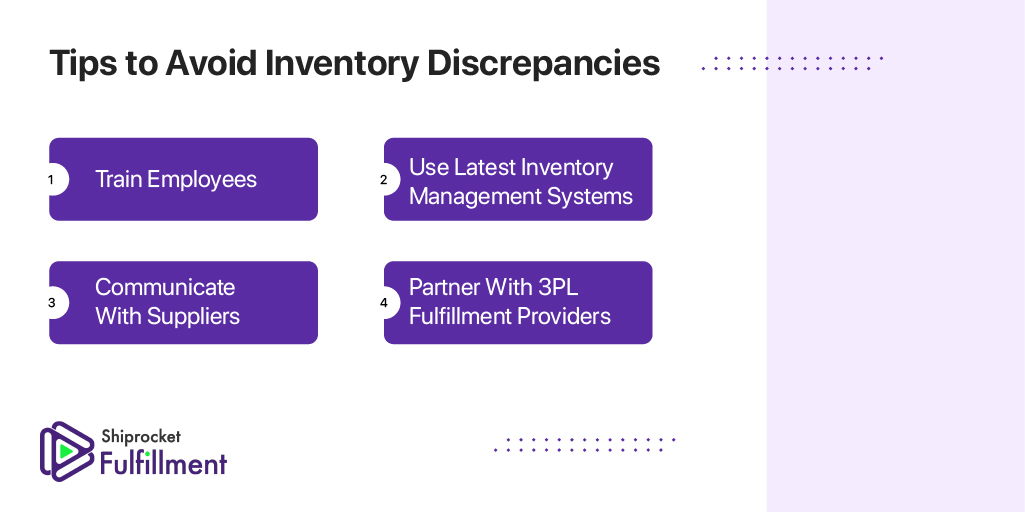 Train Employees
The first step to avoiding inventory discrepancy is to train employees thoroughly in the warehouse processes and inventory management operations. This will help you run operations smoothly, keep track of inventory regularly, and optimize the supply chain.
Use Latest Inventory Management Systems
Using the latest inventory management systems can help you track inventory in real-time and reduce instances of inventory discrepancies. Most methods today consider the return orders and ensure that you have stopped goods correctly by using bar codes, RFID chips, etc.
Communicate With Suppliers
It is imperative to communicate correctly with suppliers to ensure the correct quantity of goods sent and the proper invoicing so that your warehouse does not suffer any drawbacks.
Partner With 3PL Fulfillment Providers
Partnering with a 3PL fulfillment provider can help you reduce inventory discrepancies as they usually have the latest warehouse management and inventory management software at their disposal. This will help you take the load off your shoulders, and you can thoroughly track inventory from the comfort of your office.
3PL fulfillment providers like Shiprocket Fulfillment can help you store inventory properly in multiple warehouses across the country, and you can carry out other essential operations of your business seamlessly. Shiprocket Fulfillment takes care of all fulfillment operations for your business, and you do not need to be worried about the smallest of things like inventory discrepancies. With a skilled team to handle operations, you can quickly process faster and deliver sooner.
Final Thoughts
Concepts like inventory discrepancies can seem small on the surface but usually can be troublesome if inventory is not tracked correctly. Make sure that you carry out inventory tracking operations seamlessly to ensure that no discrepancies are there. Also, these operations can take a massive bandwidth of your day. Consider outsourcing to 3PL fulfillment providers to make processes easier for your business.