How Evolving Automation Trends Will Impact the Fulfillment Space in the Coming Years
As you are aware, eCommerce fulfillment is one of the most important aspects of any eCommerce business. Over the years, this process has become much more advanced and intricate. With the advent of eCommerce, fulfillment has gained even more critical as it directly affects the overall customer experience.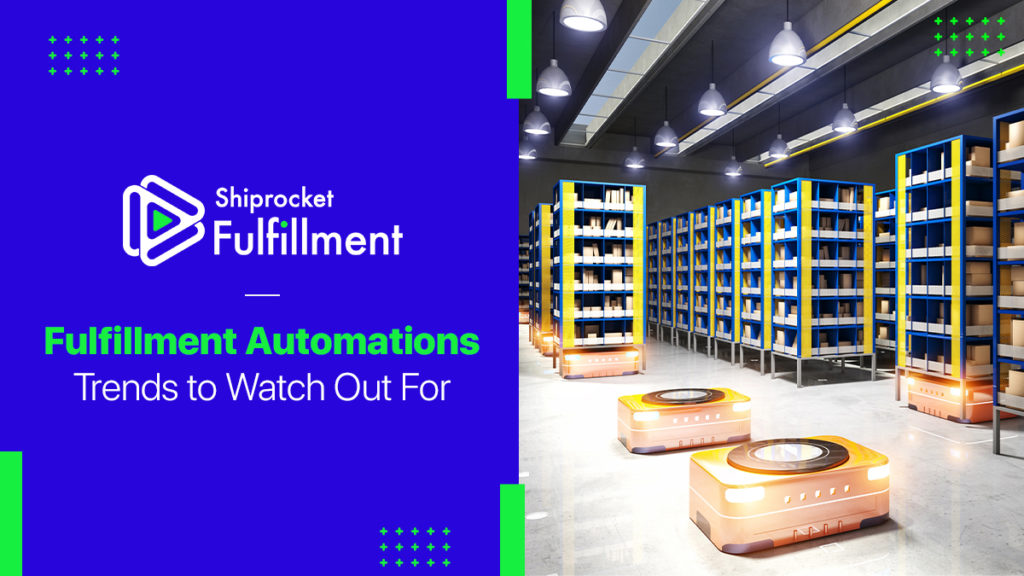 The need for perfect synchronization and reduced errors is increasing by the day, and brands cannot afford to miss out on any orders. Over the years, automation has made its way into the fulfillment industry, and sellers and 3PL fulfillment providers have started automating their operations for 100% accuracy and timely delivery. With this article, let's discuss some of the automation trends set to drive the fulfillment industry.
Role of Automation in eCommerce Fulfillment
Before diving into the automation trends, it is essential to understand the importance of automation in the fulfillment industry. Over the past few years, automation has seen a massive boom in the warehousing and logistics industry. Combining the advantages of these sectors, the entire fulfillment network has seen a boost because of automation.
On the warehouse floor, automation has helped reduce processing time, fulfillment costs and improve the supply chain by many folds. Inside a fulfillment center, automation has allowed maintaining real-time data flow between operations and inventory information, making the process much more efficient. Using automation for too strenuous functions like picking, packaging, and warehouse management has improved warehouse productivity by a considerable margin.
At every step of the order fulfillment process, automation has improved operations to maximize productivity and enhance workflows across multiple fulfillment centers. With smart data centers and concepts like predictive analytics coming into the picture, the automation trends are only bound to grow in the coming years.
According to a report by Businesswire, In 2019, the warehouse automation market in India was valued at INR 202 billion. It is expected that the market will expand at a compound annual growth rate (CAGR) of ~13.38% during the 2020-2024 period, to reach a value of INR 421.5 billion by 2024.
Even though end-to-end automation might not be possible in India immediately, applying a few upcoming trends gives rise to the requirement of the automation reforms that are much needed.
With an upward trend set for the automation industry, let's look at some of the automation trends prevalent in the fulfillment industry.
Automation Trends in the Fulfillment Space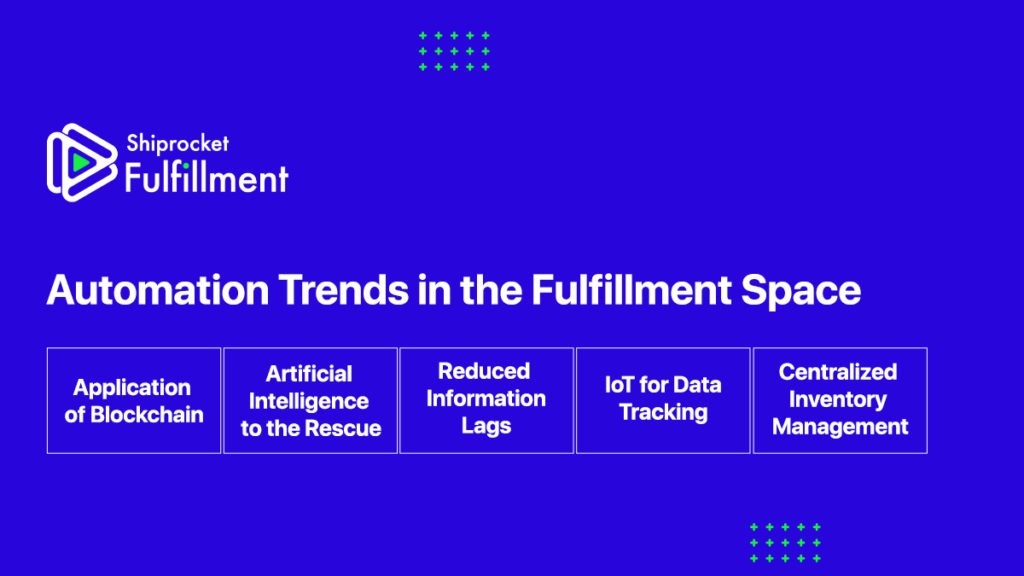 Application of Blockchain
Blockchain is transforming many sectors in India. It has already made a significant mark in the banking and healthcare section, and now it is slowly making its way to the fulfillment space.
Blockchain helps the supply chain become more transparent and further improves communication methods, data analysis, and positive results. Blockchain allows warehouses and supply chain networks with transparent and controlled transactions, pre-approved transaction fees, reliability, and the ability to be audited easily. Overall, it is helping the procurement, digital payments, logistics, and manufacturing. All of these are critical sections of the supply chain that require constant vigilance and intervention.
Furthermore, blockchain helps cut additional labor costs and improve inventory management by maintaining thorough records of inventory, orders, and returns. Blockchain technology can help optimize operations by making data available to every stakeholder in the process. It can help improve operational efficiency and yield time.
Artificial Intelligence to the Rescue
Artificial intelligence is slowly becoming a common concept among fulfillment centers. Now, sellers and 3PL providers are taking into account the benefits of artificial intelligence and how it can help reduce manual labor dependability. WAI the application, communication can be improved by a large margin and help reduce human errors.
Along with this, AI can improve warehouse management by incorporating intelligent logistics. Usually, warehouse logistics depended upon the SKU management and operator skill level. With the advent of artificial intelligence and machine learning algorithms, retail stock movement and control have led to easier material handling and a substantial reduction in errors. Not just this, with machine learning, backed data, picking operators can devise the best routes for transportation within the warehouse and improve efficiency.
Another advantage of artificial intelligence is robots. Even though this is a far-fetched initiative for India, marketplaces like Amazon have already started applying it in their fulfillment centers. They can be utilized for more efficient picking and slotting based on intelligent writing within the warehouse.
Reduced Information Lags
A key takeaway from 2020 has been the importance of the availability of information. You need to know about your supply and demand to ensure that you can keep up at all times. For example, if there is a supply risk in your supply chain network, you need to be aware of it and take action without wasting time.
Also, if there is a surge in demand, you need to know about it to amp up your manufacturing or inform your suppliers well in time. Improvement in communication with automated networks and real-time exchange of information will help eCommerce companies devise much more effective strategies for their business.
IoT for Data Tracking
The Internet of things is another concept that is picking up pace in India. It is slowly making its way into the healthcare and food industry and the logistics and warehouse management department. Warehouse management systems (WMS) are integrated systems that help managers keep track of the inventory and the warehouse.
The internet can help improve the entire warehouse management with tracking devices, limited documentation, and enhanced reporting features. This can help reduce operations time, faster order to ship time, supply chain visibility, and reduced damage to goods.
IoT incorporated with blockchain can help you reduce data records and improve accountability within the supply chain network.

Centralized Inventory Management
A centralized inventory management system can help maintain inventory across warehouses. If you have multiple warehouses across the country, a centralized inventory management system can help you with omnichannel retail, faster efficiency, and effective inventory control.
Automation helps improve inventory control by sharing real-time data, reducing the order to ship time, and enhancing inventory processing. This is also helping with a more efficient demand forecasting based on several data points and past trends.
Outsourcing to 3PL Providers – The Next Big Thing
Even though D2C brands and e-commerce sellers are trying to incorporate as many key automation trends as possible, it is difficult to do so in a short period to yield the best possible results. Even though e-commerce sellers dominate a significant part of the warehousing and logistics market, the biggest chunk still lies with 3PL fulfillment providers.
3PL fulfillment providers essentially take care of all fulfillment operations for your business. These include inventory management, order management, warehousing, logistics, and return handling. One such fulfillment provider that can help you with end-to-end fulfillment is Shiprocket Fulfilment.
With Shiprocket Fulfilment, you can store your inventory in fulfillment centers located across India's significant zones. We have fulfillment centers located in Delhi, Gurugram, Mumbai, Kolkata, and Bengaluru. By outsourcing your fulfillment operations to us, you can deliver 3X faster, reduce shipping costs by up to 20%, and maintain a 99% of order accuracy for your orders.
Learn more about Shiprocket Fulfillment here.
Conclusion
Automation is going to be a significant driving force shortly. It is intelligent to adopt it well in time to grow your business with the evolving trends. Be it incorporating blockchain or IoT into your current supply chain operations or outsourcing operations to a 3PL fulfillment provider. It is essential to take a call early on.