Digging Into The Nitty-Gritty of Fulfillment As A Service
According to a report by IBEF, India's eCommerce sector is expected to reach US$ 111.40 billion by 2025 from US$ 46.20 billion in 2020, growing at a 19.24% CAGR. Since the demand for eCommerce is increasing in India, it is expected that the methods deployed to fulfill orders are also modified. With an increase in demand, it is impossible to fulfill orders the same way with a particular form of order fulfillment.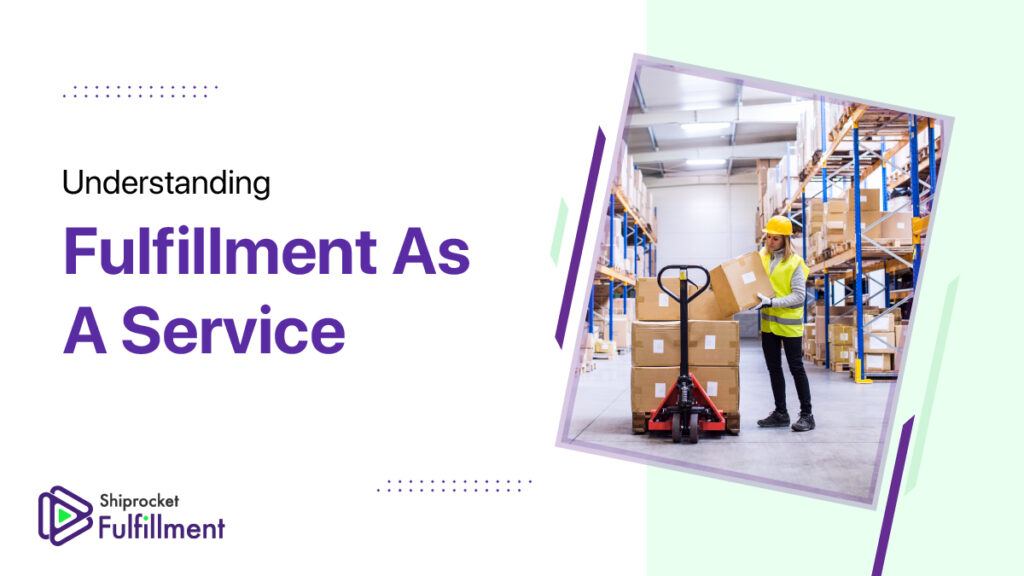 Like many eCommerce concepts have changed, and businesses now look for utilizing software as a service(SaaS), it is time your fulfillment sees a revamp too. Many providers are currently providing you with fulfillment as a service. This means that your entire order processing supply chain can now be outsourced, and if you ask us, this can mean a massive boost for your business.
Let's look at what Fulfillment as a Service means and how it can benefit your eCommerce business.
What is Meant by Fulfillment as a Service?
Fulfillment as a Service(FaaS) refers to a fulfillment model where a third-party service provider takes care of all your order fulfillment needs. This includes carrying out all order fulfillment operations like inventory management, warehousing, picking, packaging, shipping, and returns control.
Fulfillment as a service provides you with the right technology, ample warehouse space, and other operational advancements that can help you fulfill all your eCommerce fulfillment needs. The most significant advantage of using fulfillment as a service is that you can scale or reduce operations as per your requirements without compromising shipping speeds, delivery experience, etc.
Difference Between Fulfillment as a Service and Third Party Logistics
The primary difference between fulfillment as a service and third-party logistics is the service they offer. FaaS provides you with end-to-end order fulfillment capabilities, while third-party logistics only handles the logistics operations for your business.
The 3PL model has a complicated pricing structure that includes several hidden fees. A Fulfillment-as-a-service model comes with straightforward pricing that could also be a subscription-based model.

Components of Fulfillment as a Service
Warehouse Management
The first component of fulfillment as a service is warehouse management. This includes providing you with thorough infrastructure and stocking space for your inventory.
Inventory Management
The next component is inventory management, which includes strategically storing goods in the warehouse. This includes inventory positioning and all other aspects related to inventory management.
Order Processing
The third aspect of the fulfillment as a service model is order processing, including picking and packaging operations.
Picking
This involves picking goods from the designated racks and bins whenever an incoming order is processed.
Packaging
The next step after picking is packaging, where the order is packaged. As an ecommerce business, you can either provide your packaging material or utilize the packaging material provided by our service provider.
Shipping
The next component of fulfillment as a service is shipping. This includes delivering your orders to the customer's doorstep with single or multiple courier partners.
Returns Management
The last aspect of the fulfillment as a service model returns management. This includes handling all the return order requests that come from the customer.
Benefits of Fulfillment as a Service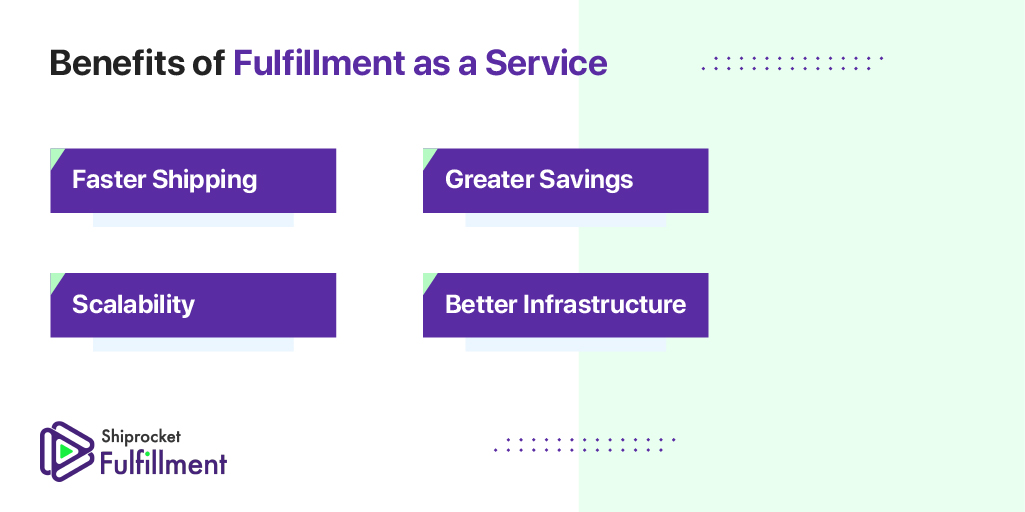 Faster Shipping
Fulfillment as a service model provides faster shipping as they have multiple fulfillment centers located across different regions.
For example, Shiprocket Fulfillment has fulfillment centers in Delhi, Gurgaon, Mumbai, Bangalore, Kolkata, Surat, Jaipur, etc. This helps you provide one-day and two-day delivery to customers by storing inventory closer to them.
Greater Savings
Fulfillment as a service model helps you save more as they have a transparent pricing model. Moreover, it can help you keep more for your overall fulfillment operations than a third-party logistics provider or in-house fulfillment.
Scalability
Fulfillment as a service model can help you scale your business as and when required. When you run an ecommerce business, you can see spikes in order volumes consistently throughout the year as a service model helps you accommodate these searches without charging you anything extra.
Shiprocket Fulfillment provides you with a flexible model that lets you pay only for the inventory that you store in our warehouse.
Better Infrastructure
Fulfillment as a service provider usually has more than one client that they cater to. Their infrastructure is top-notch, with the latest warehouse and inventory management systems at their disposal.
What Should Your FaaS Provider Offer?
Multiple Warehouses
The first and foremost service that your FaaS provider must provide is multiple warehouses. This enables you to decentralize inventory and store it in locations closest to your buyer. This reduces your last mile distance and saves you on shipping costs.
Large Shipping Network
A FaaS provider should have an extensive shipping network that you can utilize to deliver products across large distances. If you are provided only has a short range of pin codes, the reach is not great.
Tech-Integrated Fulfillment Centers
Tech-integrated fulfillment centers are the most critical components of a FaaS provider. They must have the latest warehouse management and inventory management systems that synchronize with incoming orders to ensure that the order-to-ship time is reduced and orders are processed faster.
Transparent Pricing
They must offer a transparent pricing model with great incentives to ensure that you do not pay anything extra or unnecessary. There must be no hidden fees, and the billing must be transparent.
Final Thoughts
Fulfillment as a service is the next step in the eCommerce fulfillment evolution in India. It can go a great way in enhancing your entire segment operations and growing your business without carrying out redundant operations daily.